First Day After Winter Break NO PREP Activity Sheets
Children and teachers alike love the rest and fun of Winter Break. Coming back to school after a long holiday recess can be difficult for everyone. Students will love these activity sheets that are perfect for the first day and week after winter break. Teachers may be looking for something that takes little to no preparation for their students as they all ease back into the school routine. The following coloring and activity sheets are perfect for encouraging kids to get back into the groove of school.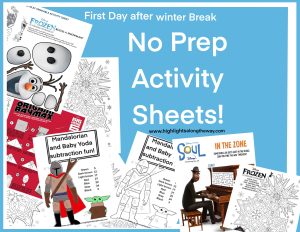 Winter themed coloring pages and activity sheets are engaging and not at all stressful. Teachers have so much to do when they get back to school, and kids are usually off the rails. With very few resources you can help get your kids back on track and have fun while they are at it. If you have paper, crayons, markers, and scissors, you can use these activity sheets. Grab your crayons and scissors and have a great new year with your students.
Our library of coloring pages is free for teachers to use in classrooms. We also provide these free activity sheets for home use. While many of our activity sheets required a small fee to print, we are moving to make all educational activity sheets free for our readers. While we want to support teachers with free educational and fun curriculum, we do have costs. We hope that teachers and educators will share this site! Please keep ads on (you do not need to click on anything!), the ad revenue is what can keep this site up and running for free!
As a former home school educator who continues to be a work from home mom, I truly appreciate you visiting today. I remember looking for years for coloring pages and activity sheets for my kids to color or cut while I read a lesson. I found that blogs by educators, home schooling parents, teachers, and just creative moms usually provided the best resources for little or no money.
I am always looking for more ideas for printable activity pages. If you are a teacher, I would love your input! Please tell me the free activity pages you would like for your students. While I will continue to grow my TPT and Etsy shops, I plan on providing teacher materials and curriculum for our readers here at no cost.
Many of these activity pages are provided by movie studios for home and school use. Disney and other companies are kind enough to allow us to share with you! Other pages are created by me and are unique to this blog.Please feel free to come back again and again.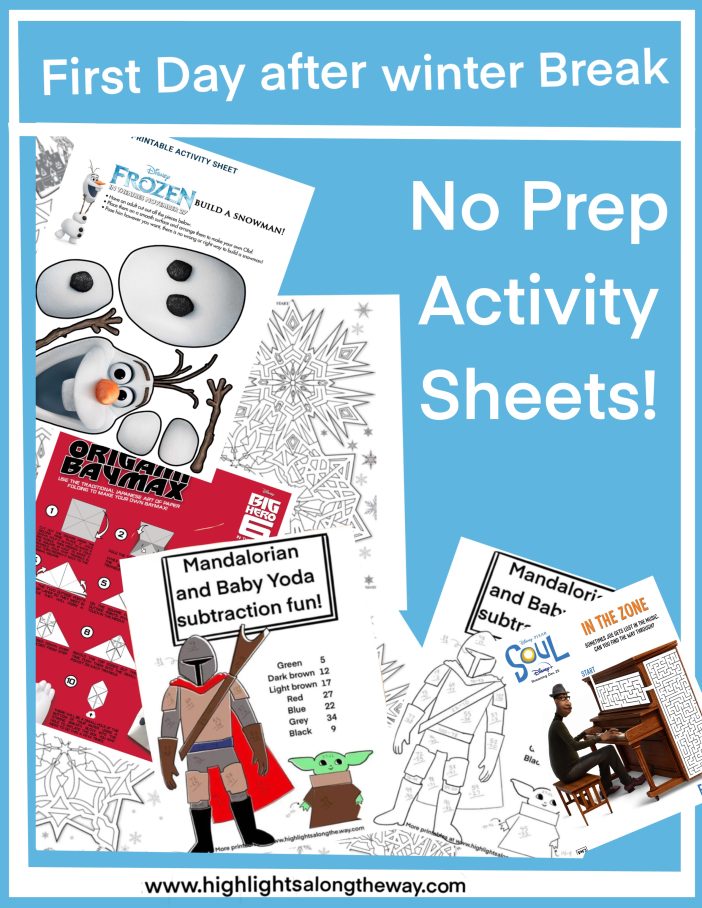 It made me swell with happiness to see one of my high resolution unique Coloring Page printed out and used as a lesson at my daughter's school! I walked into the auditorium for musical practice and looked at the first grader's displayed work and one student had used one of our coloring pages as part of her report. As I see this site grow, I assume my humble coloring pages are up on posters all over the United States. I really do hope that these printables are helpful and fun for families and teachers.
First day back after Winter Break NO PREP Activity sheets
Olaf Cut and Paste Activity Sheet – click for the full sized image!
Color By Number – Baby Yoda Subtraction
Color By Number Activity Sheets – Subtraction with Baby Yoda!
Color By Number – Baby Yoda Fractions
Color By Number "Baby Yoda & Mandalorian" Reducing Fractions Printable
Snowflakes, Coloring, Creating – HUGE Activity Packet from "Born in China" – so many choices to keep kids entertained and learning!
Lunar New Year Coloring Pages – Click for a library of coloring pages featuring Lunar New Year
Paper Snowflakes – Cut and Paste Activity
Big Hero Six themed activity Pack – Spot the Difference, Hidden Objects, Origami, mazes, and more!
Soul Themed activity sheets – Maze, Spot the Difference, Drawing Prompts, and more!
I hope the new year brings happiness and health to you, your family, and every child in your classroom. I hope these printables will help make the transition from holiday to back to school a little more fun. We hope this new year you can come back to our page for free resources time and time again. While we will continue to grow our free resources for teachers, we hope that all teachers also know we will continue to vote with you and our future generation in mind. We are so thankful for everything that teachers do for our kids and community.
Our library of Printable activity sheets will continue to grow! We hope this free resource for teachers and home school educators will be helpful for adults and fun for kids. Make sure to check out our other activity sheet themes meant for preschool, elementary school, and beyond!
Coloring Pages for Black History Month – free instant downloads!
California Coloring Pages
Coloring Pages for Women's History Month – free instant downloadable printables
Thanksgiving Coloring Pages and Activity Sheets – No prep!
Read Across America Week – activity sheets