10 Hotels near Disneyland that offer FREE Breakfast!
Disclosure: This site uses affiliate links. Hotels regularly change their perks, we always suggest double-checking that this perk is current.
Disneyland vacations for families can be expensive! A great way to save money is to book a hotel that offers free breakfast for their hotel guests. Many hotels near Disneyland offer free breakfast. A continental or even a full hot breakfast buffet is a great way to save money before going to a Disney theme park. Below are several hotels that have offered free breakfast to their guests. Start your magical day off by saving on breakfast!

Thank you to Get Away today for providing this content for us. It is important to note that these are not the only hotels near the Disneyland Resort that offer free breakfast. It is also important to remember that hotels change their policies regularly, so please always double-check before booking. We would love tips on other hotels that offer free breakfast that is not listed here and also an update on any that are listed here that no longer offer breakfast.
Nearly every hotel offers in-room coffee and tea. Many hotels offer a small refrigerator to hold your own items to make breakfast in your room. While our family has always saved money by bringing fresh fruit, milk, and cereal; we now like to simply book a hotel that offers a free breakfast! We prefer to not prepare breakfast in our room, and many times a free breakfast buffet is an extra special treat to our kids.
Hi everyone, it's Lexi from Get Away Today, here to talk to you about hotels near The Happiest Place on Earth that offer free breakfast for your family. Families trying to save money on a trip to Disney should definitely book a family-friendly hotel that has breakfast included in their stay. There are several hotels that offer free breakfast that is very close to Disneyland California.

It's easy to decide that you want to head to Disneyland for a trip, however, it can be tricky to decide where to stay. With so many hotel options in the Anaheim area, it's hard to know what property would be the best value for you. With free parking, free-night hotel specials, and other amenities available, you'll be able to find great value for your stay in Anaheim when you book with Get Away Today. Below are several family-friendly hotels that offer a free breakfast option for your Disneyland stay. Most hotels offer free coffee, but many include free continental or hot breakfast for every guest. Many of these hotels also offer free parking and free shuttles to the Orange County amusement parks of your choice too. Disney can be a splurge, but if you plan correctly, you can save hundreds of dollars on those little things that add up.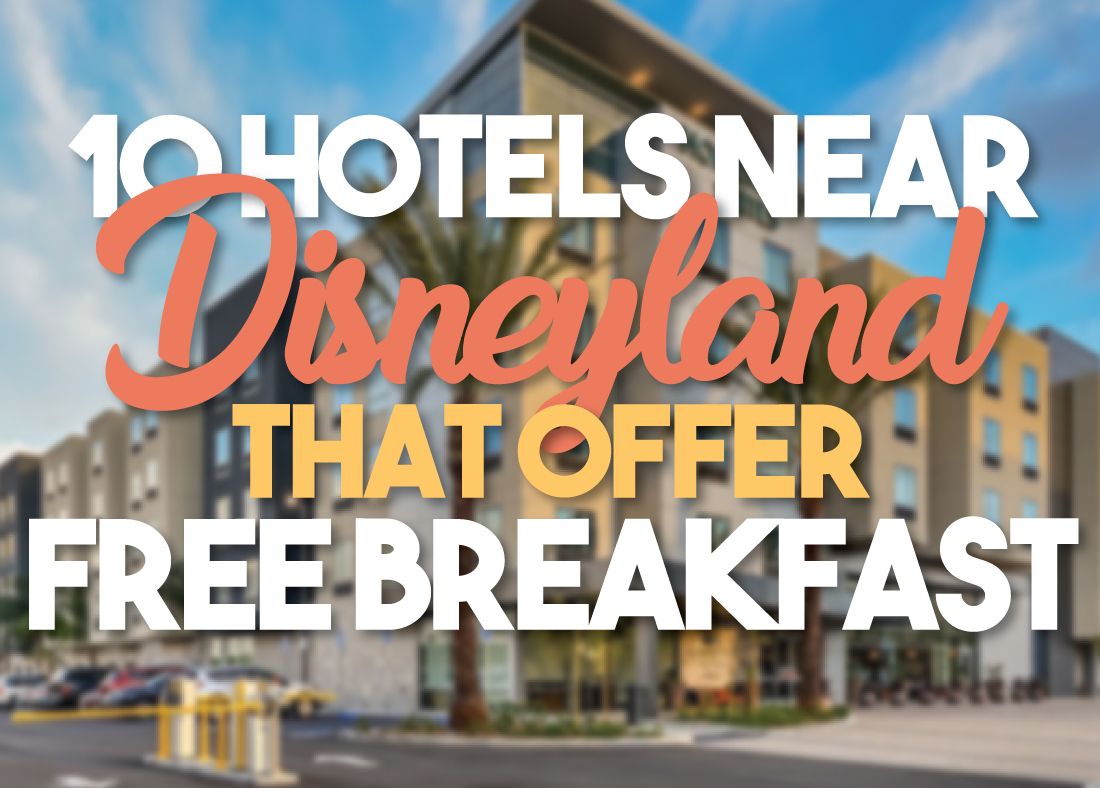 One of the best perks you can find in a hotel stay is a free, daily breakfast buffet. This amenity can save you hundreds of dollars alone, which can provide you with more cash to spend on valuable experiences at the park. Because of this, I've listed all of my favorite hotels near Disneyland that offer a free breakfast, to help you save the most on your next Disneyland vacation. Don't forget to use the code HIGHLIGHTS when booking your Disneyland vacation. You will get an additional $10 off even when you are taking advantage of another deal or discount.

How has Covid changed FREE breakfast at Embassy Suites and other hotels?
The post below is updated from when it was originally posted years ago, but we highly suggest you double check with each hotel to find the most up to date information. While hotels have made safety accommodations; many are still providing complimentary breakfast. We recently shared a video of the new Embassy Suites options for breakfast in this YouTube video.
As a family of five with TWO teenagers, we at Highlights Along the Way live for a free breakfast option when we are staying in a hotel. Our kids fill up on protein and treats. We take advantage of the 'to go' cups when available. The grown ups love to take a free coffee to go, coffee is a necessity when you go to Disneyland with three kids, am I right? The kids enjoy taking a hot cocoa or juice to go. We used to buy a coffee and drink as our first thing once we were on a Disney property, not anymore! Our kids also have asked if they are allowed to take a whole fruit from the hotel buffet and have never once been told "no". I always suggest you ask, but it is nice to have the kids have an apple to munch on while in line for their favorite ride later in the day.
Hotels that offer FREE Breakfast near Disneyland
Before you read about these awesome hotels, make sure to open up our post about Tips for Saving Money at Disneyland!

Hampton Inn & Suites
The Hampton Inn & Suites has been a favorite for guests at the Disneyland Resort for almost 20 years, and it's no surprise as to why. Not only is this property less than a mile away from Disneyland, but it also offers a free hot breakfast buffet, in-room microwave and mini-fridge. Plus, the Hampton Inn & Suites offers suites with a full-kitchen that can sleep up to six people. Whether you want to make meals at the hotel or eat at the park, you're covered at the Hampton Inn & Suites.
Country Inn & Suites Anaheim
The Country Inn & Suites Anaheim is a brand-new hotel that opened its doors in 2016. Since then, it's been offering a deluxe atmosphere with a family-friendly budget that's only a half-mile away from the Disneyland Resort. In addition to the breakfast buffet it offers each morning, guests can also receive free parking. Probably the most unique aspect of this property is their beautiful zero-entry infinity pool. This large swimming pool will provide entertainment to both children and adults alike. Whether you spend a day relaxing in the sun or enjoy a view of the fireworks at night, staying at the Country Inn & Suites Anaheim is sure to be a highlight of your vacation.
Residence Inn at Anaheim Resort/Convention Center
One mile away from Disneyland you'll find the all-new Residence Inn at Anaheim Resort/Convention Center. This all-suite hotel offers spacious and modern rooms, providing convenience and fun for every family. Not only do you get to take advantage of the hotel's free grocery shopping service to cook in your in-room kitchen, but you'll also be able to enjoy a free hot breakfast every morning. The best part? You can hang out on their roof-top pool while your children enjoy their unique children's splash area. If you're looking for a family-friendly property, this one's for you!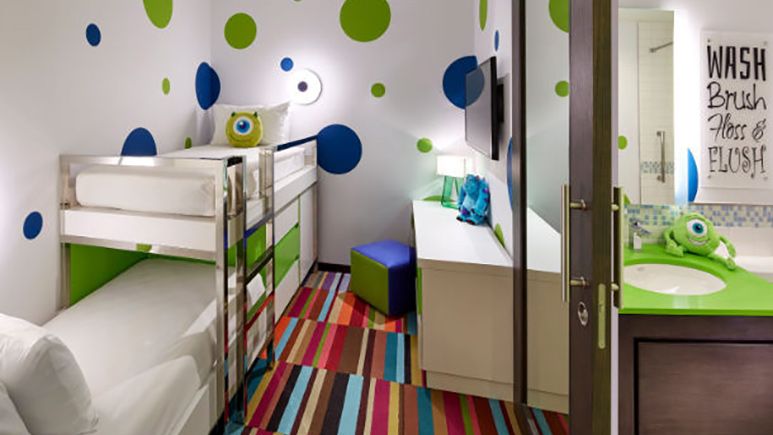 Also, seriously, how cute is this room?!
Anaheim Springhill Suites Maingate
Since this property made its debut in 2014, guests have fallen in love with it over and over again. This property is only one mile away from the resort, so you can easily take a quick stroll or ride the Anaheim Resort Transit to start your Disney day. In addition to the daily breakfast buffet, you can take a mid-day nap or well-served rest in their specious guest rooms that include a microwave and fridge. Plus, this hotel often offers free-night specials when you book through Get Away Today.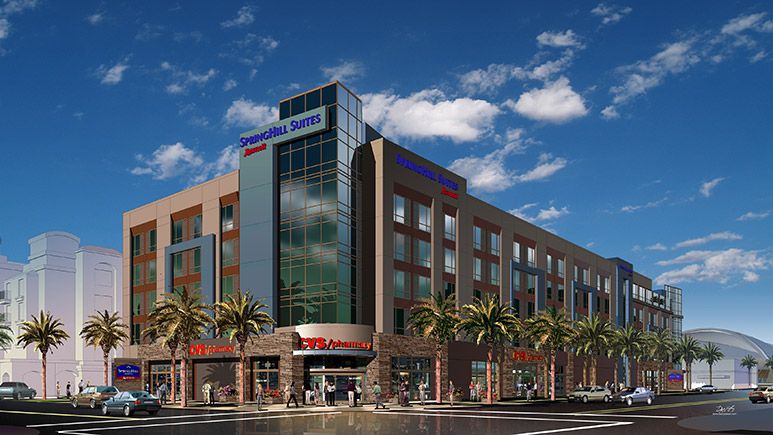 Delta Hotels Anaheim Garden Grove
Although this property is 1.5 miles away from Disneyland, it offers so many amenities to make it more than worth your money. In addition to the hot breakfast buffet that you'll receive daily, you can also receive free parking. Since their shuttle runs every 30 minutes throughout the day, you're only a hop, skip and a jump away from all of the magic. Plus, this hotel also offers free-night hotel deals that will save you the most on your next Disneyland vacation.
Homewood Suites by Hilton Anaheim Resort-Convention Center
If you've never stayed at a Homewood Suites property, you are missing out on an incredible experience and the Homewood Suites by Hilton Anaheim Resort – Convention Center is no exception. Every room comes with a full kitchen and spacious rooms to fit any type of family. In addition to the free hot breakfast buffet that you'll be enjoying every morning, your little ones will love the bunk beds that come in the Family Suites.
HYATT House at Anaheim Resort/Convention Center
The HYATT House at the Anaheim Resort/Convention Center opened in 2016 and is a family-friendly hotel located right on South Harbor Boulevard. Not only does this hotel offer free Wi-Fi, but it will also give families spacious rooms that include a full kitchen. This hotel also sits right above a Walgreens Pharmacy, so you're set if you forget anything while you're on your vacation!
Springhill Suites at Anaheim Resort/Convention Center
Only about a half a mile away from the Disneyland Resort, the Springhill Suites at Anaheim Resort/Convention Center offers fun rooms for every member of the family. In addition to the hot breakfast buffet, your kids can have fun in the Kids Studio Suite that includes one king bed with a bunk bed. Plus, you can relax at their rooftop pool deck which is perfect for viewing Disneyland fireworks each evening without having to maneuver your way through the crowds.
Desert Palms Hotel & Suites
Located on the corner of West Katella Avenue and South Harbor Boulevard, is a beloved family hotel called the Desert Palms Hotel and Suites. This hotel was originally built in 2004, however, has gone under renovations to make sure it stays updated for your family's needs. This property offers free parking, free full breakfast buffet every morning and a large variety of hotel suites that cater to every type of family. Plus, it's only about a 10-minute walk to the front gate!
Holiday Inn Express & Suites Anaheim Resort Area
Last, but certainly not least, is the Holiday Inn Express & Suites Anaheim Resort Area. This brand-new hotel is located about a half a mile away from the Disneyland Resort and offers spacious rooms for a value price. With the hot breakfast each morning and rooms that include a mini fridge and microwave, you won't want to stay anywhere else. When you go, make sure you try their signature cinnamon rolls!
As you can see, there are so many hotels that not only offer a free breakfast, but so many other wonderful amenities when you book with Get Away Today. With discount Disneyland tickets and exclusive hotel amenities, we always guarantee the best price on your next trip to The Happiest Place on Earth. To book, visit getawaytoday.com or call 855-GET-AWAY to speak to a travel expert directly. Plus, make sure to mention promo code Highlights to save an additional $10 off your hotel and tickets package.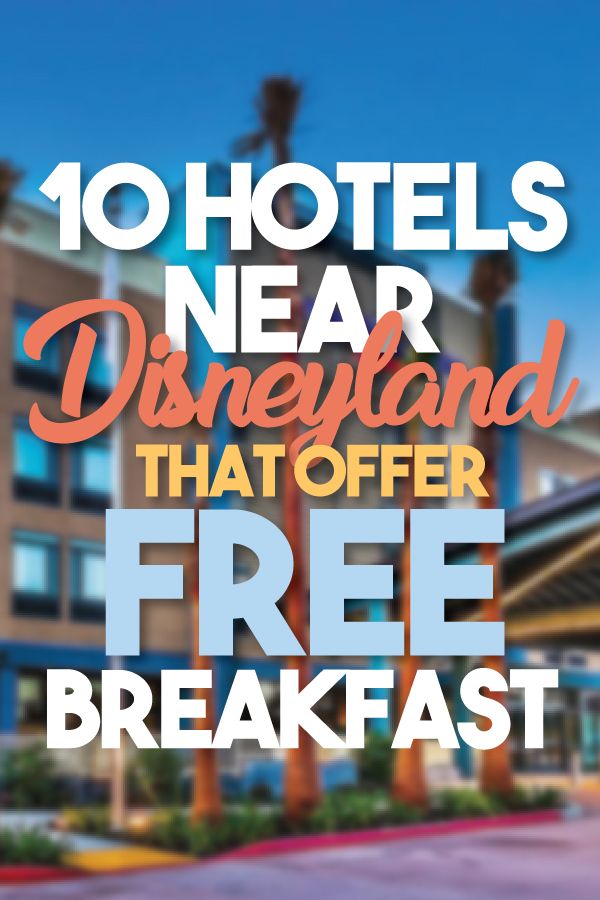 Please pin this post to your Disney Travel Planning board for reference in the future!
Thank you so much to Get Away Today for sharing! If you have not heard about Get Away Today, you can read here why I trust Get Away Today! They are actually the only Discount Disney Travel company I partner with because they are Disney approved! Tickets and packages at Disney approved hotels are guaranteed the lowest you will find published! Guaranteed you guys! On top of that, remember our discount code HIGHLIGHTS on two (or more) night stays for an additional $10 off!