Free Disneyland tickets with this easy trick!
Disclosure: This site uses affiliate links.
Did you know there is a way to get free tickets to Disneyland?  It does take some time, but it is easy and it is completely legitimate.  We use this very simple and completely free program to earn points towards free Disneyland tickets! You do not need to buy anything, you just need a little patience! Read a bit more below on our favorite way to score free tickets to Disneyland!  We also have an awesome option for discounted tickets and vacation packages! Disneyland is a splurge, we but we love to share how to stretch your Disneyland budget.  With 2019 Disneyland ticket prices soaring once again, finding ways to get free tickets is even more needed!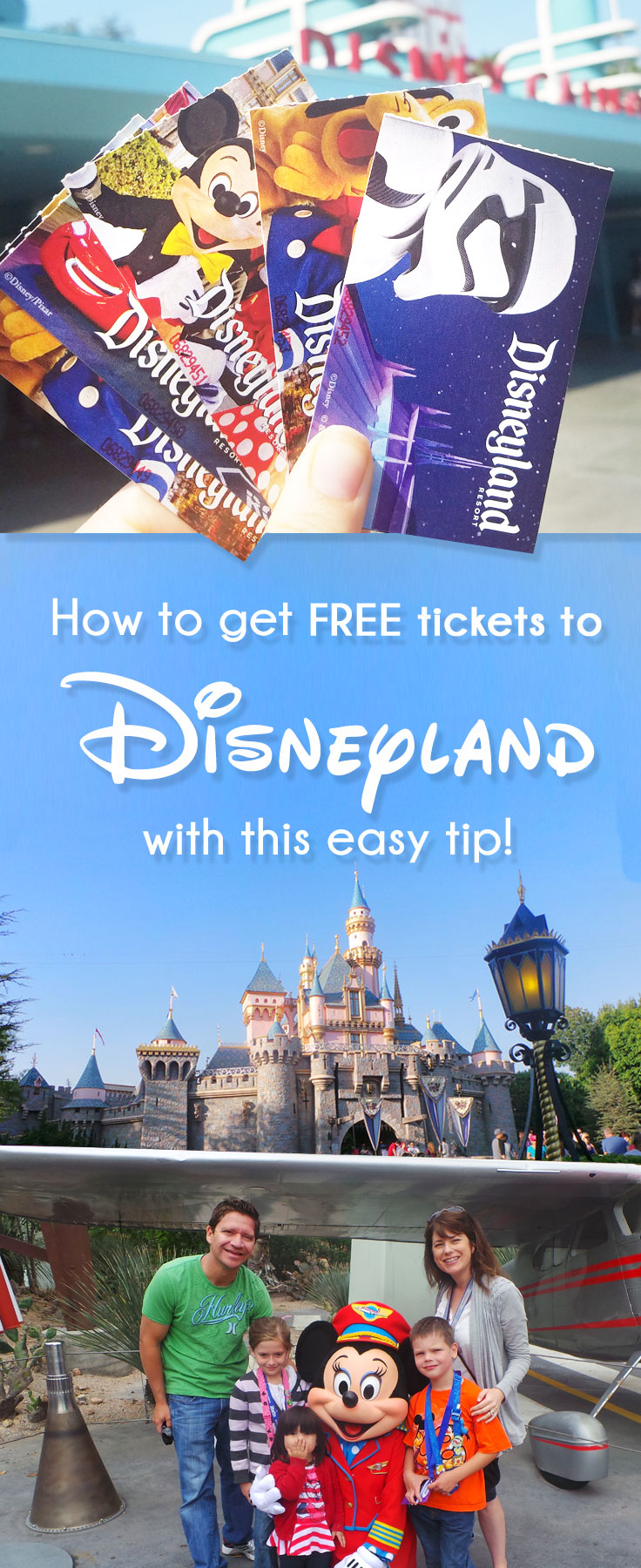 Disneyland is one of the most popular destinations for families, but it can be so expensive. Disneyland has always been and will always be a luxury item for our family.  Our family has always loved Disneyland, but we are always looking for a way to save money on tickets to Disneyland. Authentic discount Disneyland tickets are getting harder and harder to come by, but I have found something better!  I found an easy way to get FREE Disneyland tickets!  It takes some time, but with this easy trick you can easily get Disneyland tickets for free.
Disneyland is a splurge no matter what, but tickets can be completely free!  We have shared many ways to save money at Disneyland over the years.  Mickey's Halloween Party offers a fun party, rides, and all the treats you can eat for a slightly lower price than a one day ticket.  Southern California Residents can often take advantage of discounted tickets during the off season.  We share tons of tips here on Highlights Along the Way about how to get the most out of your trip to Disneyland and Walt Disney World. While we do have lots of ways to save, I just can't beat this option for free tickets to Disneyland.
Free Disneyland Tickets
How do I get free ticket to Disneyland? It's easy. It isn't a sweepstakes, or giveaway, or a time share presentation.  It's Swagbucks.  You have heard me talk about Swagbucks before. Swagbucks is one of my favorite ways to earn points to earn all kinds of prizes. While you can choose several prizes, the newest and most exciting to me is Disneyland tickets!  Now you can literally use Swagbucks for Disneyland tickets, Starbucks for your morning coffee run on Main Street, and even Paypal cash for your other purchases at Disney. This isn't a giveaway or something that is a maybe, if you sign up for Swagbucks and simply use the system (completely free), you will accrue points. You can use those points for anything you want.  Is it cheesy? A little.  It works though so I don't even care.
What does Swagbucks do? Swagbucks rewards their members with free gift cards and cash for the everyday things they already do online. Shop online, watch entertaining videos, search the web, answer surveys, and find great deals to earn points. Redeem your points for free gift cards to your favorite retailers like Amazon or Walmart, to name a few, or get cash back from PayPal. We used our Swagbucks for Disney gift cards – it is truly that easy!
You do need to set something up, but then it is literally no work at all! We personally use Swagbucks as our search engine. We use Swagbucks.com instead of Google.com for our internet searches. That's it. Because Swagbucks is lesser known than Google, they reward their users with points (or "Swagbucks") and you can turn those points in for all kinds of things. As a self proclaimed cheapskate, I have tried all the silly programs.  Most of them are bait and switch garbage.  Swagbucks is cheesy, but it works.
Click this image below to get started.  Swagbucks is free to join and it so easy!  Once you sign up, you can see there are literally hundreds of other prizes and gift cards to choose from, but my new favorite is the Disneyland Ticket option.
"What do I have to do though?" Literally just sign up and use the search engine. That's it. Points will add up.
"Is there more I can do to earn them faster?" Absolutely. You can take surveys, play games (what?! my kids love games, they can play them for me!), watch news videos, refer a friend, and even shop for things you would be buying anyway.
Not only can you earn tickets for Disneyland with Swagbucks, we also use Swagbucks for free Starbucks Coffee at Disneyland!  And if that wasn't enough, you can even trade in your Swagbucks for Paypal cash.  We plan on saving our Swagbucks to free Disneyland tickets, a Starbucks gift card, and some Paypal cash. This wild plan may take us close to a year, but we don't care.  How fun is that going to be?  Basically a free vacation to Disneyland just for using an off brand search engine.
If you are short on time, Swagbucks might not be the best option for  you. It does take a little time. Even if you cannot earn enough for that trip around the corner, sign up if you think you might go to Disneyland in the future – get ahead of it! Even if this is your one shot at Disneyland, do not fret, Swagbucks can earn other things too!  Even if I cannot convince you to try Swagbucks, make sure to check out the discount for Disneyland (and other theme parks!) in our sidebar.  Through our trusted affiliate Get Away Today we are able to offer discount lodging and tickets!  Check out the packages (through the link on our sidebar). Make sure to use the code HIGHLIGHTS for an additional discount on 2 night (or longer) stays!
Disneyland is pricey, there is no way around it.  That being said, we plan on sharing as many options to save money as possible so you can get the most for your money on a Disney vacation!
OK – so you have got to sign up for Swagbucks, but what if you want to go to Disneyland in a short period of time and cannot accumulate enough Swagbucks?  You should still sign up because you can still grab Disney gift card for FREE treats, merchandise, and more! Even if you only earn $50 or $100 in Disney gift cards, that will still help stretch your budget. I also have a great tip for discounted Disneyland travel if you are interested!  You can book your whole vacation or just buy multi-day tickets at a discount with GetAwayToday!  Make sure to check out all their deals, they are approved by Disney and their deals are very hard to beat!  Make sure to use the code HIGHLIGHTS to get an additional $10 off your vacation booking!
Sign up for Swagbucks today, and you will feel like a super hero at Disneyland soon enough!
Save
Save
Save
Save
Save
Save
Save