Olaf Printables – FREE Disney's Frozen Olaf Printable
Highlights Along the Way is a participant in the Amazon Services LLC Associates Program, an affiliate advertising program designed to provide a means for sites to earn advertising fees by advertising and linking to amazon.com. This site uses affiliate links.
Olaf is pretty much everyone's favorite character from Frozen and Frozen 2. Olaf is the character my kids are always most excited to see in any Frozen content. A free printable Olaf activity sheet from Disney is something we come back to all the time! Frozen was one of Disney's most popular animated films of all time and audiences cannot wait to see more from these iconic characters. The Olaf cut and paste free printable is so fun!

We are so thrilled at we are resharing one of our most popular Disney licensed printables. Print out this make and take Olaf from your home or school computer. This classic 'cut and paste' Olaf is perfect for winter crafts or just to get excited about Disney's newest movie! Disney's "Olaf Presents" is coming exclusively to Disney+!

Free Disney Holiday Printables – click and print
Elsa Frozen Snowflake printable activity sheet
Nick Jr Holiday Printables (I Know, not Disney)
8 Bit Christmas (OK, also not Disney)
Dobby Holiday Coloring Sheets (Sorry, but I still feel this is relevant)
Olaf Presents Trailer
In "Olaf Presents," Olaf steps into the spotlight and goes from snowman to showman as he takes on the roles of producer, actor, costumer and set builder for his unique "retelling" of five favorite Disney animated tales in "Olaf Presents," a series of new animated shorts from Walt Disney Animation Studios. The charismatic and versatile Olaf demonstrates his theatrical flair, taking on such iconic roles as a mermaid, a genie, a lion king (and most of the parts in between), as he entertains Arendelle with his delightful abbreviated versions of these beloved tales. Josh Gad returns to voice Olaf with veteran Disney animator Hyrum Osmond directing and Jennifer Newfield producing.
Scroll to a free printable cut and glue Olaf. Please enjoy using this at school, preschool, church, or even at home. Simply click and print from your home or school printer. A full size high resolution Olaf pieces sheet will print out. This printable is just one sheet and uses minimal colors when printing. Print on standard printer paper or card stock.
Olaf is just about everyone's favorite Disney character. Olaf, the lovable snowman from Disney's smash hit, Frozen is still delighting kids and adults alike. This free Olaf printable continues to be one of the most popular posts on this site. You can print this high resolution printable activity sheet right from your home computer. This makes for a perfect non – denominational winter craft for school or home. you are welcome to click and print as many as you would like! Perfect for a holiday craft or Frozen themed birthday party! Have fun building a snowman today. Below you will also find links to Frozen coloring sheets and other printables. A big thank you to our friends at Disney for allowing us to freely share these fun Disney printable activity sheets and coloring pages with our readers. I hope you enjoy!
FREE OLAF PRINTABLE ACTIVITY SHEET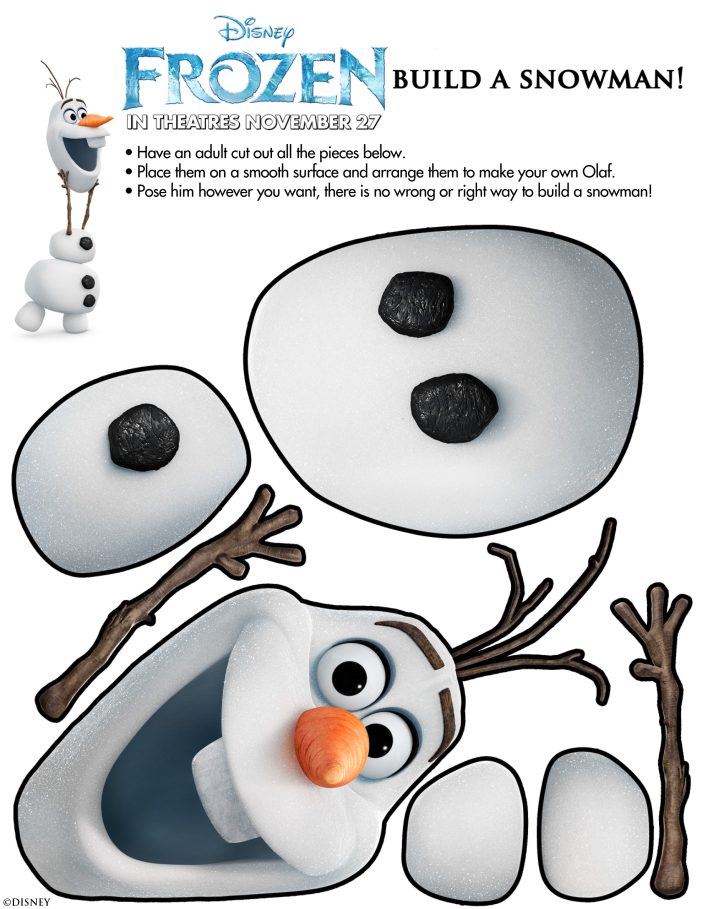 Frozen has captured our kid's hearts. We love everyone from Frozen but Olaf is our favorite. Below we have an awesome free printable for those who love Olaf too. Feel free to print out this Olaf Printable for free! Do you want to build a snowman?
How cute is Olaf? I fell in love with him with the first Frozen trailer and it was really fun to hear more about his character at D23 Expo. I really cannot wait for Disney's Frozen to hit theaters on November 27th.
My kids are also big fans. They love Olaf's silliness and ask to watch the trailer regularly. They are going to be super excited with this free Disney's Frozen Olaf printable. You can use the printable Olaf template for tons of Olaf themed crafts. We have several other Frozen Printables as well!
Print out and make your own Olaf – there is no wrong way to build this snowman – have fun! Double click to make the image full size and click to print. These printables are high resolution and you can even use this Olaf as a template to make an awesome oversized Olaf Cardboard cutouts for birthday party pictures. We love to use these printables for cutting practice for our littlest as well as just a fun inside activity for our big kids. Print them out as a very inexpensive party craft or use as Frozen themed holiday decorations.
This printable activity sheet is compliments of Walt Disney Studios. Please check out our other family friendly printable coloring sheets under our 'printables' tab. Some of our most popular coloring sheets are Raya and the Last Dragon, Flora and Ulysses Coloring Sheets, Go Dog, Go! Coloring sheets Gabby's Dollhouse Coloring Sheets , We Can Be Heroes Coloring Sheets, Sharkboy and Lavagirl Coloring Sheets, American Girl Doll Coloring Sheets , Olaf Coloring Sheets, Coco Coloring Sheets , Trolls Coloring Sheets , and so many more on our site!
Make sure to bookmark our blog for more non religious coloring and printable activity sheets. We are sure to share more fun winter preschool and elementary school fun art projects as the winter holiday season approaches.
Another update to feature the beautiful full sized Frozen 2 Movie Poster!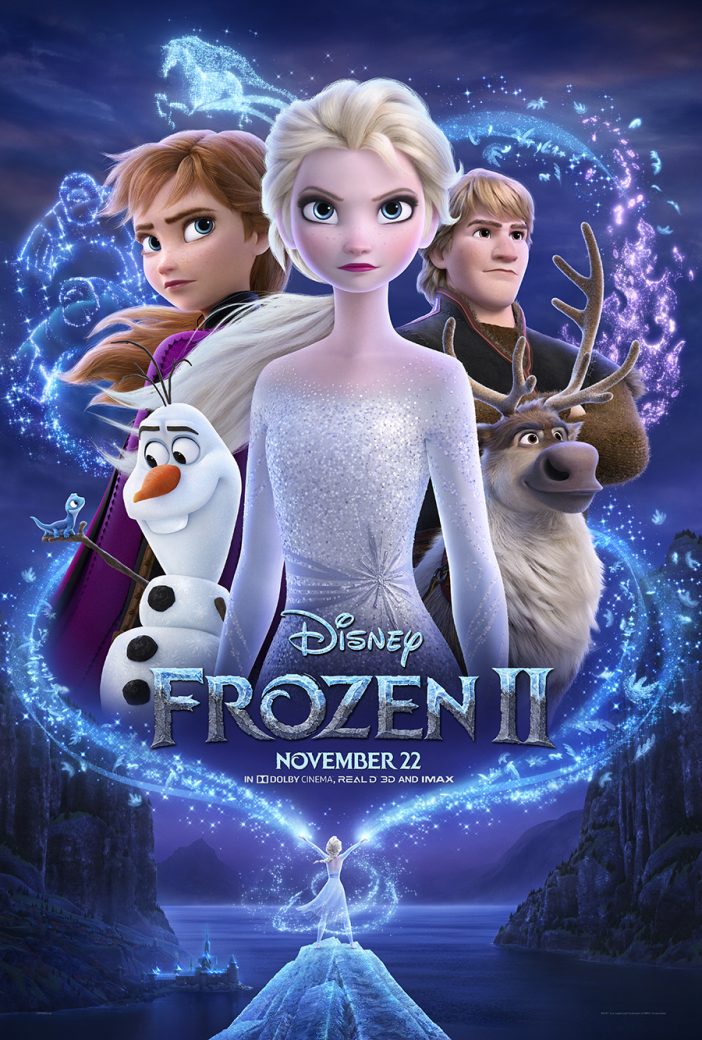 Update! Now that we have seen Frozen, we love this craft even more. We love to use free printables as fun exercises for motor skills. Print them out for preschoolers and up! These printables are fun to cut, paste, and decorate with.
Snowmen are awesome winter themed crafts that are festive but non denominational. It really is perfect for all kinds of school crafts and events. Everyone is on a budget, so a fun free craft is a great way to stretch a holiday break dollar. Use this to make a snowman or Olaf stencil. Have fun and get creative with this Olaf printable.
Want more Frozen 2 fun? Amazon has a ton of fun activity books too. Great prices, but nothing beats this freebie!
Please check out our other FREE Frozen Coloring Pages too. You do not need to be a subscriber to take advantage of our free printable activity library, but we do highly encourage you joining us! Please let us know if you enjoy these printables and what other printables you would like to see. This helps us determine which to share as they become available. Thank you for joining us today!
Pin here https://www.pinterest.com/pin/237846424050415181/
Olaf Fans – What to see something even more awesome?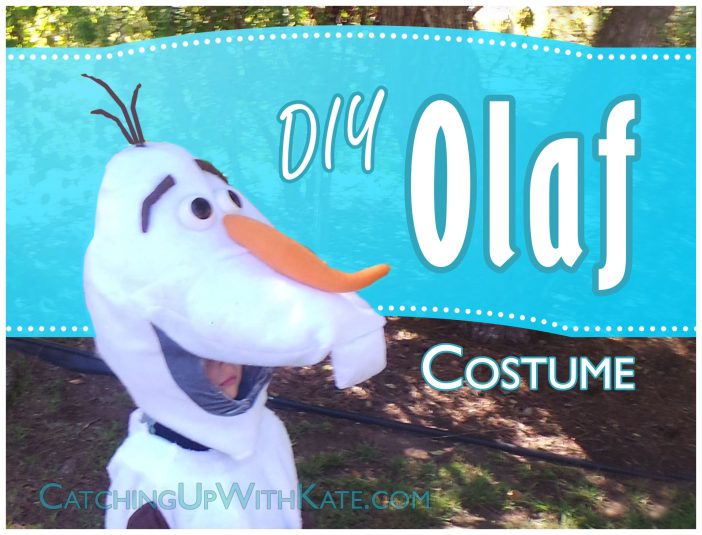 That's right – we made a DIY Olaf Costume – inspired by this Olaf printable! Check it out!

ABOUT DISNEY+
Disney+ is the dedicated streaming home for movies and shows from Disney, Pixar, Marvel, Star Wars, and National Geographic, along with The Simpsons and much more. In select international markets, it also includes the new general entertainment content brand, Star. The flagship direct-to-consumer streaming service from The Walt Disney Company, Disney+ is part of the Disney Media & Entertainment Distribution segment. The service offers commercial-free streaming alongside an ever-growing collection of exclusive originals, including feature-length films, documentaries, live-action and animated series, and short-form content. With unprecedented access to Disney's long history of incredible film and television entertainment, Disney+ is also the exclusive streaming home for the newest releases from The Walt Disney Studios. Disney+ is available as a standalone streaming service or as part of The Disney Bundle that gives subscribers access to Disney+, Hulu, and ESPN+. For more, visit disneyplus.com, or find the Disney+ app on most mobile and connected TV devices.