FREE Mermaid Birthday Coloring Page
In celebration of "Mer May", I am sharing a free printable Mermaid Coloring sheet! Today's prompt is "Celebrate". The best celebration for little ones is always their birthday. The mermaids are surprising their friend with an under the sea party. Download and print this for home use today!

If you love mermaids, make sure to follow the art contest "Mer May" on Instagram using the hashtag #MerMay. Every day there is a new prompt and the art created by thousands of artists all over the world is so much fun. While I am creating coloring sheets, many artists are making full color illustrations of mermaids in countless individual styles. Mermaid fans everywhere look forward to MerMay all year and I am so excited to participate for the first time!
Simply click and print the picture below. You may print from your home computer. Use at home, daycare, or school. If you are having a mermaid themed birthday party, please feel free to print out our whole collection of mermaid printable coloring sheets for free! The "Shellebrate" coloring sheet is the first in the series. See each new Mer May printable on my art instagram page @KateHamArt first!
Mermaid Birthday Coloring Sheet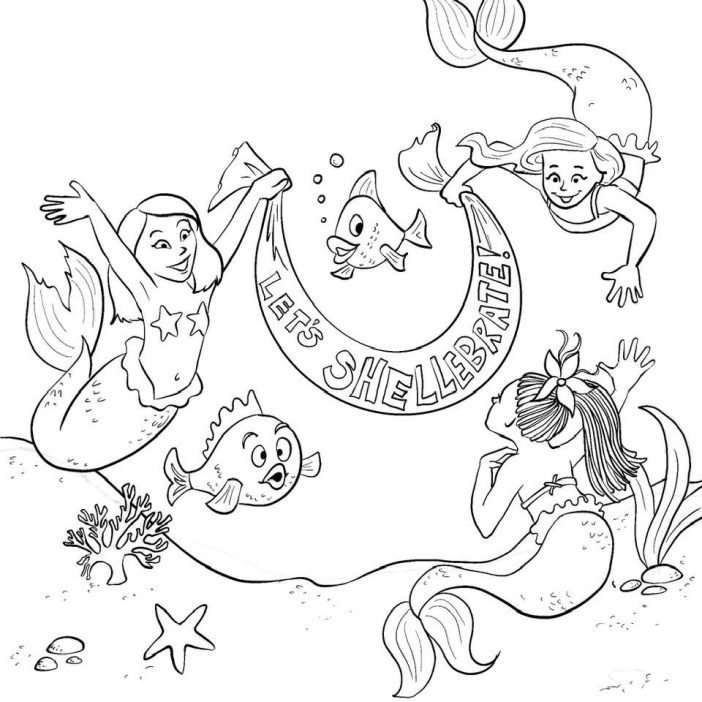 If you are a blogger or writer looking for printable coloring sheets for your blog, magazine, or book, please check out my website Kate Ham Art and follow my growing Instagram account @KateHamArt . Do not hesitate to reach out if you would like me to create printables or book illustrations for your next project. If you or your child colors one of our printables, please share it on social media and tag our page. I will always share printables in our instagram stories and I would love to feature you!