Free Party Printables for Big Hero 6
We are knee deep in party planning for our Big Hero 6 birthday party for our new nine year old. While there are not a ton of Big Hero 6 birthday party products you can buy on the market yet we know we can always look to Disney for FREE printables! Our good friends at Disney have provided these FREE Party Printables for Big Hero 6 and we are taking advantage of just about all of them! In this post we have Big Hero 6 cupcake toppers, easy DIY birthday banners, invitations, thank you notes, decorations and more!
To use these free printables you simply need to click and print – you don't have to sign up for anything and you can just use your home printer!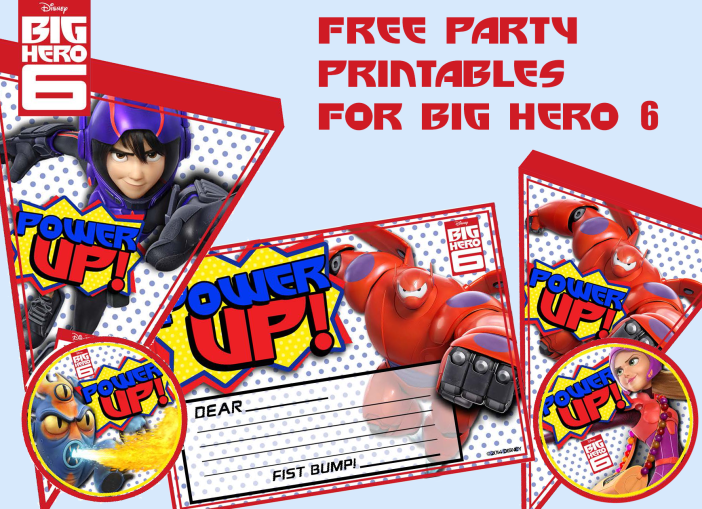 First – we started with this FREE Big Hero 6 Invitation for her class – they print two on a page and have an awesome picture of Baymax.
Second – we printed out the Thank you notes also with Baymax so they are ready to go right after the party.
Third – A printable Big Hero 6 birthday banner is going to be SO cute and it is so easy! We thought about making a DIY Big Hero 6 birthday banner but this is SO much cuter and just so easy peasy!
Fourth – Our party is very small so these aren't really necessary – but there are some really cute printable name tags for our guests too!
Fifth- we are using these Big Hero 6 character food pics for our VERY easy cupcakes! There are some really adorable Big Hero 6 cupcakes out there, but you know our thing is to just stick a toothpick with a pic on top of our cupcakes and call it done! Thank you Disney for making it easy for us!
Sixth – Printable "Food Tents" will make labeling everything so easy peasy! This is typically an afterthought for us – you can see in our past birthday party posts that we often just make a quick triangle and name the item – that's it. This year we have really cute labels and they are totally free! These Big Hero 6 food labels are so simple that it is an easy job for the kids to be helpful in party set up.
Seventh – last but not least we have some really cute gift tags. I will use these on our gift to our daughter but also to label the kid's goody bags for a really put together Big Hero 6 look.
Thank you to Disney for sharing these licensed FREE Big Hero 6 birthday party printables with our audience! Stay tuned! We can't wait to show off our Disney's Big Hero 6 themed birthday party using many of these items
Go to the next page to download and print your Big Hero 6 Printable party pack. Scroll to the bottom if you want a pdf of all the pages.
BIG HERO 6 Instant Download Birthday Party Supplies