Free things to do with kids in San Diego
San Diego is an excellent family-friendly destination. There are so many free and inexpensive things for people with kids to enjoy in San Diego. A trip to Southern California can be expensive, but there are many budget-friendly things to do once you get to sunny San Diego!
Below we have included free coloring pages featuring San Diego destinations. Feel free to click and print. Kids love to color travel activity pages in anticipation of a family adventure.
From stunning beaches and parks to cultural attractions and events, there's always something to do in San Diego without spending a dime. While there are many things to do in San Diego for free all year round, October is famous "Kids FREE in San Diego". Make sure to check out the extensive list of free kids' tickets to museums, theme parks, zoos, and more when you travel in October!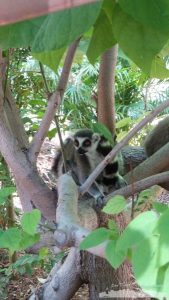 Free Things In San Diego
Here are just a few of the many free things to do in San Diego:
Visit the beaches: San Diego is home to some of the most beautiful beaches in the world, and they're all free to visit. Whether you're looking to surf, sunbathe, or just take a stroll along the water, San Diego's beaches have something for everyone.
Explore Balboa Park: This 1,200-acre urban cultural park is home to 15 major museums, several performing arts venues, beautiful gardens, and the San Diego Zoo. Many of the museums offer free admission on specific days of the week, so be sure to check their schedules.
Take a hike: San Diego is home to several beautiful hiking trails, many of which offer breathtaking views of the city and the surrounding area. Some popular trails include the Torrey Pines State Natural Reserve and the Cowles Mountain Trail.
Attend a farmers market: San Diego is home to several farmers markets that take place throughout the week. These markets offer a chance to sample local produce and products, and many also feature live music and other entertainment.
Visit the USS Midway Museum: This museum, located on the USS Midway aircraft carrier, offers a unique look into the history of naval aviation. The museum is open every day and admission is free for active military personnel and veterans.
Check out the art scene: San Diego is home to a thriving art scene, with galleries and studios scattered throughout the city. Many galleries offer free admission, and some even host special events and exhibitions that are open to the public.
Enjoy a free concert: San Diego is home to several music venues that offer free concerts throughout the year. Keep an eye out for events at the Embarcadero Marina Park South or the Spreckels Organ Pavilion in Balboa Park.
The San Diego County Fair is something locals and tourists look forward to every year. Located in Del Mar, California just north of Downtown San Diego, it is a beautiful location for a county fair. The fair typically runs the two weeks before the 4th of July.
LEGOLAND, California is located in Carlsbad California. Carlsbad is in North County San Diego. LEGOLAND is a theme park especially made for children under 10 years old, but it is truly a delight for any LEGO fan!
Visit the San Diego Zoo Safari Park. The Safari Park is located about one hour from the original San Diego Zoo. The Safari Park offers unique experiences that are not to be missed!
There are so many more free things to do in San Diego, from visiting the Cabrillo National Monument to strolling through the historic Gaslamp Quarter. No matter what you're interested in, there's sure to be something for you in this beautiful city.
FREE San Diego California Coloring pages
San Diego Zoo Coloring Page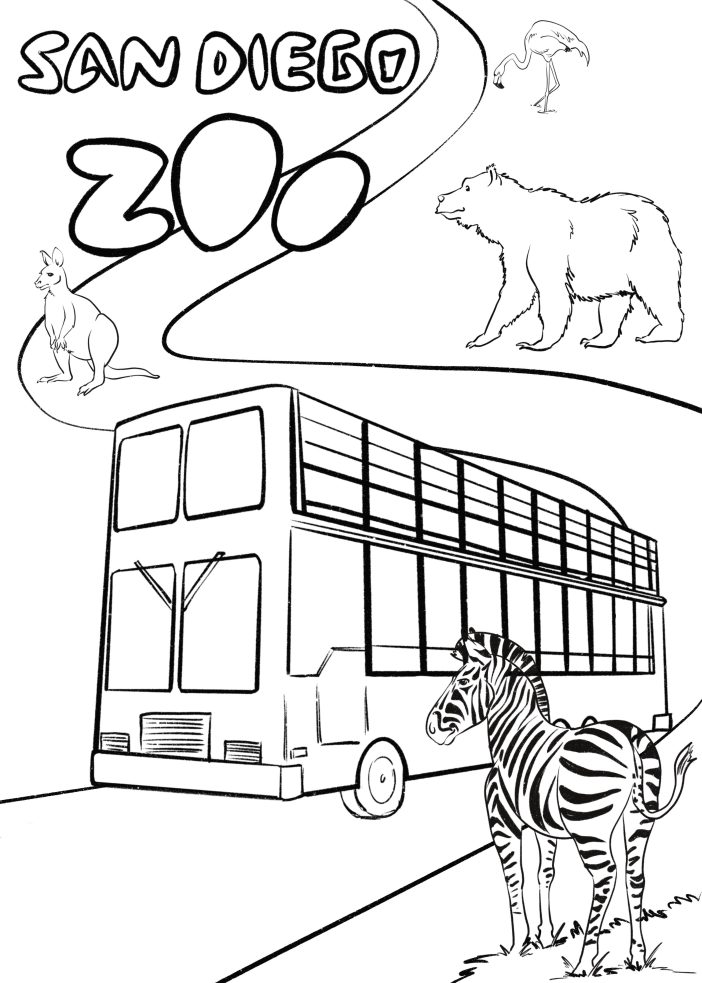 What is the San Diego Zoo?
The World Famous San Diego Zoo is a large zoo within Balboa Park. This must see San Diego tourist spot houses over 4000 animals on over 100 acres. A family can spend an entire day at the San Diego Zoo. We suggest splurging on the bus tour as well as the gondolas. The San Diego Zoo has large enclosures and the animals are well cared for. When our family lived in San Diego we enjoyed having San Diego Zoo memberships which came with free admission year round!
Balboa Park San Diego Coloring Page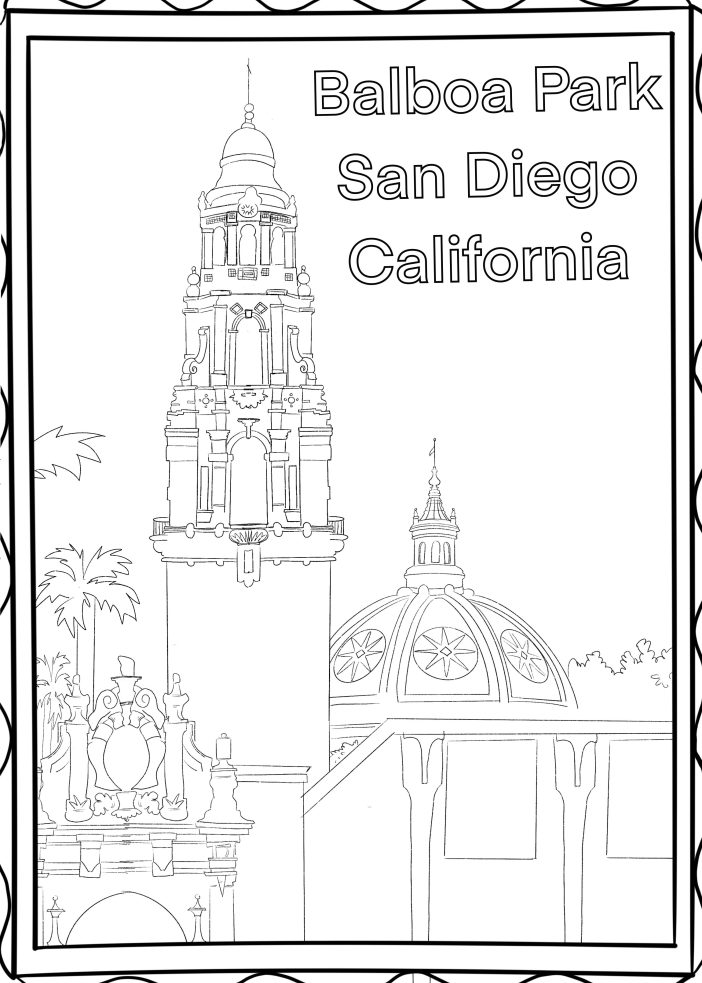 San Diego "American's Finest City"
San Diego is a large city on the Pacific Ocean Coast of Southern California. San Diego is at the bottom of California and is on the Southern Border of Mexico. San Diego is one of the largest cities in the United States. After Los Angeles, San Diego is the largest city in the state of California. San Diego is a popular destination for travelers for many reasons. San Diego has beautiful beaches and a mild year-round climate.