FREEZE your Gogo Squeez – Mom Hack!
Disclosure: This site uses affiliate links.
Back to school is here! With temperatures still so high, parents are looking for ways to keep lunches cold until lunchtime. Our favorite lunch box hack is to include a frozen Gogo Squeeze applesauce in each lunchbox. Gogo Sqeezes are a healthy snack that can be eaten quickly and it works as a makeshift ice pack.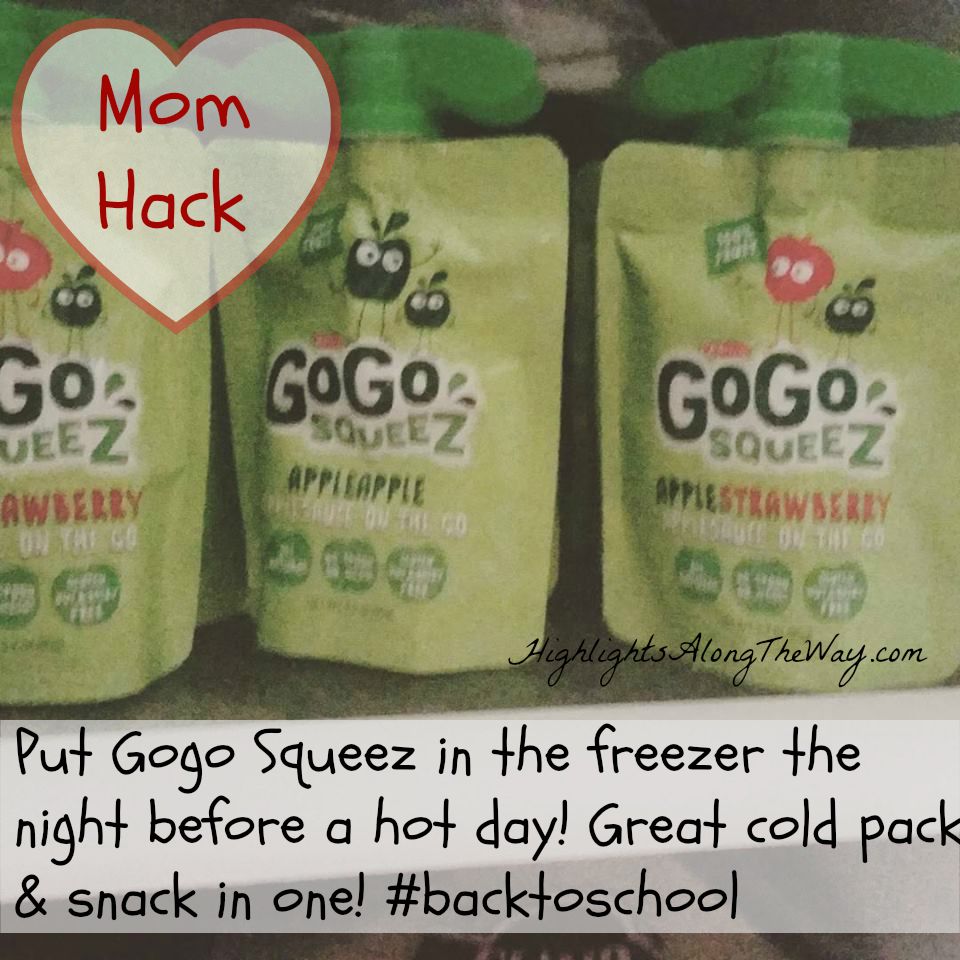 Can you freeze Gogo squeez? Yes you can freeze Gogo squeez. Last year we won a year supply of Gogo Squeez at a a family conference and my kids were thrilled! We have always been fans of Gogo Squeez anyway and now they knew they would have it in school lunches nearly every day! I love Gogo Squeez because I know they are getting a full serving of fruit (not just apples, but many are a combination of fruits and or veggies). The kids love Gogo Squeez because they get a fun package that makes eating on the go fast!
Well I noticed last year the kid's lunchboxes (especially my sons!) were getting too full! Because we live in a warm area of the country we need to put in an ice pack with their lunches to make sure things do not spoil before lunch time. My son's lunchbox was getting harder to pack and one day I decided to experiment – I popped a Gogo Squeez in the freezer overnight. I wondered if a Gogo Squeeze would explode in the freezer, but it was worth the risk. Believe it or not, the Gogo Squeez did not explode in the freezer and it worked as the perfect cold pack for school lunches! The Gogo Squeez worked as an ice pack until lunch time and then was an extra cold and refreshing part of his lunch spread!
We buy as much as we can with Amazon. (Affiliate) At about 50 cents a piece, GoGo Squeeze is a great deal, a great snack, and a great tool when frozen.
Our family does not like to buy packaged products for everyday use, but we LOVE Gogo Squeez items for lunch boxes. Below is more information about GoGo Squeez from Amazon…..
Applesauce on the GoGo made from 100% real fruit in portable, BPA-free, squeezable pouches

Unsweetened applesauce pouches made from 100% real fruit, kosher certified, non-GMO, gluten free, nut free, dairy free, no added colors, flavors, or high fructose corn syrup

Healthy, convenient snacks perfect for kids sports teams, classroom snacks, family-friendly parties, and outdoor entertaining

Pouches fit perfectly in a lunchbox or backpack—pop a pouch in the freezer overnight, and use it as an icepack in your child's lunch

At GoGo squeeZ, our mission is to make it easier for families to be healthier and happier. With over 20 varieties of fruit and veggieZ on-the-go, plus new GoGo squeeZ BlastZ, we're more than just Applesauce, we're Goodness on the Go!
I told a couple friends about it and they were like "I had never thought of that!" and then I shared a picture on Instagram and Facebook and people thought it was a good idea so I thought I should share it here. I thought I came up with something unique but I saw that Gogo Squeez actually posted "FroGo" on their page too so I guess great minds think alike!
Anyway – freeze Gogo Squeeze (or a box full) in the freezer the night before school, camp, or a trip to the beach and use it as a cold pack for your trip.
What are your favorite Mom Hacks? Leave them in the comment section – I am always looking for new ideas and I am sure our friends here are too!
Save
Save
Save