Frida Kahlo Coloring Page
Disclosure: This site uses affiliate links.
Instant download free printable coloring page featuring artist Frida Kahlo. This is a free resource to be used for home or school use. Frida Kahlo is a perfect person to celebrate during Women's History Month, Hispanic Heritage Month, Pride Month, art history studies, and more. Simply click and print this no prep educational resource and share with your class.
Teachers are welcome to share a direct link to this webpage to their students and other teachers. Many of the coloring sheets below are free; a few are listed on Etsy for instant download for less than a dollar. Thank you for visiting our site and using as many of the free options as you wish! I would love for you to consider supporting a 'back to school' mom trying to pay for dance lessons and running shoes by checking out what I have to sell on Etsy. Even if you do not want to purchase anything; just visiting today is helpful – as blog traffic still creates some revenue for our family while I work towards finishing school.
Coloring Pages and activity sheets are an excellent resource to print out or even use digitally. Grab crayons or markers and color along while your teacher shares a lesson about the incredible life of Frida Kahlo.
Frida Kahlo Coloring Page – Instant Download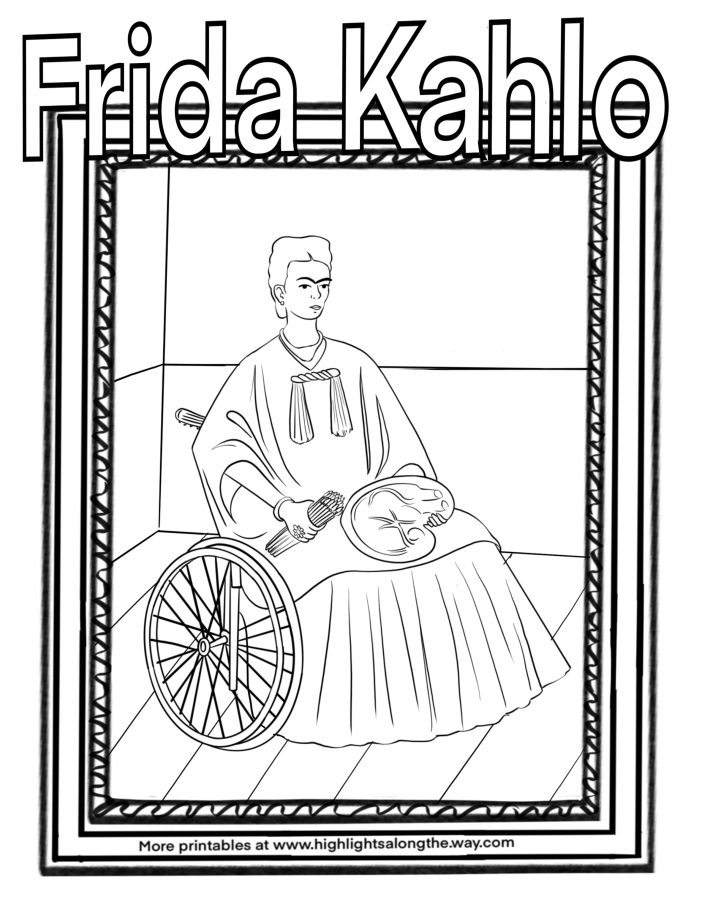 Who is Frida Kahlo?
Frida Kahlo was a Mexican painter best known for her uncompromising and brilliantly colored self-portraits that deal with such themes as identity, the human body, and death. Although she denied the connection, she is often identified as a Surrealist. She was also known for her tumultuous relationship with muralist Diego Rivera.
MORE FREE COLORING SHEETS BELOW!
FREE Nature Themed Printables from WWF – click and print for FREE!
FREE Melissa & Doug Printables – print from home to learn and enjoy!
FREE Taco Bell Printables – so fun and may inspire a trip through the drive thru!
Educational Coloring pages are some of my favorite things to share! I hope that teachers will come back and use these free and inexpensive instant downloads year after year. Our art history, women's history, Hispanic Heritage, and many other educational printable library will continue to grow.
If you are a blogger or writer looking for printable coloring sheets for your blog, magazine, or book, please check out my website Kate Ham Art and follow my growing Instagram account @KateHamArt . Do not hesitate to reach out if you would like me to create printables or book illustrations for your next project. If you or your child colors one of our printables, please share it on social media and tag our page. I will always share printables in our instagram stories and I would love to feature you!