Future Worm on Disney Plus!
Disclosure: I attended a press conference hosted by Walt Disney Studios. Posts were expected but opinions are always my own.
Future Worm is coming to Disney Plus! Future-Worm! Is a quirky animated series that is sure to have all your family members cracking up. Nerds and animation buffs may remember Future-Worm first debuting on Disney XD a few years back. I was lucky enough to get a sneak peek before its original debut, and I am sharing again today. I am excited to share it with my family when it hits our Disney Plus account.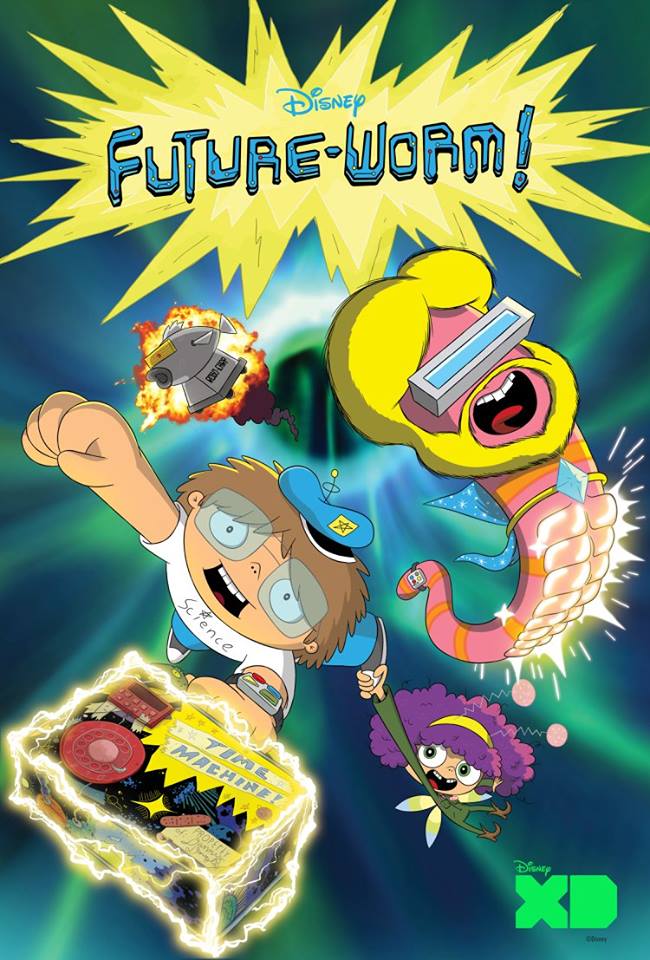 While I visited Disney to celebrate the Hollywood premiere of The BFG I also was able to hop over to see what is going on over at Disney XD. Future-Worm! is coming to Disney XD and premiers on August 1, 2017. We were able to get a sneak peek at the first episode and I can say kids and adults will really enjoy this silly show together. Our group visited DisneyToons studio where we were not only able to watch the first episode of Future-Worm! but we also were able to interview the creator and director of the show Ryan Quincy as well as meet several of the animators. I am going to share bits of our interview with Ryan Quincy, photos from the day, and also an exclusive clip of Future-Worm! at the bottom of our post! Disney XD series are created with the whole family in mind. These shows include stories and action that will keep kids entertained, but also their parents. Future-Worm! certainly fits the bill here!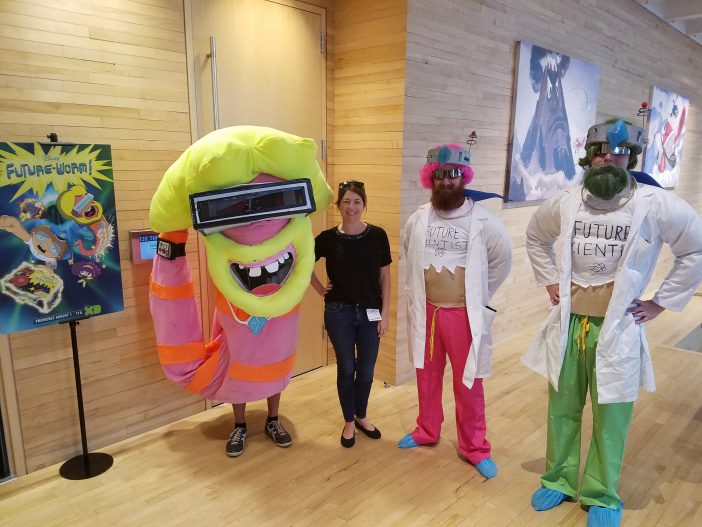 Yep! that is Future-Worm and some Future Scientists. Actually, these are Disney animators in Future-Worm Costumes they made themselves. I'm pretty sure there is no place more fun to work that DisneyToons studios! You can pin these costume ideas for Mickey's Halloween Party you guys, I texted this picture to the Hubs and was like "Your costume for Halloween." and he was like "Seriously, what is that?" He didn't know then, but he will know come August 1st that this is his new favorite Disney character!
OK, I know some of you are wondering "What is Future-Worm!?" Future-Worm!, is an animated comedy adventure series about a boy named Danny who creates a time machine lunch box, and then meets and befriends a fearless worm from the future. They embarked on several silly adventures on each episode. It premieres Monday, August 1st (11:00-11:30 A.M. EDT), on Disney XD.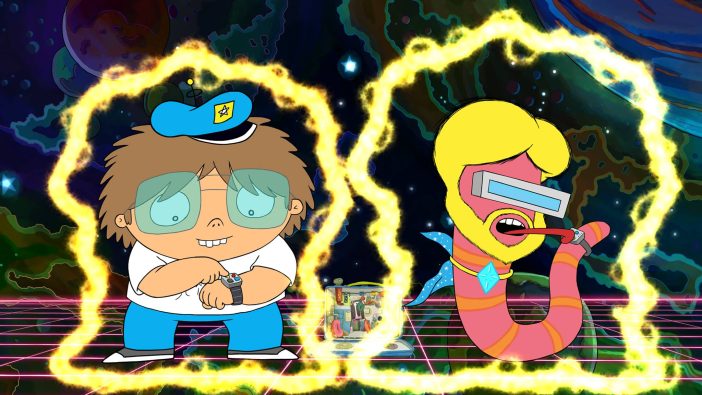 I laughed out loud several times during our private screening of Future Worm. Each half hour of Future-Worm will include three separate episodes that feature ridiculous adventures by these crazy two and will include some science facts thrown in for good measure. One of the reasons I laughed so hard is because I was imagining my son and husband watching this show together in the future. While the main character Danny is a bit older than my son, I feel like he was probably interviewed for ideas. While I truly think this show will be fun for every member of our family; it's really going to resonate with the boys. If you have a son you have likely seen him sitting quietly in thought. You maybe ask him what he is thinking and he says "nothing", but you press onward and ask again. When my son actually tells me; it's pretty much one of these episodes. It is clever, but it is weird you guys.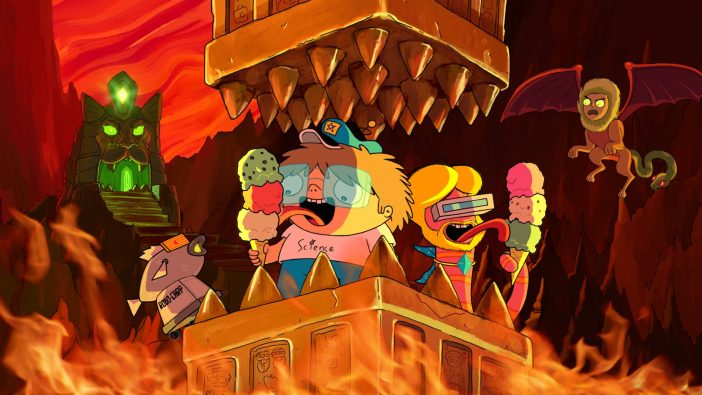 Future-Worm! is directed and produced by Ryan Quincy. Our group was able to sit down with Ryan and ask some questions about the show right after the screening.
When asked about the origins of Future-Worm! Ryan said :
"There were five five 90 second Future-Worm! shorts. With the series, we want to just hit the ground running. And over the course of the season, there will be some callbacks to some of that. But basically, what happened was, Danny created this time machine lunch box, sent it so far into the future that these future scientists found it and opened it up. Some of Danny's lunch was in there, there was an apple in there that happened to have a worm in it. They put it through their genetic escalator and gave him all these attributes. Like, the bulletproof beard, the photo receptor visor, and the 24 titanium-enforced abs. So then, they sent Future-Worm! back to hang out with Danny. So that's kind of, in a nutshell, the origin of how they met."
I pointed out how much this seemed like something my 9 year old might have helped with, simply because of the silliness and action of the story and Quincy responded :
"Well, absolutely. And I even tapped into my own nine-year-old brain, and was like, what was the show that I would've loved to see on Saturday morning. There was a lot of, what do my kids want to watch, and what do I want to watch with my kids? 'Cause there's a lot of fun stuff that I think the parents are a lot of fun. It's a wide appeal for everyone. I love getting ideas from my kids, and talking to them, kind of pitching out ideas."
Animation buffs will appreciate these fun facts about the creator of Future-Worm!
Quincy is best known for his work on 'South Park' for which he won two Emmy Awards!

He voiced the role of 'Chad' in the animated series "Out There".

At one time Ryan Quincy was an aspiring surfer. Animation came after a long stint in the hospital where he spent a lot of time watching cartoons.
So, I have been known to pass on asking a celebrity for a selfie. That being said, I have never been known to pass up a selfie with a Disney animator. If you asked me growing up what I was going to be I would have told you 'A Disney animator'. You are reading this so you know that didn't pan out, but the respect for Disney animators is still way up there! My fan girl comes out with artists and authors. The creator of Future-Worm, Ryan Quincy is living the dream. So obviously, I needed a selfie for myself and my Disney loving family.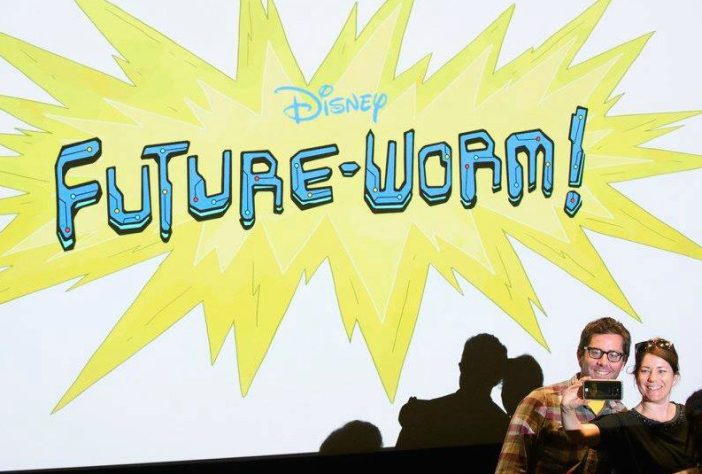 photo credit : Richard Harbaugh Disney XD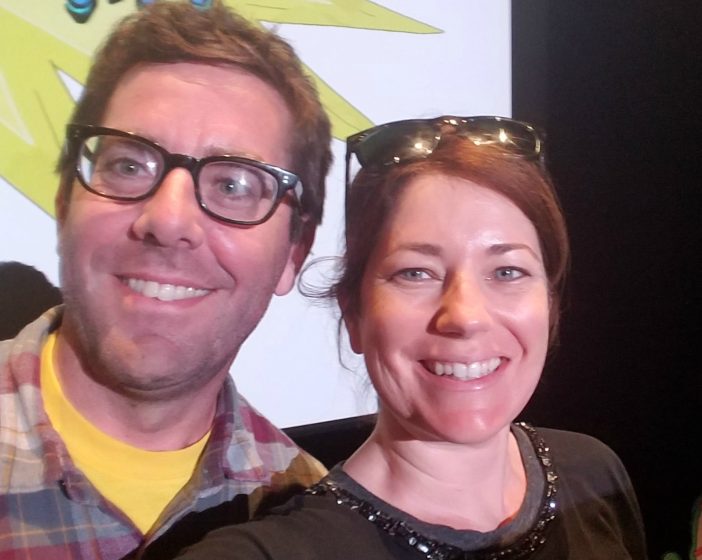 we all love Disney movies and TV right? We need to know the faces of the geniuses that bring them to life! This is Ryan Quincy, creator of Future-Worm and obviously my very good friend.
I am thrilled to share with you an exclusive sneak peek at Future-Worm! – check it out below!
A huge thank you to Ryan Quincy for taking the time to sit down and chat with us about your upcoming show. I thank you in advance for creating my kids' soon to be favorite Disney XD show!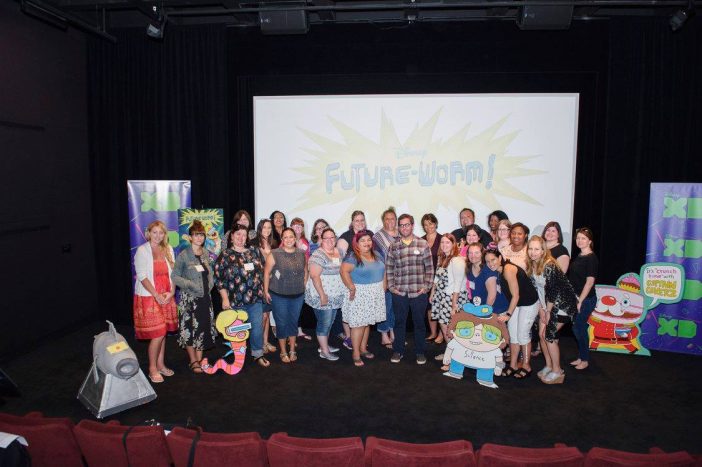 Photo Credit : Richard Harbaugh Disney XD

Future-Worm! premieres on Monday, AUGUST 1st (11:00-11:30 A.M. EDT), on Disney XD. Don't miss it!