Ghoul Juice Recipe
Disclosure: Highlights Along the Way is a participant in the Amazon Services LLC Associates Program, an affiliate advertising program designed to provide a means for sites to earn advertising fees by advertising and linking to amazon.com. This site uses affiliate links.
Get ready to make some "Ghoul Juice" to serve at a Monster High the Movie Viewing Party! Halloween Eyeball Punch is a perfect treat to celebrate Monster High the Musical coming to your home theater! This spooky treat is fun for watching a scary movie or for Halloween parties! With simple sweet ingredients, gummy eyeballs, and gummy worms, it is easy to make and so special! Thank you to Cutefetti.com for sharing this recipe. Grab your ingredients and read up about Monster High the Movie below!
Ghoul Juice – Halloween Eyeball Punch Recipe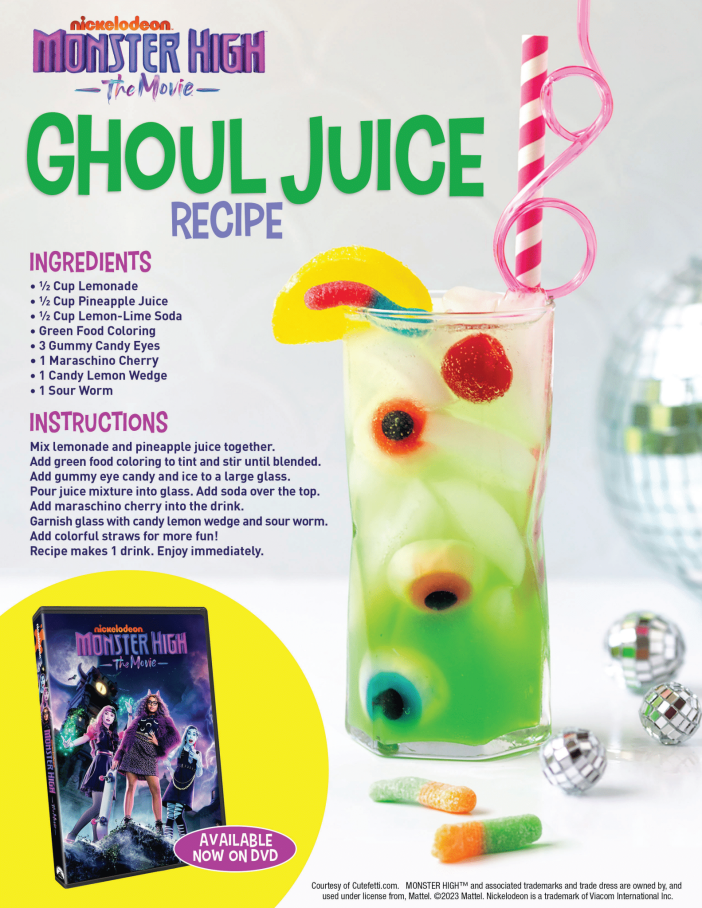 Ghoul Juice Eyeball Punch Recipe Ingredients
1/2 cup Lemonade
1/2 cup Pineapple juice
1/2 cup Lemon-Lime Soda
Green Food coloring
3 gummy candy eyes
1 Maraschino Cherry
1 Candy Lemon Wedge
1 Sour Worm
Instructions for Ghoul Juice
Mix Lemonade and Pineapple Juice Together
Add a couple drops of green food coloring to tint the juice to ghoulish green. Stir the green in.
Add gummy eye candy and ice to a large, tall glass.
Add the juice mixture to the glass. Finish filling the glass with lemon lime soda.
Add Maraschino Cherry into the glass.
Make this spooky drink fancy by adding a lemon wedge and a gummy worm.
The recipe above is for one "Ghoul Juice", but it can absolutely be scaled up for a party! Just like our Rainbow Unicorn Punch, the drink can be made in a larger punch bowl or drink dispenser. When we have our Monster High party, we will prepare cups with ice and 'eyeballs', worms, and cherry. When a guest would like a spooky drink they can add their green juice into a cup. Cheers to all our friends!
What is Monster High The Movie?
Join Clawdeen Wolf, Draculaura, Frankie Stein, and more beloved monsters in the brand-new DVD Monster High The Movie! The live-action movie musical based on the iconic Monster High franchise about the children of famous monsters and creatures follows Clawdeen Wolf, a special mix of human and werewolf, as she finally experiences a sense of belonging at Monster High for the first time in her life. When the school senses an impure heart it's up to Clawdeen and her newfound community to save the school! Get ready for an unforgettable journey into the halls of Monster High!
Ready to Watch? You can grab your DVD, Blu-ray, or rent here!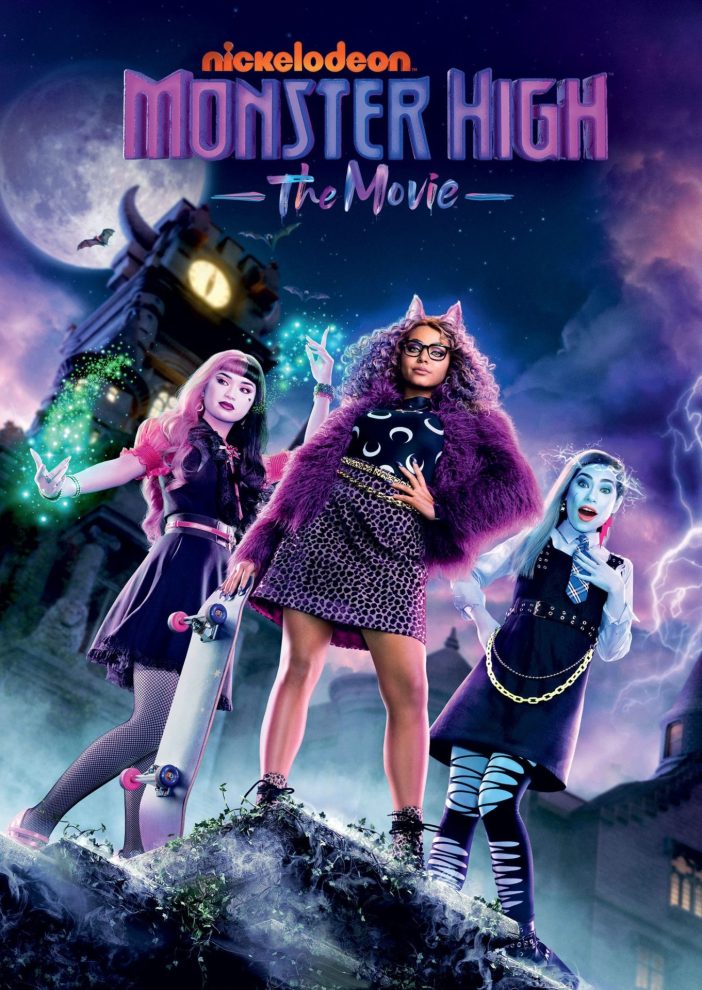 Monster High The Movie follows Clawdeen Wolf, who is human and werewolf, after she arrives at her new school, Monster High. She quickly makes friends with her classmates Frankie Stein and Draculaura, and for the first time in her life, Clawdeen feels like she has finally found a place where she fits in and can truly be herself. When a devious plan to destroy Monster High emerges, Clawdeen must learn to fully embrace her true identity and find a way to save the day. Monster High The Movie is now available on DVD from Paramount Home Entertainment.
About Nickelodeon
Nickelodeon, now in its 44th year, is the number-one entertainment brand for kids. It has built a diverse, global business by putting kids first in everything it does. The brand includes television programming and production in the United States and around the world, plus consumer products, digital, location-based experiences, publishing and feature films