Godmothered – A feel good movie for the holidays on Disney+
Disclosure: Our family watched an early screening to share this review. We are already Disney+ subscribers. Opinions are our own.
"Godmothered" staring Isla Fisher and Jillian Bell is coming to Disney Plus on December 4th. Our entire family enjoyed a special sneak peek of this film. This is a perfect movie to kick off your holiday family movie marathon. This sweet fairy tale has modern twists that we think were just what we needed to see this time of year.
Our family loved that this movie encouraged being yourself and that 'happily ever after' sometimes isn't as 'cookie cutter' as you may think. We loved this message, for little ones and our teens. Our kids were cracking up with at the crazy antics of a godmother who is on earth for the first time. We also enjoyed that characters were stretched a bit from what we normally see. We loved that Eleanor was a beautiful Fairy Godmother with a gorgeous gown that little girls everywhere will want to dress up in; but Eleanor was not stick thin. We also loved seeing inclusive touches throughout including a two dads sharing gratitude with the group for their new baby and lots of different kids training to be Godmothers with Eleanor at the end. Our oldest pointed out that it reminded her a bit of one of her favorite movies, Enchanted (which you should also watch if you haven't!). Godmothered is a cozy, feel good movie that I really think all families will love!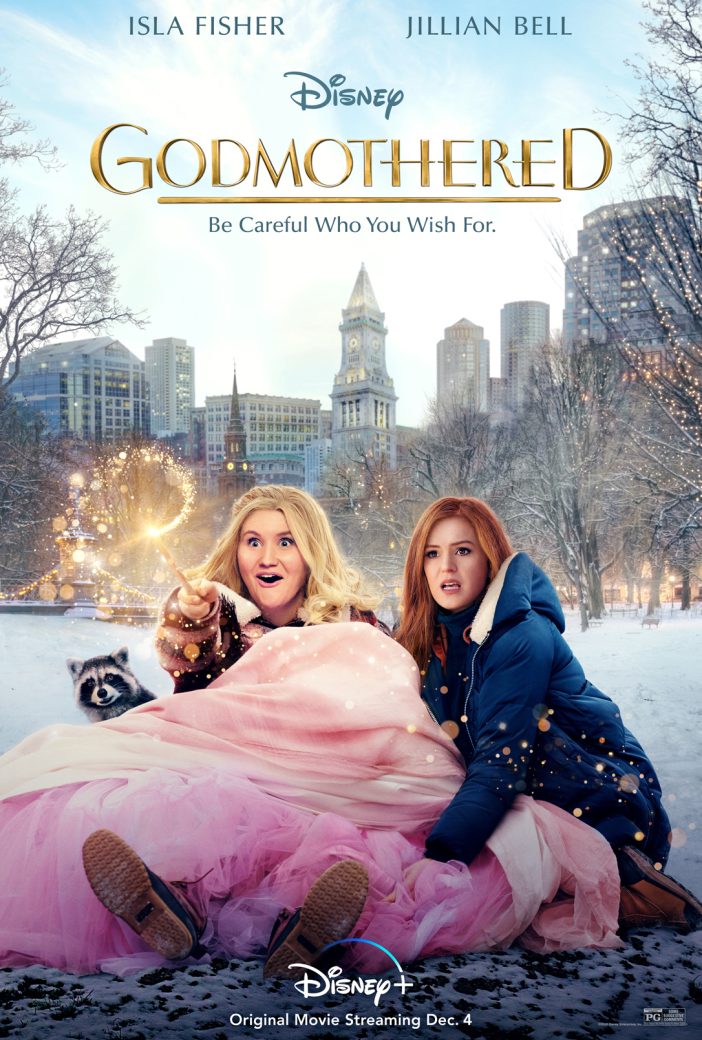 "Set at Christmas time, "Godmothered" is a comedy about Eleanor, a young, inexperienced fairy godmother-in-training (Jillian Bell) who upon hearing that her chosen profession is facing extinction, decides to show the world that people still need fairy godmothers. Finding a mislaid letter from a 10-year-old girl in distress, Eleanor tracks her down and discovers that the girl, Mackenzie, is now a 40-year-old single mom (Isla Fisher) working at a news station in Boston. Having lost her husband several years earlier, Mackenzie has all but given up on the idea of "Happily Ever After," but Eleanor is bound and determined to give Mackenzie a happiness makeover, whether she likes it or not." Disney +
Watch the trailer here….
You can watch Godmothered on Disney+ on December 4th! Thank you to Disney for allowing our family to enjoy a sneak peek!