We Are Going to Disneyland! Baby Yoda Coloring Page
Disclosure: This site uses affiliate links. This printable is inspired by Disney and Star Wars and drawn by me.
Disneyland in California is open for visitors! Many families may want a special way to let their kids know they are visiting the happiest place on Earth. Please enjoy this free downloadable Baby Yoda Disneyland Coloring page! What could make an upcoming trip to Disney more exciting than being told by Baby Yoda? Don't forget that you can get HUGE discounts on your Disneyland Trip by using the only Discount Disney Travel agent we also use by checking out the most current Discounted Disneyland Packages and making sure to enter the code HIGHLIGHTS for an additional $10 off any package! Then of course come back and print out your little Baby Yoda Coloring sheet to reveal your upcoming trip to the kids!
We have all been waiting patiently for a trip to Disneyland. While there is no official opening date yet, the State of California has said that Disneyland may open as early as April 2021! Announce your trip to Disneyland to your child, family member, friend, or anyone with this fun coloring sheet! Our family cannot wait for our next trip to Disneyland. While we are not sure if Baby Grogu (Baby Yoda) will be spotted at Disneyland, we can at least pretend with this cute little coloring page. Disney can be a splurge, but this printable is free.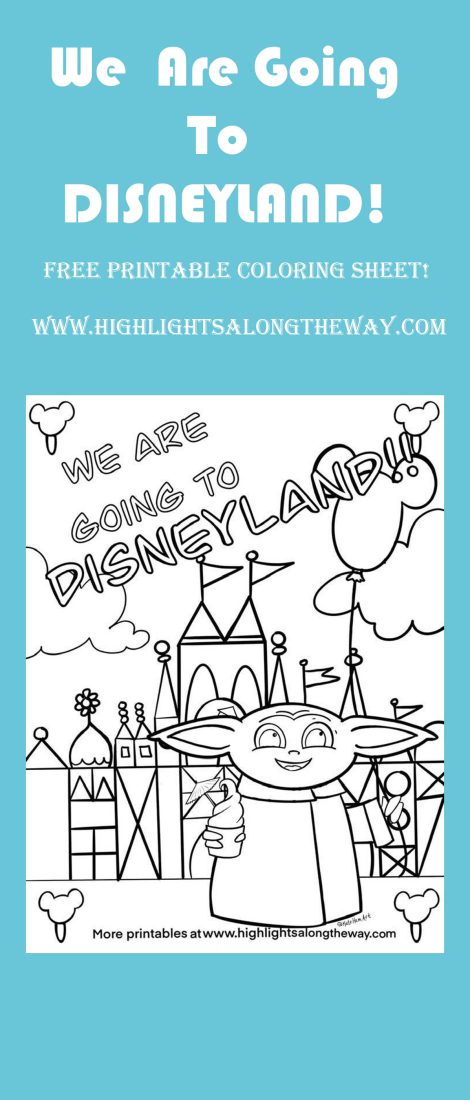 Before you go, make sure to print out our "Disney Characters Meet and Greet" Check List. If you are looking to book a hotel or grab discounted Disneyland tickets please check out the ONLY Disney Discount Travel agent we work with, Get Away Today. We also share here why we trust Get Away Today and why we have purchased tickets with them in the past. And of course we always suggest you read our popular article "Free Coffee and Snacks at Disney!" to really stretch your budget.
If you enjoy these free printable coloring sheets inspired by little baby Yoda, make sure to check out our printable section featuring Go Dog, Go! Coloring sheets Gabby's Dollhouse Coloring Sheets , We Can Be Heroes Coloring Sheets, Sharkboy and Lavagirl Coloring Sheets, American Girl Doll Coloring Sheets , Olaf Coloring Sheets, Coco Coloring Sheets , Trolls Coloring Sheets , and so many more on our site!
Baby Yoda "We are Going to Disneyland" Coloring Sheet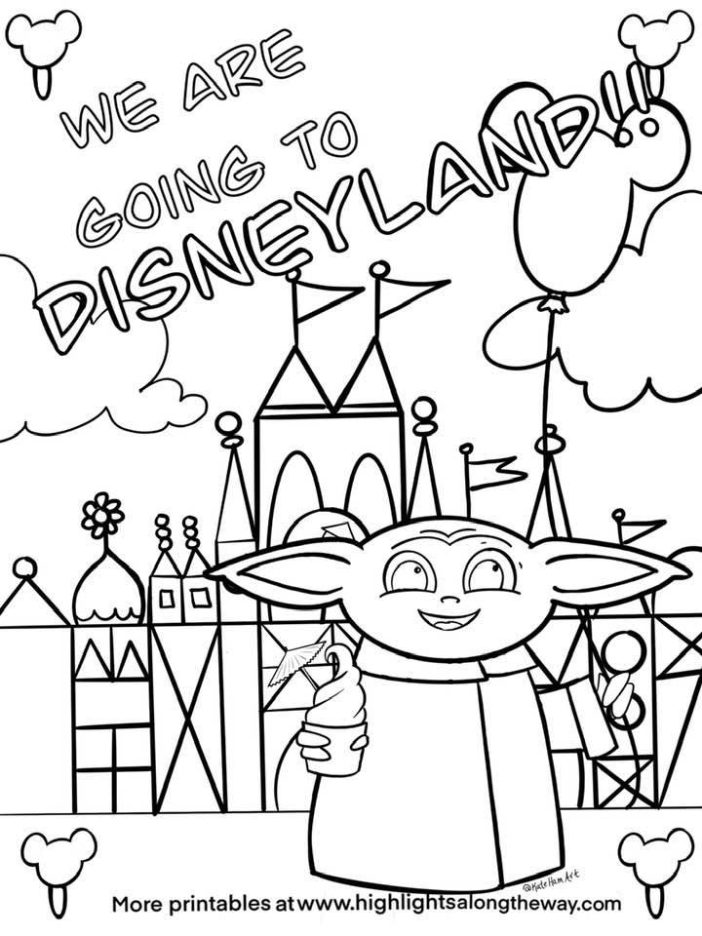 First, do not plan a trip to Disneyland without first reading all our money saving tips! We always start our travel plans with Get Away Today. Get Away Today is the ONLY Disney travel agency we partner with because we have used their services personally and they are not a 'too good to be true' gimmick. They have great discounted rates that they have negotiated with Disney directly for. These money saving tips are simple, but so many people don't think about them! Check out these 5 top money saving tips and you can save hundreds on your next trip to Disney! It is a secret, but this 'five tips' list turned into more than 10. You can get tips of everything from discount tickets to free souvenirs. Did you know that there is a simple hack to get free coffee and other Starbucks treats at Disney parks? How to get FREE COFFEE and FREE treats at Disneyland is one of our most popular posts. We never go to Disneyland without a couple Starbucks gift cards that we got for FREE with one simple trick! You can also check out our list of Hotels near Disneyland with a FREE Shuttle, Hotels near Disneyland that offer FREE Breakfast, as well as Hotels that offer free parking. Guess what? Several of these offer all three and you can get an additional $10 off using our exclusive discount below!
I hope this helps you figure out the best photos spots in Star Wars: Galaxy's Edge. With the amount of effort put into all the details of this new land, you almost can't go wrong! When you're ready to book your trip, check out all the discount Disneyland vacation options with Get Away Today. Their expert travel agents are ready to help you plan the ultimate trip, whether it's close to home or a galaxy far, far away. You can see all ticket options, hotels near Disneyland and travel tips at www.getawaytoday.com. Or give them a call at 855-GET-AWAY. Let them know Highlights Along the Way sent you, and use code Highlights for an additional $10 in savings on a Southern California vacation package.
Disney and Star Wars themed activity sheets are some of our favorite things to share on our blog. These coloring sheets are free to enjoy by clicking and printing. We will add more Mandalorian inspired coloring sheets and artwork in the future.