This Family's 'The Greatest Showman' Halloween photo shoot is family goals
Disclosure: Highlights Along the Way is a participant in the Amazon Services LLC Associates Program, an affiliate advertising program designed to provide a means for sites to earn advertising fees by advertising and linking to amazon.com.
Happy Halloween costume season! Family and group costumes are one of my favorite things in life. This family really wins Halloween with their Greatest Showman Group Family Costume Photo Shoot! Fans of The Greatest Showman will love this costumed photo session's attention to detail and perfect casting. Many of these costume pieces were made at home or found at a thrift store. Many base items as well as make up and wigs can be purchased on Amazon Prime. If you are hoping to put on the Greatest Show for Halloween, take notes!

When Highlights Along the Way reader, Cassie messaged me photos from her The Greatest Showman Costume family photo shoot I almost hung up my hat when it came to blogging about costumes. The Greatest Showman is one of our all time favorite family friendly movie musicals! I of course said yes!
I bow down at this family's Halloween costume and I am here to declare I will never be as cool as them. If you are in love with The Greatest Showman and have a love of Cosplay, you are in for a treat! I asked if she minded writing about how they made their epic family costume photo shoot come together and she said yes. Below is a guest post sharing about how you can DIY your own The Greatest Showman group costume.

The Greatest Showman Group Costume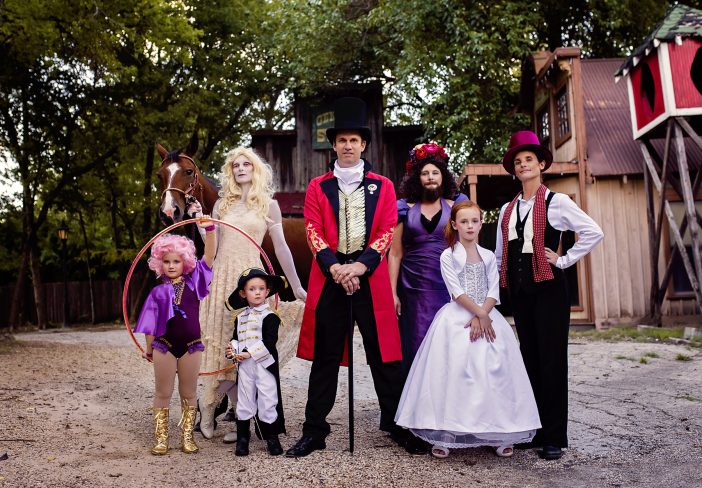 What is the Greatest Showman?

"Orphaned, penniless but ambitious and with a mind crammed with imagination and fresh ideas, the American Phineas Taylor Barnum will always be remembered as the man with the gift to effortlessly blur the line between reality and fiction. Thirsty for innovation and hungry for success, the son of a tailor will manage to open a wax museum but will soon shift focus to the unique and peculiar, introducing extraordinary, never-seen-before live acts on the circus stage. Some will call Barnum's wide collection of oddities, a freak show; however, when the obsessed showman gambles everything on the opera singer Jenny Lind to appeal to a high-brow audience, he will somehow lose sight of the most important aspect of his life: his family. Will Barnum risk it all to be accepted?" —Nick Riganas
My family; as well as every other family in the world, has been obsessed with the movie, 'The Greatest Showman' and its soundtrack. Not a day goes by where someone isn't singing or dancing to the music (and I admit… it's often times me.) When it came time for choosing our Halloween costume this year, we had a unanimous vote for The Greatest Showman.
While the kids changed their characters a few times I finally gave them a deadline and whoever they picked is who they had to be. Once that was settled, the costuming fun begins. The hunt is on for those perfect pieces that will make the family costume unforgettable.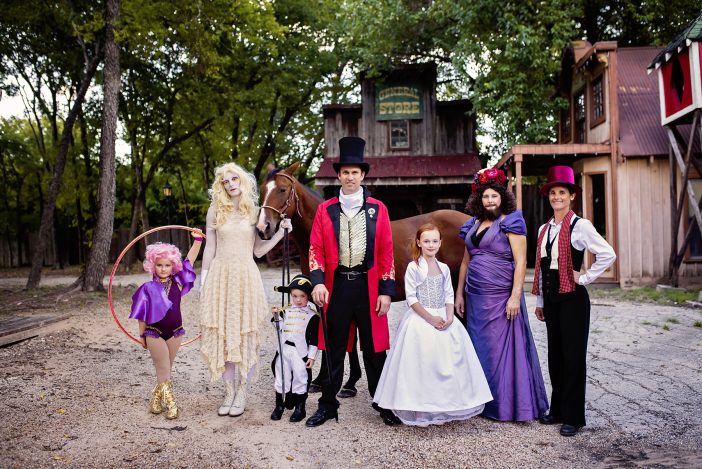 There has never been more outlets for resale shopping than there are now. Halloween costuming has become a thrifter's dream. The biggest areas I look are Facebook marketplace for those easy local pickups, Poshmark, and good old fashioned thrift stores. All the items you find can then become exactly what you need by utilizing your local Joanne's Fabric stores and your pulling out the dusty sewing machine. Now, I cannot sew… BUT… my husband miraculously can! So if you can't sew have your husband learn 😉
Most of the costumes we used came from resale clothing that we then embellished to achieve the look we needed. By doing this we were able to save a TON of money and have a little extra to spend on the iconic pieces that tend to make or break the group costume. These are the items I knew would would be hard to replicate or fake such as PT Barnum's hat, his coat, and the pink wig and the beard/mustache. Being able to spend a little extra on those pieces really takes the whole cosplay up a level and ups overall appearance of quality.
Anne Wheeler Costume and Wig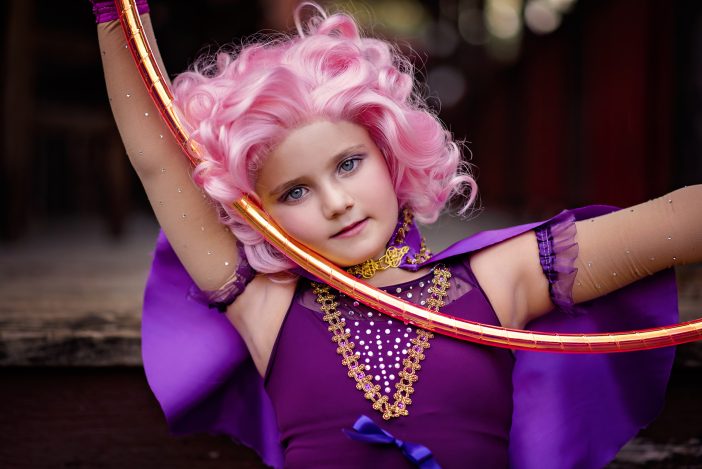 Lets start with Anne Wheeler. Her costume started out with a $5 purchase of a purple leotard from Poshmark.. Some people will offer bundle deals too; where you can get a percentage off of multiple items, so often times it is beneficial to see what else they may have that could work with your outfits. Along with the leotard I found the gold jazz boots on Poshmark. We then went to Joanne's and bought a ton of trim and extra fabric that my husband was able to sew on and I then bedazzled on the jewels. The cape was made from our extra fabric and finished with a clasp bought from Joanne's. Her wig I found on eBay and did spend a little more on because I knew if it wasn't the perfect color/shape it wouldn't look right; but also if it wasn't comfortable, she would refuse to wear it.
Update! If you are not crafty, this purple leotard on Amazon is an excellent match for Anne Wheeler!
This costume is beautiful, under $20, and is Prime eligible!
This wig on Amazon also has great reviews and is very similar to the one made iconic in The Greatest Showman.
Bearded Lady – Costume and Wig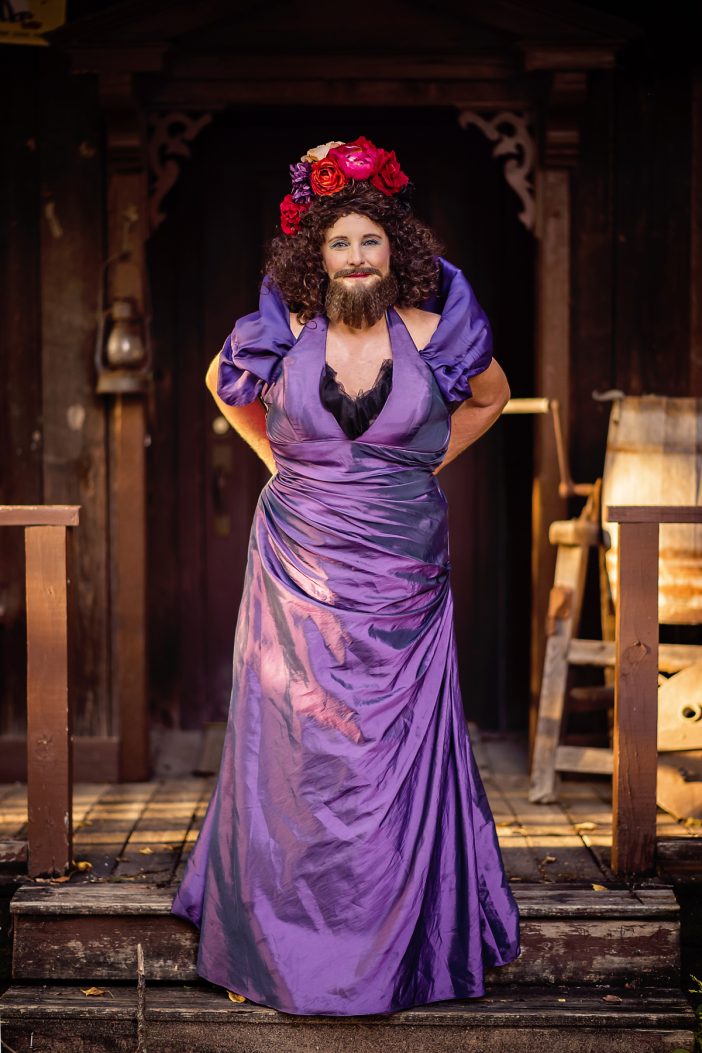 The Bearded lady (AKA Annie Jones Elliot) started with a purple prom dress from a thrift store. The collar was built and sewn onto the dress with fabric and foam. Her wig was found on Facebook marketplace. I considered using a costume beard from party city for a while, but they all looked cheap and would really hurt the overall authenticity of her outfit so I searched other options.
I found the solution in stage facial hair. Its a little bit more expensive but so worth it to go that extra length. Plus they are reusable so a great purchase if you will ever need a beard again. Our local costume store sold stage beards but you can also find them online. The flower head piece was created from fake flowers from Hobby Lobby, a headband and hot glue gun.
This gorgeous dress is a bit of a splurge, but if you cannot find the time to hunt at a thrift store, it will work for The Bearded Lady.
A beard and wig combination is a must for this costume!

Jenny Lind Costume – the Greatest Showman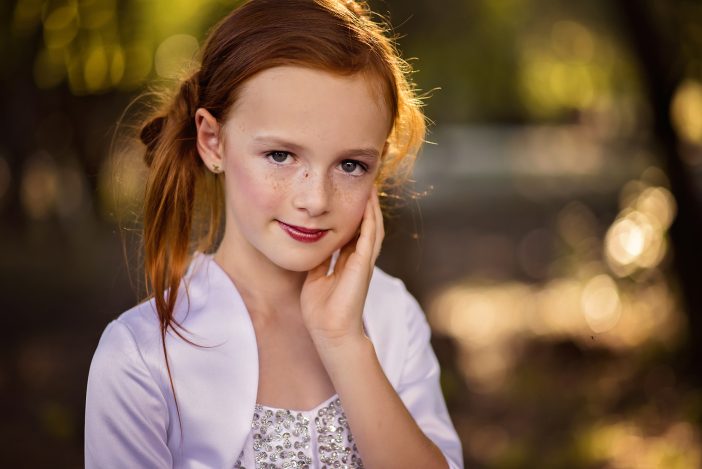 Jenny Lind's dress was found on Poshmark and her jacket was a Walmart find. I will say when searching for what you need be patient. Patience and persistence pays off. Don't always buy the first thing you see, compare prices and styles and you will get your best deals and looks. For example it was hard to find a jacket like the one I was looking for, but even changing your search words from "child's white jacket" to "girls white jacket" to "kid's white jacket" can bring up a whole bunch of new things. If that doesn't work try the word "shrug" or "bolero" and ta-DA… you will eventually find what you are looking for. We did end up doing a temporary dye on her hair as well and the color change really took her costume next level.
A white dress can often be found second hand at a Charity shop or Thrift shop. Bridesmaid, flower girl, and first communion dresses are often worn once and then sent to a second hand shop. If you are not interested in a treasure hunt, good old trusty Amazon is always here for you!
This gorgeous Jenny Lind dress is Prime Eligible and is about $25.

Easy Tom Thumb Costume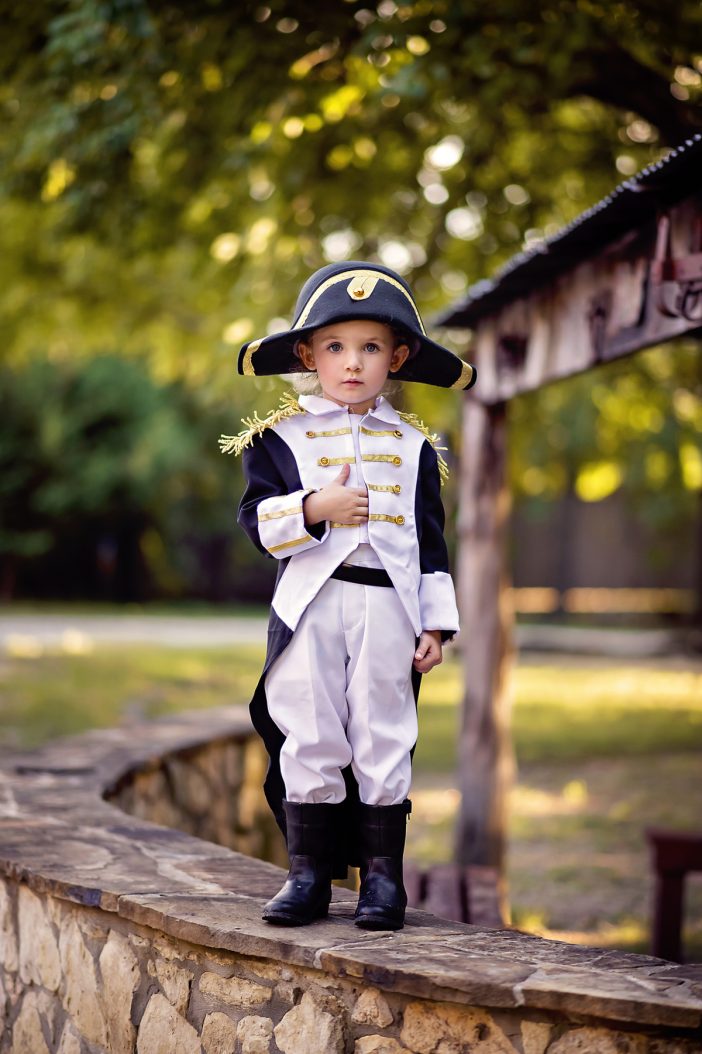 For Tom Thumb there are tons of Napoleon costumes on the market. I found a resale one pretty easy. However it had a red interior vest that did not work… so we just cut it out! Then you ad the boots and belt you most likely already own. The hat that came with that costume was VERY cheap so I did find a separate hat on eBay that worked much better but still cost efficient.

Florence Costume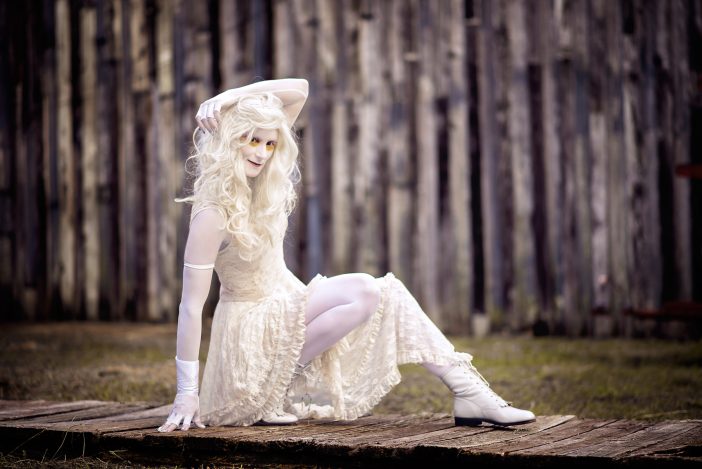 (Side note by Kate – I tried to find the name of the character portrayed with Albinism and Google gave me a bunch of dead ends- I found there is very little information other than the names of two sisters that were part of PT Barnum's circus – they were named Florence and Mary Martin, I don't want to change the way it is written, I just wanted to add in a name even though the movie doesn't seem to make that clear either…. this is perhaps me overthinking. I know this family was dressing up as individual characters, not a type of person, but the name of this smaller character was not something I could definitively find. The Greatest Showman celebrates and gives names to marginalized people and I just wanted to give her a name is all… now back to our guest post….)
The albino was not too hard. You need white tights which you can find at most stores near you, a white dress which a lot of people already have, and a white wig. Many people surprisingly sell wigs on the Facebook marketplace, so if your OK with wearing someone else's wig, that's a great resource. The white gloves were found on eBay and the white boots at a garage sale. The makeup was the most expensive thing from this outfit. I needed a good white coverage makeup that wouldn't come off easily. Not to mention it was I who was also getting everyone else ready. I did a ton of research on what makeup works best for this and found wonderful reviews for Manic Panic's white liquid foundation and Manic Panic's vampire pressed powder. It worked AWESOME. We did this shoot in 100 degree humid nastiness and it held up. The only place it started to get splotchy was under the arms where it would rub against my body, but I highly recommend it.
Here is the make up she recommended!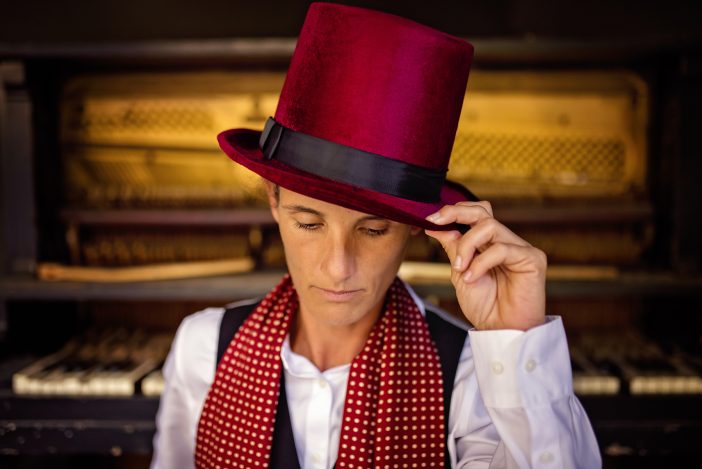 Carlyle's costume was mostly from items we already had. Black shoes, black pants, white shirt, black vest. The scarf was a cut piece of fabric and the white tie was a Poshmark find. The red top hat was found online at The Costumer for VERY reasonable.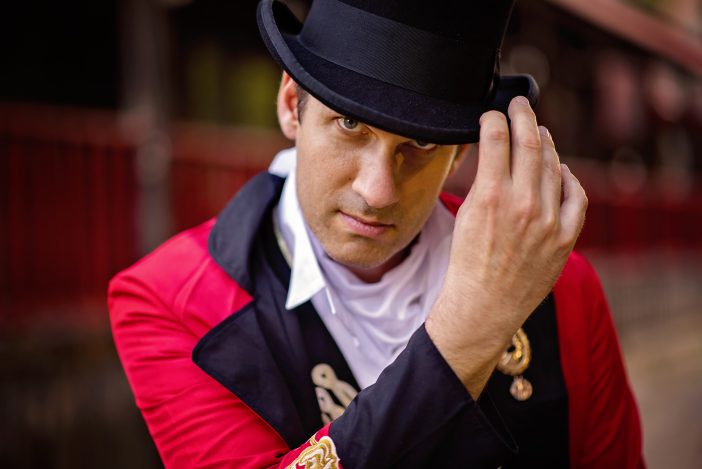 Now when it came to P.T. Barnum I knew there were things I could not replicate to the standard I was looking for. I did a lot of research and I found the jacket and vest at Azure Costume. I felt it was the quality and price point I was willing to pay for it. Most men will already have black shoes, black pants, and a white shirt which you then finish off with a white handkerchief at the neck and a top hat. I found the Top hat online at Fashionable hats. It was a little more that I wanted to spend so I signed up for their newsletter and waited until they had a sale or offered a coupon code. I did the same with his walking stick that I found on the Design Toscano website.
Patience and persistence is key. I started the process of looking for these costumes 6 months prior to Halloween. It allows me to really search for exactly what I need. It gives you time to wait for coupons if you need them. It also gives you time to use your coupons at Joanne's buying one thing at a time. It's very time consuming but it will save you SO much money in the long run. Most of the props would only be needed in the case of a photo shoot. In this regards we raided the closets of our kids and our friend's kids until we found the right hula hoop, sword, and guns. Then you raid the adults playroom for the whisky and shot glasses. After that you research a venue that gives you exactly the look you are going for. We chose Storybook Ranch in McKinney TX. They even provided the horse!! Book a fabulous photographer. My good friend Jess Novak owns Jessica Novak Photography and is a master at what she does. If you can't afford a venue or a photographer look to see if you can offer a service trade. Find something that you CAN do; childcare, crafting, hair cutting, tax services and offer a trade. Often times people will take you up on it! Be confident and be creative! Thank you for looking and good luck in your cosplay adventures!
Thrifting is my favorite way to find costume pieces, but keep in mind there are lots of great costume pieces on Amazon, here are several Greatest Showman Costume pieces you can order with just one click!