Greta Thunberg Earth Day Coloring Sheet – plus 60 things you can do to help the environment as an individual
Disclosure: Inspired by Greta Thunberg. This site contains affiliate links.
Greta Thunberg's "Strike for Climate" showed the world how even a young person on their own can inspire change. Here is a free resource for teachers; a printable coloring page featuring Greta Thunberg. During her weekly Friday strike from school she has inspired millions around the globe to take action now. To celebrate and learn how to make Earth Day every day we have created this simple downloadable coloring sheet featuring Greta. Feel free to click and download.
This printable can be colored digitally or printed out and colored however you wish. Make sure to make Greta Thunberg proud by composting your coloring sheet once you are done if you do print it out.

If you enjoy this free educational printable coloring sheet featuring Greta Thunburg, make sure to check out our educational printable section featuring Amanda Gorman, Hamilton, Harriet Tubman, California Missions, and so many more! We also have 'just for fun' coloring sheets featuring Gabby's Dollhouse Coloring Sheets , We Can Be Heroes Coloring Sheets, Sharkboy and Lavagirl Coloring Sheets, American Girl Doll Coloring Sheets , Olaf Coloring Sheets, Coco Coloring Sheets , Trolls Coloring Sheets and so many more on our site!
Teachers are welcome to share a direct link to this webpage to their students (pretty please do not just copy and share. I provide these for free, but traffic to my blog provides my money with a small income while I am virtual schooling my own three kiddos, I so appreciate sharing!). Thank you!
Greta Thunberg Coloring Sheet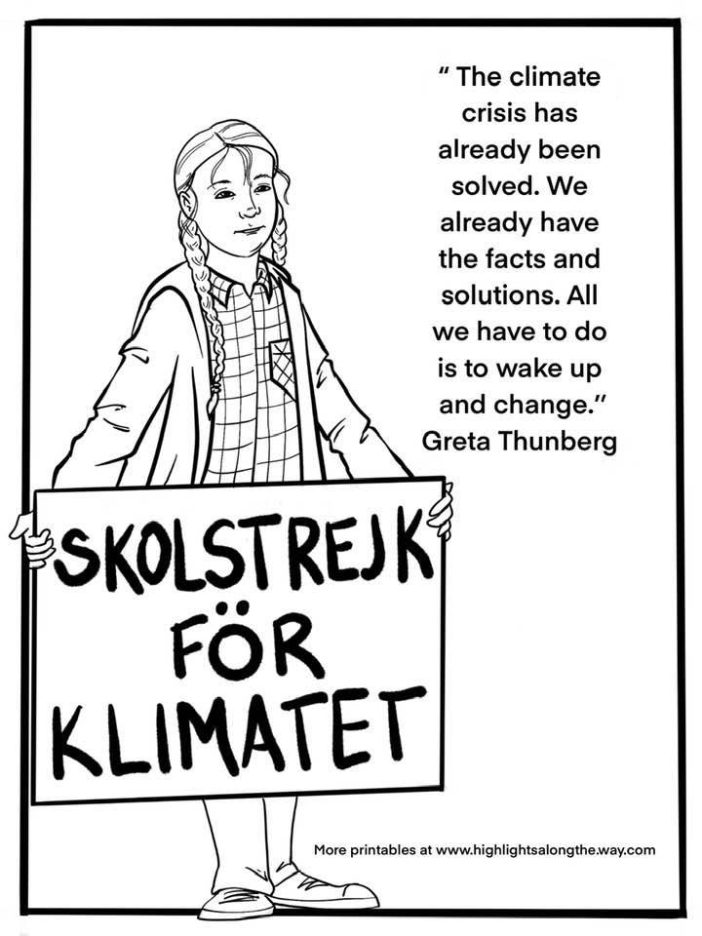 FREE Nature Themed Printables from WWF – click and print for FREE!
FREE Melissa & Doug Printables – print from home to learn and enjoy!
FREE Taco Bell Printables – so fun and may inspire a trip through the drive thru!
Feel free to download and print from your own computer. You can also download and color digitally! This printable coloring sheet was made by me. It is not licensed by Greta Thunberg, only inspired. If you would like to see more of my artwork, I'd love for you to check out my instagram @KateHamArt.
Things Individuals Can Do to Help the Environment
Almost all of these things will not only help the environment but also will save money. Greta Thunberg has spoken about many of these things that we can all do to help the environment. While policies need to change at higher levels, there are many things we can all do on our own to help reduce our own carbon footprint.
1 Reuse kids backpacks – Buy one quality backpack and use it as many years as you can. Our kids typically have the same backpack for 3 or more years before a zipper breaks.
2 Get a compost bucket – We have had a compost bucket on the counter for almost 5 years. We empty at least once a day into our compost bin outside or into the green waste bin provided by the city. This keeps compostables out of the trash, but it also saves us money on trash bags! Want to compost? Easy step by step on how to start composting!
3 Use a grey water bucket in the shower and on your kitchen counter.
4 Thrift before you buy new for everything. I keep a running list of things I need and try to buy used first. From clothing to coffee pots to mixing bowls. We do shop new, but I always try to find it used first.
5 Use a reusable bag at the Grocery Store. Most of our reusable bags were given to us during store openings or at street fairs, but they can be purchased usually for a dollar.
6 Use a reusable bag at big box stores. I'm surprised that people may use reusables at a grocery story, but not at Costco. Bring them everywhere!
7 Use a reusable bag at clothing and toy stores (this always boggles the minds of employees when I do it, a thrift store employee refused to believe I brought my own bag and wanted to charge me for it).
8 Don't use the thin plastic bags for produce. People who put bananas in a plastic bag are INSANE. Yeah, I said it. But it isn't just bananas. Just put your 4 apples in the bottom of your cart without a bag, it is fine.
9 Buy items like beans, rice, nuts, coffee, etc from a bulk bin to save on packaging.
10 Bonus when it comes to Bulk Bin Products. Bring a reusable container for your bulk bin items. You can have the cashier weigh it beforehand so you are not charged excessively.
11 Consider 'experience' gifts over plastic toys (IE an outing to the movies or a trampoline park rather than a new plastic toy)
12 Send digital Holiday cards. I send very few Christmas Cards every year and one of the reasons is the environment. People seem to enjoy reading about why I am not sending Christmas Cards.
13 Take a shorter shower. Use a bucket in addition.
14 Wear a Sweater. Don't turn on the heater.
15 Drink ice water. Don't turn on the air conditioning.
16 Bar Shampoo. Lowers single use plastic. Also saves on cost to production, water usage, and travel costs.
17 Bar Soap. Lowers single use plastic. Also saves on cost to production, water usage, and travel costs.
18 Stop buying dryer sheets. So unnecessary.
19 Use a wool dryer ball. Saves time in the dryer and can be used for years!
20 Put a piece of ice in the dryer to minimize the need for ironing.
21 Put a towel in the dryer to help dry faster.
22 Use a dry rack at least for some items.
23 Buy Eggs locally and reuse your container.
24 Buy Eggs only in compostable containers from the store.
25 Bring your own mug to a coffee shop (once Covid is over). This sometimes saves a little money too.
26 Starbucks offers 'for here' cups, use those if you are staying. Many other coffee shops do as well.
27 Eating out and forgot your cup? Get a to-go cup but don't use a lid or straw.
28 Buy a reusable straw or paper straws.
29 For the love of everything holy, stop using coffee pods.
30 Use reef safe sunscreen.
31 Go Dairy free (start with just a couple days a week). Round up of Dairy Free Recipes!

32 Go Vegan (start with just a couple days a week). Round up of Vegan Recipes!

33 Don't buy fake (plastic) plants new. Only exception – buy fake plants at a thrift store or rummage sale, but not new!
34 Plant trees and plants in your yard that don't need a lot of water.
35 Grow veggies and fruits (start with something easy like tomatoes).
36 Regrow veggies you already bought (I always do this with green onions!).
37 Ask if you can work from home. Many businesses will allow employees to do some time at home. Covid has shown us that many jobs can be done from home.
38 Install rain barrels and use them instead of sprinklers or a hose. Many cities will provide these for free or have a rebate.
39 When it rains, put more buckets out to collect for your plants!
40 Chew gum that is actual gum, not plastic.
41 Have a costume party exchange before Halloween.
42 Encourage kids to shop their own closets for Halloween costumes. Sometimes kids can be creative with things they already have. Check out our MANY "No Sew" costumes that can be made with pieces you already have or can thrift and reuse after Halloween!

43 Always sell, give away, or donate items in good condition rather than tossing.
44 You can keep stained or ripped items out of a landfill by donating to an organization that collects for 'clothing by the pound' fundraisers. Items are turned into filler, rags, playground flooring and other things. The condition does not matter – it helps a charity and also saves items from a landfill!
45 Offer to pick up a kid from school – if you have a extra seat in your car, offer to drive a kid in the same neighborhood home, even if it isn't reciprocated it will help the environment and it costs you nothing.
46 Staycation. Save on gas by being a tourist in your own city. Support local and reduce your carbon footprint.
47 Take a train rather than drive or fly. This cannot be done for everything, but I love to commute by train rather than drive.
48 Buy organic, even just a few things to start.
49 Unsubscribe to your favorite stores emails (you will spend so much less money).
50 Reuse mailers. As Etsy store owners, my daughter and I always reuse mailers whenever possible. Saves money and single use plastic.
51 Check Ebay before Amazon. It is so hard to not buy things on Amazon, but I try to do used first.
52 Grocery shop only once a week. Going once per week will save time, money, and creation of stuff that is truly unnecessary.
53 Use a washcloth instead of a loofah. Loofahs are full of gross stuff anyway… google it.
54 Use soap tablets instead of buying liquid hand soap.
55 Compostable cotton swabs. Cotton swabs are a single use plastic many people use every single day.
56 Use reusable hand towels instead of paper towels.
57 Sweep instead of vacuum more often.
58 Don't upgrade your electronics immediately. We go several years before upgrading our phones, computers, or tablets.
59. Laundry Sheets. Saves on water and so much shipping costs!
60. Vote. If you are over 18, voting is one of the most powerful things you can do to help the environment.

Greta Thunberg has encouraged us all to make steps large and small to ensure a safer environment for generations to come. Let us celebrate Earth Day by being a little more like Thunberg.