Grinch Costumes
Disclosure: Highlights Along the Way is a participant in the Amazon Services LLC Associates Program, an affiliate advertising program designed to provide a means for sites to earn advertising fees by advertising and linking to amazon.com. This site uses affiliate links.
How the Grinch Stole Christmas is one of the most classic Christmas tales of all time. So let's celebrate Grinchmas and the Whobilation with family Grinch costumes! There are so many great holiday costumes featuring your favorite Who characters like the Grinch, Cindy Lou Who, Max the Dog, and the Mayor of Whoville.
The Grinch teaches kids many valuable life lessons like not judging people by the way they look or act, and to always be kind. For that reason, the whole family playing dress up as characters from the Grinch is a great example and experience for kids. In addition, these costumes are super warm, cozy, and comfortable and perfect for Christmas! The Grinch is a fun twist on Halloween costumes, cosplay, or dressing up as part of a Grinch themed holiday party!
Our family loves The Grinch! You have to see our Whoville Grinch Lawn Display! We have made our lawn displays available for our readers to make into their own Whoville too. You can see our linked Grinch Holiday Lawn Display at the bottom of this Grinch costume article, so make sure to read the whole thing!
Grinch Coloring Pages for Kids
Celebrating Christmas with the Grinch is a family favorite of ours. The kids love to do arts and crafts during their Christmas break and you can do the same with our Free How the Grinch Stole Christmas Coloring pages. They feature all your favorite characters from the films with tons of different choices for kids.
Grinch and Whoville Costume Ideas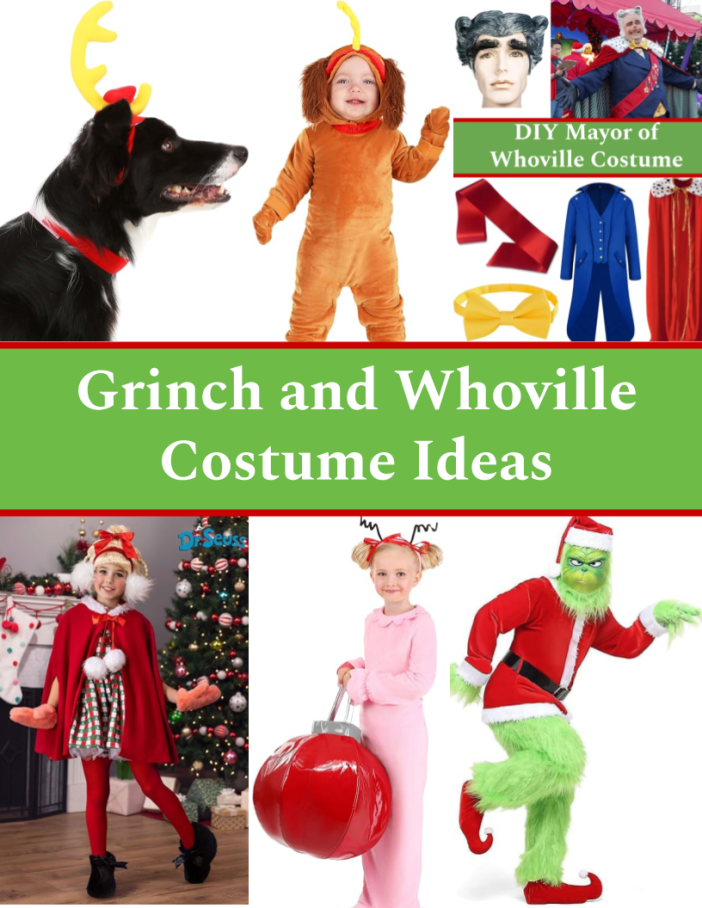 Grinch Costumes
The first thing you need if you are doing a family costume is of course, the Grinch himself. This is the best one available online and it is honestly the funniest thing I've seen all day. A family of Grinch costumes isn't complete without the Grinch so he is definitely the best place to start.
Amazon.com: Beita Green Monster Costume for Men Christmas Deluxe Furry Adult Santa Suit Green Outfit : Clothing, Shoes & Jewelry
Cindy Lou Who Costumes from Live-Action Movie
Cindy Lou Who is one of the most adorable Christmas characters of all time. So, there is no doubt that little girls will love to dress as her this holiday season. This costume is warm and comfy and will look absolutely adorable in your family Grinch costumes pictures.
Amazon.com: Dr. Seuss Cindy Lou Who Christmas Costume for Girls, Plaid Holiday Dress & Skirt with Red Cape : Clothing, Shoes & Jewelry
There is also a cute version of this costume available in adult sizes. It's slightly different, but gives more size variety.
Amazon.com: YUFAN Adult Cindy Lou Who Costume Women Christmas Dress Red Cloak(XL) : Clothing, Shoes & Jewelry
Cindy Lou Who Costume from Animated Movie
If you are a fan of the original Grinch movie and grinch costumes, then you'll love this adorable Cindy Lou Dress. Seriously, she looks just like the cartoon with that pink dress! It even comes with a bag that looks like the enormous ornament she holds in the film.
Amazon.com: Dr. Seuss Cindy Lou Who Costume for Girls, Girl's Pink Christmas Dress for Character Cosplay Dress up : Clothing, Shoes & Jewelry
Here is a similar Cindy Lou Who costume for older girls and adult women. It also comes with the adorable ornament bag.
Amazon.com: Dr. Seuss Cindy Lou Who Costume for Women, Women's Pink Christmas Dress for Character Cosplay Dress up : Clothing, Shoes & Jewelry
Max The Dog – Dog Costume
If you've seen any of our other dog posts, you know we love dog costumes. This Max costume is really comfortable and easy for dogs to wear because it is just a headband that secures underneath, and a collar. Dog costumes are always funny, but if you want a real laugh we have a bunch of posts on other dog costumes like Disney Dog Costumes, Superhero Dog Costumes, Scary Dog Costumes, Star Wars Dog Costumes, and even Dog Barbie Costumes for Fur Baby fun!
But to stick the Christmas spirit, it's best to go with Max:
Amazon.com : Dr Seuss The Grinch Max Dog Costume, Halloween Christmas Pet Outfit Small : Pet Supplies
Max The Dog Costume – For People
This toddler Max costume is adorable and great for pictures. But it's also a onesie made of a soft pajama material that is comfy enough that kids can wear it all night long. This costume is made for babies and toddlers, but I have also linked a similar one for older kids, and even one for adults.
Max Costume for Toddlers: Amazon.com: elope Dr. Seuss The Grinch Max Costume for Infants, Baby Grinch Dog Outfit, Babies 1st Christmas Costume for Holidays : Clothing, Shoes & Jewelry
Max Costume for Kids: Amazon.com: elope Dr. Seuss The Grinch Kid's Max Costume : Clothing, Shoes & Jewelry
Max Costume for Adults: Amazon.com: Men's Fashion: Clothing, Shoes & Jewelry: Clothing, Accessories, Shoes, Jewelry, Surf, Skate & Street & More
Grinch Costumes – How to Make a Mayor of Whoville Costume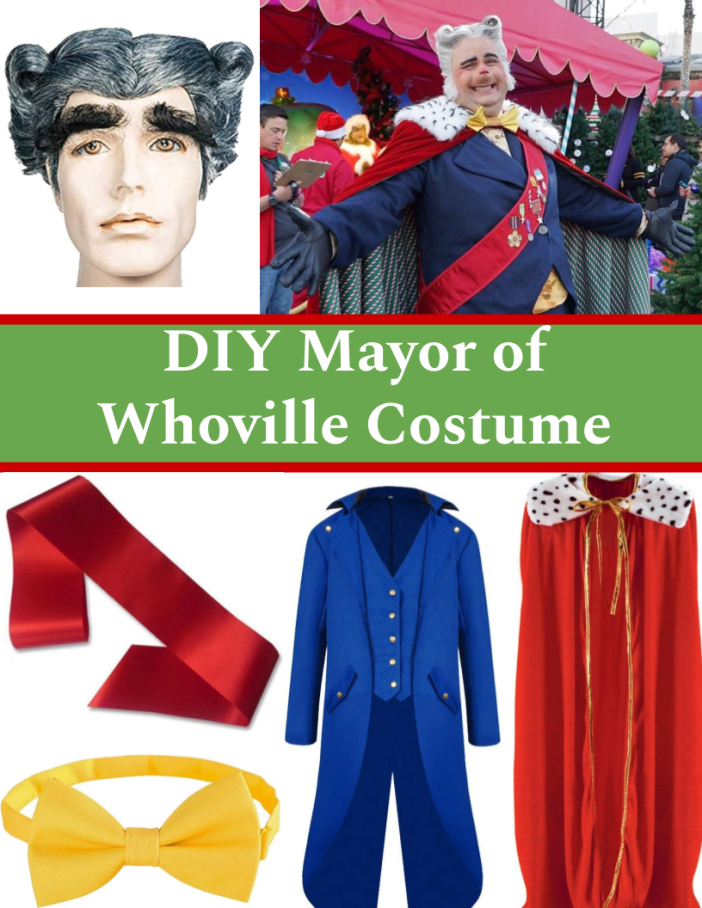 If you need more characters for your family Grinch costumes, you can easily put together a Mayor of Whoville costume with just a couple of pieces.
The first thing you need is his signature blue tailcoat. This one is the perfect style and color.
Amazon.com: H&ZY Men's Steampunk Vintage Tailcoat Jacket Gothic Victorian Frock Coat Uniform Halloween Costume : Clothing, Shoes & Jewelry
The second thing you need is the mayor's kingly robe to wear over the suit.
Amazon.com: Beistle Adult Size Red King/Queen Robe Mardi Gras Cape Costume Accessories, 52″, multicolor : Clothing, Shoes & Jewelry
Next, you'll need some accessories to really sell the character. The first one is a bright yellow bow tie to attach to the cape. The second is a red sash to wear across the blue suit. Then, you can even decorate the sash with these grinch buttons.
Kajeer Classic Pre-Tied Mens Bow Ties Formal Adjustable Solid Tuxedo Bowtie for for Adults & Children(Yellow, S – (0-5 years,babies,toddles)) at Amazon Men's Clothing store
Amazon.com: Boolavard Plain/Blank Hen Night Party Sashes – Create Your Own Sash – Unprinted Sash (Red) : Home & Kitchen
Amazon.com: Dr. Seuss The Grinch Mini Buttons – 48 Pieces: Clothing, Shoes & Jewelry
And finally, for the funniest Christmas costume, you can get this wig and bushy eyebrow set. It looks just like the movie!
Amazon.com: MAYOR HOO MED BROWN : Clothing, Shoes & Jewelry
About How the Grinch Stole Christmas
Whoville bustles with festive cheer, its residents joyfully preparing for Christmas. The Grinch, a green, misanthropic recluse atop Mount Crumpit, loathes the holiday's merriment. Determined to silence the Whos' celebrations, the Grinch crafts a devious scheme. Disguised as Santa, with his loyal dog Max as a makeshift reindeer, he descends upon Whoville. Stealthily, the Grinch steals every trinket of Christmas joy — presents, decorations, and even the roast beast Cindy Lou Who, a curious toddler, stumbles upon the Grinch but innocently befriends him. Despite his sinister intentions, the Grinch's heart softens as he witnesses the Whos celebrating without material possessions. Touched by the genuine spirit of Christmas, the Grinch experiences a profound change of heart. Returning all he stole, he joins the Whos in their jubilant festivities.Through this heartwarming journey, the Grinch discovers that the true essence of Christmas goes beyond material things — it resides in the warmth of love, togetherness, and compassion.
Grinch Lawn Display
Our family loves the story of how the Grinch Stole Christmas and we even set up scenes from it during Christmastime as our lawn display. If you want to decorate you house as Whoville to celebrate the Whobilation, you can do just that with our post The BEST DIY Grinch and Whoville Christmas Lawn Decorations. It gives you all the details on how you can make beautiful flats that you can set up to celebrate the holiday classic.
We hope you found the perfect Grinch costumes and got plenty of ideas for this holiday season. One of our favorite ways to celebrate Christmas is at the Grinchmas Celebration at Universal Studios Hollywood, so make sure you don't miss out this year. We hope you have a wonderful holiday season and wish you a Merry Christmas, Happy Hanukkah, and Happy New Year!