The Ultimate Grinch Veggie Tray
Disclosure: Highlights Along the Way is a participant in the Amazon Services LLC Associates Program, an affiliate advertising program designed to provide a means for sites to earn advertising fees by advertising and linking to amazon.com. This site also uses other affiliate links
Two things are essential for a Christmas family get together; a viewing of The Grinch Who Stole Christmas, and a giant veggie tray to offset all the pie. Today I combined my love of the Grinch who stole Christmas and veggies! This veggie tray includes just about every healthy green and red veggie that you can easily find at a local grocery store; making it a great starter for your holiday grazing.
The Grinch is a holiday icon. Grinch is so silly, he almost isn't scary. Making a veggie tray of a beloved character is one of the easiest hacks to get kids to put at least a couple veggies on their plate. You will need lots of red and green veggies in whatever combination fits your family's tastes best.
We have found that the best way to get kids to eat veggies is to make them cute. Cute food kind of takes the pressure off of a big tray of vegetables. Nothing is cuter than cartoons. Even cartoon villains are kind of cute. The Grinch may be a mean one, but he is adorable and 5 out of 5 kids at our holiday party enjoyed this silly Grinch display and picked it almost completely clean by the end of the night.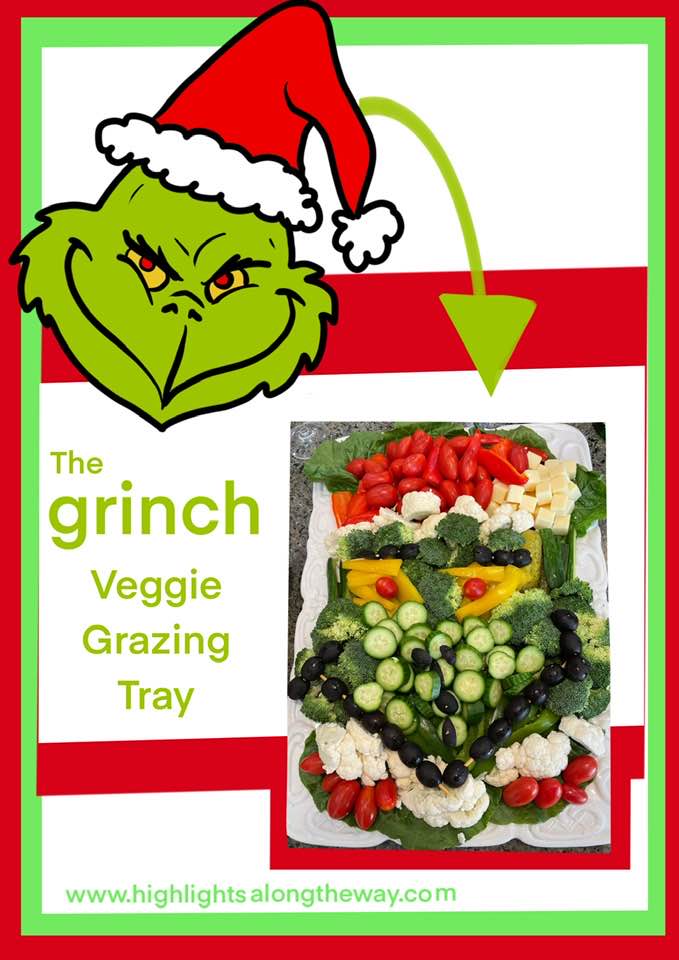 Before you start to shop and assemble your Grinch veggie tray, we hope you will check out our Ultimate The Grinch Who Stole Christmas Lawn Display. Whoville, Burbank is one of our favorite things that came out of quarantine, and it continues to delight our neighbors. Please check it out if you want your heart to grow three sizes.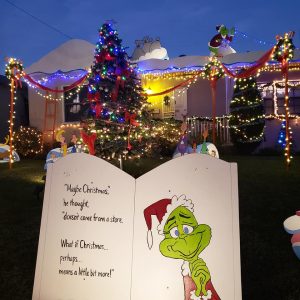 The Grinch Grazing Tray – Vegetable List
2 Broccoli heads
1 Bag of Mini Cucumbers or one large cucumber
1 Large Green Bell Pepper
1 head of romaine lettuce (for laying veggies on top of)
2 containers of grape tomatoes
2 Red Bell Peppers
Cauliflower
1 Yellow Bell Pepper for eyes
Black olives for his mouth and eye brows (NECESSARY!!)
Pickles
White Cheese (not a veggie, but it was very popular!)
The Ultimate Grinch Veggie tray takes a little bit of time, but can be done while other items are in the oven baking. One thing you must not forget is the dips! If you want to make the easiest homemade hummus, we have a simple homemade hummus without tahini recipe right here on our blog. This recipe is so simple and many people already have the ingredients in their cupboard! You do not need tahini to make a perfect hummus for this giant Grinch Grazing Tray; our kids actually prefer it without tahini. We also make a quick homemade ranch dip and a homemade onion dip. OK, so they aren't exactly from scratch, but do not by any means purchase ranch in a bottle for this one! When you grab your veggies, make sure to get sour cream for each of the other dips!
Assembling your Grinch Veggie tray is quite easy. You will need a large tray (the larger the better!), and a picture of the Grinch to use as reference. As you may know, my husband and I met drawing caricatures at theme parks and both trained in animation. One of the biggest lessons that we were taught as artist was "the face shape is imperative'. I believe getting The Grinch's face shaped correctly is really important. Having a large tray is quite important to be able to make sure his face is long and also that he has fluffy cheeks and a flouncy red hat.
We personally used cucumbers cut length wise to make the side of his face and his pointing chin. We also used long cut red bell peppers to create his pointy hat. Obviously fluffy broccoli was perfect for his cheeks. I made his eyes a little bigger simply to add more yellow bell peppers, but I probably should have made them smaller if I wanted to keep my Grinch artwork on model. Fluffy Cauliflower was absolutely perfect for his collar and the trim on his hat. Cucumber coins were perfect to pile up in the middle so grazers could see the olive line (which I kept in place with tooth picks. Of course make sure to add in his red eyes with another bright red cherry tomato. Voila – The Grinch!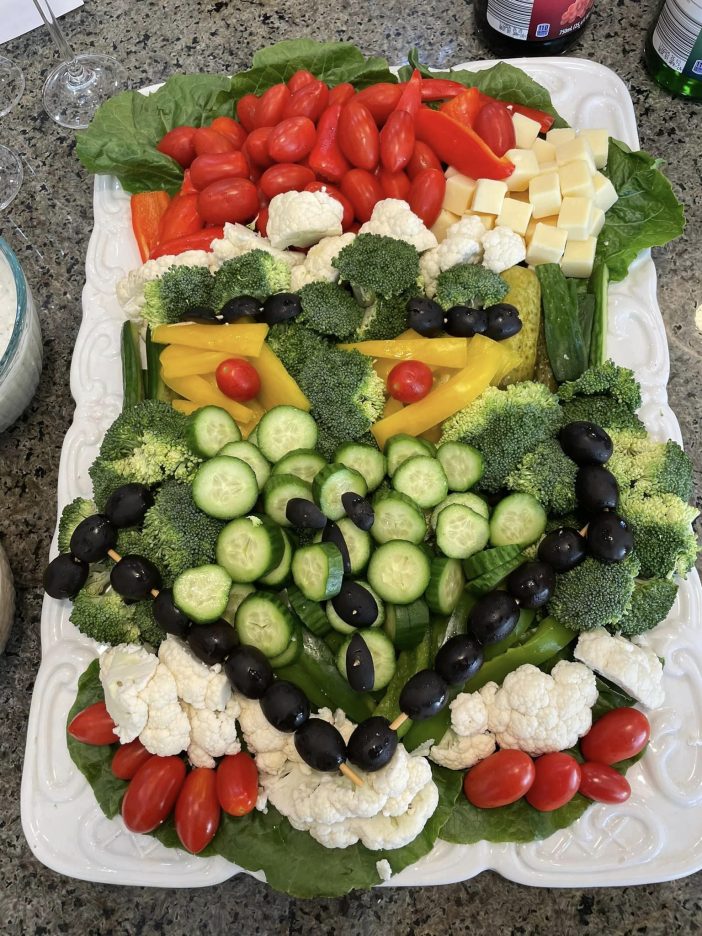 Is this an incredible masterpiece that justifies my art degree? No. Is it even the best Grinch themed food available to you on the internet? Also, no. Was it fun? Yes. Will it hopefully help my Whoville post if I continue to add in Grinch related content? That is what the interwebs tells me, so get excited!
We hope this is a perfect addition to your Grinch themed party for the holiday season. We hope you remember that Christmas is far more of a heart thing than something you can buy. Love well, friends! And of course, eat a veggie or two!
The Grinch Who Stole Christmas
The Grinch is a surly monster with a heart "two sizes too small." The Grinch lives with his sad dog Max in a cave on Mount Crumpit, a steep mountain north of Whoville. Whoville is home of the cheerful and kindhearted Whos. Having been annoyed by Whoville's noisy Christmas festivities for fifty-three years, the Grinch decides to stop Christmas from coming. The Grinch makes a plan and disguises himself as Santa Claus and travels to Whoville on a sleigh with his sad dog Max. The Grinch slides down the chimney of the first house on the square and steals all the presents, the food for the feast, and the Christmas tree. He is briefly interrupted in his burglary by Cindy Lou Who, a young Who girl, but concocts a crafty lie to help his escape.
The Grinch heartlessly steals gifts and decorations from every house in Whoville. The Grinch takes his sleigh to the top of Mount Crumpit and prepares to dump the stolen belongings into the abyss. As dawn breaks, he expects to hear the Whos crying, but is shocked to hear them singing a joyous Christmas song instead. The Grinch comes to realize that Christmas "means a little bit more" than just presents and feasting, causing his shrunken heart to grow three sizes larger. The reformed Grinch returns the Whos' presents and food, and is allowed to take part in their Christmas feast.
The story was originally told by Dr. Seuss and was adapted into a traditionally animated film in the 1960s. The film is a holiday tradition for many families.
We hope that our Grinch Grazing Veggie tray is a fun addition to your family's holiday traditions this year!