Celebrate "Grinchmas" & Christmas at the Wizarding World of Harry Potter – Universal Studios Hollywood
Disclosure: Thank you to Universal Studios for hosting us for the day! This site uses affiliate links. Opinions are our own.
The holiday season is in full swing at Universal Studios in Hollywood, California. Fan favorites "Christmas in The Wizarding World of Harry Potter™" and "Grinchmas™" beginning Friday, November 25, 2022 and running daily through Sunday, January 1, 2023. Our family loves the whimsical decorations throughout the park. All holiday festivities are included in the price of theme park admission. Celebrate Grinchmas, the Who-bilation, and the holidays in the Wizarding World this year at Universal Studios Hollywood!
What does Universal Studios do for the Holidays?
"The Magic of Christmas at Hogwarts Castle" dazzling light show nightly
A cappella Frog Choir featuring Hogwarts students who perform their harmonized holiday themed songs
Holiday-themed fare, including hot butterbeer available at "Three Broomsticks"
Meet and greets with The Grinch, his faithful dog Max and a roster for Who-ville Whos
Topsy-turvy "Grinchmas" tree, twisting and turning over 65 feet in height with nightly tree lighting accompanied by a snowfall flurry
Visit the Who-vile Post Office to write and send a postcard to The Grinch. For every postcard mailed, Universal Studios Hollywood's Discover a Star Foundation will make a donation to School on Wheels which benefits homeless youth in Southern California.
Grinchmas at Universal Studios!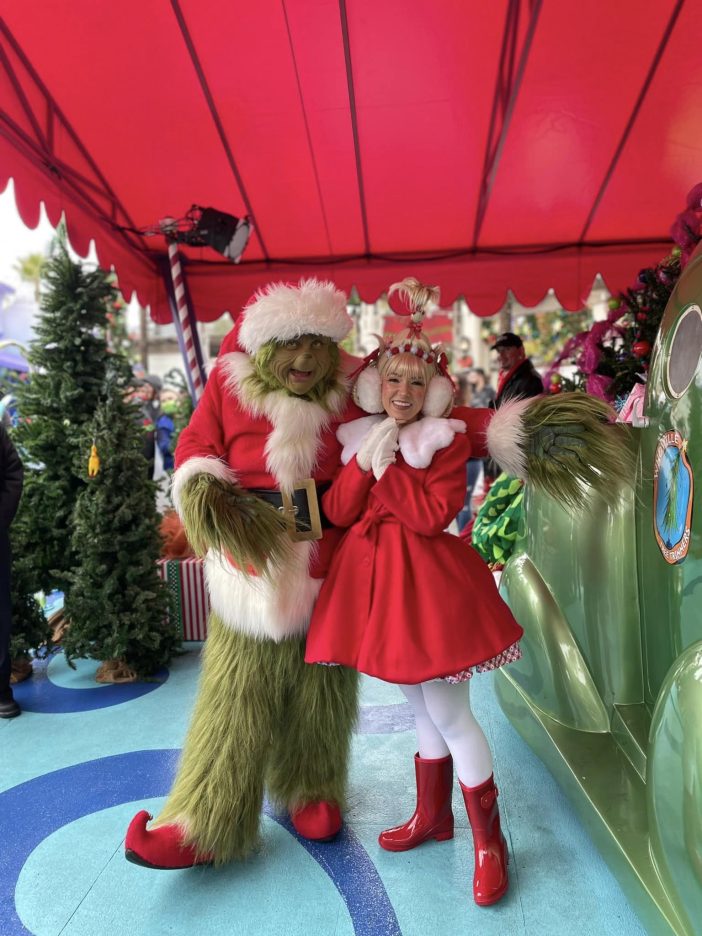 The cheerful Who-bilation is our absolute favorite part of the holidays at Universal Studios Hollywood. Grinchmas includes some of our favorite Whoville decorations, characters, and treats. The tree is gigantic and such a fun 'Topsy- Turvy' shape with crazy decor and thousands of LED Lights.. Shows run all day at the outdoor theatre. You can also meet several characters including the Grinch, Cindy Lou Who, and a real live Max! This area is beautiful all day, but make sure to check out the lighting ceremony which ends with magical 'snow'.
We believe Grinchmas has the best holiday treats! Several holiday hot cocoa drinks, churros, doughnuts, cupcakes, and more are available for purchase. Universal Studios always has fun treats all year round, but the holiday treats are our favorites. Do not leave the park before you devour a delicious Grinch Doughnut! The cost is about $11 and is really big enough to share!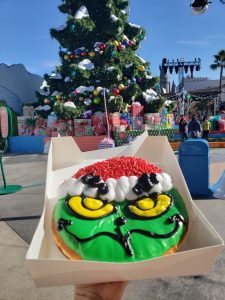 Grinchmas Doughnuts are the BEST!
A variety of activities are available to guests looking to get into the "Grinchmas" spirit. The Grinch and his faithful dog Max will be available for photo opportunities throughout the day. Cindy-Lou Who leads daily story time for young visitors looking to learn of "How the Grinch Stole Christmas" and the Who-ville post office will be accepting postcards with holiday messages.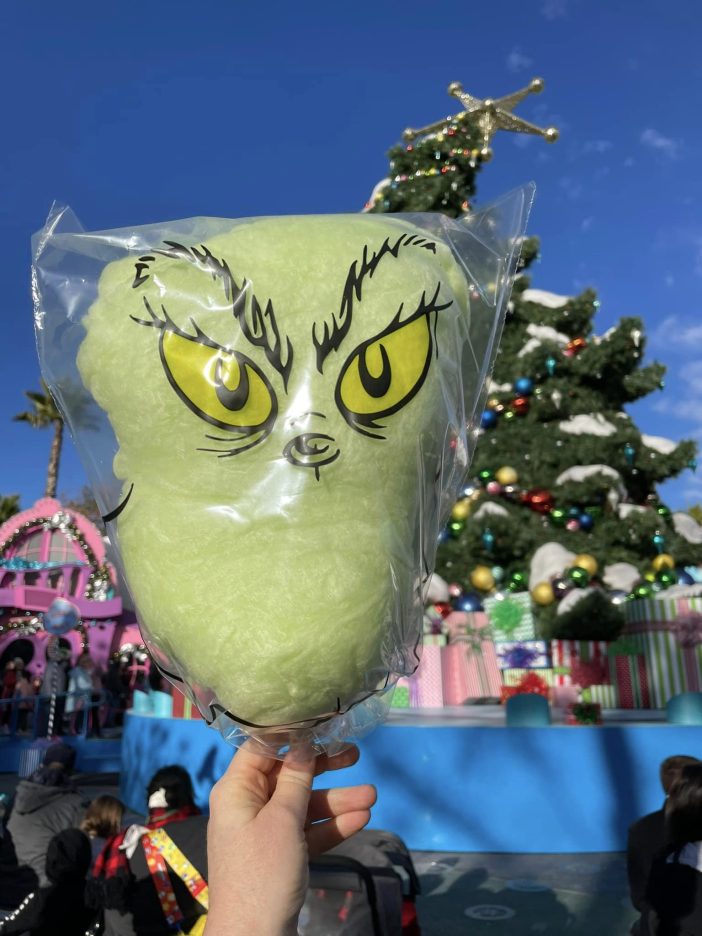 Discounted tickets are available for Universal Studios Hollywood through Get Away Today. Do not buy tickets at the gate! You can save money purchasing Discounted Universal Studios tickets through this link. Save time when you get to the park. If you are booking a California Vacation make sure to use the exclusive discount code HIGHLIGHTS for another $10 off your already discounted tickets and hotels!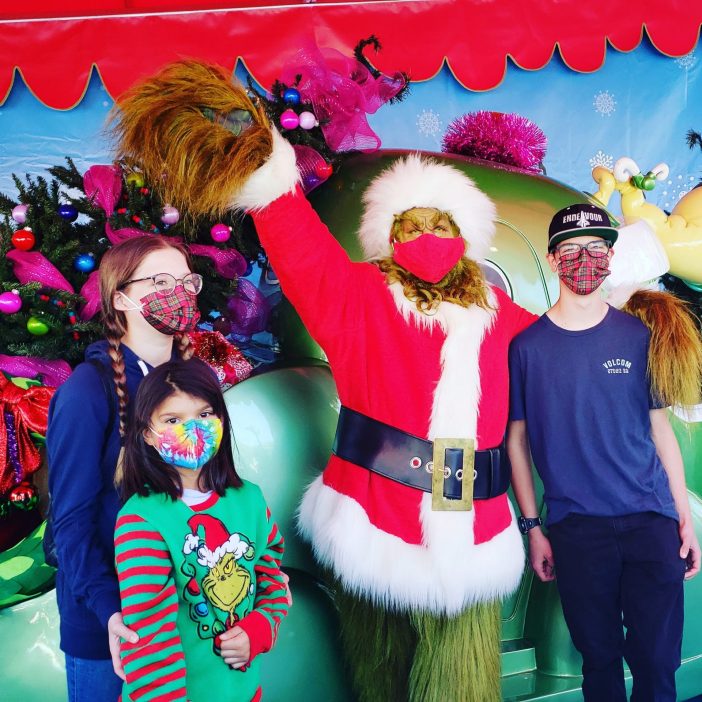 Where to meet the Grinch at Universal Studios
You can meet the Grinch, Cindy Lou Who, Max the dog, and others in Whoville, which is set up during the holidays in the plaza area near the park entrance. Check out our video of our experience meeting the Grinch, last Grinchmas below!
The Grinch and all our favorite Whos only come out to say hello and take pictures during the Grinchmas season, so don't miss out on this awesome opportunity!
Meeting the Grinch at Universal Studios Hollywood!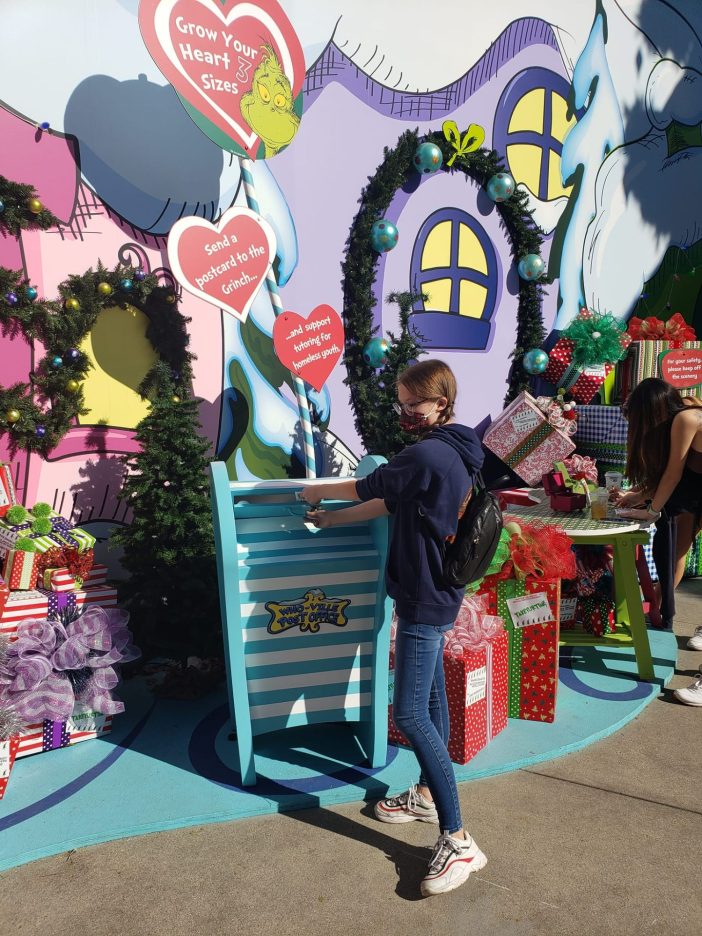 "The Magic of Christmas at Hogwarts Castle" Show
Do not miss the beautiful show at the Harry Potter Castle! As night falls on the snowy town, Hogwarts™ Castle will come to life in a dazzling spectacle, "The Magic of Christmas at Hogwarts Castle." The impressive light projection show will amaze audiences with its stunning imagery and animation as the castle infuses the land with joyous wonderment and features music and sounds from the Harry Potter film series.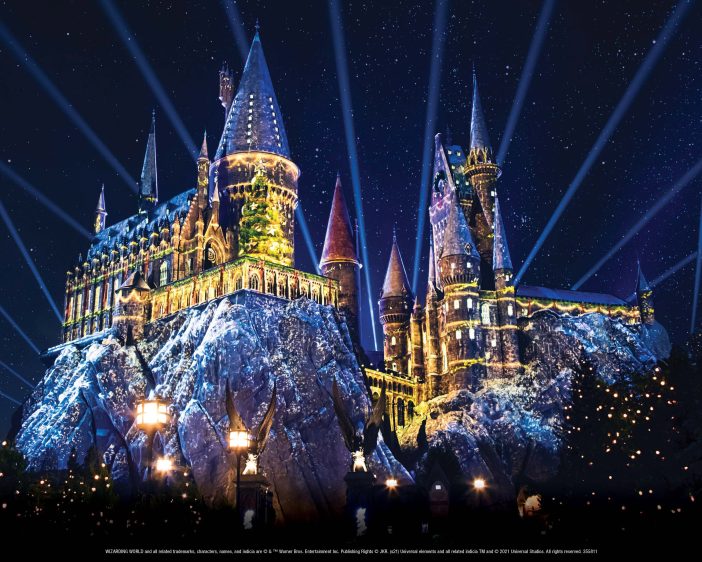 Do I need to be Vaccinated to Go to Universal Studios Hollywood?
Universal Studios Hollywood does NOT require vaccinations at this time. Masks are not required, but with several respiratory viruses circulating in Los Angeles, masks are recommended indoors.
Universal Studios Hollywood celebrates the most wonderful time of the year with the return of yuletide favorites and family traditions, "Christmas in The Wizarding World of Harry Potter" and "Grinchmas," beginning Friday, November 25, and wraps on January 1, 2023. The holiday festivities are included in the price of admission.
Families will rejoice at the arrival of "Christmas in The Wizarding World of Harry Potter," where the quaint wizarding village of Hogsmeade™ is transformed to reflect the holiday spirit featuring merry décor and jolly ambiance. Guests can take delight in special holiday a cappella performances from the Hogwarts Frog Choir, stroll through the village shops while sipping a delicious Hot Butterbeer™ and enjoy savory festive fare at the Three Broomsticks™.
Beginning at dusk each night, "The Magic of Christmas at Hogwarts™ Castle" dazzles with stunning imagery and animation as the impressive light projection show illuminates Hogwarts™ School of Witchcraft and Wizardry, bringing the iconic Hogwarts™ castle to life and infusing the land with the sounds of an arrangement of music from the Harry Potter film series.
Guests can commemorate their Christmas visit to Hogsmeade™ Village with a variety of exclusive keepsake items available for purchase, including personalized ornaments, garland, scarves and stockings.
In addition to the theme park, spirited holiday décor will permeate Universal CityWalk. Guests to the outdoor entertainment destination will be enchanted by the spectacular 40-foot tall Christmas tree, featuring more than 200,000 LED lights. The ever-popular Voodoo Doughnut will entice guests with a variety of festive designs and flavors to celebrate the season.
Like Universal Studios Hollywood on Facebook and follow @UniStudios on Instagram and Twitter.
Pictures from Grinchmas Past…

Grinchmas at Universal Studios is one of the most whimsical and unique holiday celebrations at any SoCal theme park! Universal Studios in Hollywood is magical any time of year, but during the month of December it is extra festive. Check out Whoville and the Grinch and special Christmas time decor. If you are looking to save money on your trip to Universal Studios Hollywood during the holidays, we've got you covered! Make sure to check out our blog post on how to save money at Universal Studios and have a Merry Grinchmas!
BUY DISCOUNTED TICKETS TO UNIVERSAL STUDIOS HOLLYWOOD HERE
It's the most wonderful time of the year! Universal Studios Hollywood™ and Universal CityWalk® are all decked out for the holidays! Universal Studios is located in Hollywood California. This unique theme park gives behind the scenes peeks at popular movies and TV shows and is fun for the whole family. The holidays bring Grinchmas and other seasonal treats to Universal. All the holiday festivities are included with your admission ticket!
Do not miss Who-ville and the Grinchmas celebration. The center of Whoville has a perfect crooked tree and "Whos" wander throughout the crowd and chat up guests.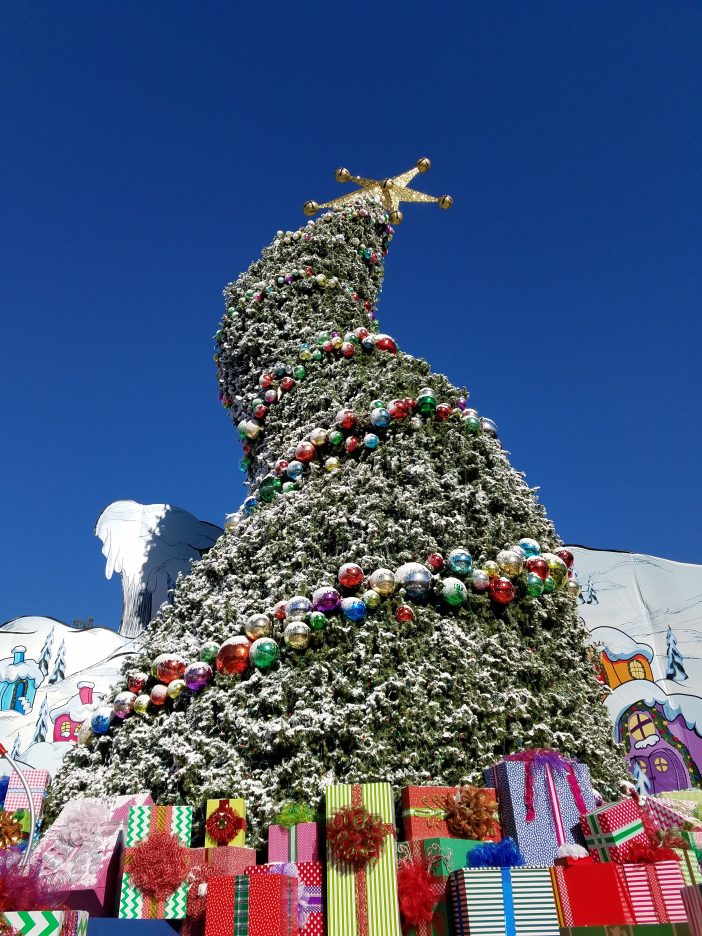 "Grinchmas™" returns to Universal Studios Hollywood with a Who-lebration fit for The Grinch, his faithful dog Max and a roster of Who-ville Whos. Do not miss out on photo opportunities with The Grinch, Max, and Whos! Meet and Greets and specials shows run all day, including multiple tree lighting ceremonies at night time.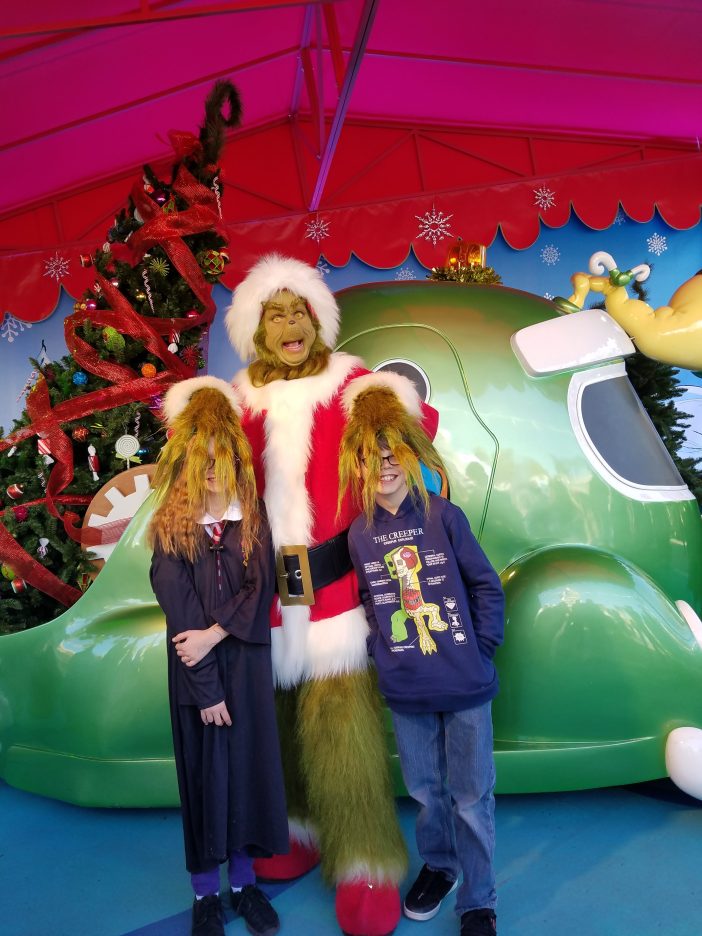 The Grinch was hilarious and awful, just as one might expect of the Grinch. While he is the Grinch, he took the time to talk with each person that came through the line. Sarcasm and bad attitudes were so ridiculous we had to laugh.
Next we met Max the dog. Max is The Grinch's faithful side kick. Max is such a good dog, not a great reindeer though…..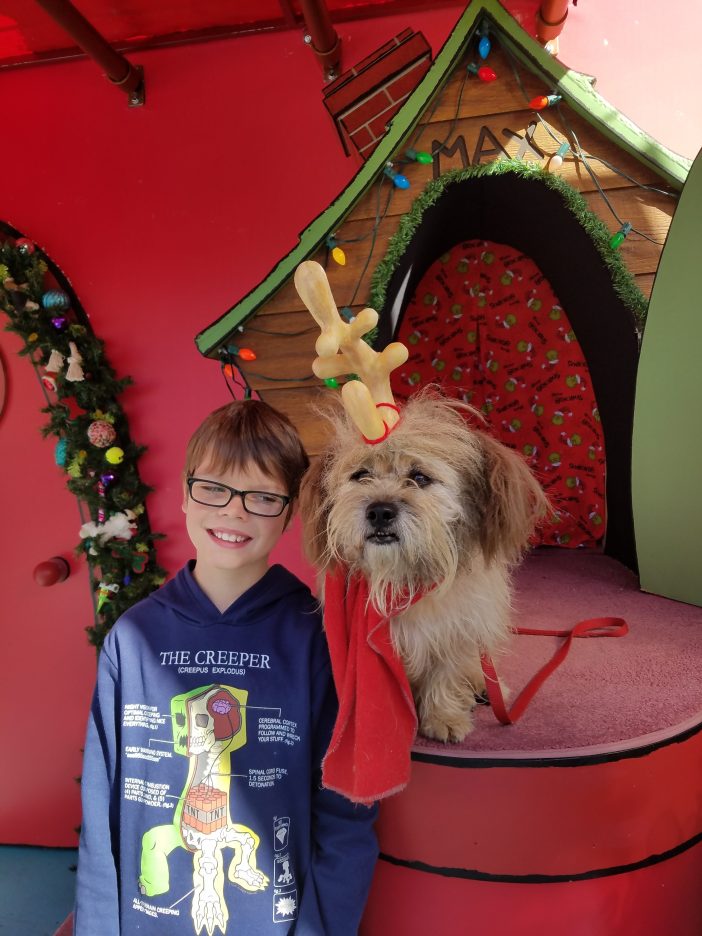 The kids asked if we could adopt him. No guys, he has a family, we promise.
Do not miss this opportunity to do a good deed. Send the Grinch a post card with a list of good things you did this year. For every card that is filled out a book will be donated to a child in need! We all filled one out. I love that Universal Studios organized such a great charitable opportunity for guests of Grinchmas!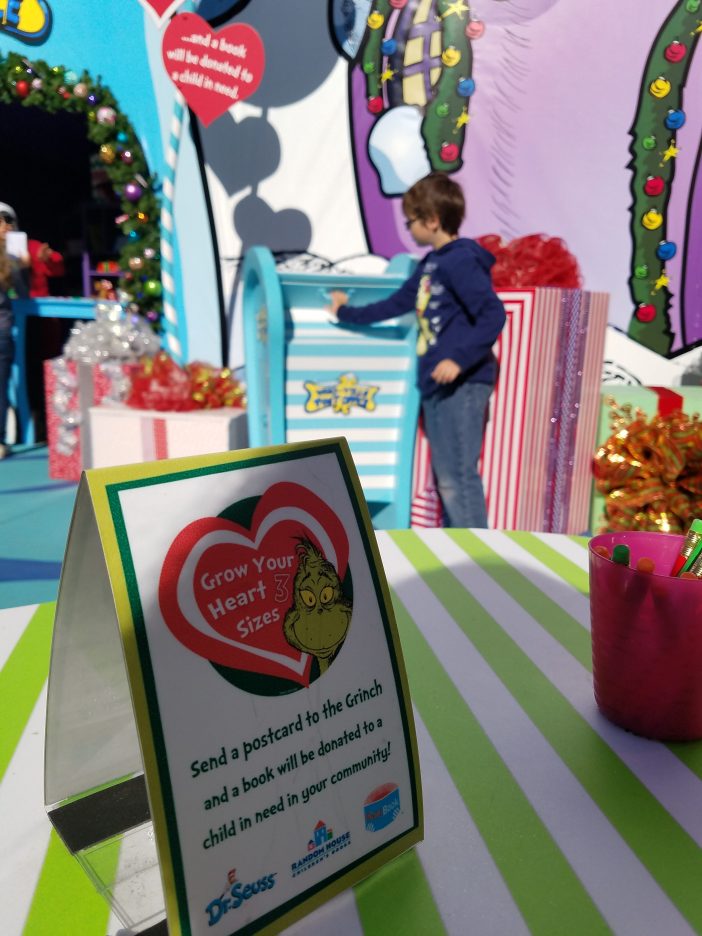 I cannot wait to share more about The Wizarding World of Harry Potter, but for now, I just want to share this! Just in time for the holidays and chilly weather…… warm Butterbeer!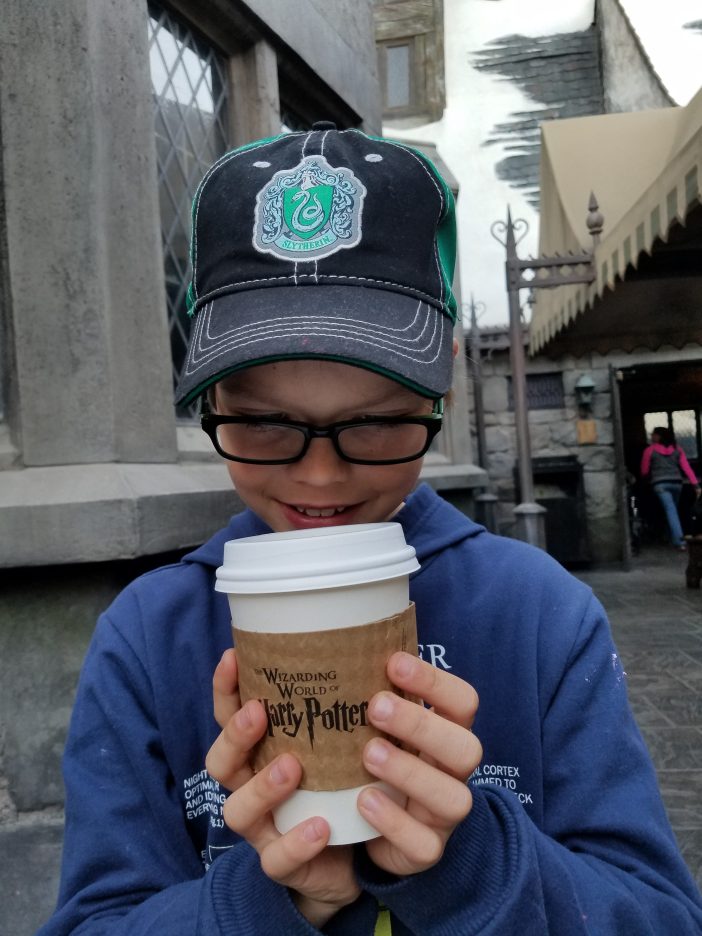 Harry Potter fans rejoice! Hot Butterbeer™ is now available at Three Broomsticks™ and Hog's Head pub when "The Wizarding World of Harry Potter™" at Universal Studios Hollywood debuts this newest addition of this popular beverage to its offerings of themed offerings. Our kids loved the cold Butterbeer they tried on their first journey to Harry Potter World. They give the hot version two thumbs up!
Grinchmas is a unique spin on the holiday that can only be seen at Universal. In the Universal Plaza you cannot miss the 60 foot tall Grinchmas tree, it is the perfect photo op now through January 1, 2017. Music and performances around the Grinchmas tree were so fun to watch. Throughout the park you will see festive decor and even a few other characters that are in the holiday spirit!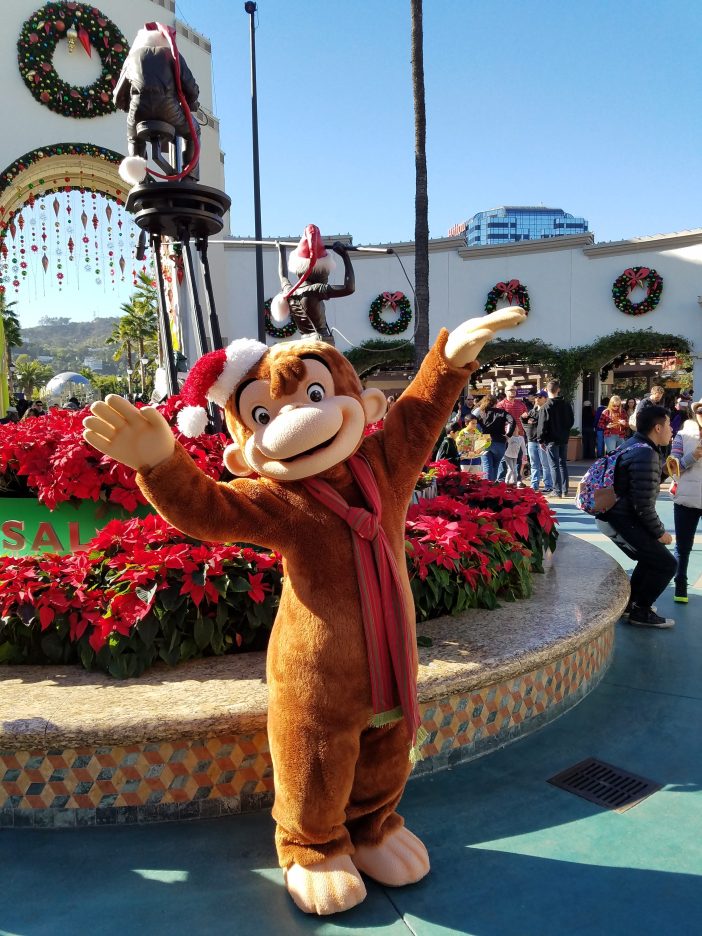 In addition to the festivities inside the park, keep in mind Universal CityWalk also has entertainment. CityWalk is a free open air attraction with shops, entertainment, and restaurants. There will be talented street performers and visits from Santa on CityWalk as well!
Like Universal Studios Hollywood on Facebook and follow @UniStudios on Instagram and Twitter. Remember Get Away Today offers DISCOUNTED Universal Studios (as well as many other theme park) tickets. Book a SoCal vacation with Get Away Today and remember to input the code HIGHLIGHTS for an additional $10 off (use it on a Butter beer – trust us!)
About Wizarding World
In the years since Harry Potter was whisked from King's Cross Station onto Platform nine and three quarters, his incredible adventures have left a unique and lasting mark on popular culture. Eight blockbuster Harry Potter films based on the original stories by J.K. Rowling have brought the magical stories to life and today, the Wizarding World is recognized as one of the world's best-loved brands.
Representing a vast interconnected universe, it also includes two epic Fantastic Beasts films, (the third releasing in 2022), Harry Potter and the Cursed Child – the multi-award-winning stage-play, state-of-the-art video and mobile games from Portkey Games, innovative consumer products, thrilling live entertainment (including four theme park lands) and insightful exhibitions.
This expanding portfolio of Warner Bros. owned Wizarding World experiences also includes Harry Potter New York – a brand new flagship store, Warner Bros. Studio Tour London – The Making of Harry Potter, Warner Bros. Studio Tour Tokyo, and the Platform 9 3⁄4 retail shops.
The Wizarding World continues to evolve to provide Harry Potter fans with fresh and exciting ways to engage. For the worldwide fan community, and for generations to come, it welcomes everyone in to explore and discover the magic for themselves.
About Dr. Seuss
Theodor Seuss Geisel is quite simply the most beloved children's book author of all time. Winner of the Pulitzer Prize in 1984, three Academy Award, two Emmy Awards, three Grammy Awards, and three Caldecott Honors, Geisel wrote and illustrated 45 books for children. Hundreds of millions of copies have found their way into homes and hearts around the world. While Theodor Geisel died on September 24, 1991, Dr. Seuss lives on, inspiring generations of children of all ages to explore the joys of reading. For more information about Dr. Seuss and his works, visit seussville.com.
About Universal Studios Hollywood
Universal Studios Hollywood includes a full-day, movie-based theme park and Studio Tour. As a leading global entertainment destination, Universal Studios Hollywood delivers highly themed immersive lands that translate to real-life interpretations of iconic movie and television shows. Attractions include "The Wizarding World of Harry Potter™" which features a bustling Hogsmeade village and such critically-acclaimed rides as "Harry Potter and the Forbidden Journey" and "Flight of the Hippogriff™", the new mega attraction "Jurassic World—The Ride" featuring the spectacularly realistic Indominus rex dinosaur, and the all-new ride "The Secret Life of Pets: Off the Leash!" Other immersive lands include "Despicable Me Minion Mayhem" and "Super Silly Fun Land" as well as "Springfield," hometown of America's favorite TV family, located adjacent to the award-winning "The Simpsons Ride™" and DreamWorks Theatre featuring "Kung Fu Panda Adventure." The world-renowned Studio Tour is Universal Studios Hollywood's signature attraction, inviting guests behind-the-scenes of the world's biggest and busiest movie and television production studio where they can also experience such thrill rides as "Fast & Furious—Supercharged" and "King Kong 360 3D." Universal CityWalk, located adjacent to the theme park, features such popular restaurants as the all-new NBC Sports Grill & Brew, VIVO Italian Kitchen, Antojitos Cocina Mexicana, Jimmy Buffett's Margaritaville and Voodoo Doughnut, along with dynamic shopping and entertainment options, including Universal Cinema, featuring deluxe recliner seating in screening room quality theatres.