Guardians of the Galaxy Volume 3 – is it too scary for kids?
Disclosure: Thank you to Disney for inviting us to the premiere in Hollywood. Opinions are our own. This site includes affiliate links.
The highly anticipated Guardians of the Galaxy Volume 3 is almost here, and fans better get ready for a wild ride. Today we are sharing a no-spoiler review for families. This movie was action packed and funny, but also very heavy at times. Here we will share what parents may want to consider when buying tickets for their younger kids. The PG-13 rating is deserved, we will share more about that here. I was lucky enough to attend the red carpet, world premiere on April 27, 2023 in Hollywood, California. Here is my honest and spoiler-free review of the Guardians of the Galaxy Volume 3.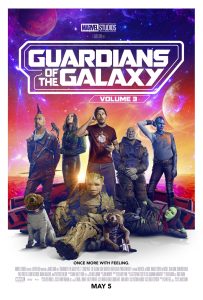 This post has been written by J, our in house expert of all things Marvel. Readers, this article does NOT contain spoilers for Guardians of the Galaxy Volume 3, but it does reference past films and TV shows that may spoil things for you if you haven't seen them, so be forewarned.
We still have FREE Guardians of the Galaxy Coloring Pages available for instant download!
What is Guardians of the Galaxy :Volume 3 rated?
Guardians of the Galaxy 3 is rated PG-13. I would say this is a fair rating, but I would say it is a soft PG-13. This film is very emotionally heavy. There is no sexual content of any kind, if that is a worry for some parents. There is language, including at least one 'f' bomb. Characters die and there are many scary and emotionally intense moments. Everyone was crying in our theater. I highly suggest reading more reviews if you have a sensitive child. While there is some violence, there isn't much in the way of gore. I believe children under 13 could definately see this film, but it is worth noting that it does have some moments that are very hard to watch emotionally.
J's Thoughts on the latest Guardians film.
What you need to know is that this film, much like Black Widow (2021), is very heavy. Famed for comedy, Marvel has taken a darker turn, which is more similar to the comics. But with this, Guardians 3 also ups the odd factor, which has been the subject of many critics. As a Marvel fanatic, I think the latest films have been enthralling. For example, a lot of reviewers criticized Ant-Man Quantamania, and compared Derek's character to Mr. Electric from Sharkboy and Lavagirl. And yes, anyone can agree that Derek is goofy in that movie, but it is intentional and accurate to the comics. But from an outside perspective, it is easy to see how someone not as emotionally invested can't see the intricacies of the latest additions to the MCU. However, I think Marvel balances this by crafting films that appeal both to the nerdom and general audiences. Overall, I think this movie will be enjoyable for all audiences, but make super fans lose their minds.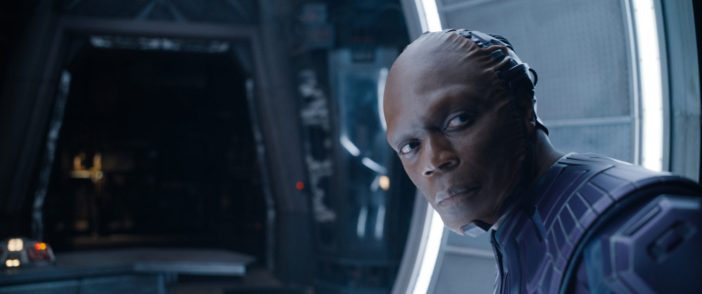 In terms of character development and dynamics, there are lots of unanswered questions and suspense left from other pieces of the MCU. For instance, the unexplored Star-Lord/Gamora drama left from the events of Endgame. It's absolutely crushing to watch the aftermath of Gamora's return after Peter lost her forever. As a result, there is a lot of drama between them, and by association, tension between Nebula and Peter. As seen in the trailer, there is a tease at a possible romance between Peter and Nebula, and this passing joke sends fans spiraling into theories. Another exciting aspect of character dynamics is that the Guardians of the Galaxy Holiday Special revealed that Mantis and Peter are half-siblings. Both being children of Ego, their celestial (and psychopathic) dad, this reveal impacts their relationship and alters the functioning of the Guardians as a team. Like most fans, I went into the Holiday Special expecting a comedy unrelated to the MCU timeline, but I was just as surprised as everyone else when they made this reveal.
From a cinematic standpoint, the production quality was outstanding. One of my favorite cinematic elements was the use of one continuous action shot where the camera follows the characters around for several minutes. This was also done expertly in Loki episode 3, as Lamentis-1 is being destroyed. We all watched with astonishment as we followed Loki and Sylvie around as they scrambled to find a way out of the explosion zone. Guardians of the Galaxy 3 contains a battle scene like this, which is impressive within itself. Combined with the outstanding stunt work, and combat choreography seen throughout the movie, the audience's awe is redoubled. But that isn't enough, Marvel had to create this scene specifically, (and others) with half real characters, half completely CGI characters. The direction of photography is visually interesting and the CGI is combined almost seamlessly. Any complaints about Marvel CGI in the past will not be present with Guardians of the Galaxy: Volume 3.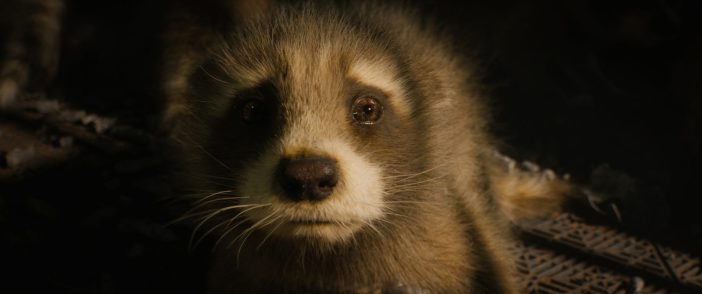 In addition, the third and final installment of Guardians flashes back into Rocket's tragic past. Hinting at some sadder undertones, the film pulls on the audience's heartstrings. Some fans even theorize this hints at Rocket's death coming soon. These unique aspects, genres, and content of the newer Marvel films are what have kept audiences engaged. Some other examples are Doctor Strange 2's horror vibes and the upcoming The Marvels which is one of the first all-female lead movies in the MCU. Haters will argue that Marvel movies are repetitive or redundant, but we real fans know that Marvel stands out when compared to other franchises. I need to be honest, this movie was intense. People have been saying, "I hope I brought enough tissues,'' and they are not exaggerating. We have seen in the past how Rocket refuses to talk about his past, and in this movie, we discover the truth simultaneously with the rest of the team. Not only this, but we also get to see how much the team cares for Rocket. Guardians 3 reminds us how the smart-alecks and comic relief characters are never one-dimensional, and it takes the trauma and intense lows in order to have the well-roundedness to be funny and to be confident. It also reminds us that how a person presents doesn't represent what goes on inside their head, and how "knowing'' a person doesn't mean you understand them.
Overall, Guardians of the Galaxy: Volume 3 was such an amazing film to be able to see and I'm certain I will never forget. Make sure to get your tickets and see it in theaters!
In Marvel Studios "Guardians of the Galaxy Vol. 3" our beloved band of misfits are looking a bit different these days. Peter Quill, still reeling from the loss of Gamora, must rally his team around him to defend the universe along with protecting one of their own. A mission that, if not completed successfully, could quite possibly lead to the end of the Guardians as we know them.
James Gunn writes and directs "Guardians of the Galaxy Vol. 3," which stars Chris Pratt, Zoe Saldana, Dave Bautista, Karen Gillan, Pom Klementieff, featuring Vin Diesel as Groot, Bradley Cooper as Rocket, Sean Gunn, Chukwudi Iwuji, Will Poulter and Maria Bakalova. Kevin Feige is the producer and Louis D'Esposito, Victoria Alonso, Nikolas Korda, Simon Hatt and Sara Smith serve as executive producers.
Planning a trip to the Disneyland Resort? It is the only place where you can ride the Guardians of the Galaxy ride!