Halloween Time at Disney California Adventure Park!
Disclosure: I attended a media event hosted by Disney Parks. Opinions are always my own.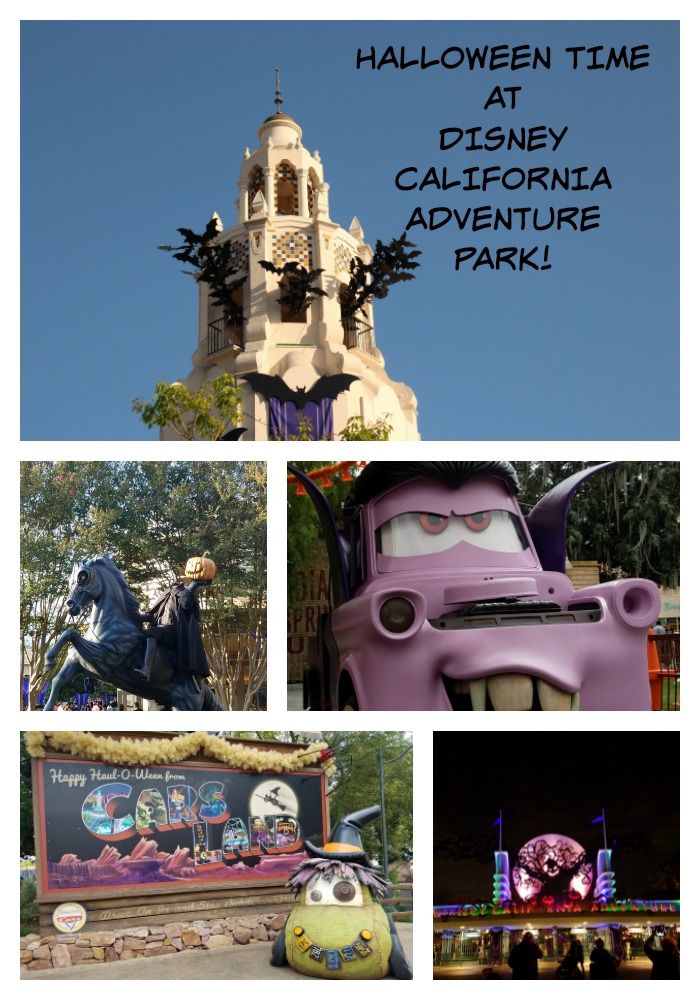 Halloween time is here at the Disneyland Resort!  Last week I was able to take a media tour to see first hand what is new at Disney California Adventure Park for Halloween. While Disney California Adventure Park has always participated in the Halloween festivities, this year they have really given guests so many new ways to celebrate.
Let Oogie Boogie welcome you at the gates. Halloween Time is already in full swing and will continue through October 31st!
For the first time ever, guests of Mickey's Halloween Party can mix in at Disney California Adventure Park. Mickey's Halloween Party is of course held at Disneyland Park and guests have always been able to mix in a few hours early at Disneyland.  This is the first year that guests can take advantage of the mix in as a park hopper!
The absolutely cutest thing to ever come to Radiator Springs is "Haul – O – Ween" in Cars Land.  The entire town has been transformed into "Radiator Screams" for the season.
Guests will love the decor and special touches throughout the entire land. From the moment you turn down Radiator Screams you will see the transformation.  Scary the Scare-car greets guests at the entrance and it just gets spookier from there. Keep your eyes open for the Spider-car, which was actually made from a repurposed "Toadmobile" from Mr. Toad's Wild Ride! A spooky "Zombie Car" is 'rusts in peace' in Cars Land just for the spooky season.  Gas can pump-kins, jack-oil-lanterns, eight legged car-achnids, and more add to the spooky decor.
Our favorite Cars are dressed up in their "Car-Stumes" to celebrate. Mater is dressed as a Van-pire. Lightning McQueen is even more super as a super hero. Red the firetruck is a clown. DJ is a zany punk rocker. Our newest favorite, Cruz Ramirez is dressed as a pirate!  These costumes are so cute and a must see for any Cars fan.
Cars Land rides also have an awesome seasonal update.  Mater's Junkyard Jamboree has been transformed for a limited time to Mater's Graveyard JamBOOree.  Luigi's Honkin' Haul-O-Ween takes the place of Luigi's Rollickin' Roadsters.  The classic ride is very much the same, but new themed decor and music make it even more fun.
Fans of the new Guardians of the Galaxy – Mission: BREAKOUT! will be thrilled to know there is an even spookier option! Guardians of the Galaxy – Monsters After Dark is a creepy night time version that you can enjoy only during Halloween time! "It's creepy, chaotic, and very fun." says Walt Disney Imagineer, Joe Rohde.
In addition to the Halloween activities, guests can  also enjoy a Dia de los Muertos celebration. Plaza de la Familia is a celebration of the traditional holiday as well as Disney Pixar "COCO", which opens in theaters in November. Plaza de la Familia will include live entertainment, interactive experiences, traditional Mexican foods, and more. Don't miss a sneak peek at the new film that hits theaters on Thanksgiving day.  Guests can enjoy complimentary face painting as part of this fun event! Plaza de la Familia runs through November 2nd. A few activities will move on to Bugs Land and can be enjoyed through January 7, 2018!
Costumed characters, Fall themed treats, music, and lights are all fun enhancements for the season.
While Disney California Adventure Park is a teensie bit spookier than Disneyland Park, it is still 100% family friendly.  If you are looking for a fun 'not so scary' way to celebrate the Halloween season, make your way over to Disney California Adventure Park! Make sure to check out more info about Halloween Time at the Disneyland Resort on the Disney Parks Blog. Tune in next time for more information about Mickey's Halloween Party at Disneyland Park too!