When your 6 year old wants a Hamilton themed birthday party.
Disclosure: Highlights Along the Way is a participant in the Amazon Services LLC Associates Program, an affiliate advertising program designed to provide a means for sites to earn advertising fees by advertising and linking to amazon.com.
Hamilton the Musical has taken Broadway theatre lovers by storm. Even people who do not typically love to see musicals are singing the songs and crossing their fingers for tickets. When our six year old wanted a Hamilton themed birthday party I was thrilled. Hamilton birthday parties are easy and such a fun memory. Hamilton themed food was really what brought the whole thing together. Guests are also welcome to our printable Hamilton Playbill Cupcake toppers below. We played the original cast recording, enjoyed a water gun duel, ate Hamilton themed party food, and even had a few Hamilton themed costumes and t-shirts. If you are looking to host a Hamilton themed birthday party that even Lin-Manuel Miranda himself would totally enjoy, you cannot throw away your shot!
I can only assume Lin would enjoy this…. he wasn't here despite my daughter inviting him on Twitter. He threw away his shot, go figure.
Who is ready to party like it's 1776? My six year old.
Hamilton Birthday Party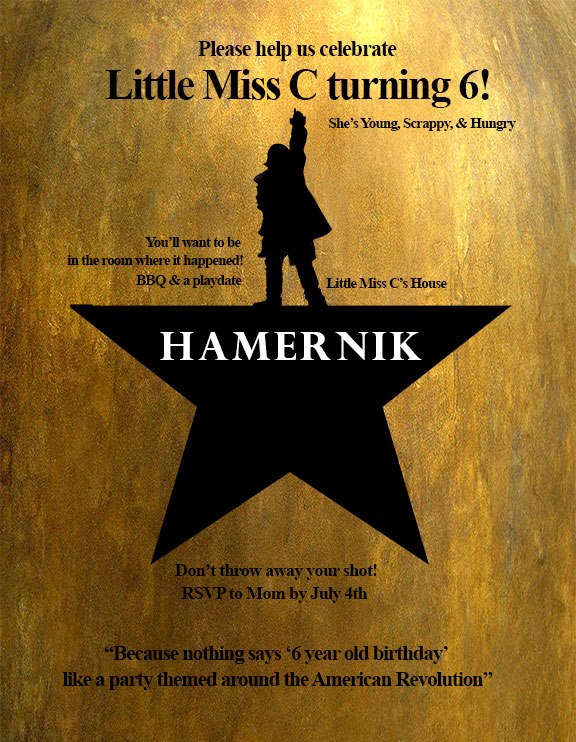 We have a new six year old in the house. We went through several different birthday party themes. I suggested Moana, Paw Patrol, Wonder Woman, they all got shot down. Little Miss C made her musical theater loving Mama the proudest when she said she wanted a Hamilton Birthday Party. We have been planning a Hamilton themed birthday party for our 6 year old for months and we are kind of in love with how it turned out.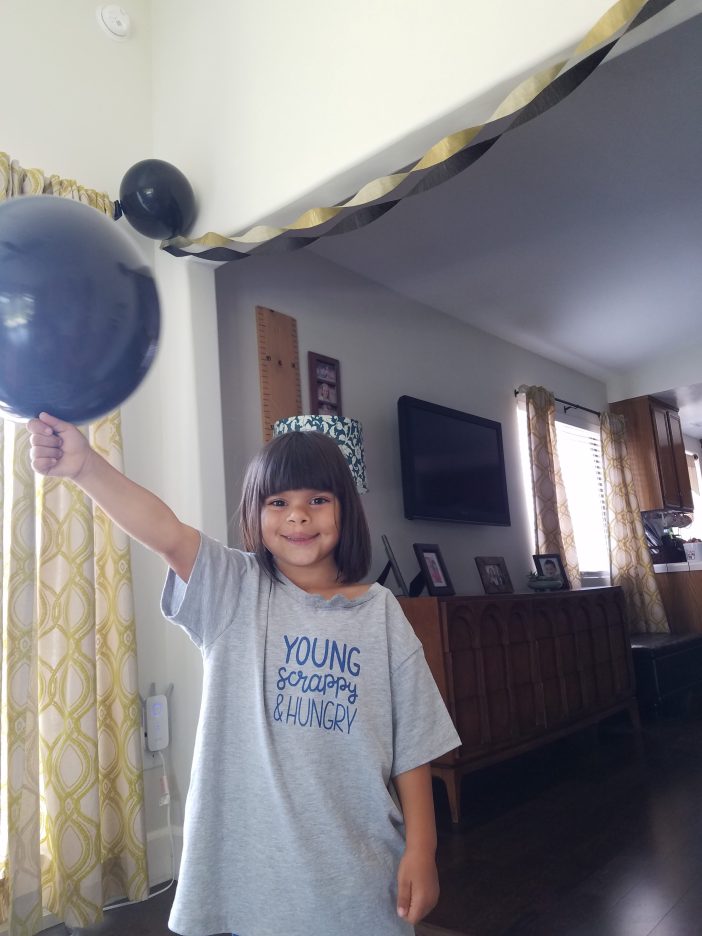 I should back up and remind you all that six years ago this little one limped into the world with a lot of challenges, but also tenacity that this world had never known before her.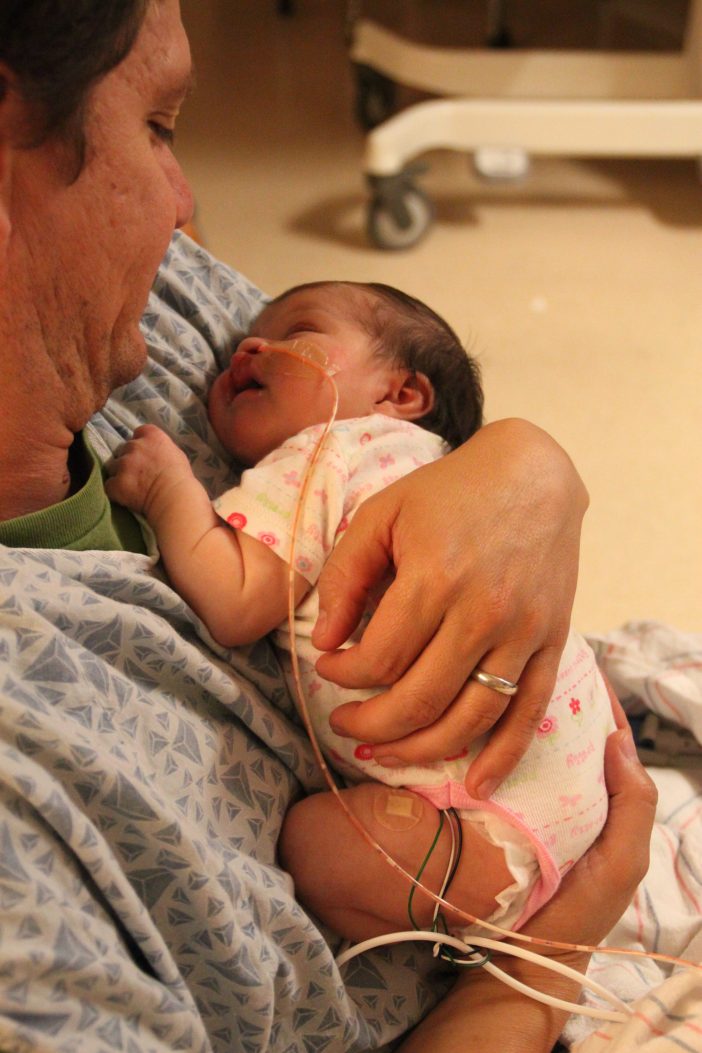 She is a spit fire who has never really had anything handed to her. She has had to work twice as hard at just about everything since day one. Sounds like a certain Founding Father without a Father – amirite? One thing she has struggled with is speech. She would often sit silent rather than frustrate herself with anything more than very simple sentences.
We found that music helped pull her out of her shell from very early on. But as most Hamilton fans can identify with, she was extremely motivated by Hamilton lyrics. Rap, ballads, show tunes, they were all her favorites. She would ask us to put on Hamilton every time we would get in the car. She wanted to watch Hamilton videos on YouTube. She considers Lin-Manuel my friend because I met him that one time. Who am I to say she is wrong there? She can bust out a mean "Guns and Ships", and seriously, can you get over this rendition of "Dear Theodosia."?
You cannot.
Up until age five she would tell you she would be a "Fire Fighter Mommy" when she grew up. Now she is going to be "Hamilton on the stage". She says she will sing the songs and fight the fights and do the dancing. When I ask if she would perhaps play Angelica or Eliza. "Nope, I will be Hamilton, just a girl that plays Hamilton, I think that is OK." Tell me that isn't the mostly Hamilton-y message she ever could have received. All that to say, this party was a labor of love for us.
First, you guys gotta grab a Hamilton T-shirt – here are a bunch on Prime!
Hamilton Birthday Party Ideas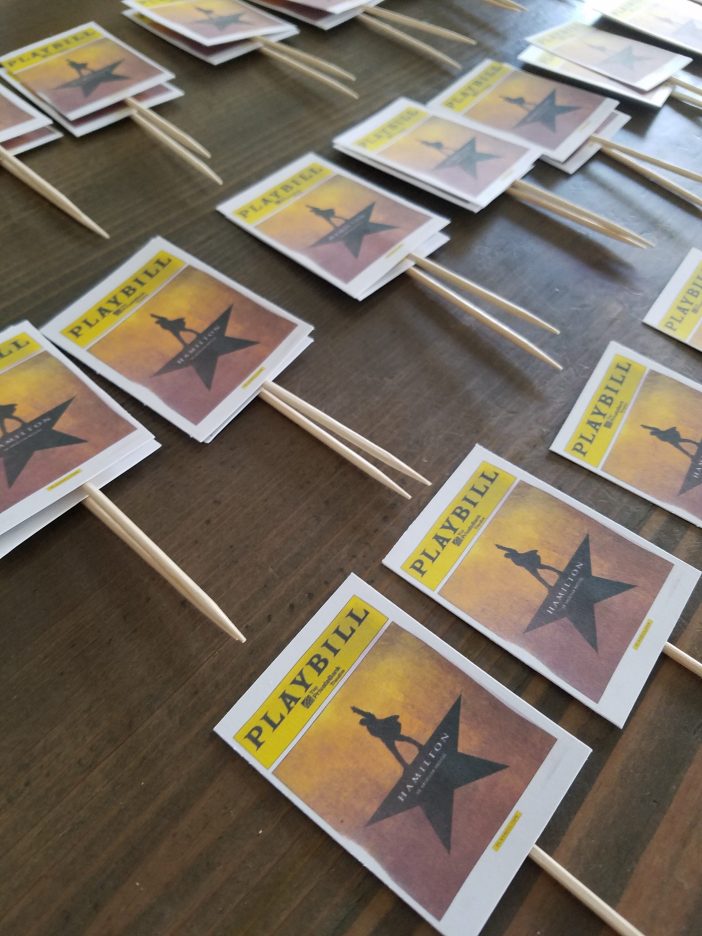 Hamilton Party Food Ideas
HAMILTON CUPCAKES
Hamilton Cupcakes are the easiest way to theme your party. We've created a playbill topper that is perfect. Make literally any cupcakes you like and put an iconic Broadway Hamilton Playbill topper and it is now perfectly themed. We chose white frosting but there are no rules here, it is basically New Jersey. We suggest printing out this cupcake topper on heavy cardstock and simply hot gluing to a toothpick. Tiny Hamilton birthday party Playbill Cupcake Toppers we made ourselves. There is more Hamilton Party food below so keep reading!
Printable Hamilton Playbill Cupcake Toppers are available below. Rather than buy a whole party kit elsewhere, you can enjoy just the most popular item for 99 cents! We will be adding more a la carte items for your Hamilton party needs if there is more interest. Click the blue button below to order and download instantly! TIP – DOWNLOAD ON A COMPUTER, NOT A PHONE – phones seem to have trouble that we cannot seem to work out at this time- send to your computer and you should have no problem – thanks all!


Hamilton Cupcake Toppers – $0.99 -Buy Now
Message Kate "at" Highlights Along the Way "dot" com if you have any trouble with your download. Enjoy your adorable Hamilton cupcakes!

King George welcomed our guests.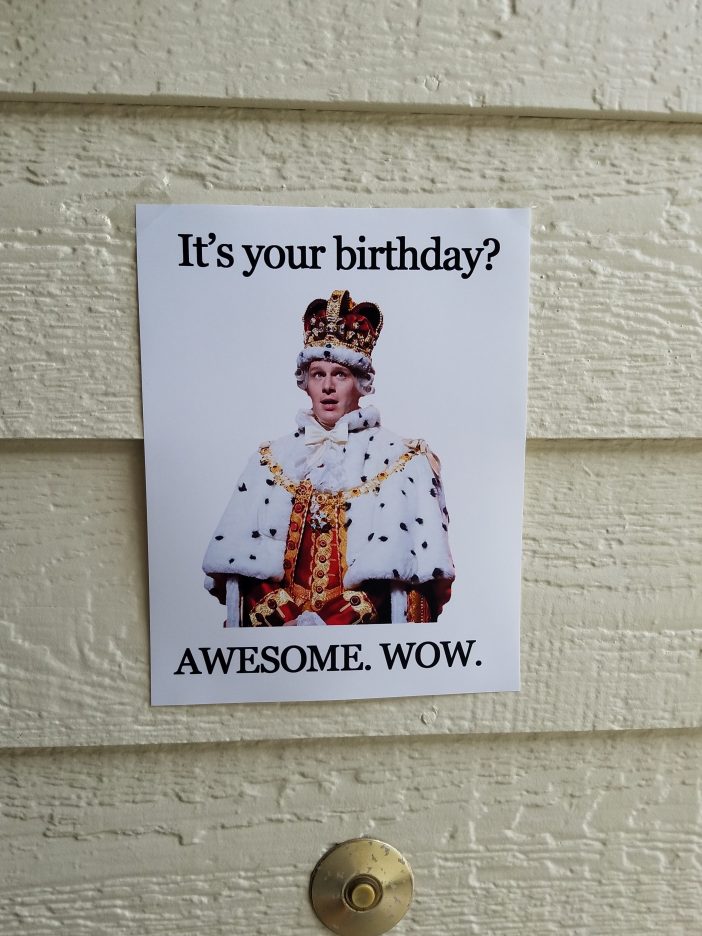 Music is easy. The Hamilton Soundtrack is an obvious choice. We were in a bit of a tricky spot because most of our guests were six year olds and their parents that didn't know what this weird party was all about. Thankfully we were able to purchase Hamilton Instrumental to play. Our coolest guests were able to sing along during our Hamilton birthday party when they wanted, but we also didn't have to try to explain "Say no to this" to anybody.
PRINT OUT SCHUYLER SISTERS THEMED HAMILTON COLORING SHEETS (FREE!)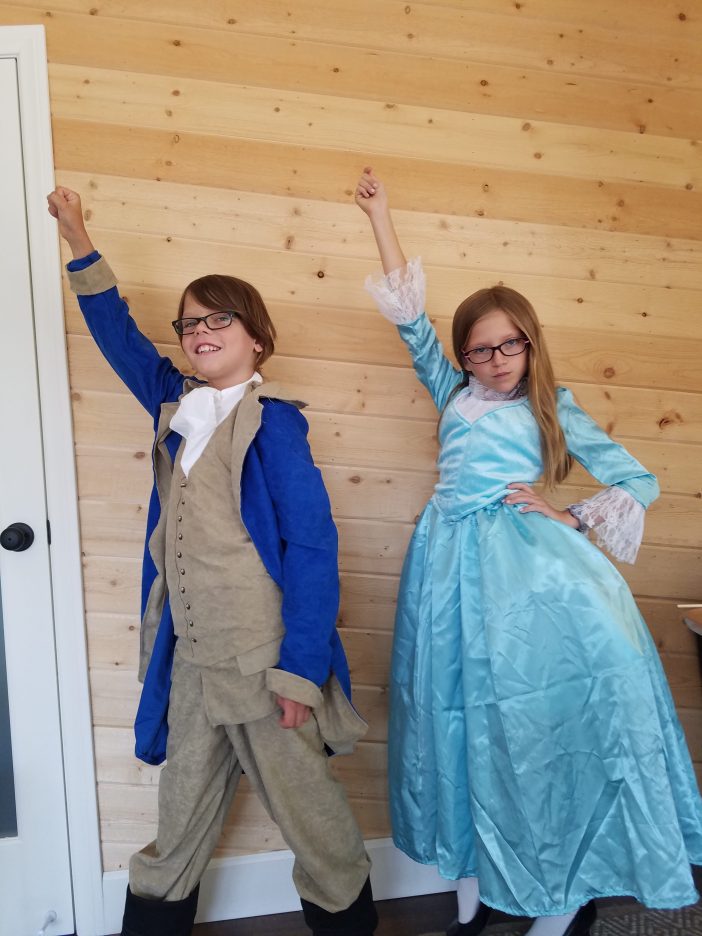 Owning. All. Of. It.
Costumed Characters had to make an appearance of course! Because our whole family is into Hamilton, the big kids were more than happy to play Alexander and Eliza Hamilton for the party. This was a fun addition to the festivities and we have our history nerd's Halloween costumes already taken care of. We made simple Hamilton Lyric signs for friends to take pictures and get in on the fun!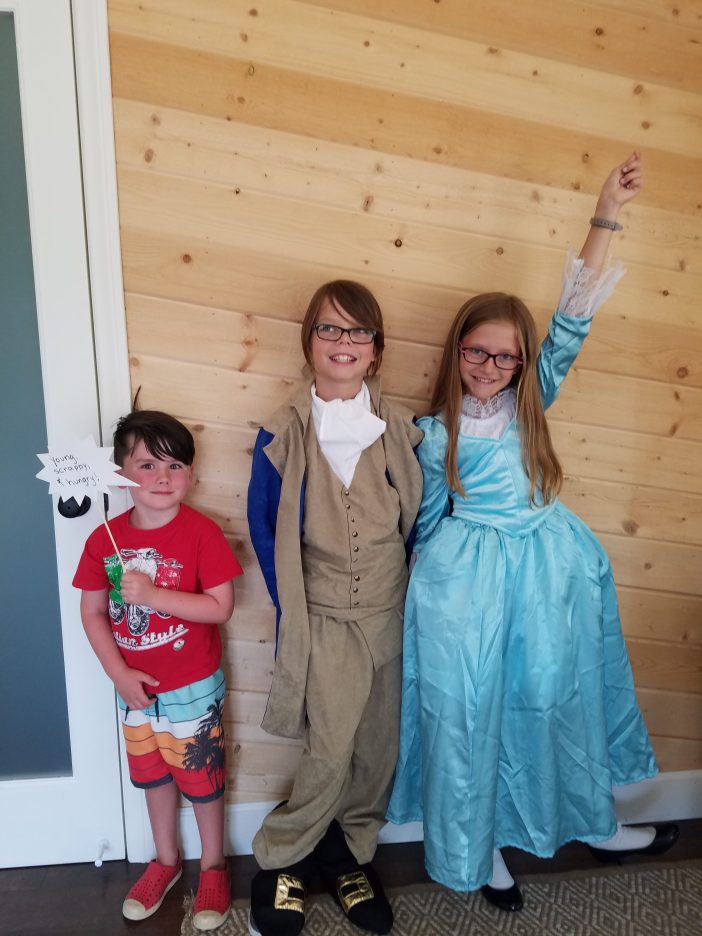 This kid was all "I do not know what is going on here, but I wore my swim trunks because I heard there would be a water gun duel and I am ready!"
Amazon has amazing Hamilton themed costumes available! This is our favorite Hamilton Dress!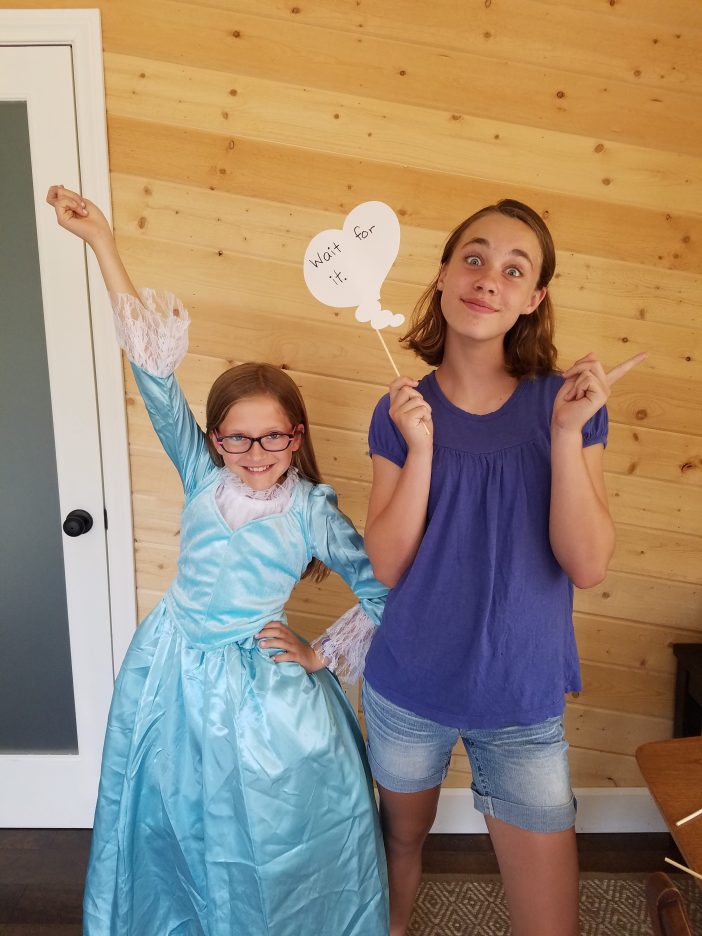 These two sang "Burn" for guests pretty much on repeat the whole party. You are welcome, guests.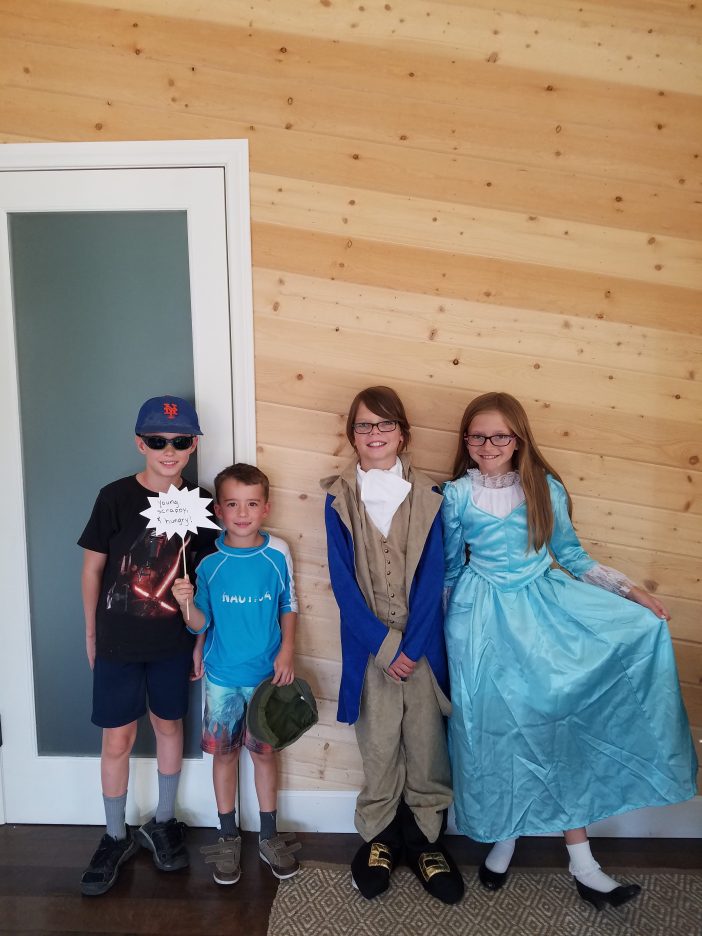 More friends that don't understand our eccentric ways, but are ready for water play!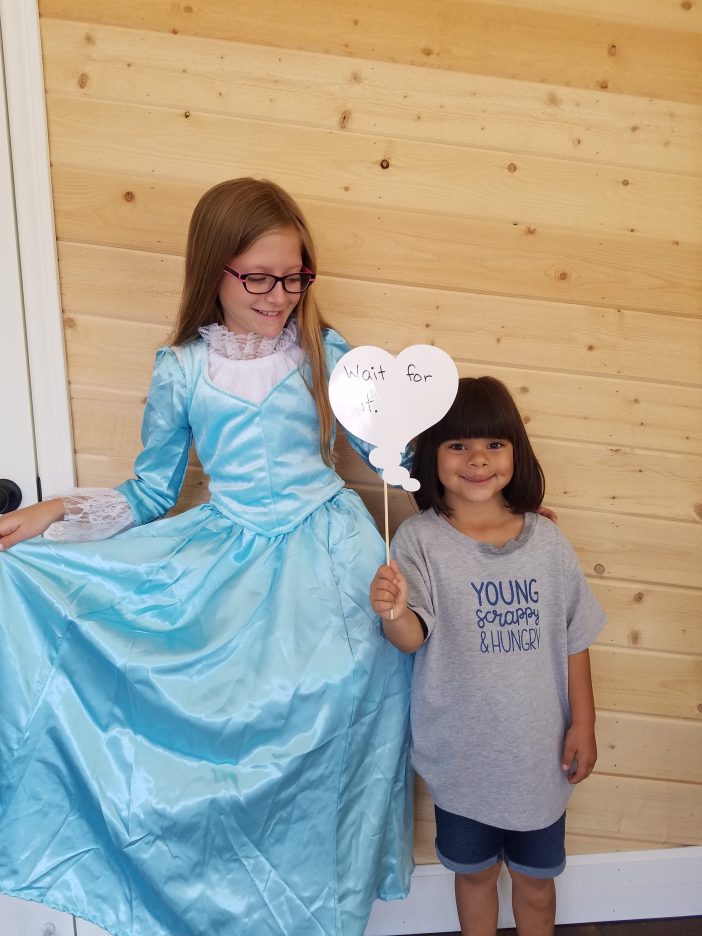 Don't want to do costumes? How about Hamilton themed t-shirts? There were so many to choose from! Our littlest wore "Young, Scrappy, & Hungry" – duh! For Harry "No one has more resilience or matches my practical, tactical brilliance." and for Mommy "I am inimitable, I am an original"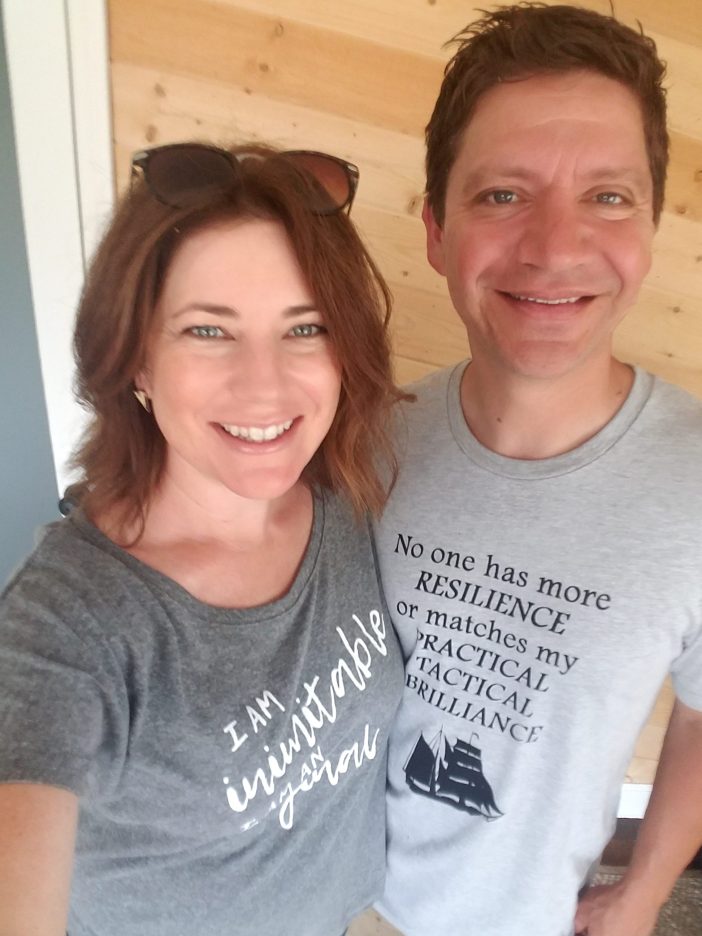 Hamilton Food is so easy! All American 4th of July style BBQ fits the bill. We served the following themed items.
A. Ham – Burr -gers with all the fixins. There were also hot dogs, but those weren't themed so not really even worth mentioning.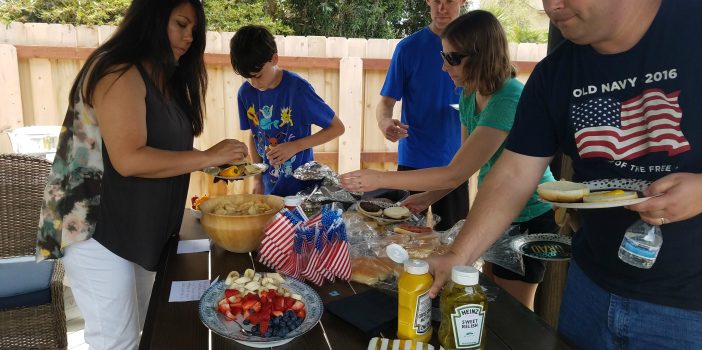 Hamilton Themed Decor and Place settings ideas. If you look closely you can see my special secret. I stretched my budget and theme on an expert level. Hamilton birthday party colors are gold and black. Guess what else is gold and black? Graduation stuff. I was at Target the first week of July and guess what was on sale – graduation stuff. I am nothing if not resourceful and frugal.
See those gold and black polka dot plates with smaller black plate strategically placed on top? Those polka dot plates say "Congrats Grad!" in this middle. Did that detour me from using them? Nope. Hilarious.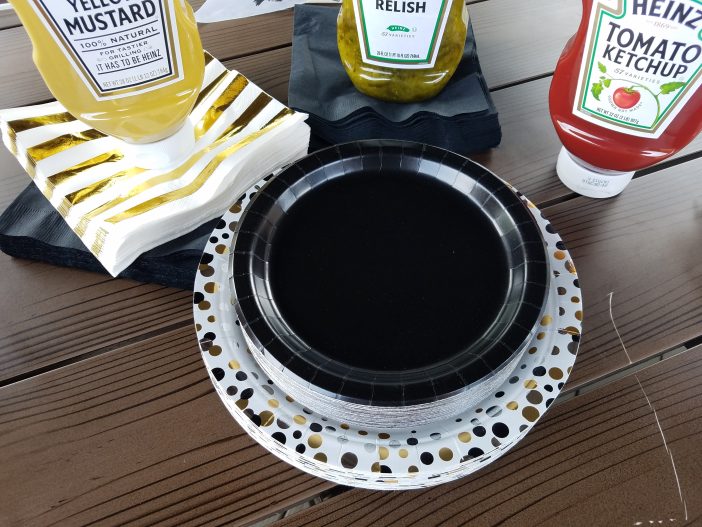 These Hamilton birthday party signs are a must….. Make sure to serve buns, and chips, and several different dips.
BUNS, and CHIPS, and SEVERAL DIFFERENT DIPS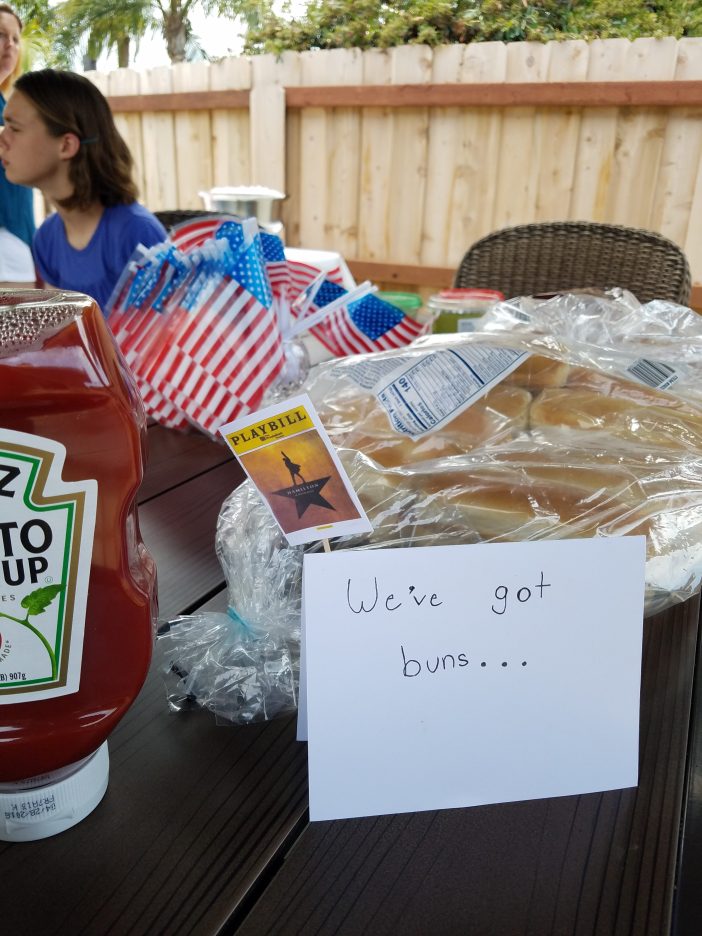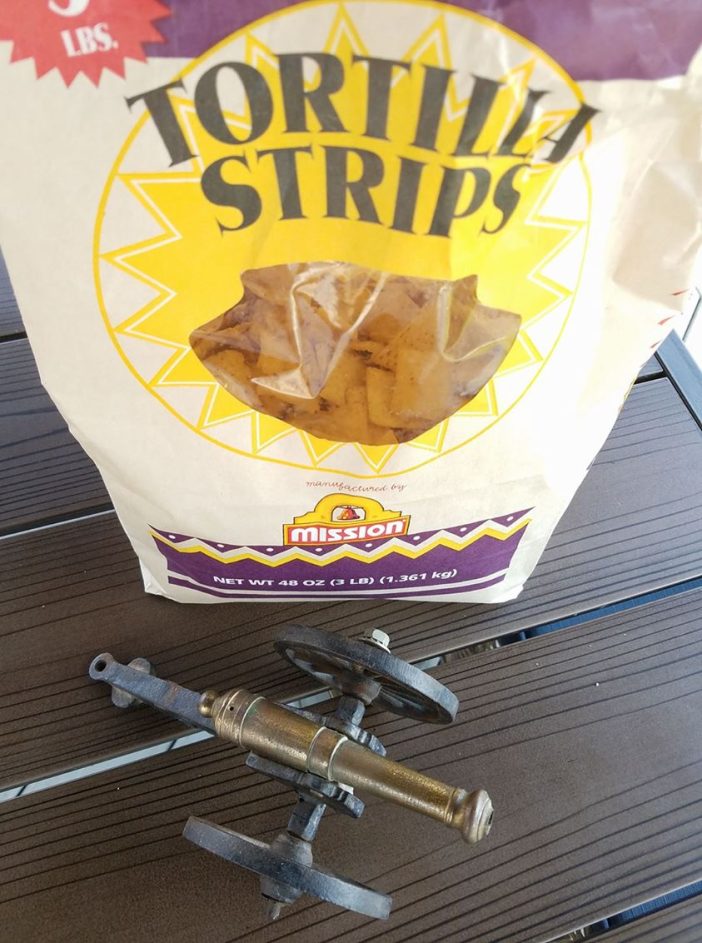 ….. and chips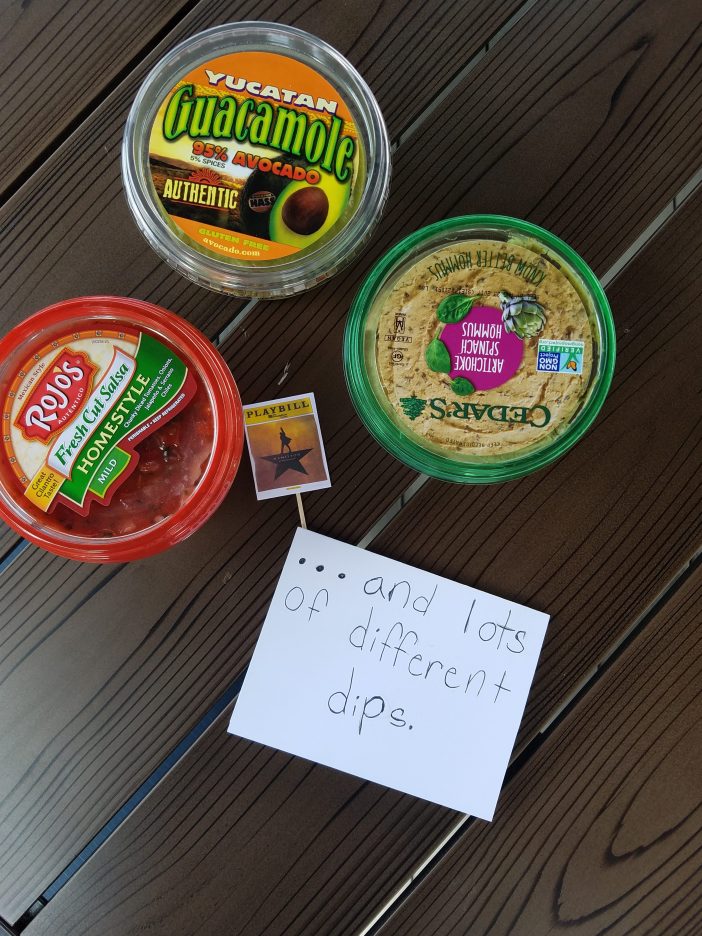 Her 11 year old sister (who will be playing the role of Eliza in this blog post) made the signs. Our family is fun.
Schuyler Sister Fruit Salad
Also, we all know that not every pink, blue, and yellow thing is a Schuyler sister reference, but this blueberry, strawberry, and banana fruit salad totally was!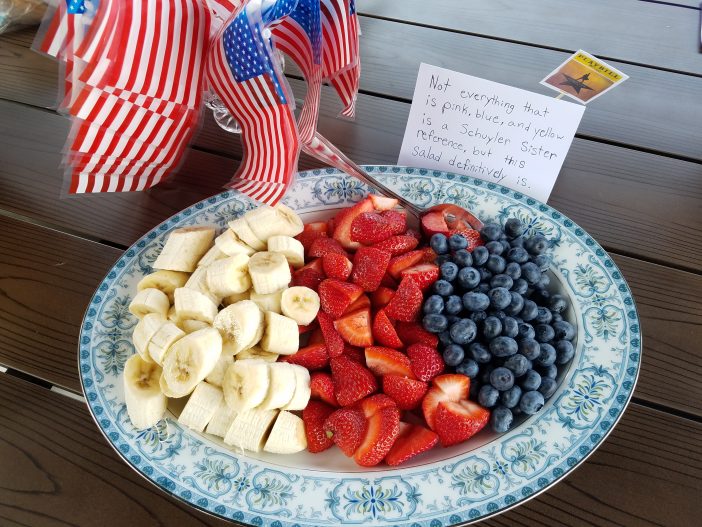 As much as I wanted to make a Schuyler sister cake, the birthday girl only had eyes for Alexander. Our standard birthday party cupcakes are vanilla box cake mix, mediocre frosting, and a little cupcake topper we make out of card stock and taped to a toothpick. Nobody is trying to get a seat at the table of Cupcake Wars here, but I think they are pretty cute!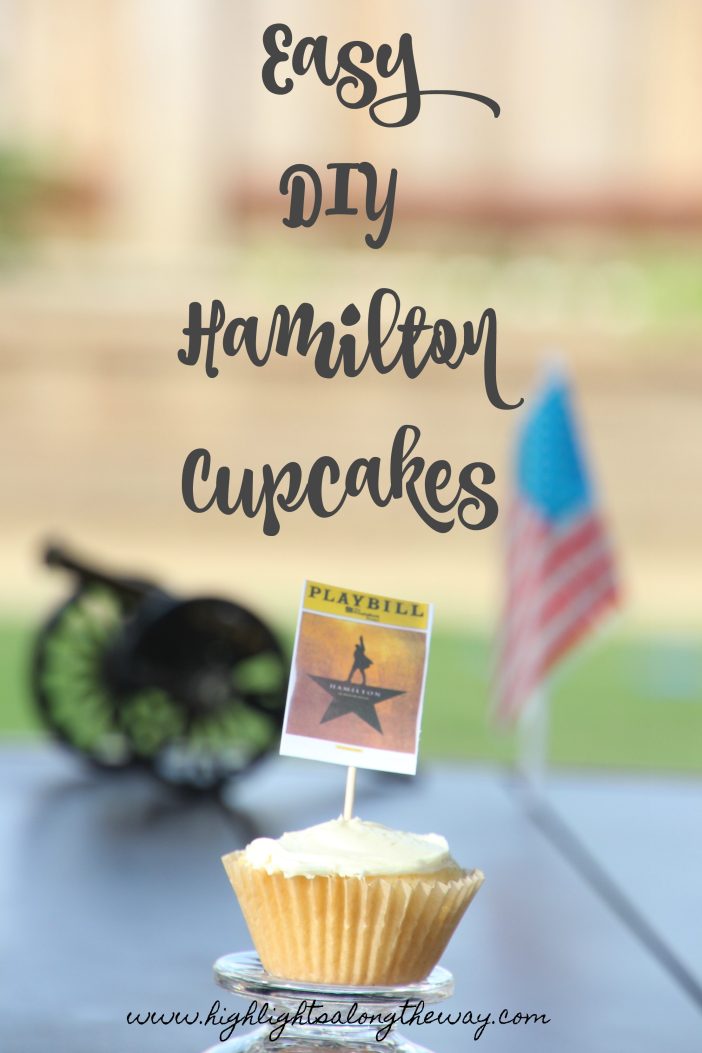 We don't like to over complicate birthday parties. Kids are always excited to play in someone else's backyard. Once guests had come in and taken a photo with our Alex and Eliza it was basically just a free for all play date. Our one exception was our dueling ground. After lunch and cupcakes we told the kids there would be a duel. Brightly colored water pistols instead of something that looked real, obviously.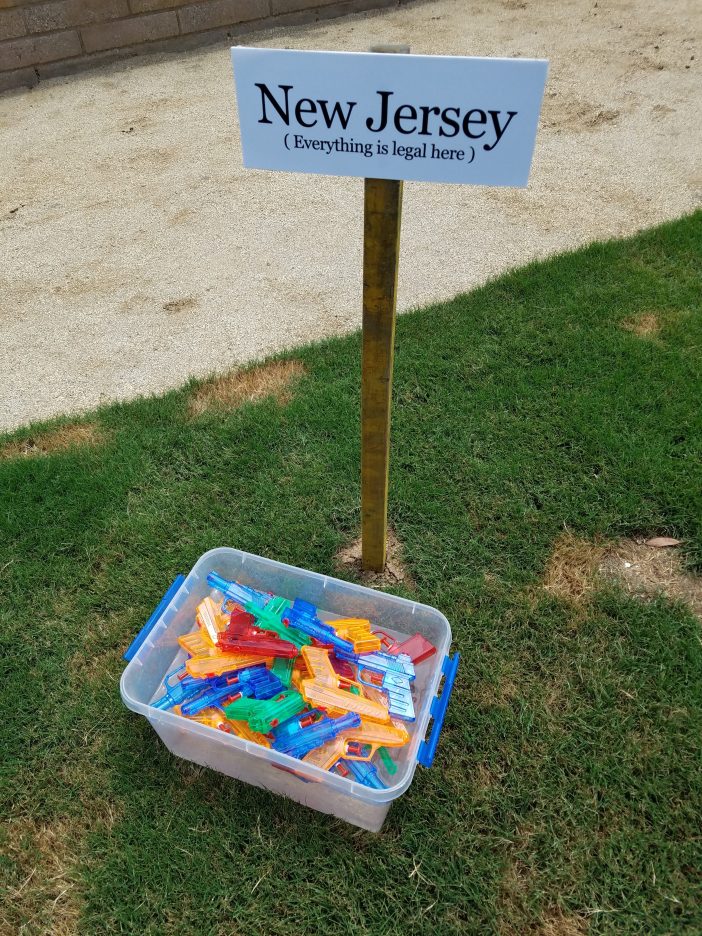 "New Jersey – Everything is legal here" in the corner of the yard for our dueling ground.
Again, the "We totally get the jokes" to the "What is going on here" ratio was really not anywhere near even. Look at that happy 6 year old Hamilkid though ….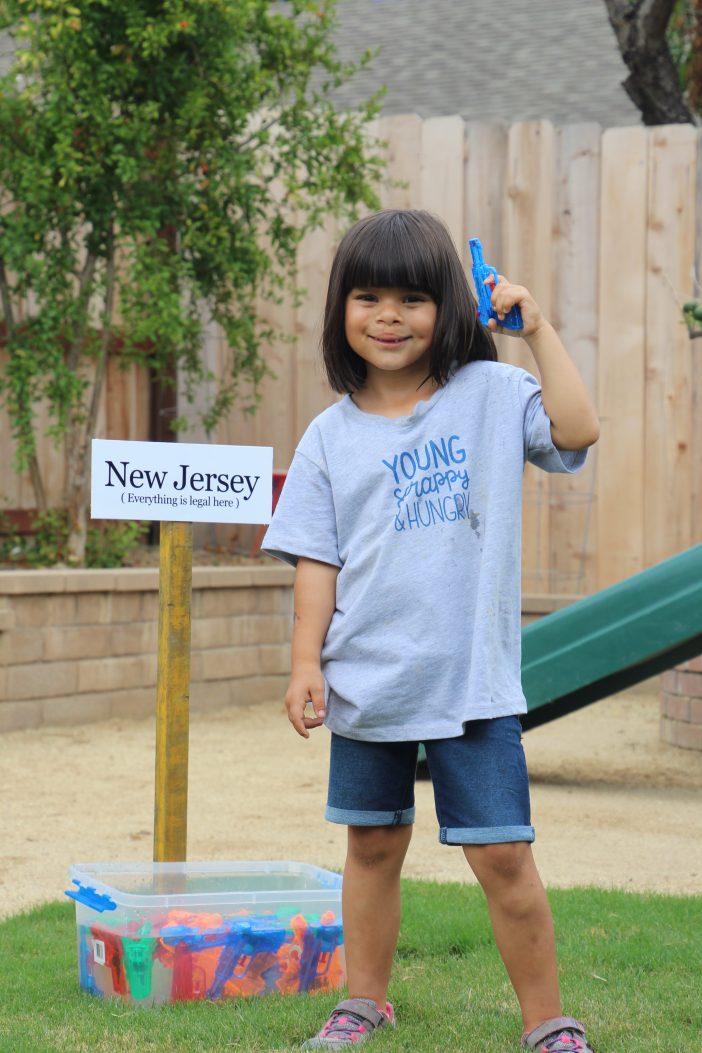 The big kids sang the Ten Duel Commandments as we gathered our friends and handed them a brightly colored pistol. And because historical accuracy is important we made them line up back to back and take ten paces. We bought Squirt Guns on Amazon (obviously).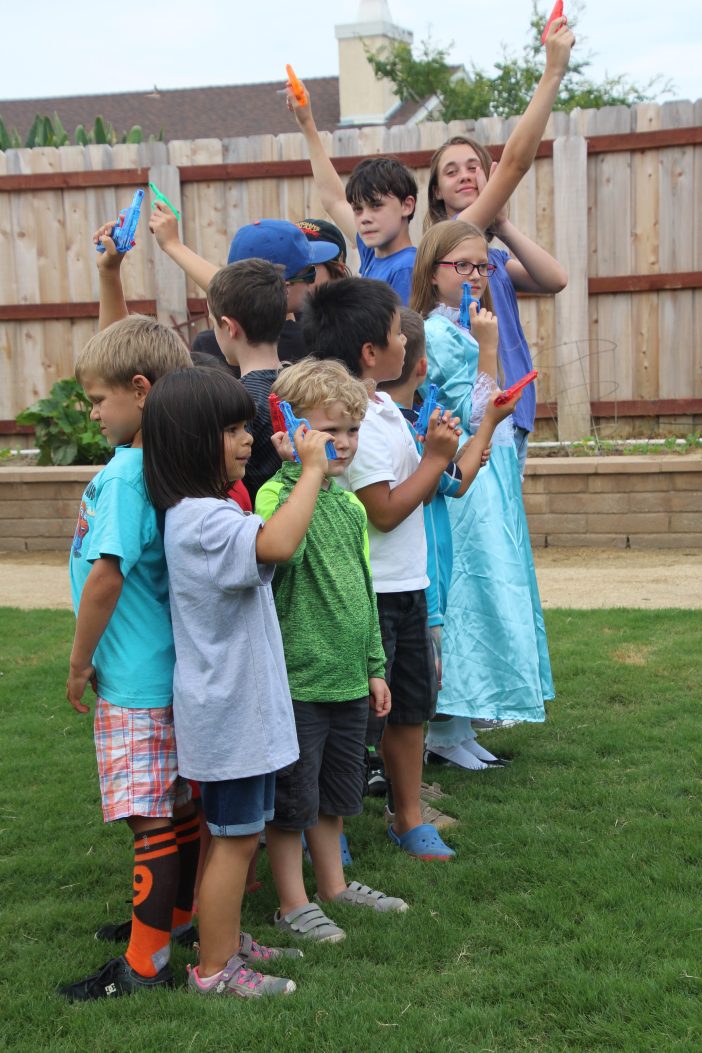 As duels often do, this one got out of hand.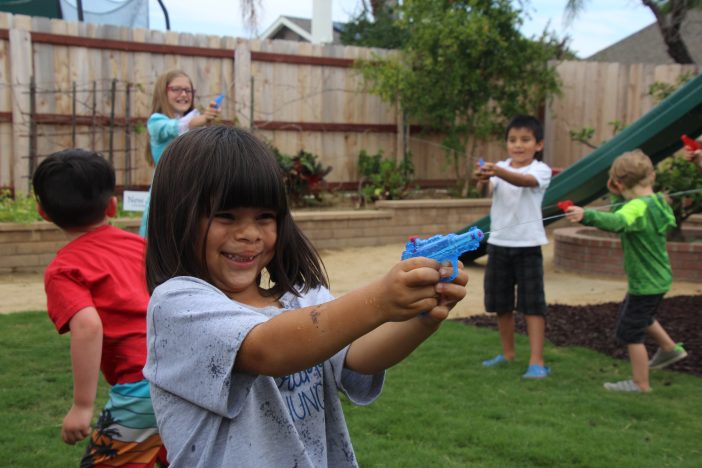 I'm not a huge fan of plastic goody bags filled with 15 different things that mom can't wait to toss as soon as the kids turn their heads. We thought it was fun to send kids home with their water gun from the duel and a little hand held American Flag.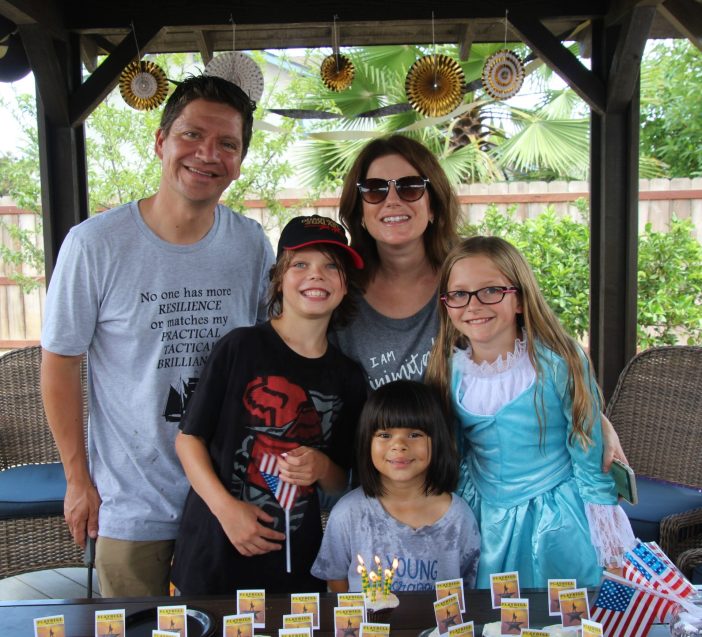 Happiest of Birthdays to our little Miss. We pray that we lay a strong enough foundation and we have no doubt that one day you will blow us all away.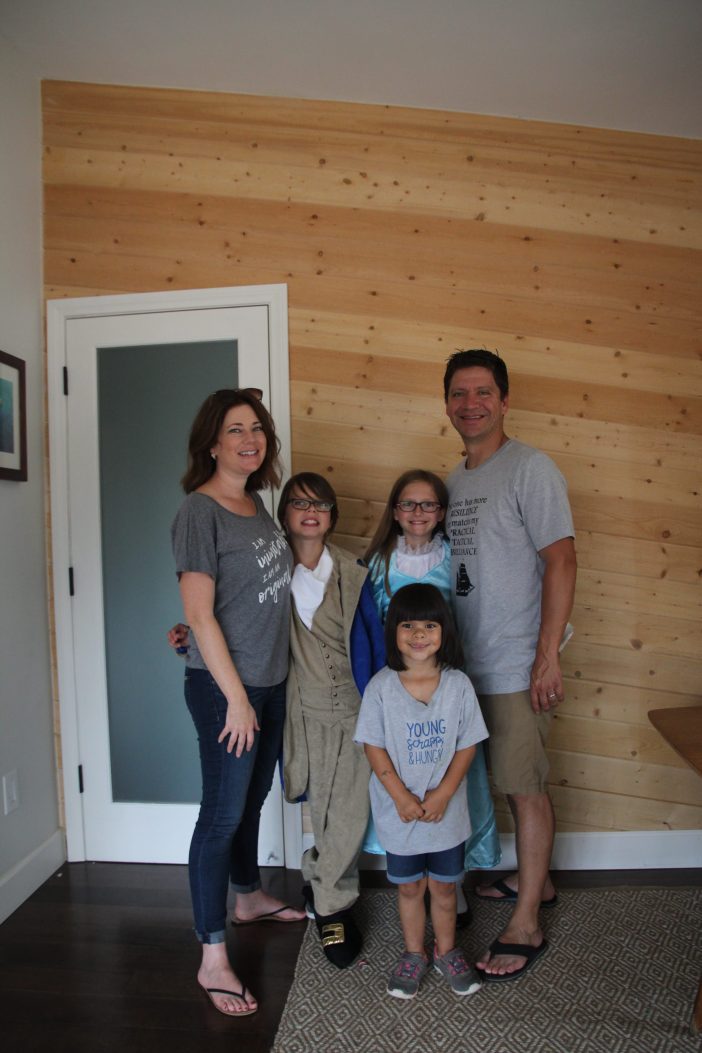 To all of Little Miss C's loved ones that were able to attend our party, thank you so much for coming. This was the party of her dreams, not just because of the Hamilton theme, but also because all of you were there!
Where are my nerds at? Don't forget to pin it! https://www.pinterest.com/pin/237846424053374358/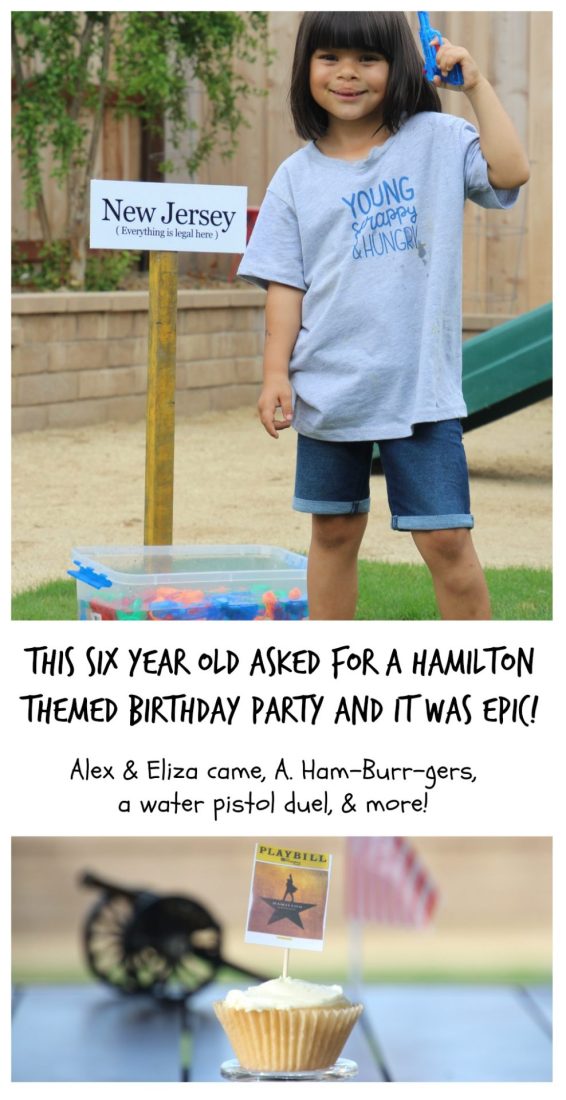 Save
Save
Save