Hamilton Schuyler Sister's FREE Coloring Page
Hamilton still reigns as the king of all musicals. Because our Hamilton Birthday Party has been such a popular post we are now sharing a printable coloring sheet!
Do not miss our posts about Hamilton Birthday Party and Food, Our Hamilton Cupcake Toppers, the best Eliza Hamilton dress, and the best Alexander Hamilton costume.
Feel free to print out the high resolution Hamilton coloring sheet below. This is a fun activity at home, school, or as an inexpensive birthday party activity. This Hamilton coloring sheet is completely free, but we ask that you please share the blog post rather than the downloaded image. Visits to our blog are how we keep the lights on over at our place. Just visiting our site (even if you do not buy a thing!) helps support our family as I stay at home with virtual schooling kids. Please feel free to share this post with other Hamilton fans, school groups, whoever – sharing is caring!
Schuyler Sister's Hamilton Coloring Sheet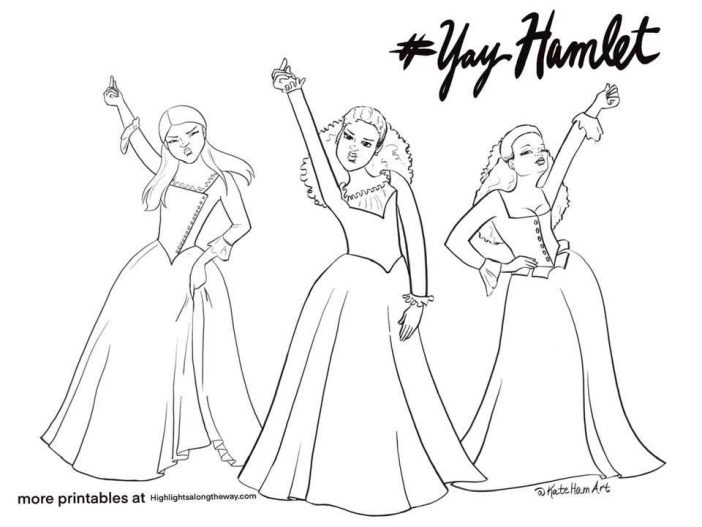 "Why does it say "Yay Hamlet!"?" Lin-Manuel Mirada shared a story on Twitter about how an enthusiastic fan once greeted him as they were both driving. "Congratulations on Hamlet!" she said. "I wish I wrote Hamlet" Lin replied, thinking she would correct herself. She missed her mistake entirely and drove off saying "Yay Hamlet!". The most hardcore Hamilton fans will probably have a "Yay Hamlet" mug or hat in their home.
Thank you for stopping by Highlights Along the Way. Please check out our Printables page for literally hundreds more Broadway, Educational, TV, Disney, American Girl, Pop Culture, and other fun printable coloring and activity sheets!