Healthy Options for Kids at Disneyland : Mickey Check Meals
Disclosure: We sometimes attend Disneyland events where I am able to find fun stories to share with our audience. I was not required to share about Mickey Check Meals - but I think they are awesome! Opinions are my own.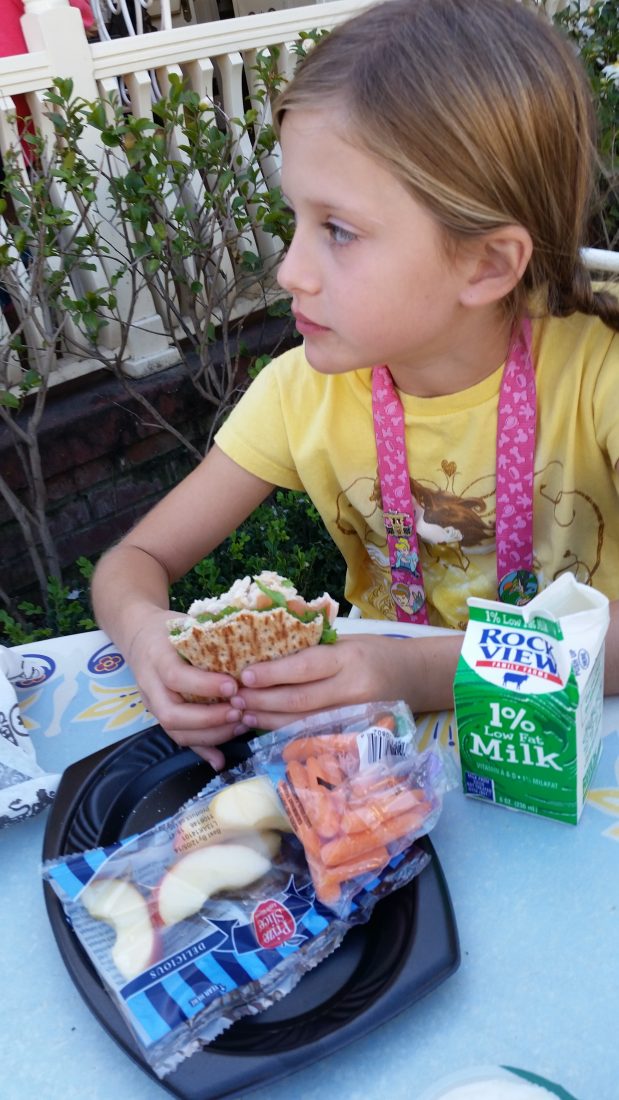 It can be difficult to eat healthy when you are on vacation. If you are looking for healthy options for kids at Disneyland you will be happy to find there are so many options!  I have personally grown frustrated with kid's menu options. More often than not there is little or no fruit or veggie option – carbs are simple – it curbs hunger but it doesn't do much to help build strong bodies.  Not only is a crummy kid's meal not the most nutrient dense thing out there – I feel like my kids are hungry faster when they eat a less than nutritious meal.  When my kids eat a typical 'kids meal' they get cranky.  Because so many meals are just simple carbohydrates they often have a sugar rush and crash.  Because of this we usually will bring our own snacks and even meals when we go to amusement parks – so many times the convenience just isn't worth cost for us.
At Disneyland we still sometimes bring snacks to stretch our Disneyland budget, but we love that they have many nutritious options available for kids now.  We always look for the Mickey Check symbol from now on and we know we are going to have a well rounded meal for our kiddos.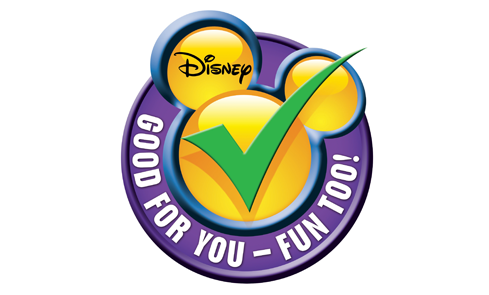 The Mickey Check is a tool that makes it so easy to identify a nutritious choice while on a Disneyland Vacation (you can also find Mickey Check at Disney World and various Disney licensed food products you can buy at the Grocery Store).  Mickey Check is not something that Disney just made up; to receive the Mickey Check, foods must meet Disney Nutrition Guidelines developed by health experts and align to federal dietary guideline recommendations.
Some of the guidelines for Mickey Check
– they must contribute to a contribute to a nutritious diet with Fruits, Vegetables, Whole Grains, Low Fat Dairy, or Lean Protein
– they must encourage kid appropriate portions and meet calorie criteria
– they limit sodium, sugar, saturated fat, and trans fat
While we love to grab a special treat just about every time we are at Disneyland we make sure our meals are nutritious and well balanced.  Our family has loved this option when we visit the park.
Our kids are 8, 8, and 3 and even my 8 year old that eats like a grown man says it is plenty of food for him.  My littlest and sometimes my oldest will save their pack of apples or carrots to nosh on later.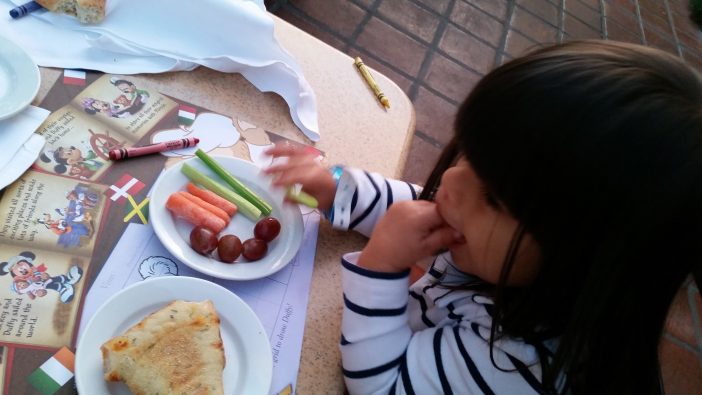 Mickey Check meals vary by location but all tend to offer a lean protein, whole grains, fruits, and veggies.  When our kids have ordered a Mickey Check meal it typically has an entree of some kind (sandwich, whole wheat pasta with veggie sauce, grilled chicken, etc) and a side of veggies and fruit (typically carrots and apples – although at Wine Country Trattoria the server brought out a plate of grapes, carrots, and celery before the meal!).  You child can also enjoy a bottle of Dasani water or lowfat milk at no additional cost for most meals.
So easy – we always just look for the Mickey Check logo at ever restaurant and we stay on track with healthy options for kids at Disneyland. I love it!  How do you make healthy choices when you are away from home?