Four reasons why I love Hearts for Hearts Dolls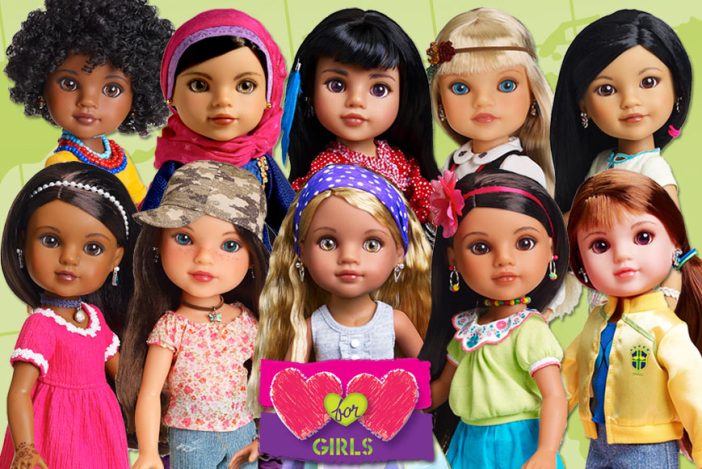 With two little girls in the house we are kinda doll experts.  My oldest is in that stage where she really loves dolls that are her age and have a fun story to go with them.  There are so many to choose from, but I am personally especially drawn to Hearts for Hearts Dolls.
I like Hearts for Hearts for several reasons, they are multicultural, they have fun and educational stories for each character, they are at an excellent price point, and Hearts for Hearts Dolls also donate a portion of their products to charity!
Multicultural – I love that many different races and countries are represented among the dolls in the collection.  I love that there are dolls from Ethiopia (with beautiful curls!), India, America, Latvia, Laos, and more!
Fun and Educational Stories – You can check out the World of the Heart for Heart Girls where you can learn about where they live, read the girl's ongoing diaries, and even read stories about real girls who live in the same country!
Excellent Price Point – Heart for Heart Girls are right around $30.  So many popular dolls out there now are fun, but just so very expensive.  My daughter has a nice collection of various dolls, including one that was fairly expensive that she saved up half for!  No exaggeration, she plays with her Heart for Heart doll just as often as the others.
Charitable Giving –  From their website…."Each doll has her own story to tell, with ideas about how to make life better for her family, community, country, and the world around her. When you buy a doll, a dollar of the purchase price is donated to programs that support children in that doll's region.
Whether it's malaria nets in Ethiopia, warm blankets in Appalachia, or ducks in India, Hearts For Hearts Girls' mission is to help girls thrive—and to empower all girls everywhere to "change the world one heart at a time!""
Our little girl opened up  Mosi on her birthday and LOVES her!  She loves learning about her Native American heritage, her family, her State, and more.  I love that she loves this doll as much as her others, I am more than happy to add to her collection each holiday!