Hollywood Family Travel : Madame Tussauds Wax Museum, The Hollywood Museum, & More
Disclosure: We were guests of the LA Tourism Bureau who provided us with Go City cards for the purpose of this article. This site uses affiliate links. Opinions are 100% my own.
Southern California has so many fun destinations for families. While many people immediately think of Disneyland for family vacations, we suggest you think of other fun places while you are visiting California. Hollywood is the center of the movie industry. Hollywood has so much history and is full of unique things you can only find in Los Angeles! Hollywood is only about three hours north of San Diego. A "DayCation" in Hollywood can be a fun trip for families. Here are some pictures from a one day trip we took to Hollywood. These are our favorite things to do with kids in Hollywood California!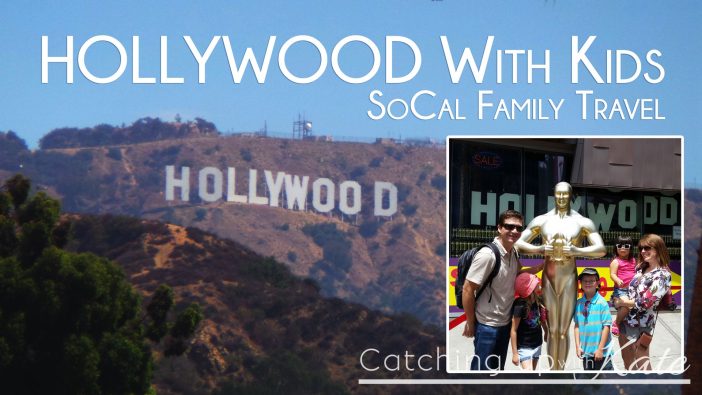 Hollywood family travel is the perfect Summer Staycation for our family. We recently made a quick day trip to Hollywood with the kids and had a wonderful time. If you are planning a trip to SoCal; Hollywood is a must see! Make sure to grab a Go Los Angeles Cards to save on your Hollywood Family travel!
We were only going for one day and we were a bit overwhelmed by all the different choices we had. There are all kinds of tours, museums, and attractions. I wanted to highlight a couple we really enjoyed as a family. We felt like a guided tour would not work for our family so we thought museums and unguided exploration was best for us.
Looking for discounted tickets? Go Los Angeles Card offers a deep discount on tons of attractions!
Our favorite museum was Madame Tussauds Wax Museum. The kids had a blast and they loved interacting with all kinds of movie, TV, and music stars. Even stars that they didn't know were all kinds of fun for them to pose with. Madame Tussauds is a three story museum with lots of fun on every floor. If you have kids that can't keep their hands to themselves (like we do), you will be happy to know that your family is allowed to touch the statues, but not their hair or faces. Our family spent several hours taking all kinds of funny pictures. Enjoy a couple of our favorites below……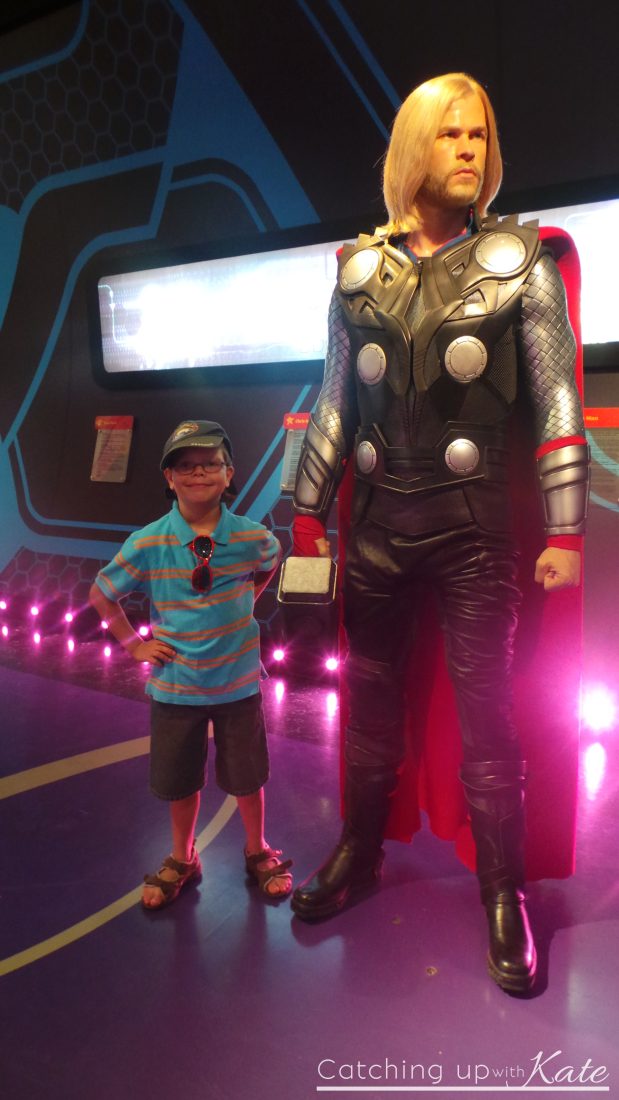 There are tons of Super heroes – His favorite is Thor (even though he has never seen the movie – you may remember he was LEGO Thor for Halloween last year)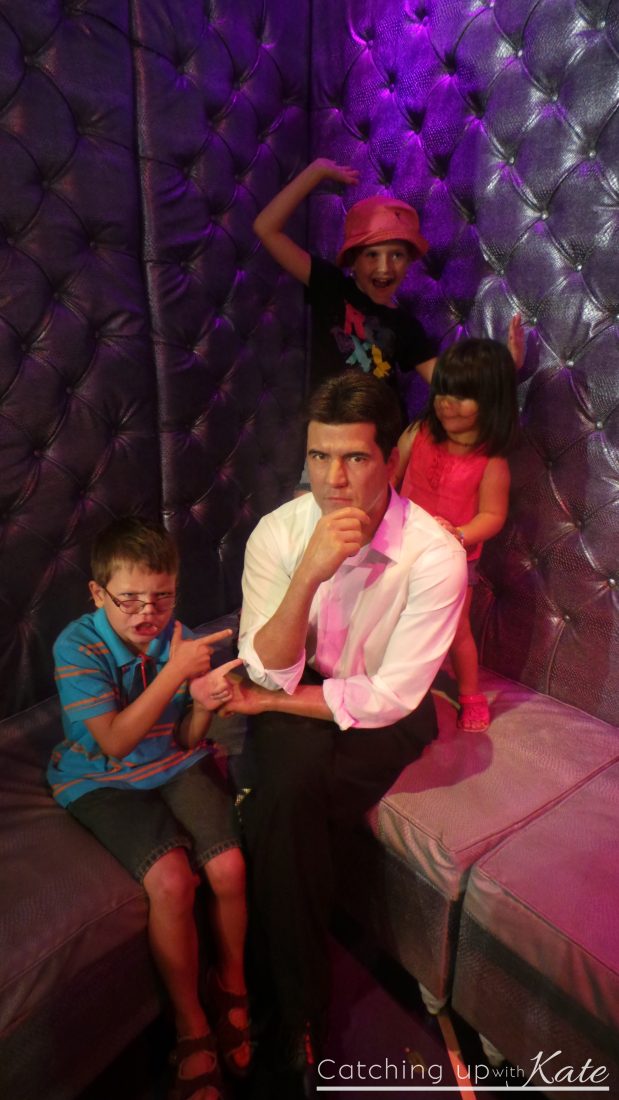 Kids pretending they are bugging the heck out of a grown up….. it was a stretch for this bunch.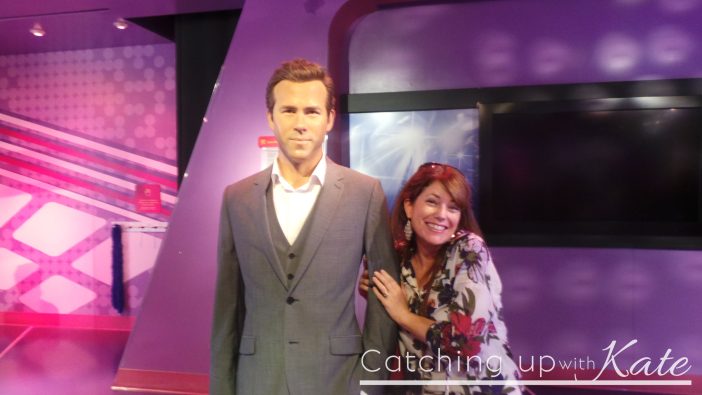 Ryan Reynolds and I, because…. obviously.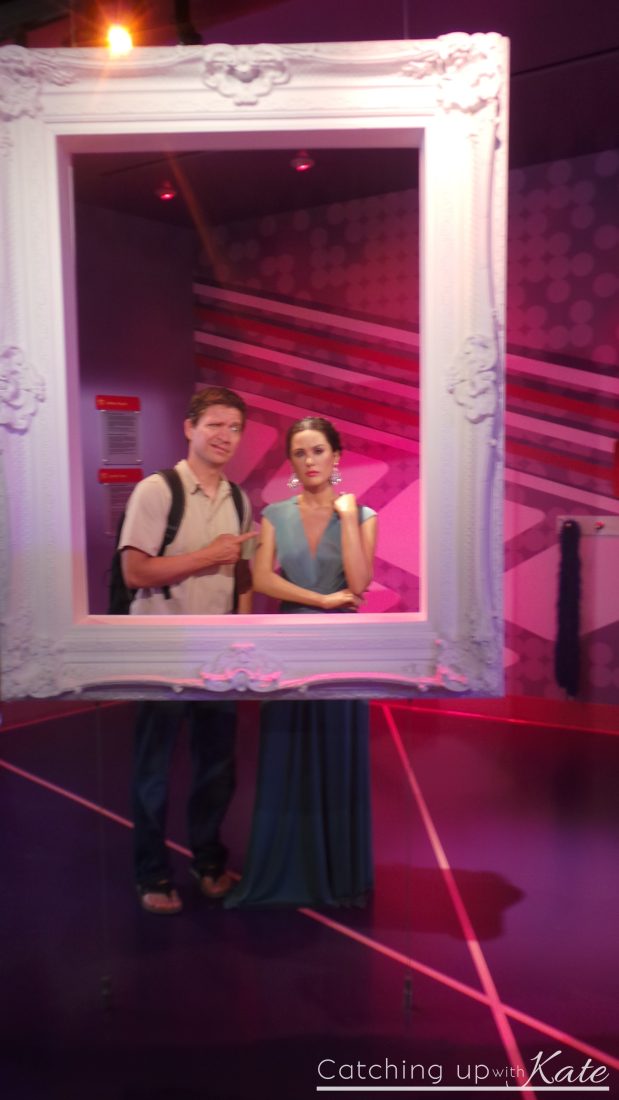 My husband would like to point out that he thinks there might have been a mix up in the Salma Hayek department…. because this isn't her….. (all opinions are his own).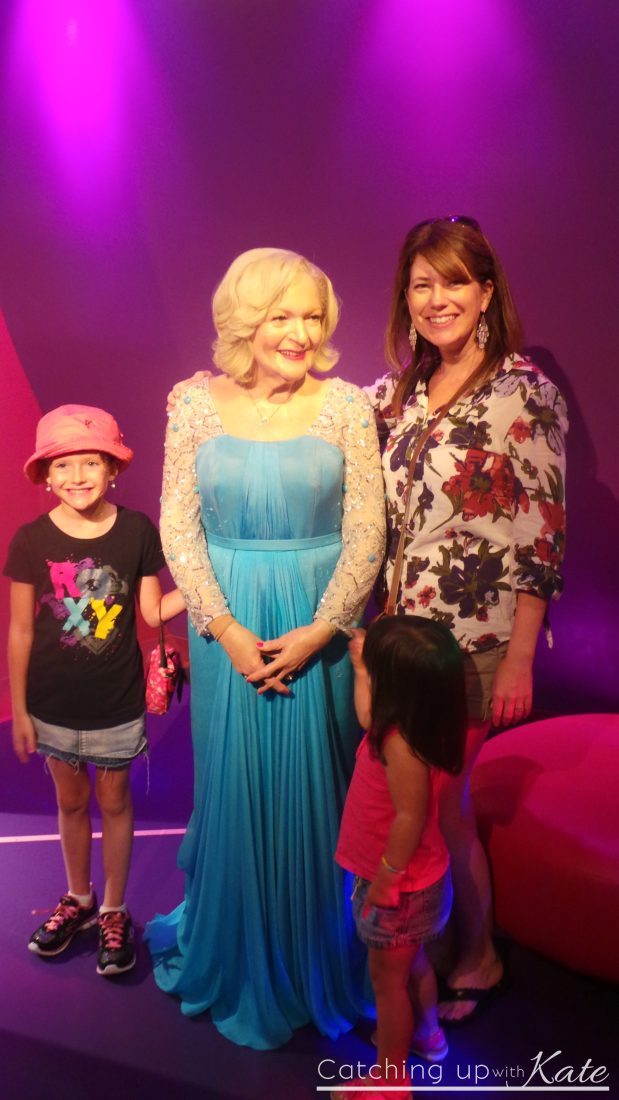 "Dat's a old gramma Elsa lady, she sing 'let it go' Mama?" Little Miss C
"Sorry Baby, she doesn't sing.." Me
"I no like her den" Little Miss C
Sorry Betty White, Baby C is not impressed.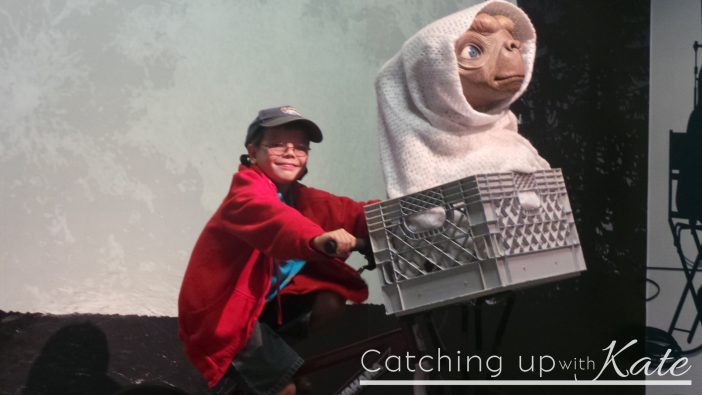 "Mom, what's ET?" Brother
"It's a cool movie, you can watch it someday, it's about a kid that saves an alien named ET and…" Me
"Oh, like Earth to Echo from the Olden Days?" Brother
*sigh* Me "Actually…. kinda."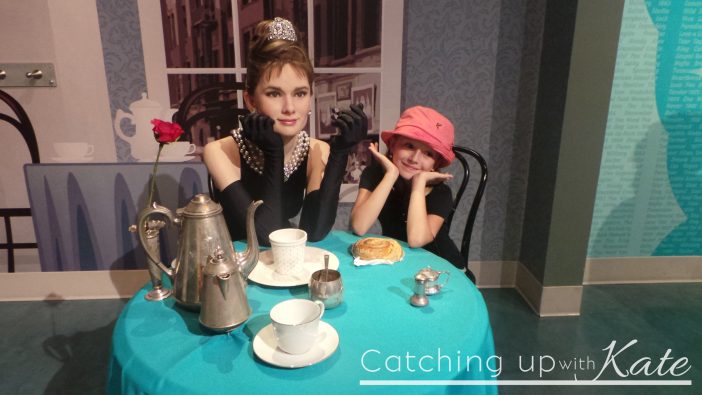 Breakfast at Tiffany's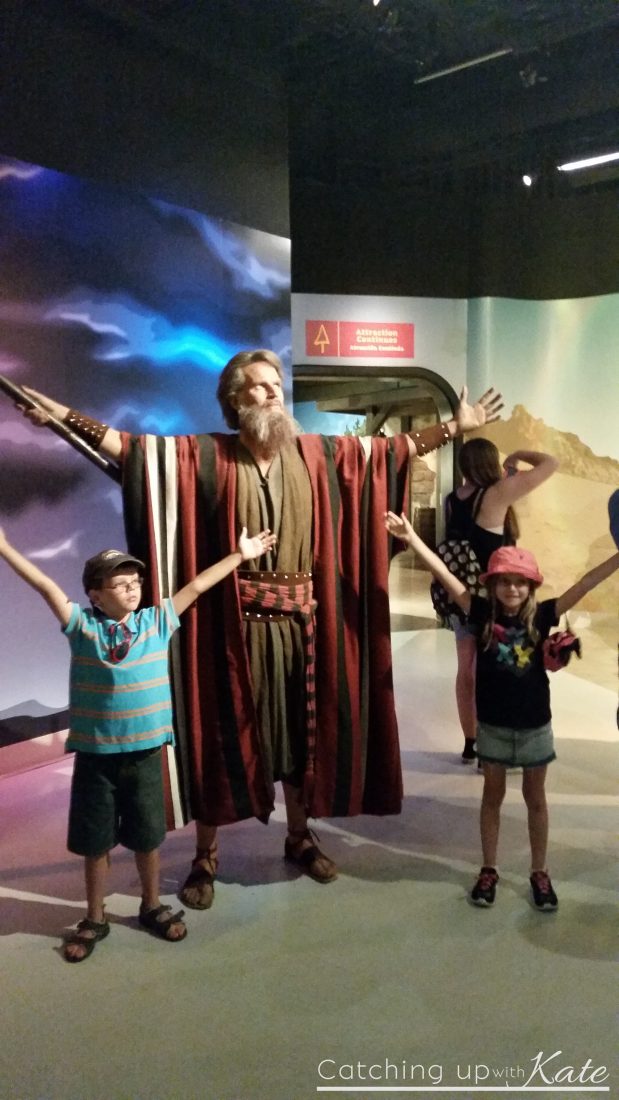 Helping Moses part the Red Sea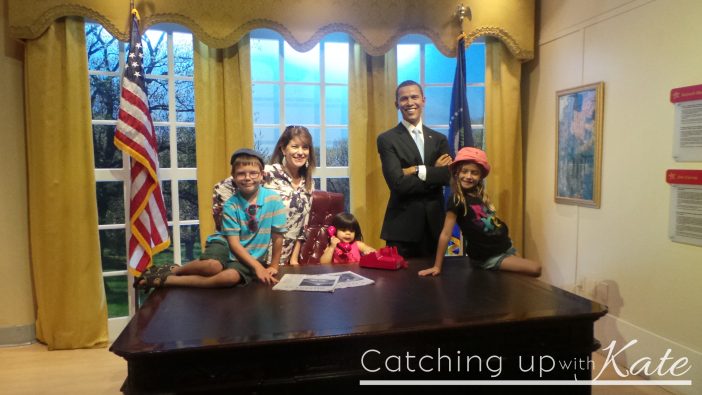 *this is neither a Political Endorsement or Mockery* #BasesCovered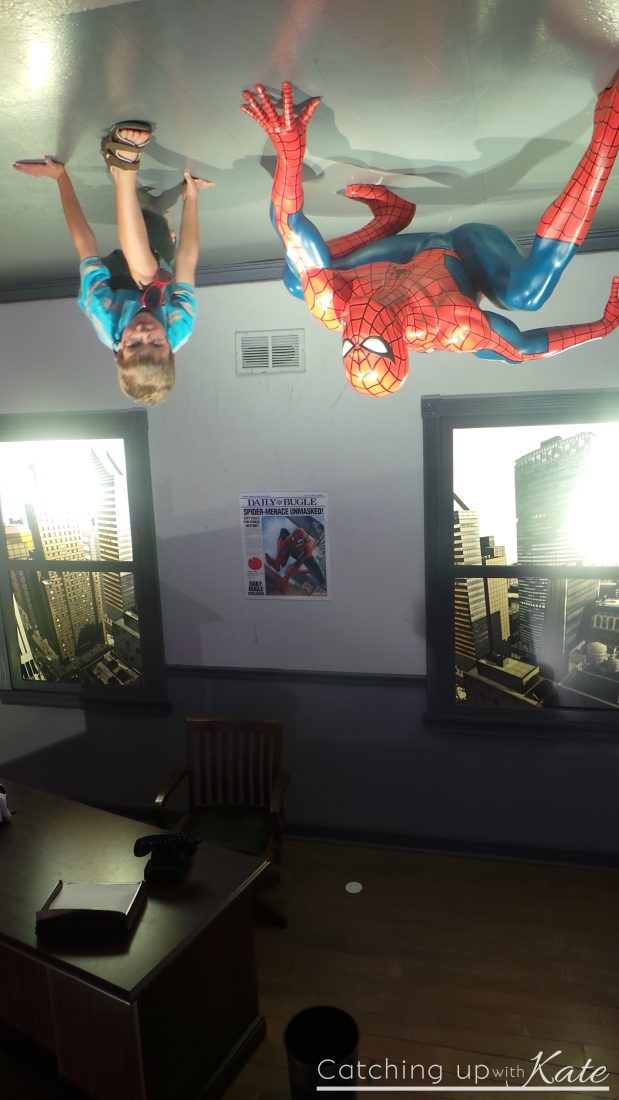 Hangin' with Spiderman – this picture is so going up in his room.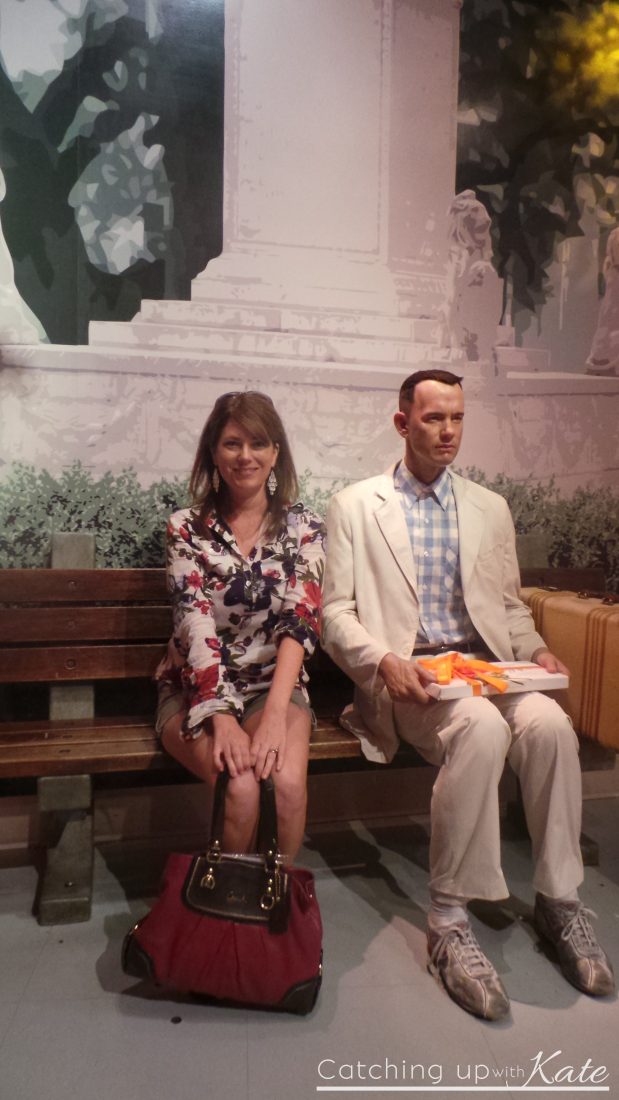 Sharing a bench with Forrest Gump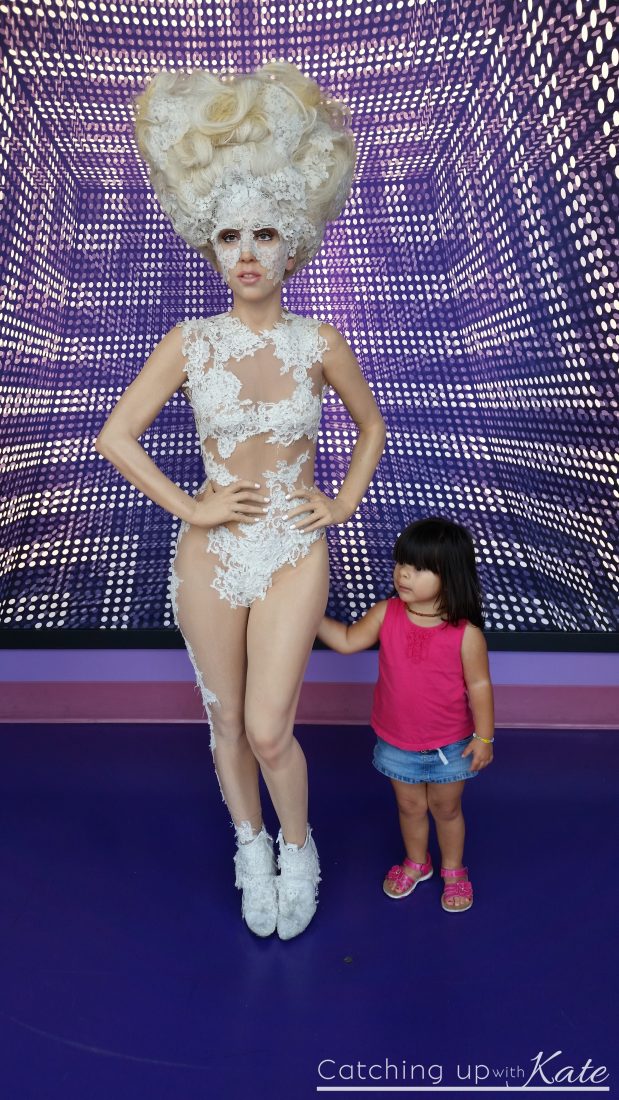 "Dis lady fancy….. and weird." Little Miss C
"That's kind of her thing." Me
"She forgots her outfits Mommy, she nakee" Little Miss C
"That's her thing too." Me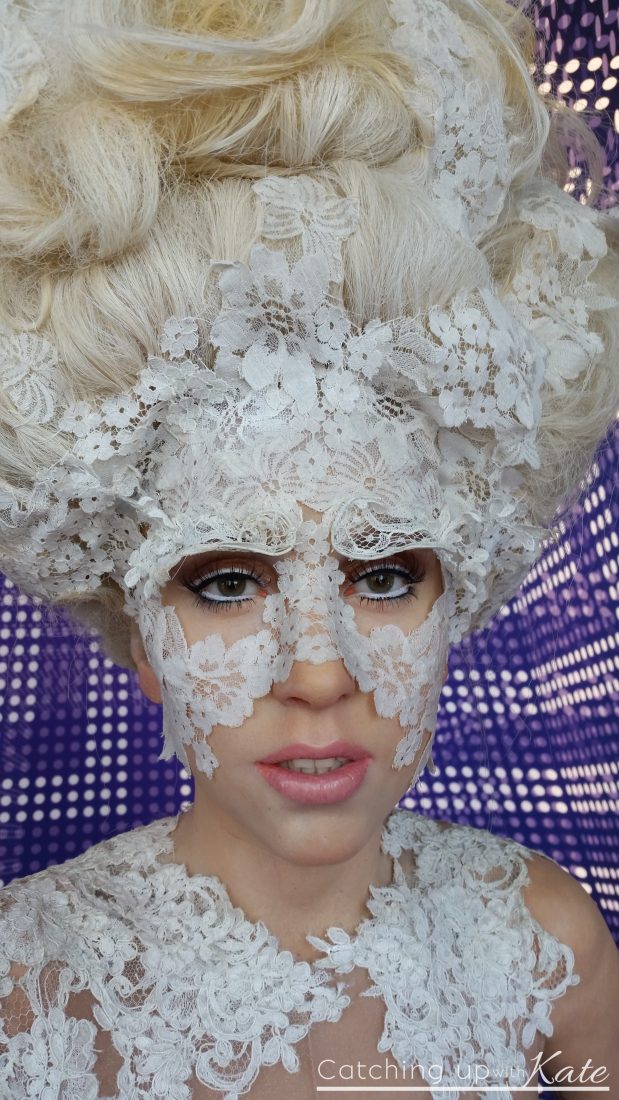 Seriously though, look at the close up of the Lady Gaga wax figure – that is pretty amazing!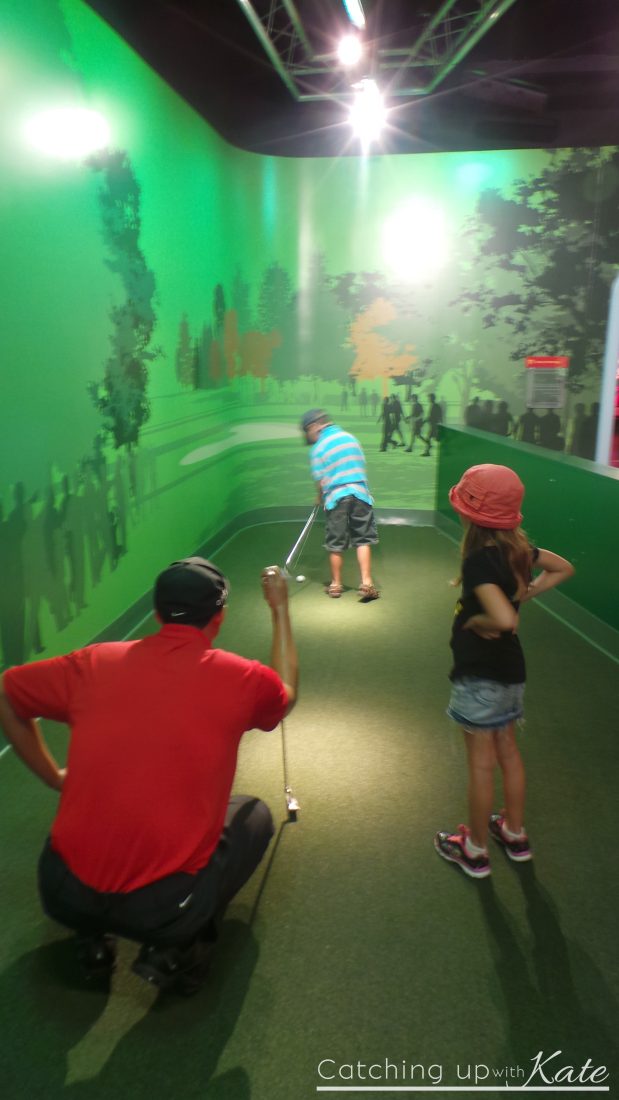 The kids have no idea who Tiger Woods is, but they got to play golf so they were totally into it.
"Is this guy good at golf or something?" Brother
"He's OK." Me
"I'm pretty good at golf." Sister
I should point out for story sake it took her 7 swings to get it from Tiger to the hole. But I appreciate her confidence.
We took only slightly less than one million photos in the wax museum – if you ever get the chance – Madame Tussauds is really fun for all ages!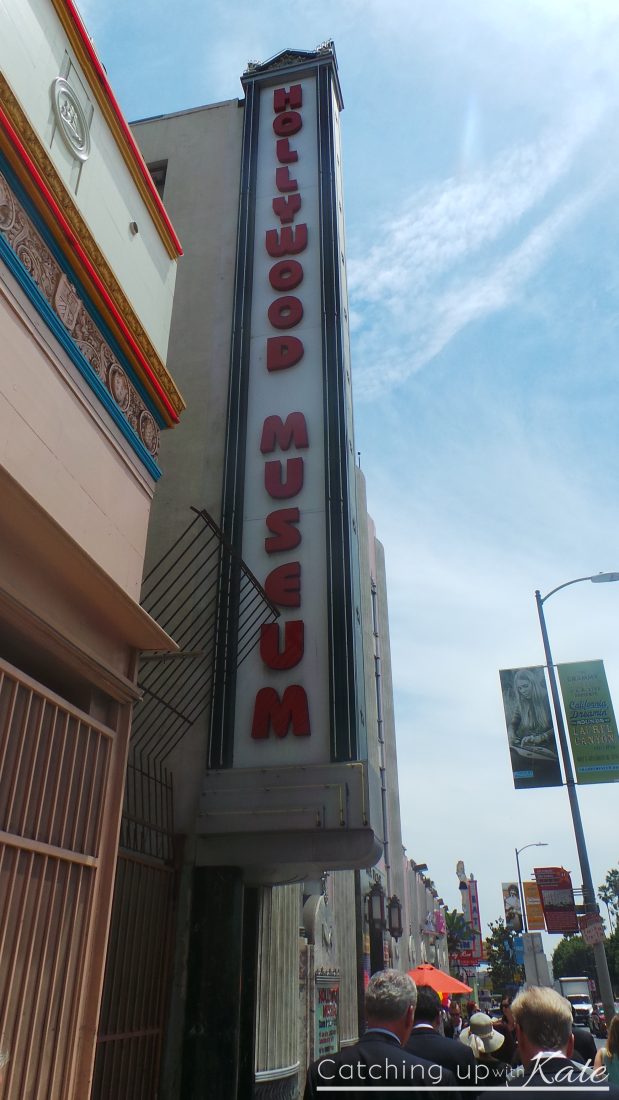 The Hollywood Museum is a smaller but very cool museum. If Harry and I had been in Hollywood on our own this is a museum we could have spent hours in. Because we had little ones and it wasn't quite as hands on as the first we only stayed about an hour or so. We still loved seeing costumes, photographs, and memorabilia. On the second floor the kids had the opportunity to watch some old movies that they actually really thought were fun.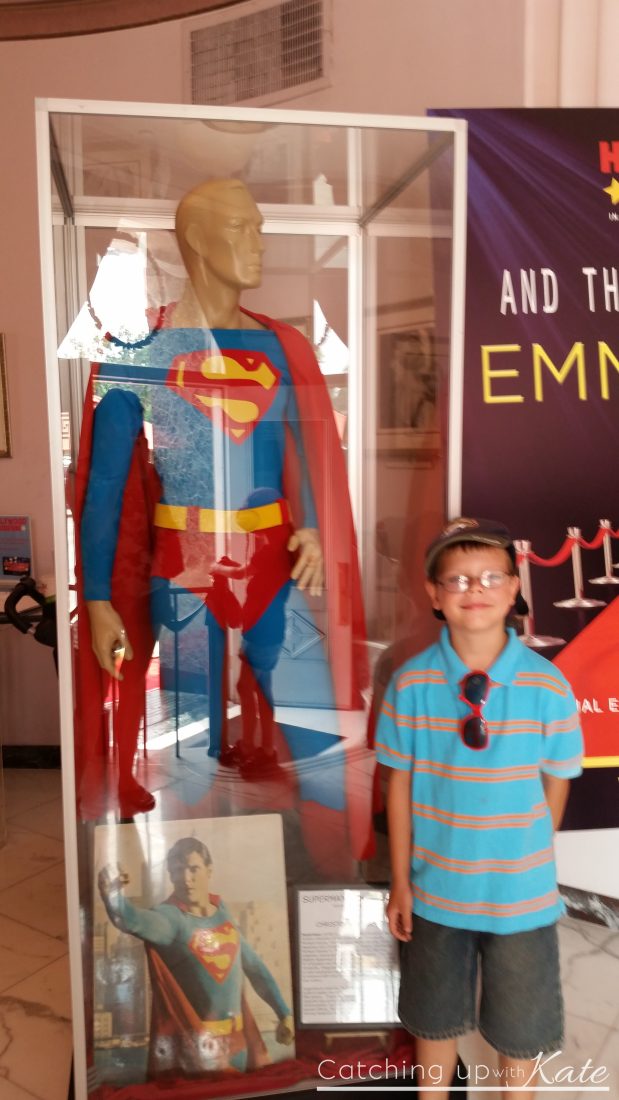 Superman was Adopted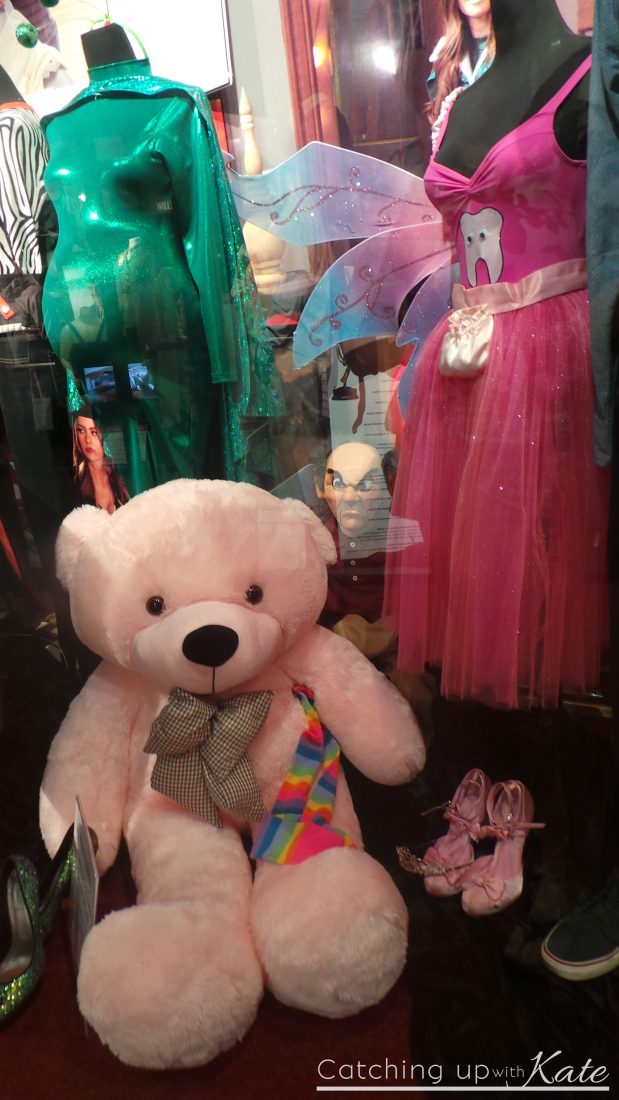 Who else loves Modern Family and can quote lines from every episode that contained this memorabilia? I know I am not the only one.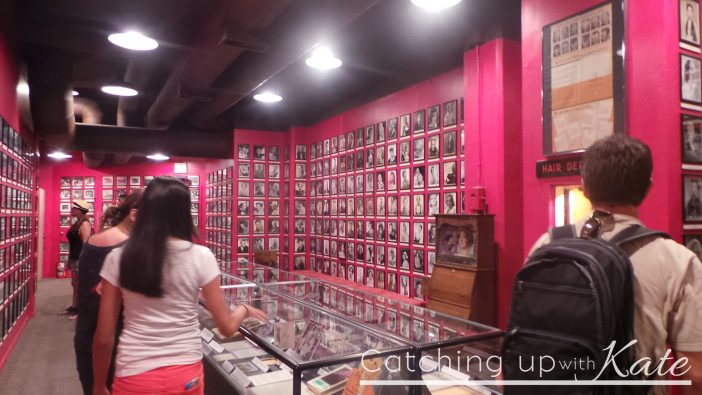 One thing that was super fun for all of us was checking out the Stars on the Hollywood Walk of Fame. Check out some of our kid's favorites!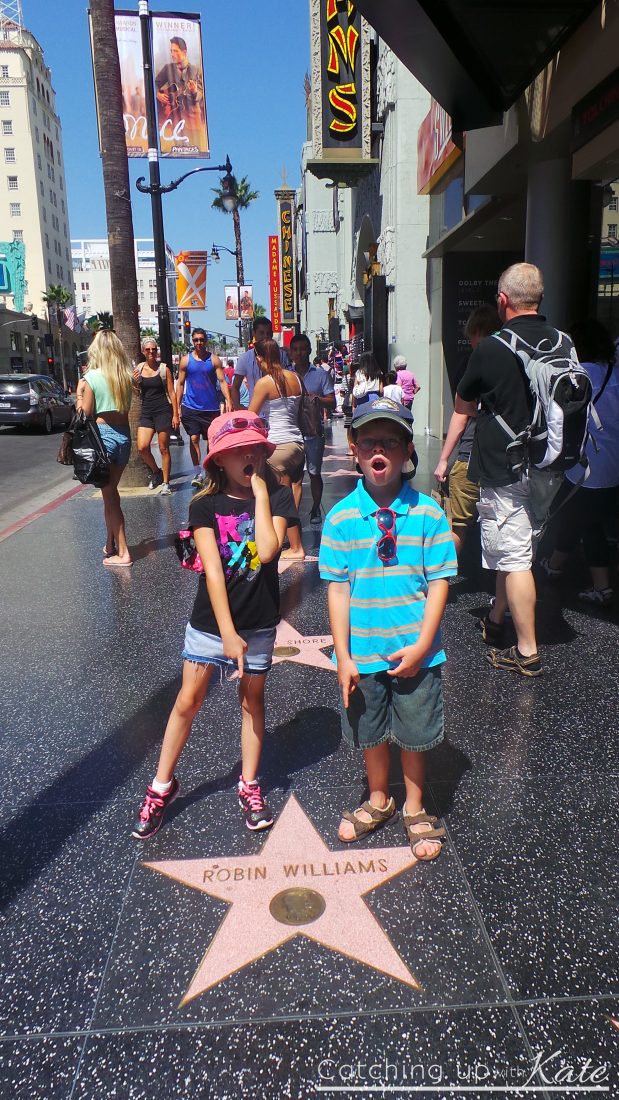 "the Genie!!!"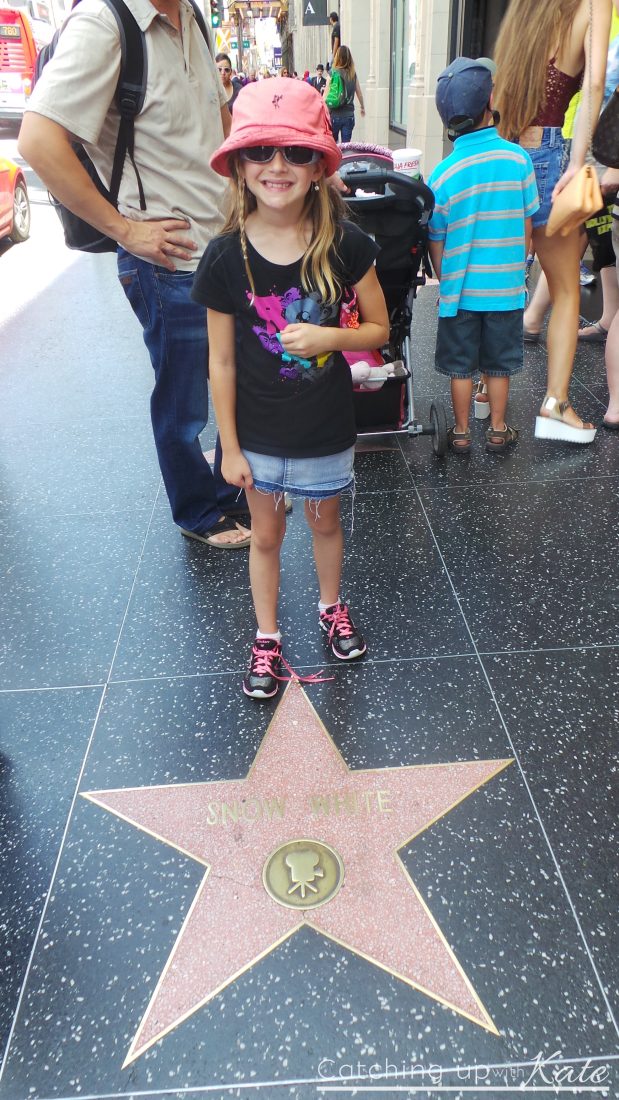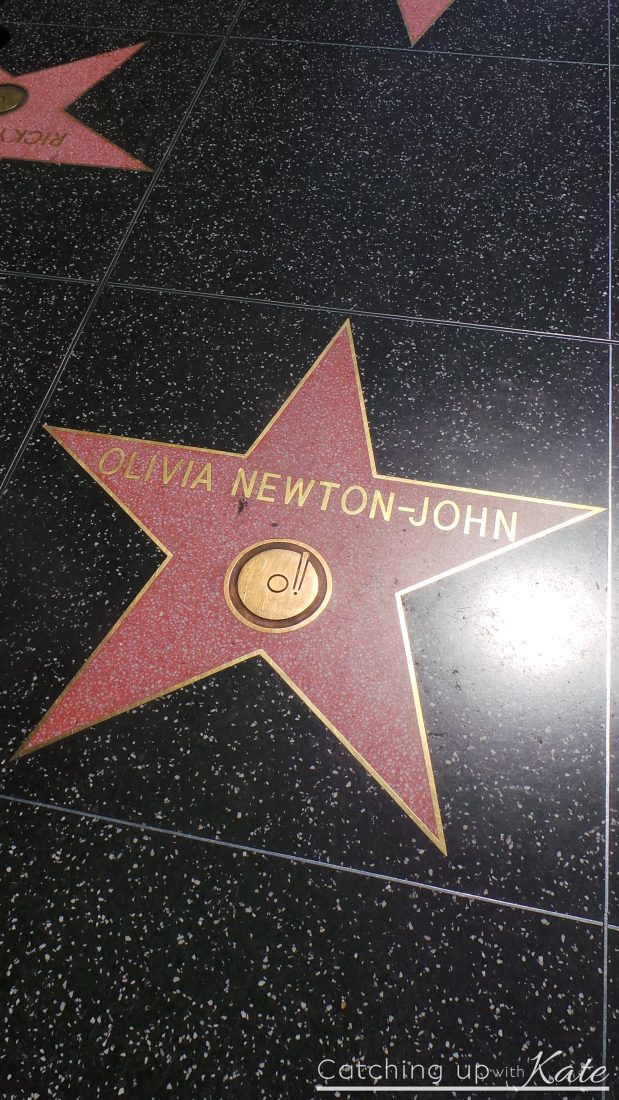 There are hundreds you guys!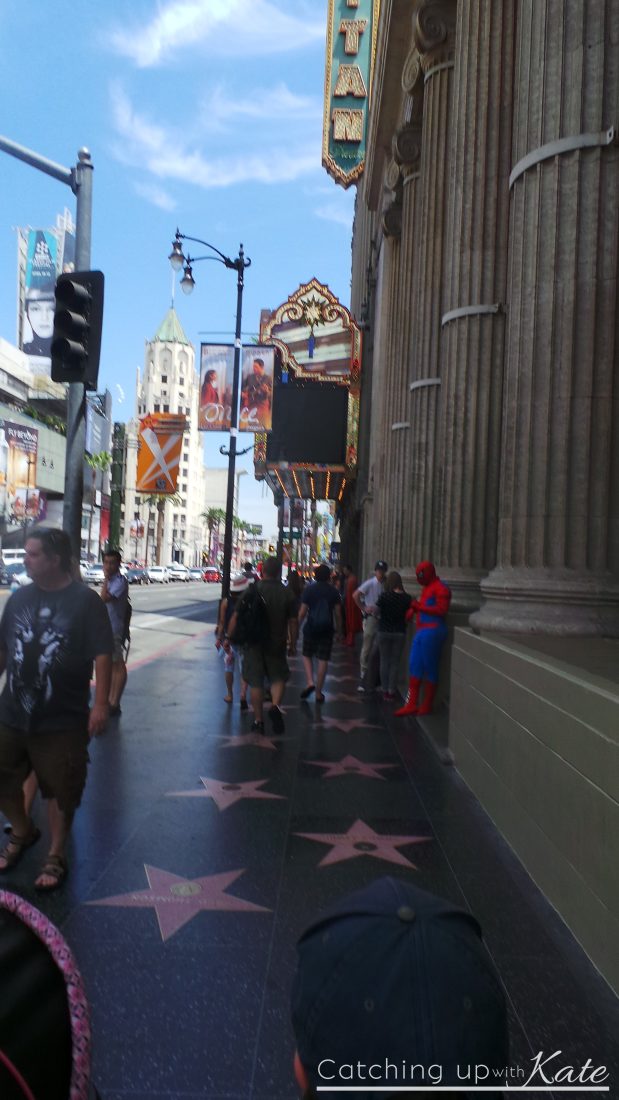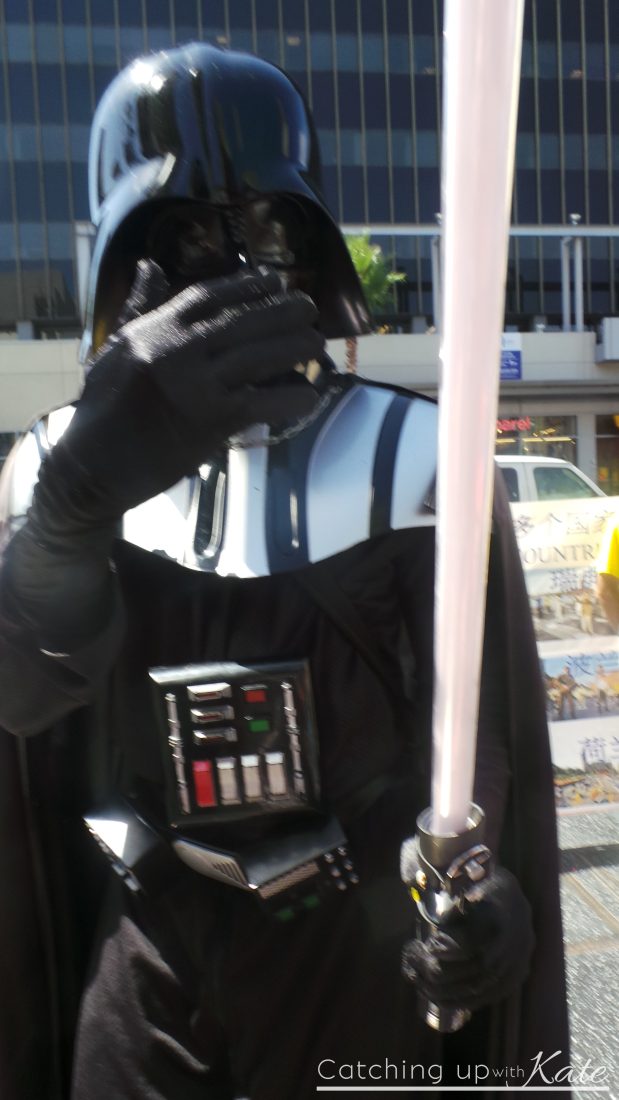 We also met and spotted a couple "Famous People" – by famous people I mean street performers that will pose with you for tips. We tipped Darth Vader and Cinderella – both were very kind.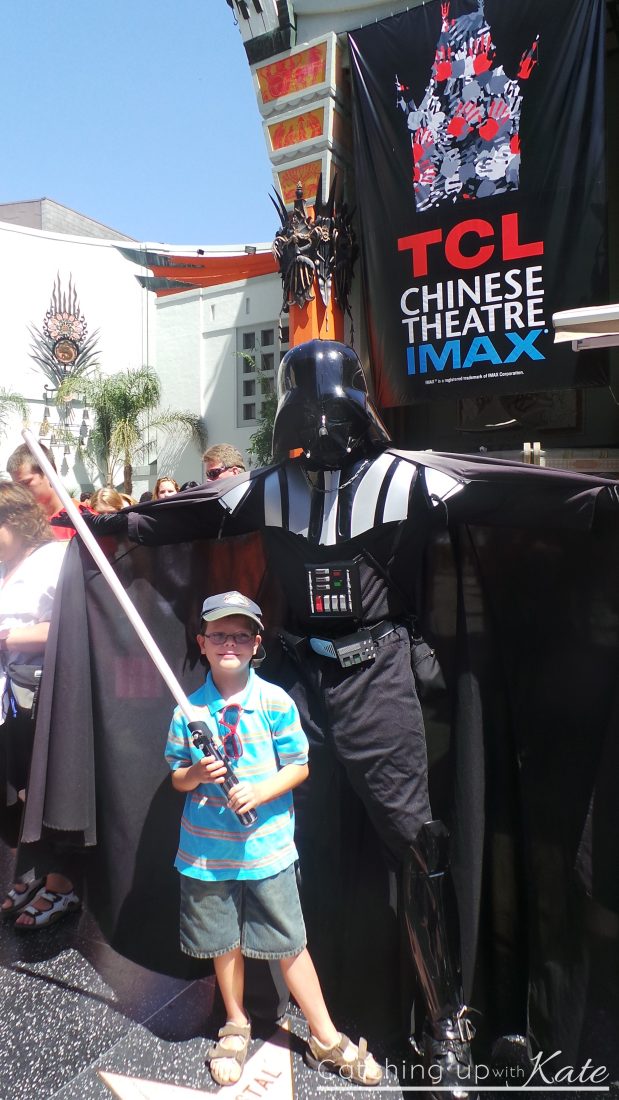 *I believe this guy went with 'standard' rather than 'deluxe' when it came to Darth Vader costume choices, but he knew how to work a crowd!*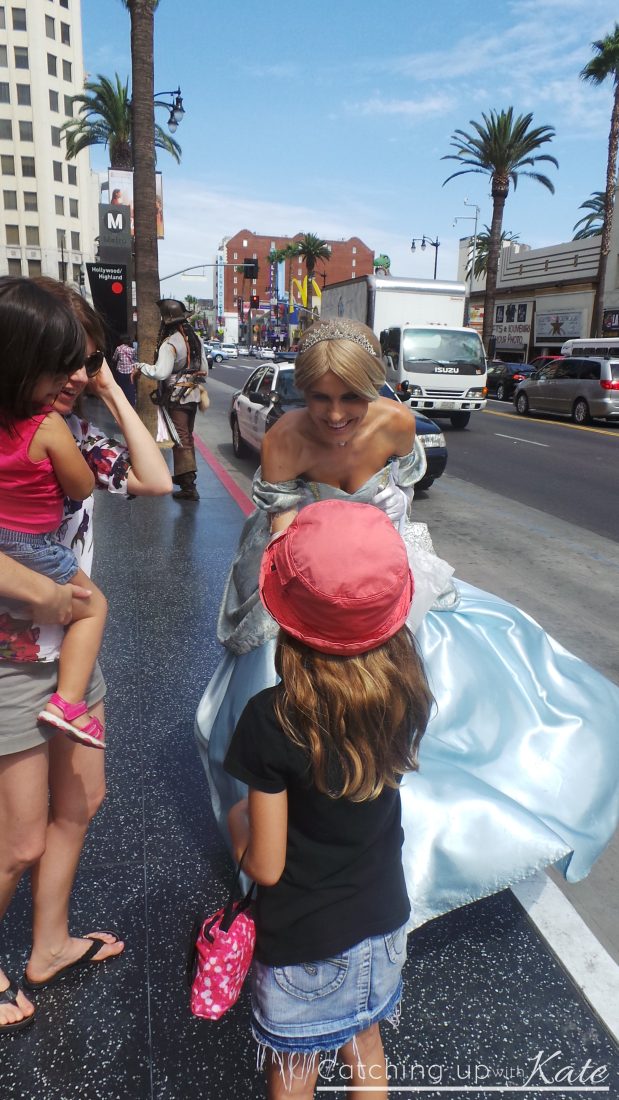 Yes, we have taken photos with both of these characters at theme parks for no money at all, but considering there is no admission price to hang out on the Hollywood Walk of Fame and also that there was virtually no wait to meet with these guys it was super worth it!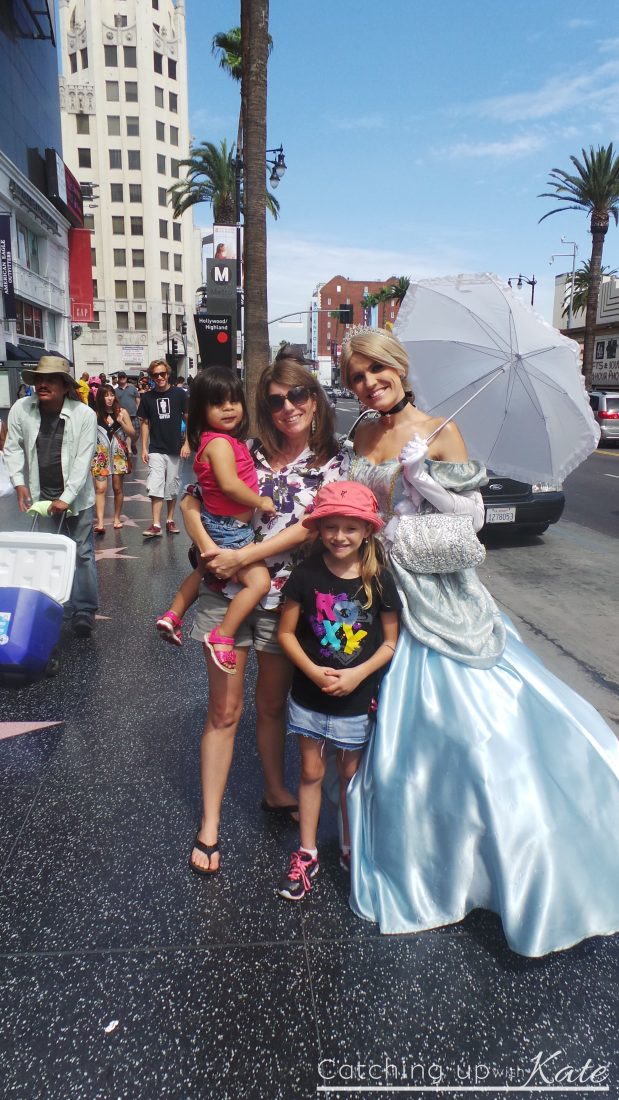 I am fairly confident based on her accent this lovely Princess was from Russia; which makes her extra special in our family's book! She spent lots of time talking with both girls and posed for several pictures.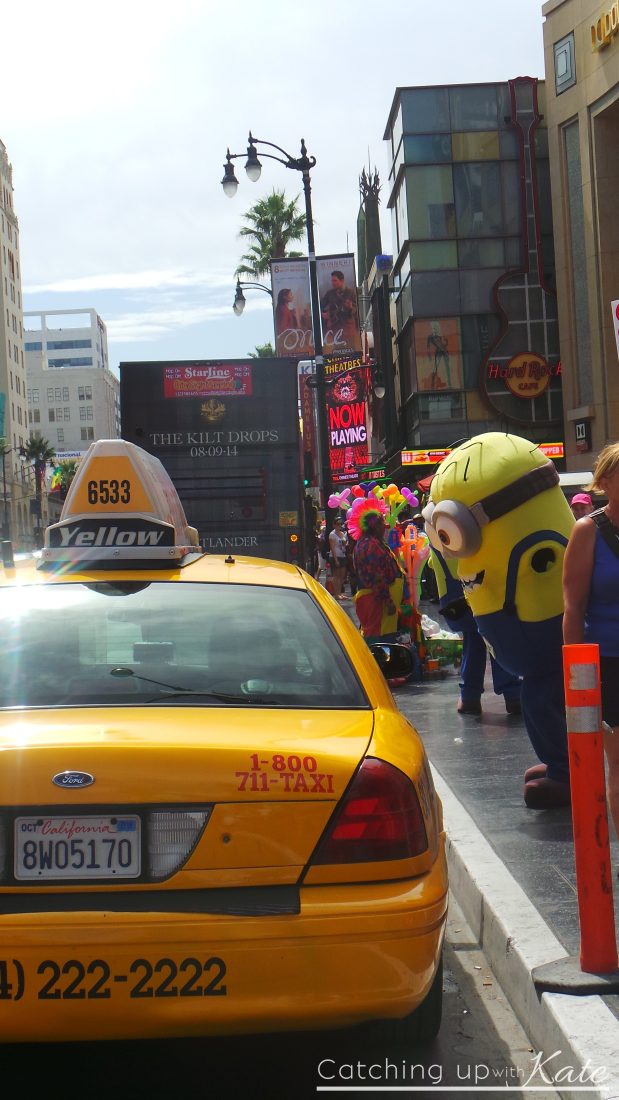 We also saw Minions hailing cabs, Cookie Monster, Mickey Mouse, lots of Transformers, and a whole other modge podge of tip worthy (but if I was a betting lady; not at all licensed) characters.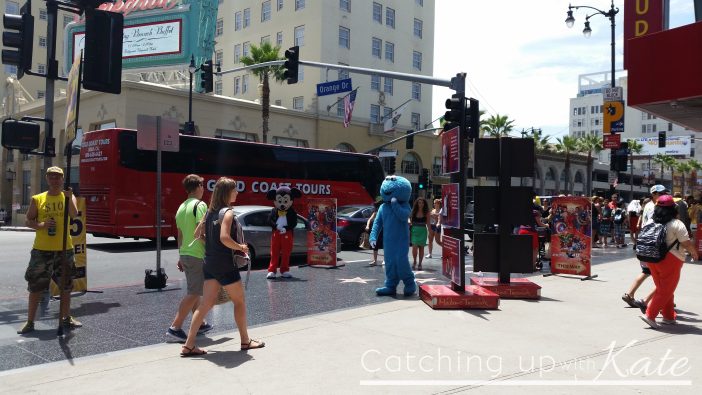 We fell in love with Ghiradelli Chocolate Shop in San Fransisco years ago and thought it was a perfect place for a treat. In Hollywood Ghiradelli Soda Fountain & Chocolate Shop is also a Disney Studio Store so it was fun to enjoy a treat and then window shop. The kids all chose one scoop in a cup. FYI – scoops are HUGE and we actually had to help the baby finish hers. Hot tip – there is almost always a nice greeter at the front of the store. Greeters have a basket of delicious mini Ghiradellis squares that they hand out free to guests. We love freebies! 😉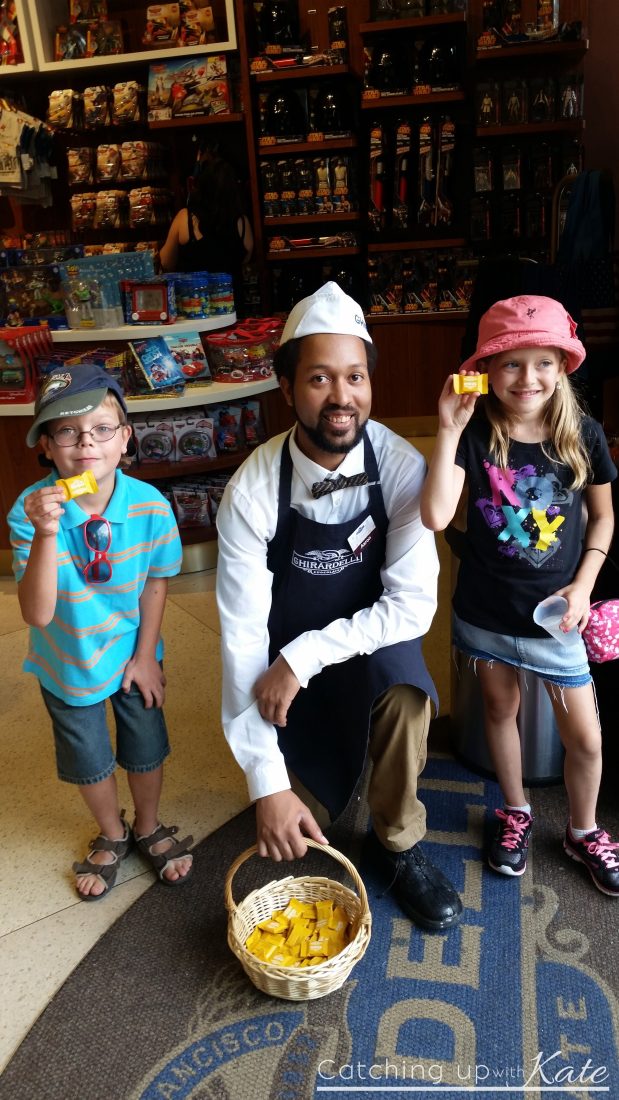 The greeter offers you one on the way in. My kids enjoyed that one, a gigantic sundae, and then sweet talked him into one on the way out too. We ate extra veggies the next day.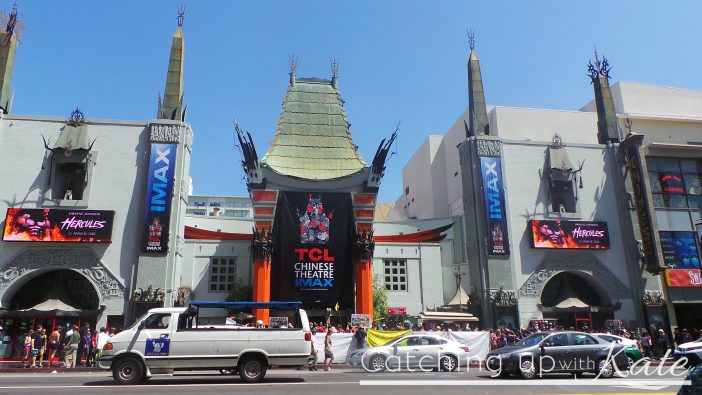 We parked at The Hollywood and Highland Center (huge, beautiful outdoor mall that includes the TCL Chinese Theatre) and found it to be safe and economical. While the mall and many area shops and attractions will validate for a few hours, the daily maximum for parking is only $13 for covered parking.
If you are planning a trip to Hollywood I would highly suggest a Go City card – you can enjoy the museums I spoke about above as well as several other area attractions for one set fee.
We spent all day in Hollywood and had an amazing time! We parked in one spot and enjoyed so many things within walking distance. We enjoyed dinner and a movie with Disney's El Capitan Theatre (more on that coming up soon!) after a full day of site seeing. We cannot wait to visit Hollywood as a family again soon!