Homemade Vegetable Broth in a Slow Cooker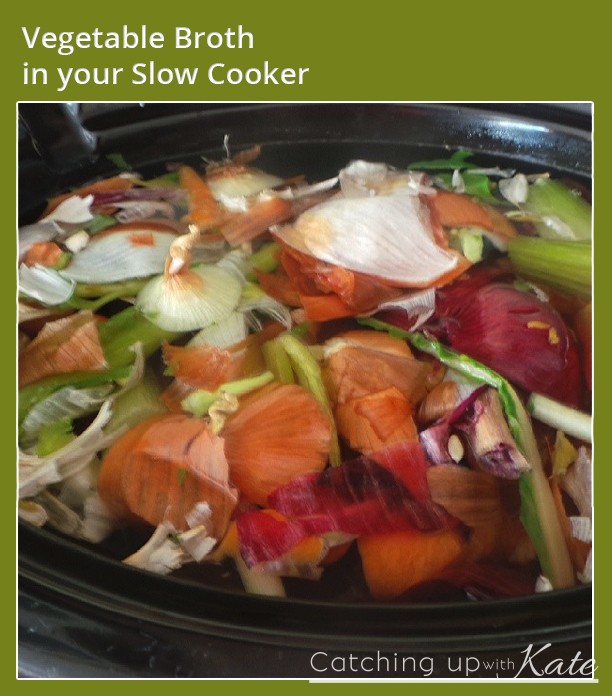 I have been making my own chicken broth and Homemade Vegetable Broth in a Slow Cooker for years now.  If you cook with broth often, making your own is practically free, really easy, and makes the environment happy!  I shared how to make your own chicken broth in the slow cooker already, but I thought it was high time I shared about Homemade Vegetable Broth in a Slow Cooker. I honestly don't know how people live without a crock pot or slow cooker – it saves so much time and money!
Veggie broth is really easy to make in a slow cooker!
Step one : Save vegetable scraps.  You can save over time or one big group meal (think Thanksgiving, Christmas, Easter, etc) can sometimes provide enough.  I simply put scraps in a large ziploc bag and put in the freezer.
Veggies I use….
* Tops, bottoms, and skins of carrots
* Celery tops and roots
* Potato Skins
* Onion skins and scraps
* Garlic scraps
*Veggies that are bit limp (typically a couple carrots and celery pieces are really OK, but just not crisp anymore.  I used to throw these out – silly me!)
Once the bag is full – it is time to make broth – and it is so easy peasy!
Step two : Empty the veggie scraps into your slow cooker.  Fill the slow cooker with water.  Put on low for 8 hours.  Walk away and do something fun.  When you wander back into the kitchen in 8ish hours you will have a whole slow cooker full of practically free broth!  Simply separate and toss the veggies.  I freeze most of the broth – it lasts for me for several months in the freezer (although I tend to use it up fairly quickly).  I put one container in the fridge, only if I can use it within the week – I am not sure if it will last much longer than that in the fridge.  I have found this broth to be much richer than store bought broth so I don't really need to use as much of it as I used to. Bonus!
If you are looking to stretch your food budget a little bit or trying to be a little 'greener' this year – I think Homemade Vegetable Broth in a Slow Cooker is a great way to do it! We use vegetable stock in lots of recipes so we easily save $10 a month making our own.  As for being more environmentally friendly; we always recycled cans, but this doesn't take any cans at all – we use BPA free reusable containers over and over again.  It's a little thing that I feel makes a little difference for us as a family and for the environment – win win!
Do you make your own broth? Do you have a different method? Do you put other ingredients in? I would love to hear more thoughts in the comment section!