Hopper Stranger Things Costume – DIY No Sew
Disclosure: Highlights Along the Way is a participant in the Amazon Services LLC Associates Program, an affiliate advertising program designed to provide a means for sites to earn advertising fees by advertising and linking to amazon.com. This site uses affiliate links.
Do you need a last minute costume for a Stranger Things themed Halloween party? This is the easiest DIY costume for a Stranger Things costume party! While everyone is walking around in an Eleven costume, you can be Hopper. Hopper is an easy DIY costume that anyone can make and be wearing in a matter of a couple hours.
Why Hopper?
My daughter's middle school had a Stranger Things themed party. She has never seen Stranger Things. I was informed that there was a costume party and that she wanted to participate. "Who do you want to be?" I asked. "I just don't want to be the girl with waffles, everyone is going to be the girl who eats waffles." said my 11 year old who has never seen the show. So I knew she did not want to be Eleven. That was the only person I even knew, so I was at a loss and I would need to do some research.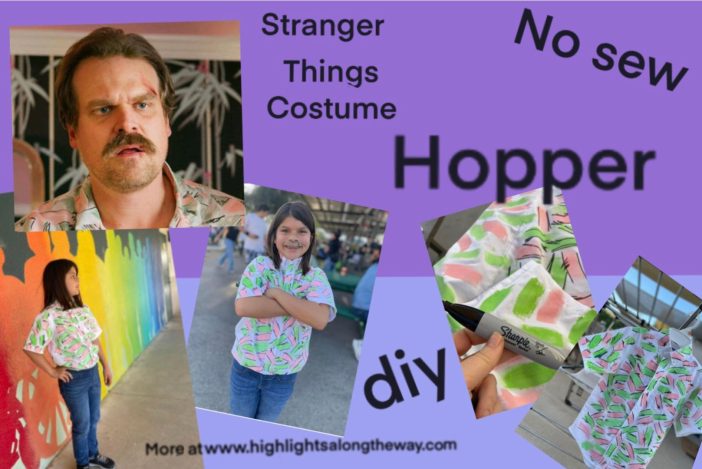 My youngest also tends to pick 'boy' costumes. Last year she corrected several people who called her Spidergirl – "No, I am Spiderman, not Spidergirl". With this in mind, I knew that all characters in Stranger Things (A show I have actively avoided) were options. If you have a problem with a gender bend costume, you can't sit with us. Sorry about your small mind, cold heart, and fragile ego. I hope you get the help you need, stay away from us. Bye.
Ok, so now that the jack holes are gone…..
I showed her several stills from the show and we both knew immediately that Hopper was the character for her. I do not know who this character is, but there is one good reason we chose him… he has a mustache. There is nothing on this planet my youngest loves quite as much as sporting a fake mustache. When she saw a character with a mustache she was like 'that is the costume for me." To this day, we have no idea who this character is or what he is about, we do not care, Hopper has a mustache and a distinct shirt. I can do this.
What I have learned from photo stills is that Hopper is also a cop. We aren't going to impersonate a cop so we went with the shirt you see him most in when out of uniform. A button down short sleeved shirt with a distinct green and pink pattern.
Could I buy a Hopper themed shirt? Of course! But why should I buy a shirt for twenty dollars when I could take a couple hours of my unemployed time and make it out of a thrifted shirt I bought for $2? Honestly, if I had the time I would have purchased this shirt, it was not going to be in in time. Also, I was worried the Men's extra small might still be too big, so I made it in an afternoon. It was so easy that I just had to share. If you want to just do the easy button and you have the time for shipping, this is a great Hopper Halloween Costume Shirt on Amazon. While you are at it, you will need a mustache, grab a three pack on Amazon.
The Stranger Things Costume Party she attended was really fun. Something to note, there were dozens of "Eleven" costumes and several other Stranger Things characters were represented. Out of about 30 or more kids who were dressed up there was not one other "Hopper". If you are looking for a unique costume that can really be done last minute, Hopper is a great option!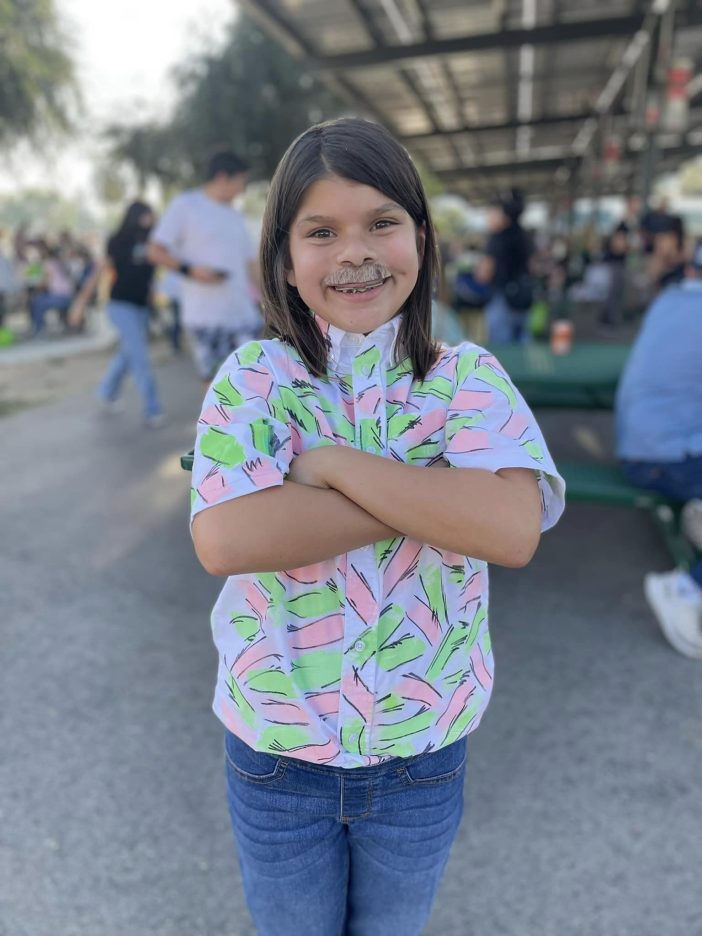 Things you will need
Short Sleeved White Button Down Shirt
Fabric paint – pink and green
Black sharpie
Step By Step Instructions
Paint pink stripes all over the shirt – all over, a couple inches long each
Wait for that to dry
Paint green stripes similarly in the negative space leaving some white showing through
Wait for that to dry
Take that sharpie and put black lines outlining and sometimes fraying around each paint stripe
Add mustache.
That is it.
Will this win awards? Probably not. Will everyone know you are Hopper. Yes. Goal achieved.
Don't miss our other dozens of DIY costume ideas!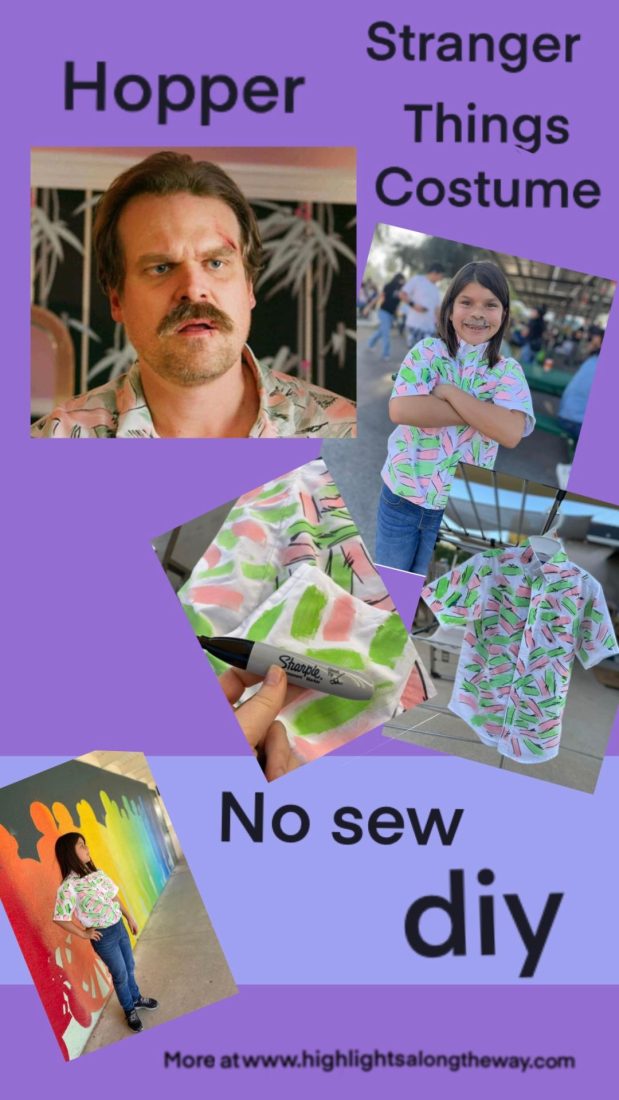 What is Stranger Things?
I do not know. Ask my son, he loves that show. Stranger Things is a weird science fiction horror TV show set in the 'olden days' as my son says…. it is set in the 1980s…. when I was a child. It is set in fictional town called Hawkins, Indiana. Many of its storylines are developed from conspiracy theories. My daughter and I tried to watch it once and were like "no thanks". It is creepy and from the olden days, if that is your bag, you should check it out.
Stranger things stars Winona Ryder, David Harbour, Finn Wolfhard, Millie Bobby Brown, Gaten Matarazzo, Caleb McLaughlin, Natalia Dyer, Charlie Heaton, and many others.
Stranger things ran for several seasons on Netflix and quickly became a cult classic.