Hotels with Free Shuttle to Disneyland
Disclosure: This site uses affiliate links
A family trip to Disneyland is what happy core memories are made of. Disney is an expensive trip, but there are lots of ways to save money. One way to save money on a family trip to Disney is to find a hotel with perks like free breakfast, free nights, free parking, or in this case, a free shuttle. While Anaheim does have an inexpensive shuttle service that most hotel guests can take advantage of for a few dollars, a free shuttle at the hotel saves money and time! Below we have several options for family friendly hotels with free shuttles to Disney!

We have made a business of finding ways to stretch our Disney budget. While a trip to Disneyland is always a splurge, we have found several ways to save money on a trip to the happiest place on Earth. You know I love a good deal, especially when it comes to travel. If there's a way to save money on a vacation, I'm going to try to take advantage of it and pass along the savings to you. My friends at Get Away Today are a huge help to me when I want to plan an affordable Disneyland vacation, so today I want to share a tip with you.
With Disneyland reopening to all on June 15th after being closed to most visitors for more than a year, I thought it might be time to reshare this post. While I still highly suggest wearing a mask, it is good to know that social distancing will not be a requirement on shuttles and other services.
Just a good thing to note when making your plans. As you plan your magical adventure to Disneyland, make sure to double check with each of the options below as some things are still working their way back to normal. The good thing is that crowds are still lower than before the pandemic and many things have been done to make your trip more efficient so you have time for more fun!
There are also incredible Disneyland vacation deals that I have never seen before! Remember to add the unique code HIGHLIGHTS to get an additional $10 off your Disneyland.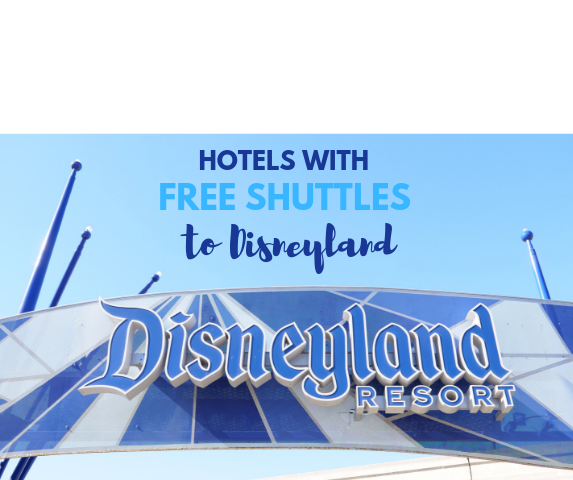 Today, Lexi is sharing a curated list of several Disney approved good neighbor hotels that offer free shuttle service to and from the Disneyland Resort. Before you read any further, I wanted to point out some other helpful money saving articles about Disney family travel. Keep in mind this article on ways to save money on a trip to Disneyland was written several years ago. While we update as often as possible, it is always best to double check when you are booking that this perk of free shuttle service is still available.

HOTELS WITH FREE PARKING AT DISNEY – Want to save on Parking? We always pick a hotel with FREE parking that allows us to stay parked there and shuttle over to Disney.
HOTELS WITH FREE BREAKFAST AT DISNEY – There are five of us. Food is a huge expense when we go on vacation. We love to find a hotel with FREE breakfast near Disneyland.
DISNEYLAND MONEY SAVING TIPS – These money saving tips are simple, but so many people don't think about them! Check out these 5 top money saving tips and you can save hundreds on your next trip to Disney! It is a secret, but this 'five tips' list turned into more than 10. You can get tips of everything from discount tickets to free souvenirs.
DON'T Pay for Coffee and Treats at Disney! – How to get FREE COFFEE and FREE treats at Disneyland is one of our most popular posts. We never go to Disneyland without a couple Starbucks gift cards that we got for FREE with one simple trick!
OK, that is a good start! Now it is time to find the hotel that offers you a free shuttle! Our last trip to Disney we found a hotel with free parking and shuttle service. The only trouble was that the shuttle was not free. If only I had this list! The first thing I did when we got back from our trip was messaged over to Get Away Today to ask for help with creating a list to help save money in the future. I hope that our readers can take advantage and not make the same mistake we did. Next time we will be using our hard earned Disney Dollars on Dole Whips instead of shuttle tickets!
Hotels with Free Shuttle to Disneyland
It can be really hard to choose a hotel near Disneyland; how far away should you stay? Which hotels are the best value? Do they have free Wi-Fi, a pool or free breakfast? When you book with Get Away Today, you actually get a lot of these perks and more. They partner with a lot of hotels near Disneyland and, as a result, you get the best deals.
One way to save a bit of money on a Disneyland vacation is to take advantage of hotels with free shuttle service to and from Disneyland. Taking a shuttle can be more convenient than ordering an Uber or Lyft, and it is also usually much cheaper. To take that a step further, I have a roundup of Anaheim area hotels that offer a completely FREE shuttle service to Disneyland.
The Hotel Fullerton
The Hotel Fullerton not only has a free shuttle to Disneyland, but Get Away Today guests can enjoy free parking as well. So you can rent a car from the airport to get around Anaheim or roadtrip to California and park your car for free at the Hotel Fullerton. This hotel near Disneyland also offers complimentary breakfast to Get Away Today guests, so the savings certainly add up! One thing to keep in mind is the shuttle service is limited, but this simply means you arrange your ride in advance. It is not a shuttle that continuously runs non stop throughout the day, so put a reminder in your phone to call ahead.
Holiday Inn Buena Park
Holiday Inn Buena Park has a free shuttle to Disneyland, and a heated outdoor pool. That's a great combination for a family vacation! Other perks for Get Away Today guests at this hotel include free meals for kids 12 and under, which really sweetens the deal. That is right, kids 12 and under enjoy free breakfast, lunch, and dinner. I have 2 under twelve still, we are surely going to stretch our budget here next time! Holiday Inn Buena Park is just one block from Knott's Berry Farm, so if you ever wanted to make that part of your Southern California vacation, this would be the hotel to pick.
Holiday Inn Mirada
Holiday Inn Mirada really takes the cake because their free shuttle will take you to Disneyland and Knott's Berry Farm. They also offer free breakfast daily for Get Away Today guests, and their rooms can comfortably sleep up to five guests. There are other amenities such as video game options in-room, free Wif-Fi and an outdoor pool.
The Anaheim Majestic Garden Hotel
The Anaheim Majestic Garden Hotel is located just one block from Disneyland, but they still go above and beyond and offer a free shuttle service for guests. So if at the end of a long day exploring Disneyland you simply can't take another step, the Anaheim Majestic Garden Hotel will happily usher you home on their shuttle. This hotel has a castle theme, adding a little extra magic to the accommodations. Their rooms include a mini fridge, making it easy to store a few snacks and cold drinks.
Sheraton Garden Grove Anaheim South
Sheraton Garden Grove Anaheim South packs on the perks for Get Away Today guests. In addition to the free shuttle to and from Disneyland, at this hotel kids eat free with a paying adult. There is also an outdoor heated pool available 24 hours, and refrigerators in each room. Guests will be pleasantly surprised at how spacious and updated the accommodations are at Sheraton Garden Grove Anaheim South.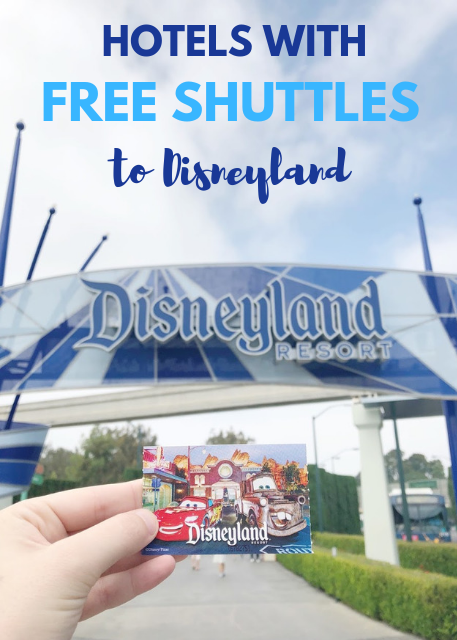 Book with Get Away Today and Save
As you can see, I just wanted to let you know which hotels near Disneyland offer a free shuttle… but I ended up having to tell you about the other savings when you book as a Get Away Today guest. A Disney vacation is so much more affordable when your whole group starts the day with free breakfast and can ride the shuttle free every day. Plus, you can book your vacation package now with Get Away Today for just $175 down and make interest-free payments with the Layaway Plan. It's a great way to get everything planned without missing the current savings available through Get Away Today. You can see all the vacation packages at www.getawaytoday.com, or call an agent at 855-GET-AWAY. When you book, let Get Away Today know Highlights Along the Way sent you, and use my promo code, Highlights, for an additional $10 in savings.