How my kids have monetized "Barfing" Season
I have one amazing tip for helping moms and dads when it comes to barf season. This is also a great tip for kids that are looking to make a couple extra bucks. This simple incentive is going to help you and your kids get through the cold and flu season with less puke on the floor and more in the toilet or bucket.  Nothing is worse than a miserable puking kid.  Cleaning up after a sick child is no fun and it spreads the infection! This tip is so easy!  This is the best money I have ever spent! Read about how your kids can monetize barfing season too! You are welcome in advance!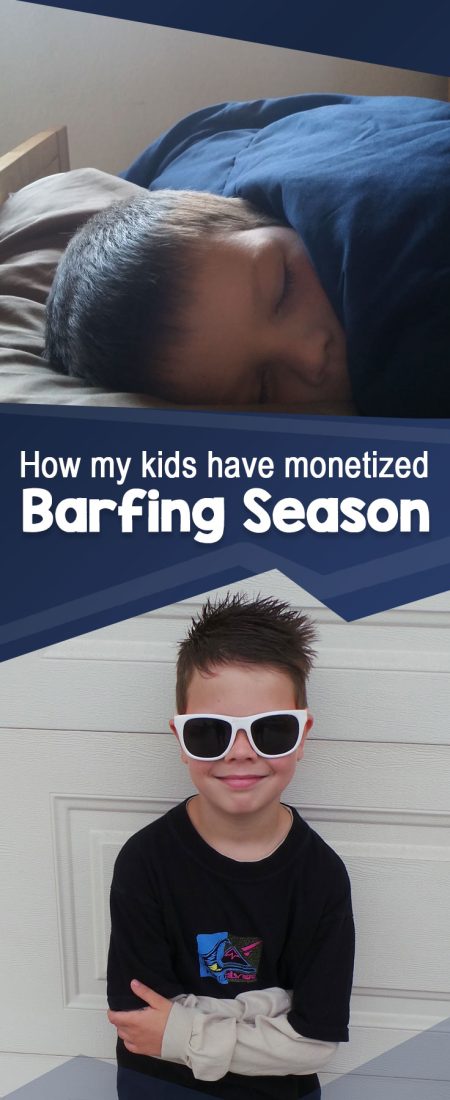 My kids don't get sick very often.  My oldest is somewhat obsessive compulsive and pretty good about washing her hands.  My son is not at all obsessive compulsive, but spent the first year of his life building up immunities by sharing a room with 20+ other kiddies.  Our youngest isn't in school yet and we obsessively wash hands before and after playdates and church.  So far there isn't a ton of barfing going on in our house.  We have a barf fest about once every other year, if that. I gather from my facebook feed that once every other year or so with three young kids is fairly low in comparison.
Despite not having a ton of experience, we have an epic way of getting the kids to barf in the toilet instead of all over the ground.
That's good because I am a sympathetic puker.  I have a super weak gag reflex and while a kid is barfing I might just barf too; I am at the very least going to gag.  If a kid barfs on stuff that is a huge problem for me.  I'm not suggesting anyone is OK with mopping up barf, but eight years into this parenting thing I still can't do it without dry heaving.
So when my oldest had just turned four and Bubs was 3 Barf-fest 2010 began and I was all "Oh joy!"  Half joking I told my daughter "Thank you so much for getting to the toilet before getting barf on your carpet. I am going to give you a dollar!"  In between retching my sweet Sister J looks up at me and says "Really? I get a dollar?"
*light bulb*
"Yeah sure, does that make you feel  a little better?"
"Yeah, cuz I don't feel good at all but I like dollars."
"Want to earn more?  Every time you get all your barf in the toilet you get a dollar.  If you can't make it to the toilet but you get it all in the bucket you get 50 cents – how does that sound?"
*barf*  "AWESOME!"
When she was done with that round I gave her a dollar and kinda made a big deal out of it, hoping that when the next round stirred in her belly she might have a little bit less anxiety about it and maybe a wee bit of incentive to make it to the potty in time.  I made it clear to her that she would never be in trouble if she didn't make it to the potty or even if it didn't make it into the bucket, but if it does make it into the potty everyone wins!
She couldn't wait to find her brother (who was being quarantined at the time in hopes of him avoiding the flu….. it was for not).  "Guess what S?  Mom gives us dollars for barfing in the potty!  I made three dollars today!"
"Ah, no fair!  I want to barf and make money!" Bubs
And less than 24 hours later he started earning the big bucks too.  Yay parenting.
Dare I ask?  What is the most unconventional thing you have ever paid your kids to do?