How to Draw the Little Mermaid
Disclosure: Our interview with Mark Henn was part of the #ralphbreakstheinternetevent which was hosted by Walt Disney Studios. Opinions and subpar drawings are my own.
In celebration of "MerMay" I am bringing back this popular post once again!  One of my favorite hashtags on Instagram right now is #MerMay. Artists all over the world are participating and it is so fun! If you would like to learn how to draw everyone's favorite mermaid to get in on the action, I am here for you! If you are looking for an artist, make sure to check out my illustration Instagram page!
Enjoy!
As promised, I am celebrating the DVD and BluRay release of the Disney Classic The Little Mermaid with a simple "How to Draw The Little Mermaid" tutorial.  Ariel is one of the most beloved Disney animated princesses, and she is surprisingly easy to draw! While in Los Angeles for the Ralph Breaks the Internet Event last year, our group had the opportunity to interview legendary Disney animator, Mark Henn. While at Disney Studios, he was kind enough to show us how to draw Ariel.  Mark was one of the original animators who drew Ariel while working on The Little Mermaid. Watching him draw Ariel thirty years later was an honor. Today is the day that you can run out and buy a copy of Disney's The Little Mermaid. When The Little Mermaid was released Digitally two weeks ago I shared about some of the awesome never seen before bonus features of The Little Mermaid. Your little artist (or maybe you!) is sure to be inspired while watching The Little Mermaid from home, I hope this drawing lesson is a fun activity!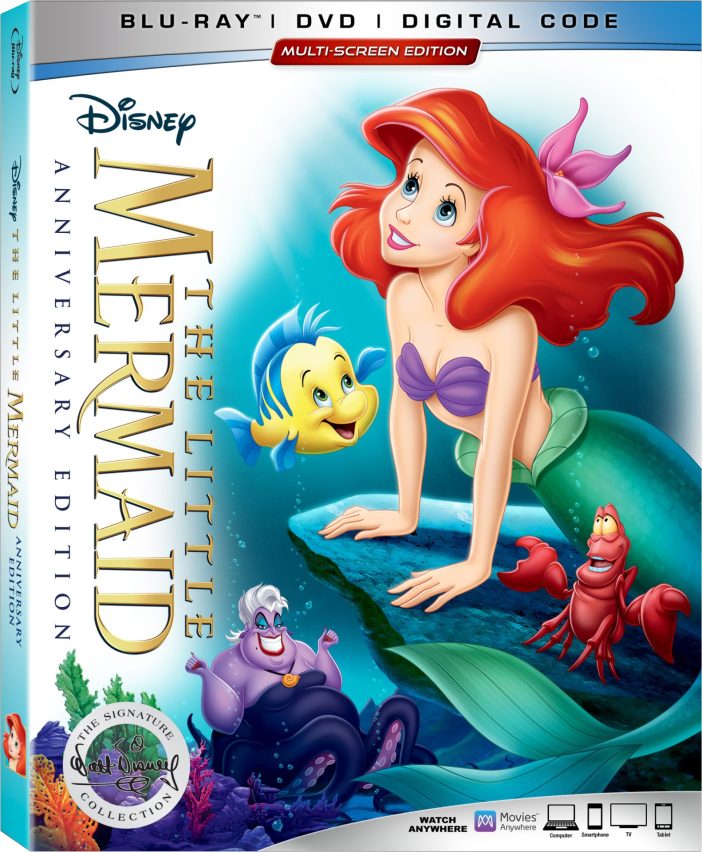 "The Little Mermaid" Dives Into the Walt Disney Signature Collection  –  4K Ultra HD and Blu-ray™ on Feb. 26
This is the drawing the Mark Henn provided for our group. It took him only a couple minutes to recreate the Disney Princess he probably drew hundreds if not thousands of times in the 1990s. I am thrilled to have a copy of this Little Mermaid sketch drawn by a Disney legend in our home!  I wanted to show you Mark Henn's first, remember he is a professional, and I am basically a hobby artist.  I spent the better part of my teenage years drawing Ariel and other animated characters, so I am hoping I am up to the task!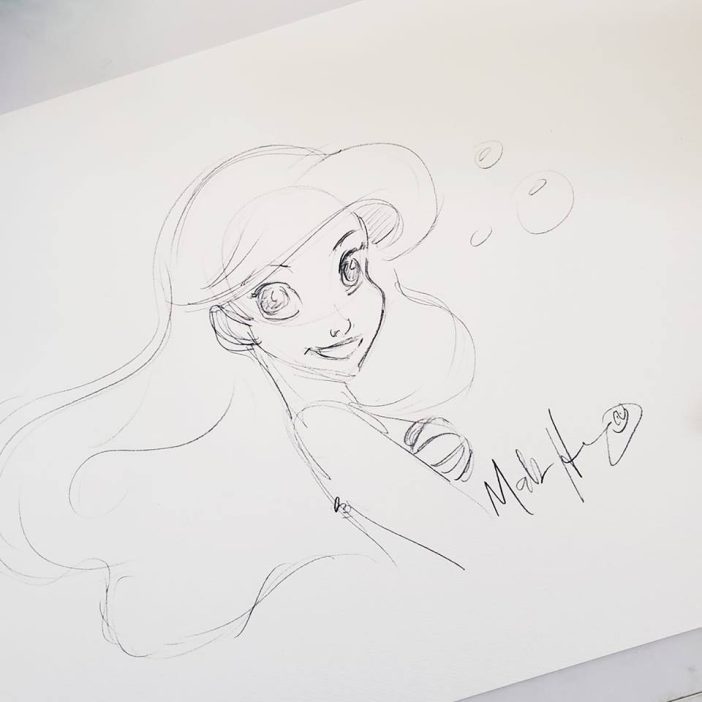 First off, let's talk about Ariel's look.  Ariel has a classic Disney princess look to her.  Ariel has large wide set "Disney Eyes", a petite nose and small mouth.  Ariel's has thick, long hair that seems to sometimes be a character in and of itself. I think we will draw her from a three quarter angle, similar to how Mark Henn drew her in our drawing lesson.  Grab a pencil and paper and come on back!
Make sure to draw lightly. You can see by the progression of my drawing that drawing lightly to lay in the drawing is important. Go in at the end and darken up your lines. Please keep in mind I am not up to par with Mark Henn, but I hope kids will still enjoy the drawing lesson!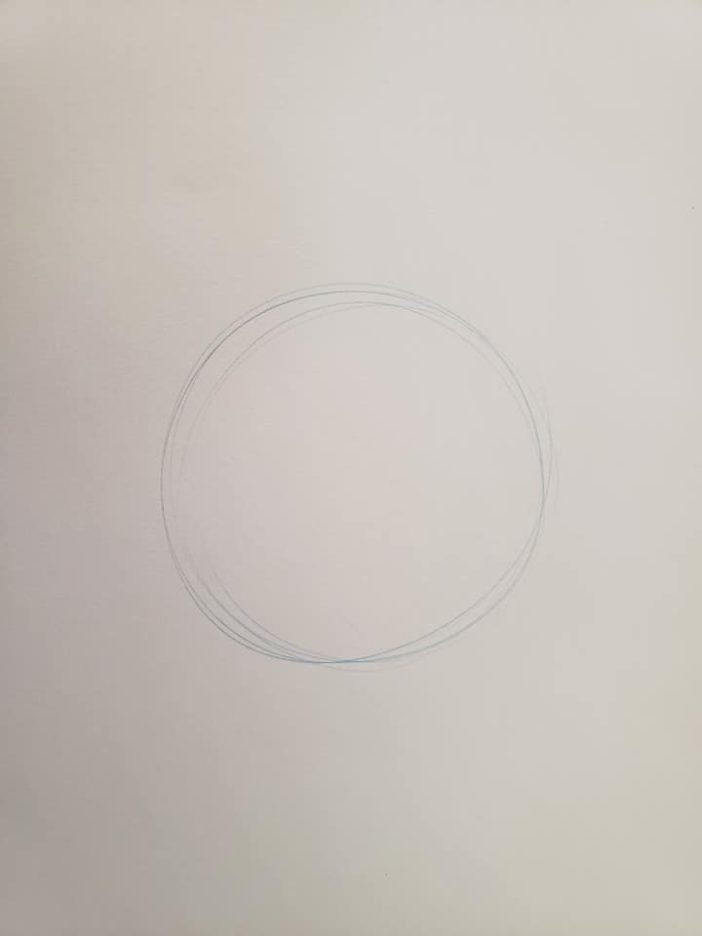 As with many characters, the first step is to draw a simple sphere.
The 2nd step tends to be the trickiest – add in the cheek and chin. With a three quarter drawing, the cheek will begin towards the bottom of the sphere.  I personally draw a construction line down the front of the face where I plan to line up the chin, mouth, and nose. I also use this line to space the eye sockets.
Draw a light line for the bottom of the eyes. Here is where I will lightly position the eyes and nose.  If you know Ariel well, you know my first pass at the nose was a bust.
Ariel's eyes are like rounded triangles. Her eyes and pupils are kind of ridiculous in size.  Her nose and mouth are very small in comparison.
Ariel's hair is the most fun part of the drawing!  Ariel's signature hair has long bangs that sweep to her right.  My favorite tip is to use other parts of the drawing as indicators for proportions of the rest of the drawing.  People tend to draw Ariel's hair either much too small or much too big.
The last step is to commit to your lines and darken them up.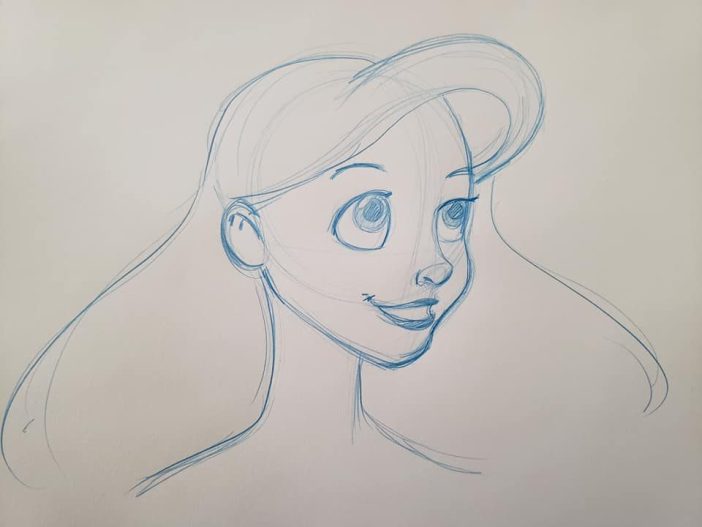 And there you have it!  Not too shabby, right?  If you drew Ariel from our tutorial I hope you will share it on our Facebook page or send it to me in a message! I would love to update this post with our reader's drawings! And if drawing Ariel seems a bit ambitious, please see our beautiful Disney licensed printables below….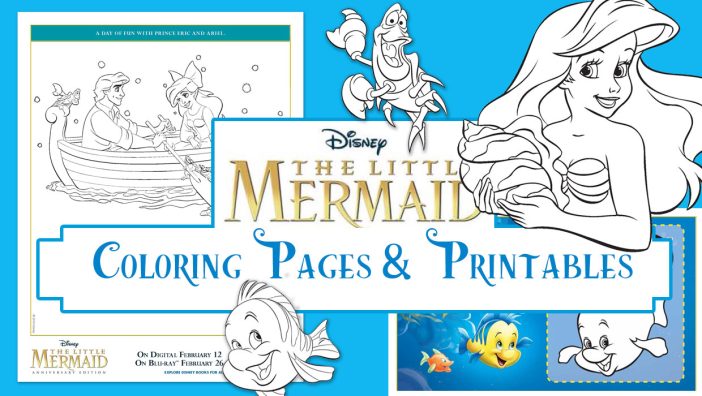 The Little Mermaid Coloring Pages and Activity Sheets – FREE PRINTABLES
If drawing Ariel seems like a bit too much work, we also have beautiful high -resolution printables that you can print from home! Coloring activity sheets are fun for those who want to create, but maybe don't want to draw Ariel themselves. These printables are a fun addition to a rainy day, a road trip, or even a budget friendly birthday party activity!
We did share about the Bonus Features in the newest Little Mermaid release two weeks ago, I wanted to share again.  We personally purchased The Little Mermaid when it was released from the vault about 5 years ago, but the new features are such a fun bonus I am excited to watch this one too!
BLU-RAY & DIGITAL
Sing-Along Mode – Sing along to the movie in this sing-along version of the film.
Alan Menken & the Leading Ladies Song – From the voice of a mermaid to the tunes of a muse, the music of Alan Menken has scored the soundtrack for some of Disney's most iconic leading ladies. Join Alan, Jodi Benson (Ariel), Paige O'Hara (Belle), Judy Kuhn (Pocahontas Singing Voice), Lillias White (Calliope) and Donna Murphy (Mother Gothel)as we celebrate the music of their films in honor of the one that started it all … "The Little Mermaid."  In this discussion, the ladies will share their memories of musically creating their characters with Alan, discuss what it means to be part of the Disney Princess/leading lady legacy and create new memories as they sing with Alan around a baby grand piano.
"What I Want From You…Is YOUR VOICE" – Enter the recording studio and get an inside look at the cast of "The Little Mermaid" in their original recording sessions.
Stories From Walt's Office – Gadgets & Gizmos – Like Ariel, Walt Disney was a collector of many different things from miniatures to early mechanical characters that inspired the invention of audio-animatronics. We take a look at some the collections that Walt kept in his office in the third episode of this series.
#TreasuresUntold – Join Ruby Rose Turner and Olivia Sanabia from the Disney Channel Original Series "Coop and Cami Ask the World" as they take a deep dive to explore some hidden treasures and fun facts about Disney's "The Little Mermaid."
DCapella "Part of Your World" Music Video
Classic Bonus Features – revisit four exciting bonus features from previous releases including:

Deleted Character: Harold The Merman
Under The Scene: The Art Of Live Action Reference
Howard's Lecture
Audio Commentary With Ron Clements, John Musker and Alan Menken
Follow The Little Mermaid on Social Media….
Facebook:                                                 Facebook.com/DisneyTheLittleMermaid
Website:                                                   Movies.Disney.com/The-Little-Mermaid
Instagram:                                                Instagram.com/DisneyAnimation
YouTube:                                                  YouTube.com/user/DisneyMovies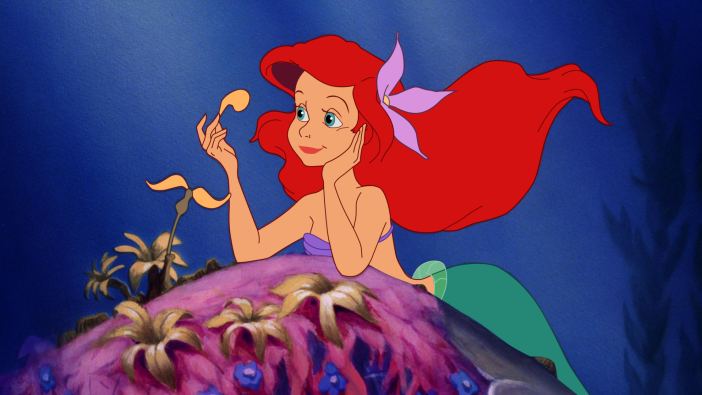 ABOUT THE WALT DISNEY SIGNATURE COLLECTION:
The Walt Disney Signature Collection includes groundbreaking films created or inspired by the imagination and legacy of Walt Disney, featuring timeless stories and characters that have touched generations. Each release will offer special features for every member of your family plus a unique digital experience. To date, the collection includes "Snow White and the Seven Dwarfs," "Beauty and the Beast," "Pinocchio," "Bambi," "The Lion King" and "Peter Pan."
ABOUT THE WALT DISNEY STUDIOS:
For over 90 years, The Walt Disney Studios has been the foundation on which The Walt Disney Company was built. Today, the Studio brings quality movies, music and stage plays to consumers throughout the world. Feature films are released under the following banners: Disney, including Walt Disney Animation Studios and Pixar Animation Studios; Disneynature; Marvel Studios; and Lucasfilm. The Disney Music Group encompasses the Walt Disney Records and Hollywood Records labels, as well as Disney Music Publishing. The Disney Theatrical Group produces and licenses live events, including Disney on Broadway, Disney On Ice and Disney Live!.
ABOUT WALT DISNEY ANIMATION STUDIOS:
Combining masterful artistry and storytelling with groundbreaking technology, Walt Disney Animation Studios is a filmmaker-driven animation studio responsible for creating some of the most beloved films ever made. Located in Burbank, WDAS continues to build on its rich legacy of innovation and creativity, from the first fully-animated feature film, 1937's Snow White and the Seven Dwarfs, to 2013's Academy Award®-winning Frozen, the biggest animated film of all time. Among the studio's timeless creations are Pinocchio, Sleeping Beauty, The Jungle Book, The Little Mermaid, The Lion King, Big Hero 6 and Zootopia.