How to Upcycle a Thrift Store Dress Into a Red Carpet Dress
Disclosure: Highlights Along the Way is a participant in the Amazon Services LLC Associates Program, an affiliate advertising program designed to provide a means for sites to earn advertising fees by advertising and linking to amazon.com. This site also uses other affiliate links.
One of the best ways to save money and help the environment is to try to shop second hand first. Today we are sharing an amazing thrift shop success! Follow along as we share how we rescued a designer dress from a thrift shop and upcycled it into a red carpet dress! Using RIT dye you can often make a preowned dress look brand new! The white dress we found was a perfect fit, but had some stains. Check out out easy and quick it was to DIY a brand new dress! Watch how easy it is to dye an old dress and make it new again.
There are tons of events that you need semi-formal dresses for: high school dances and prom, red carpets, banquets, and weddings. It adds up quick to get a new dress every time. One of the easiest, most inexpensive ways to get a nice, semi-formal dress is to upcycle an old or thrifted one. The easiest way to do this is to dye an old, light colored dress a different color.
Whether you are trying to live more sustainably or just trying to save money, buying a second hand dress from a thrift store and modifying if needed is the way to go. We often find dresses that still have tags on them, or were worn so gently it looks like it was never worn at all. Over the years we have often donated formal wear we only wore one time. What a waste! We now try to buy every day wear, costume pieces, and formal wear used whenever possible.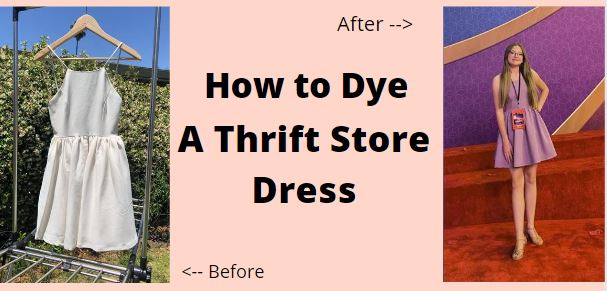 One of my favorite thrift stores is "It's a Wrap," on Magnolia Blvd. in Burbank, CA. "It's a Wrap," is a thrift store that sells costumes and sometimes props from wrapped movie and TV show productions, which is super cool! Obviously, you can find cool dresses at any thrift store, that one is just my favorite personally. If you are ever in Burbank California you can seriously spend an entire day second hand shopping on Magnolia Blvd. We like "It's a Wrap" because many of the clothing items have a code on the tag letting you know what show the item of clothing was used on. We have several treasures that were worn on shows like "Blackish", "Big Bang Theory", and so many others. This dress is from a show called "Into the Dark".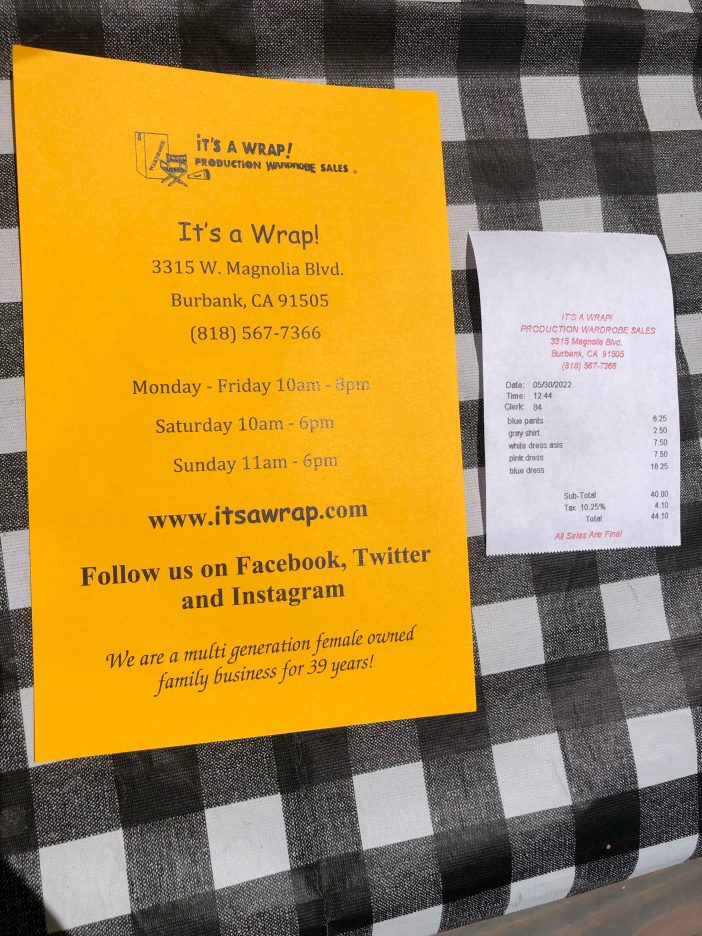 A few days ago, I was invited to the red carpet premiere for Ms. Marvel. I was so excited! As usual, I needed a new dress. Rather than buying a brand new dress, I decided to head down to "It's a Wrap." I found this adorable, white, mini dress for only $7.50! Unfortunately it had some blue stains on it. I had the idea to dye it a darker color. After a quick trip to Michael's, I got some RIT Fabric Dye in two different colors to mix for a certain shade. The red didn't show up exactly how I wanted, and I think that was because the red dye was not made for synthetic fibers. If your dress is made of synthetic fibers, make sure you get that specific dye. I've linked the color and type I used below if you are interested.
This process was SUPER fun, so I decided to make a little tutorial on how you can upscale a thrift store dress into something amazing!
Step 1: Find a nice dress at your favorite local thrift store.
A white or light colored dress is the best, because you can dye it any color you want! If it has some light stains, don't worry about it. A dark-colored dye will cover them.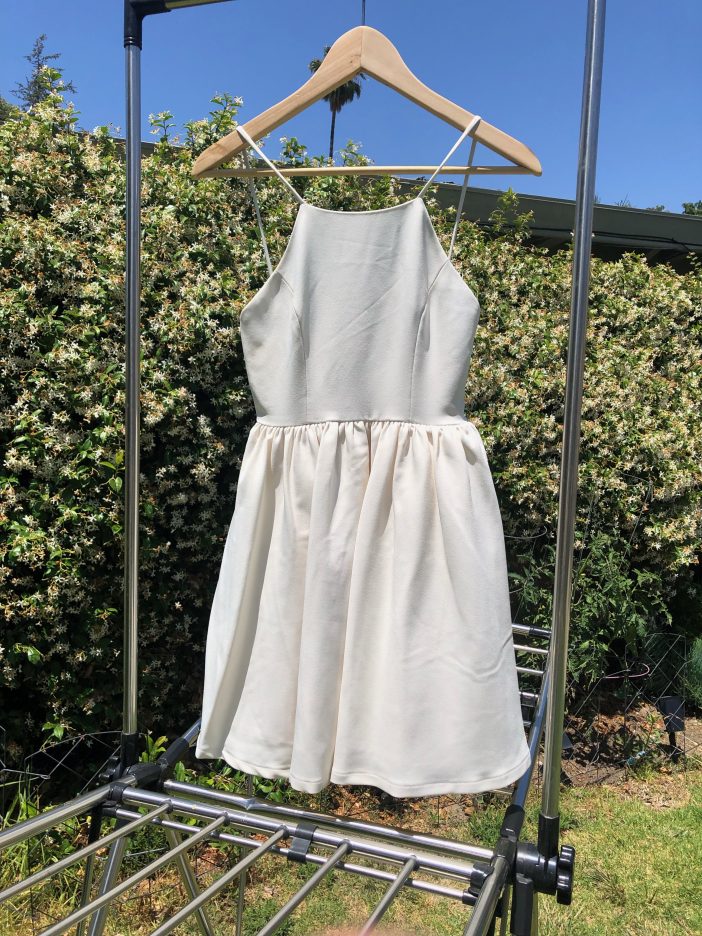 Step 2: Get some RIT fabric dye.
You can order this on Amazon for the best price. If you need to dye your dress today, you can pick up RIT dye at Michaels or most other arts and crafts stores. Make sure you get the synthetic fibers kind if your dress is made of a synthetic material. Mine was made of polyester so I used a purple shade made for synthetic fibers. Make sure you research tips for whatever fabric your working with, because they all dye differently. Also, feel free to mix different colors together to get the perfect color for you! I mixed royal purple with a little scarlet to get a slightly warmer purple color.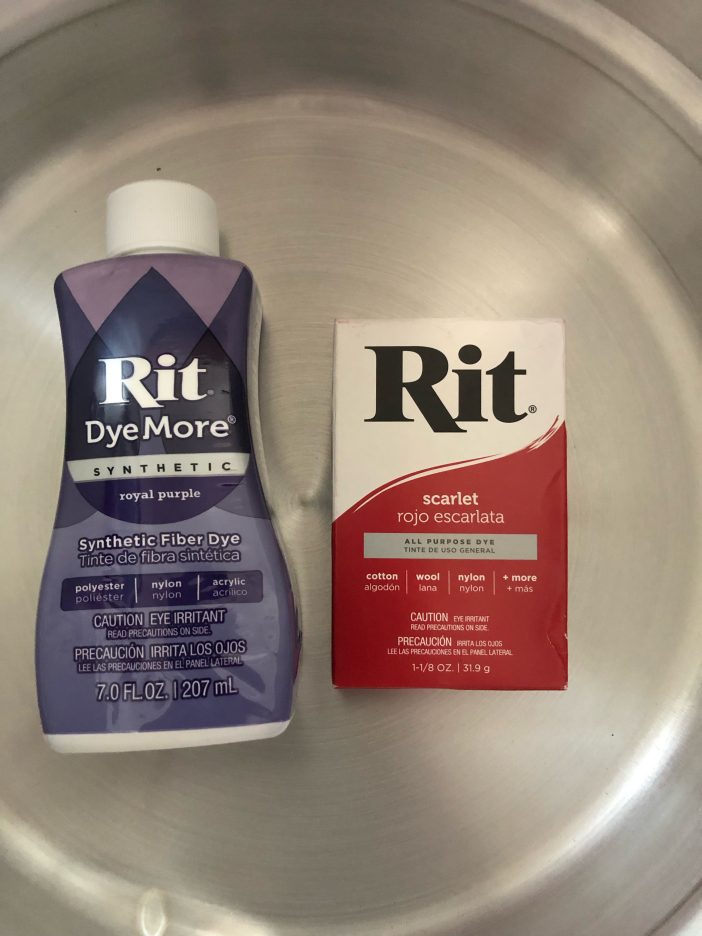 Step 3: Wash your dress.
This helps get rid of any films or stains and helps the dye stick better. Most fabric dyes will recommend this, but its a good step to take even if the bottle doesn't say to do so.
Step 4: Dye your dress according to dye instructions!
The stove top method can help you get the brightest colors. I used a kitchen thermometer to make sure the water was at 200 degrees (Fahrenheit) before I started. The hot water helps the dye take to the fabric better. The most important thing to remember is to stir really well during the first 10-15 minutes, this ensures that everything is dyed evenly.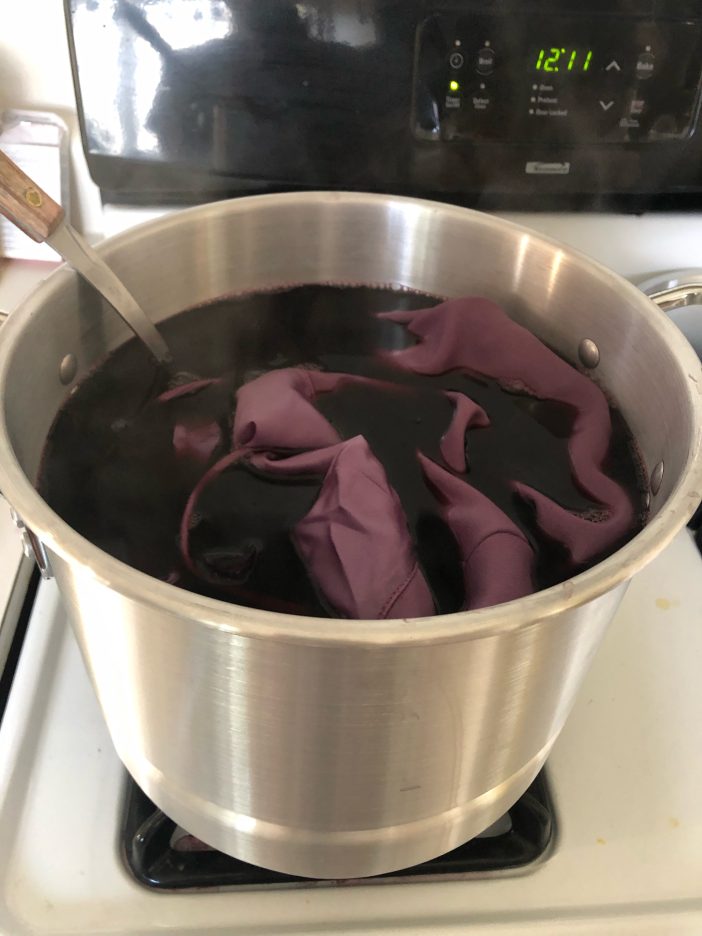 Step 5: Rinse and wash your dress to remove any remaining dye.
It's best to rinse in hot water first and then cold water until the water runs clear. Then, I rinsed mine in the sink and then ran it through a rinse + spin cycle in a washer. You should throw it in the wash with an old towel so you don't stain the dryer.
Step 6: Look like you spent a hundred dollars (or more!) on your red carpet!

I was SO excited to wear this dress to the red carpet for Ms. Marvel. From the dress to the dye, our cost was less than $20! And yes, this dress was not only beautiful, it also had pockets!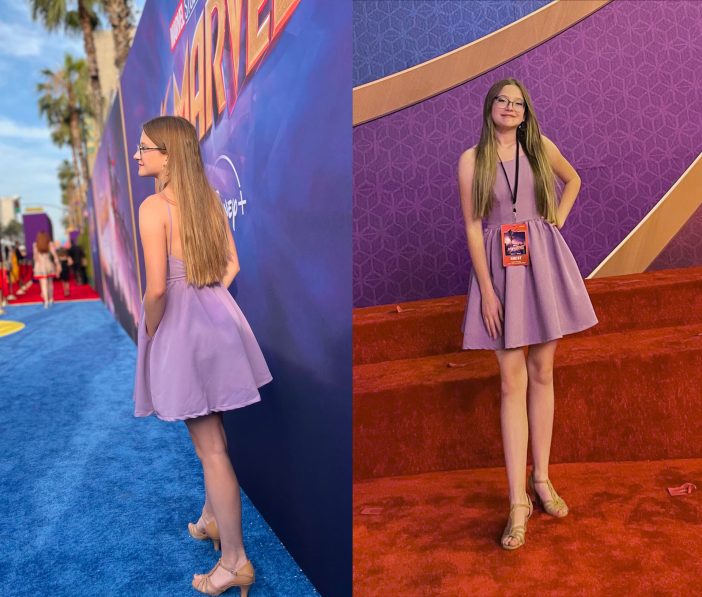 Everyone likes to do DIY projects, and if you can do one to save money, its a win-win. So instead of getting an expensive dress next time you need one, maybe you can "make" one like I did!