Easy Little Mermaid Cupcakes
Disclosure: Highlights Along the Way is a participant in the Amazon Services LLC Associates Program, an affiliate advertising program designed to provide a means for sites to earn advertising fees by advertising and linking to amazon.com. This site uses affiliate links.
With Halle Bailey's live action, The Little Mermaid skyrocketing in popularity, little girls and boys across the nation are going to love our easy little mermaid cupcakes! DIY custom cupcakes are such a key feature of a themed birthday party, but baking and pretty frosting can be tricky without experience.Today you can learn how you can make easy little mermaid cupcakes using store-bought cake mix and frosting. Make a splash at your Little Mermaid Party with the cutest cupcakes under the sea!
There are a lot of tutorials out there with complex designs and decorations but unlike those, anyone can make these cupcakes. You don't need any fancy equipment and the recipe can be easily modified if don't have some materials. For the most you just need to grab the ingredients from the store. These Mermaid Sprinkles are what elevate basic ocean themed cupcakes to the perfect centerpiece for your little mermaid's special day.
Under the sea has always been one of the most popular birthday party themes. And with the addition of the new live action The Little Mermaid movie, this idea has been revamped and is even more exciting. These cupcakes could easily be modified to fit other similar party or cupcake ideas like generic ocean or beach designs.
If you are hosting a Little Mermaid themed birthday celebration, make sure to take advantage of our free coloring pages featuring Ariel, Flounder, Sebastian, Scuttle, and so many more! Coloring pages featuring the original animated cartoon Ariel as well as Halle Bailey's version of Ariel are available to instantly download. Our Little Mermaid Cupcake sleeves are also a free printable resource on our site. Let us know if there are other birthday party items you would like to see, we love to add to our free resources for our crafty guests.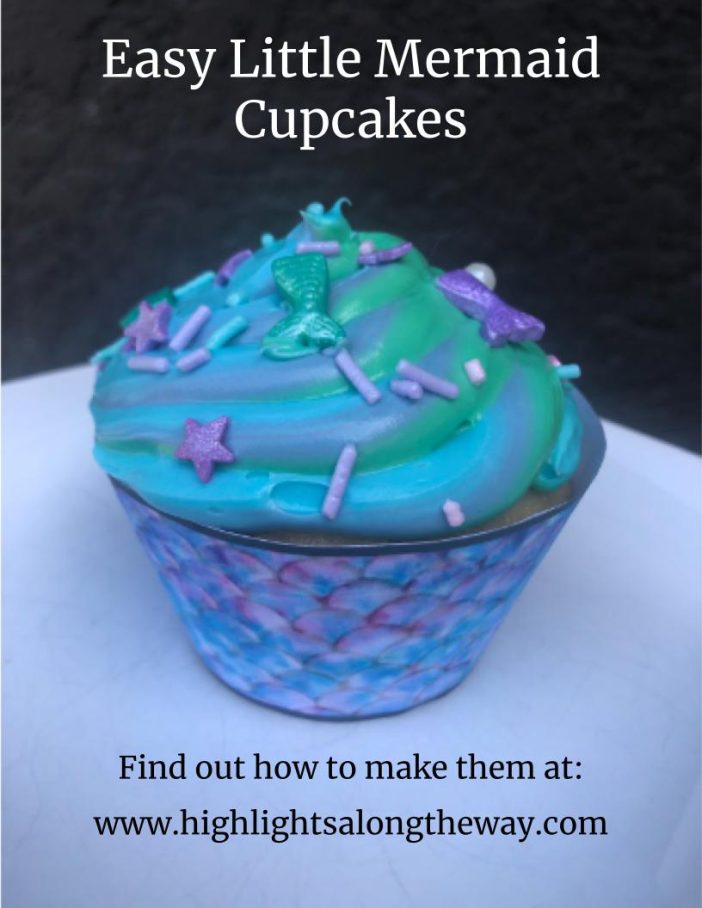 Why You'll Love this Recipe:
Only Boxed Ingredients! The only things you'll need to make the cupcakes themselves are premade cake mix (and the 3 things you need to add to it) and premade frosting.
Easy and Fast to make. Most fancy cupcakes take hours to make but by combining a couple of baking hacks, these cupcakes won't take you more 2 hours to make max!
Cute as Heck! Do I even need to say any more?
Themed, but Not Too on the Nose. Lots of people make cupcakes with little, character, cupcake toppers, but I bet you've never seen someone make cupcakes with themed cupcake wrappers. Wrappers are so much faster because you can skip the whole attaching toothpicks to character cards and that shebang.
What you will need to make DIY Little Mermaid Cupcakes:
First and foremost, order some Mermaid Sprinkles. They will be at your door shortly!
Store-bought cake mix

in whatever flavor is your preference! We like to use vanilla or confetti.

Store-bought white frosting

in any flavor that is white in color. Some of our favorites are vanilla and cream cheese.

Food coloring in blue, green, and red.

The best kind of food coloring for frosting and baking in general is the gel type. It is easier to use than the liquid kind, and most times you can use less.

Electric Mixer, Cupcake Pans, Icing bags, tips and any other baking supplies

— because, obviously.
And finally, Our Free Printable Cupcake Wrappers!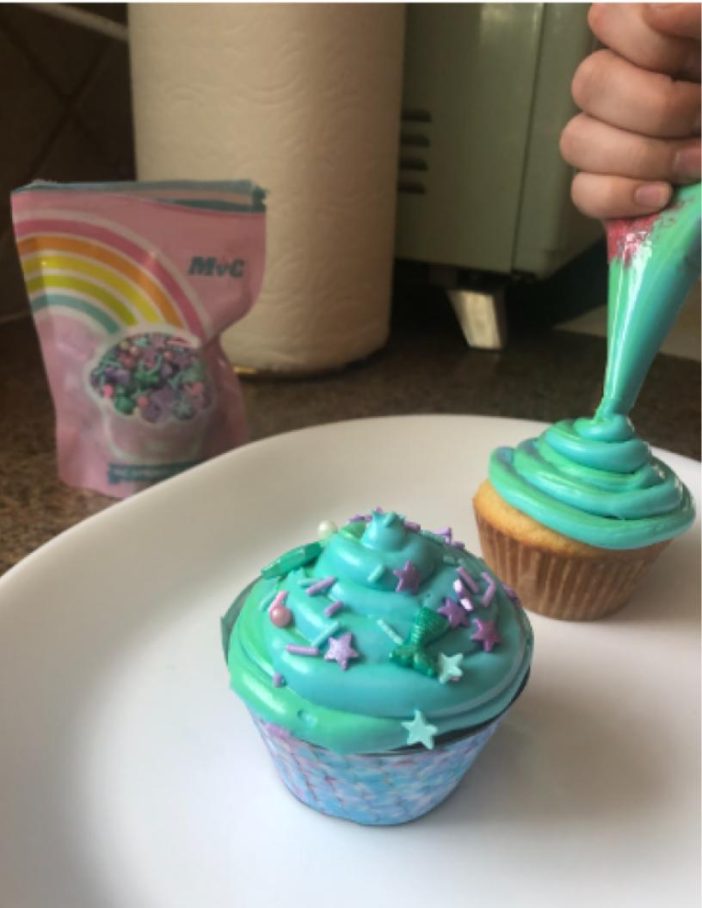 How to Use Our Free Printable Cupcake Wrappers:
Download our Free Printable Cupcake Wrappers and print enough for your batch of cupcakes. Simply Click the Image below and print on a standard 8 1/2 X 11 sheet of paper. Enjoy using for personal use.
Cut each out and either tape them into a circle or use the guide to make the tab.
After your cupcakes have finished baking and have cooled, simply drop them into the cupcake wrapper. And it's that easy! Now you're ready to decorate!
If you enjoyed our printable cupcake wrappers, check out our Halle Bailey Little Mermaid Coloring Pages that are also available for instant download!
Little Mermaid Cupcake Wrappers – Click to Instantly Download and Print
Tips and Tricks for Taking Store-Bought Cake Mix to the Next Level:
Store-Bought cake mix is designed to be easy on its own, but with a couple tweaks you might have your guests asking for your recipe.
Store-bought cake mix usually requires the addition three ingredients: water, oil, and eggs. But, if you substitute the oil for melted butter, and the water for milk, you will get a much richer cake that tastes like it was made from scratch! Your guests will love them!
Always let your cake mix beat on high for 2 minutes in your electric mixer after you have added all the ingredients. Even though this is in the instructions on the box most people don't let it go for the whole time. But this step actually helps incorporate air into the batter so that the cake will be nice and fluffy on the inside, so don't skip it!
Don't open the oven while cupcakes are baking until you are ready to check for doneness. This can decrease the temperature quickly of the air bubbles inside the cake and make it less fluffy.
How to Make Variegated Frosting for Easy Little Mermaid Cupcakes:
If you want to skip this step, you can simply mix up different colors and frost cupcakes with one color each. But if you want to take the extra step, it really pays off and looks awesome!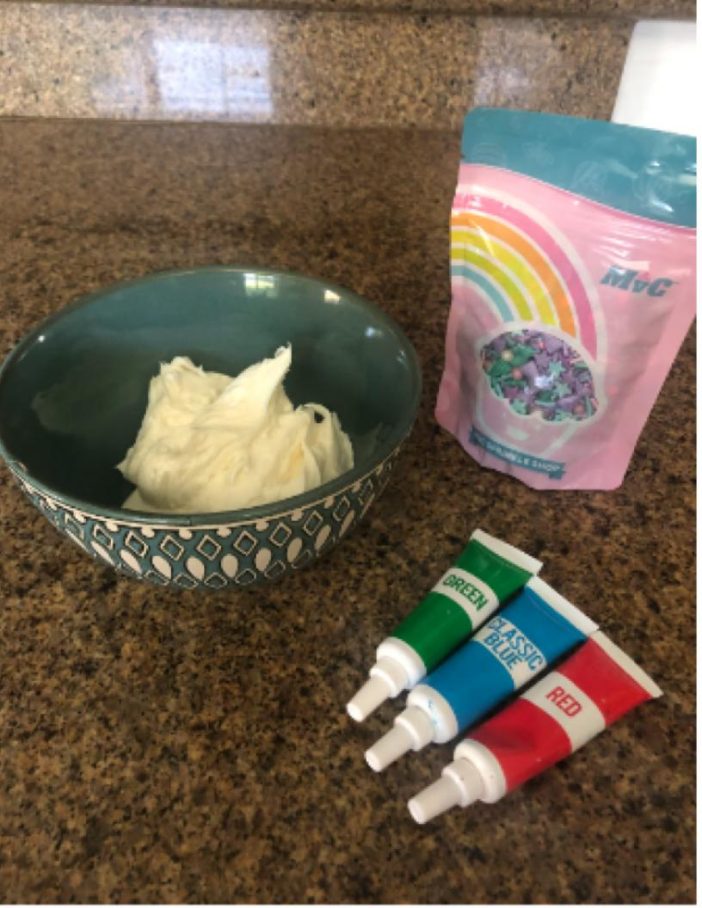 First get some white frosting from the store, it can be vanilla, cream cheese, plain or any other flavor as long as it is plain white.
Add the frosting to a bowl and dye it a light blue color with your blue gel food dye. (Of course, liquid and powder food dye also work.)
Then, in either separate bowls or on a paper plate add some red to a scoop of the blue frosting to make purple and add some green to another scoop of blue to make teal.
Next, spread each color side by side on a square of cling wrap. Then roll the cling wrap so that the frosting lays on top of itself. And finally, insert the cling wrap roll into a piping/icing bag. (If you don't have one, a gallon-sized Ziploc works just fine)
Now, once you cut the tip of the icing bag, the three colors of frosting will be swirled together without looking muddy!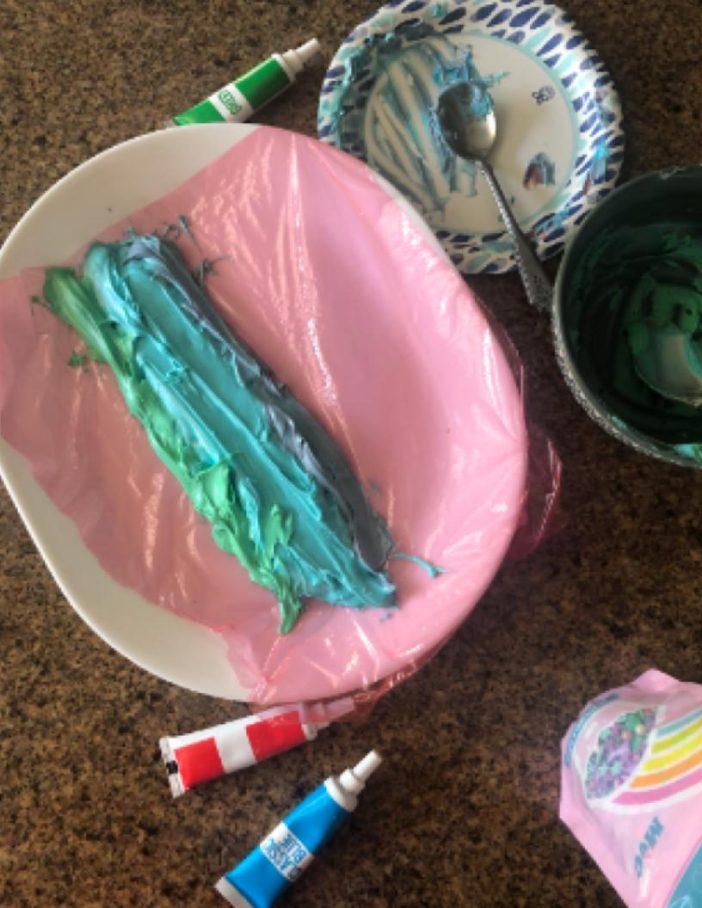 FINISHING TOUCHES:
The final step is to add some sprinkles. I found these metallic mermaid tale sprinkles in pink and blue that were really pretty. So, I got them and some stars and regular ones, which I think had a really nice effect on it. But honestly there are so many cool variations that you could make. In fact, creativity is the most important thing in baking or making anything that is made to be pretty.
I hope you enjoyed our easy little mermaid cupcakes recipe. We have numerous other cupcake and party recipe posts, so make sure you check those out before you go. But in the meantime, check out our free printable Little Mermaid coloring sheets. They'll be a perfect, and super easy activity for your party!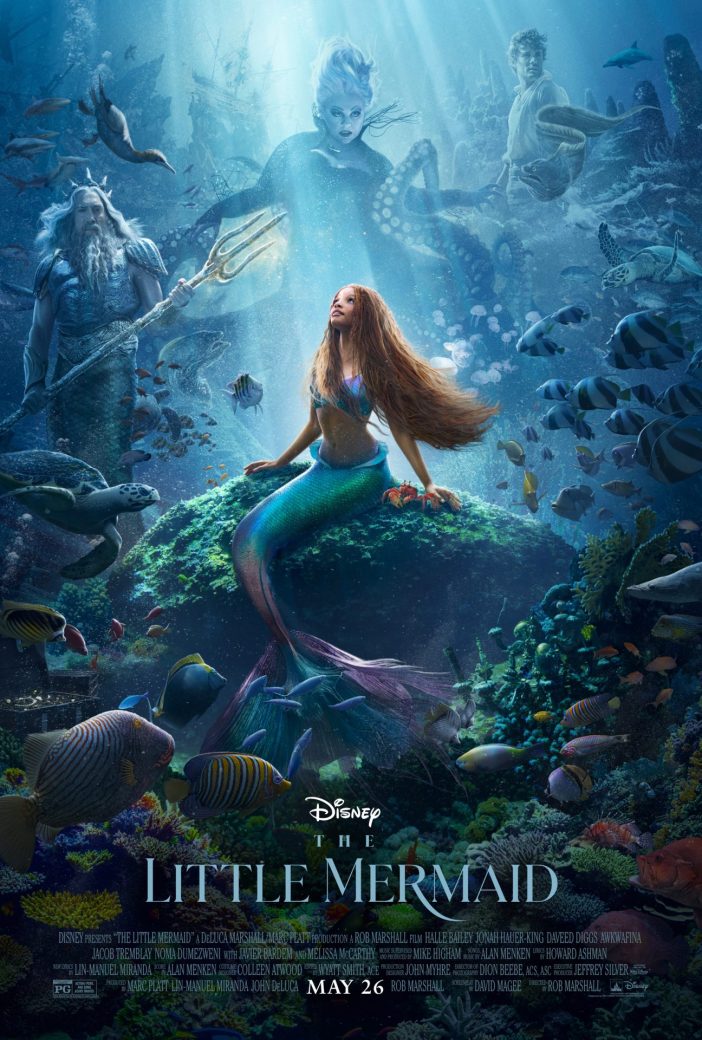 About Disney's Live Action "The Little Mermaid"
"Based on Hans Christian Andersen's classic fairy tale about a beautiful mermaid princess who dreams of becoming human, "The Little Mermaid" was directed by John Musker and Ron Clements ("Aladdin"). It features the voice talents of Jodi Benson ("Toy Story 2," "Toy Story 3") as Ariel, Pat Carroll ("Laverne & Shirley") as Ursula, Samuel E. Wright (Broadway's "The Lion King") as Sebastian, Christopher Daniel Barnes ("The Brady Bunch Movie") as Eric, Kenneth Mars ("Young Frankenstein") as Triton, Buddy Hackett ("The Music Man") as Scuttle, Jason Marin ("Back to the Future") as Flounder and René Auberjonois ("The Patriot") as Chef Louis. The film was originally released in theaters on Nov. 15, 1989 and is the 28th film from Walt Disney Animation Studios, and the first in what many described as a new Disney animation renaissance."
"The Little Mermaid" is the seventh title to join the Walt Disney Signature Collection, which includes groundbreaking films created or inspired by the imagination and legacy of Walt Disney, featuring timeless stories and characters that have touched generations. The film takes its place alongside "Snow White and the Seven Dwarfs," "Beauty and the Beast," "Pinocchio," "Bambi," "The Lion King" and "Lady and the Tramp."
MORE LITTLE MERMAID POSTS
Halle Bailey The Little Mermaid Coloring Pages
The Little Mermaid Coloring pages Halle Bailey and Original Ariel