How to Start a Blog
Disclosure: This site uses affiliate links with sites we use and trust. We receive a commission at no greater cost to the consumer.
Almost immediately after starting my first blog about eight years ago, I started getting questions about how to start a blog.  Friends and readers wanted to have the opportunity to write about what they were passionate about and have the opportunities that I did.  People wanted to know if they could make money blogging. The answer is that it is not hard to start a blog.  It is also true that you can monetize and make money blogging.  Blogging from home was the perfect solution for me because I wanted to be at home with my kids when they were little.  If you want to start your own blog, these simple steps are all you really need!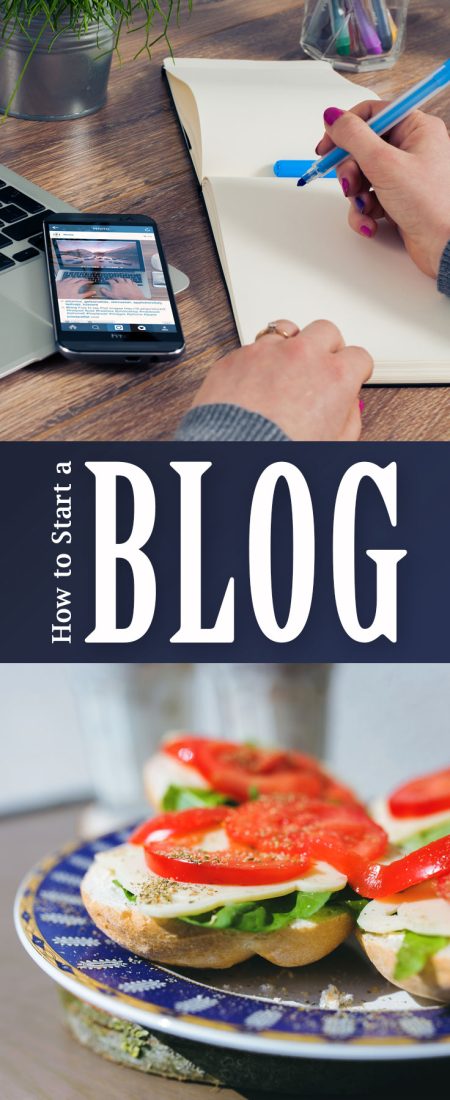 People ask me all the time how to start a blog. As I promised in my 2016 Blogging Goals post, I am excited to finally share a little bit here on our blog about how we started (and more importantly, how YOU can get started blogging!). In a series of posts I will share what we have learned over the years and perhaps what we would have done differently if we were to do it again.  How to start a blog, and how to make money while blogging are the two top questions I get about blogging, and often times they are asked together.  My goal this year is to start a series to help answer these questions for readers and friends.
To start off, I tell everyone who asks you should not start a blog simply to make money.  Just like any home based business you really need to be passionate about what you write about. So before you think about what kind of blog might make you the most money, think about what niche you are most passionate about.  While our blog is a family travel and lifestyle blog, that might not be the best fit for you.  What are you interested in?  There are Mom blogs, Fashion blogs, Travel blogs, Tech blogs, Review blogs, Food blogs, Pet Care blogs, DIY blogs, Holistic Health blogs, Deal blogs, Sports blogs, Faith blogs, and everything in-between. What speaks to you? Ask yourself what kind of blog you want to start.  What do you have knowledge in or what do you want to continue to grow in.  What is going to keep your interest so you are excited to build your blog and your audience?  So you know what you want to blog about?  Good!
Second – I need you to know this is not a 'get rich quick' thing.  It simply isn't. If you are looking for a way to make six figures a year by a few months in I don't have that information to give because that hasn't been my experience.  But two years into this blog I am making a little more than what I did in a professional office when I quit…. 10 years ago.  So I am not making 6 figures, but I am making solid five figures – just to the left of the middle of 5 figures….. plus some fun blogging perks (travel, toys, events, we will talk more about that later too!).  This post isn't about how to make money blogging (that post is next!), but I just wanted to let you know.  I don't want to misguide anyone into thinking they can get rich really quick.  I share that so I don't misguide but also because I think MOST people who are searching 'how to start a blog' or 'how to make money blogging' are not doing so to get rich, they are searching for answers because they want to find something to do from home that makes some money with the flexibility that working from home and for themselves affords them.  Blogging has replaced my lost income, it has provided me with an opportunity to do that from inside my own home. Blogging professionally has also provided my family with some really fun perks like dinners out, trips, clothing, toys, and other things that don't pay bills but certainly lower bills and also gives us some entertainment we otherwise never would have enjoyed. Please note, all of this came with hard work and sticking to it even when I wasn't making money. My point is, blog about what you love for no money at all, eventually it can pay off, I will teach you how.  But don't blog just to make money and don't believe someone who is telling you to start a blog just to make money – that's misleading.
How to Start a Blog
OK so now that I have put my disclaimers out there – 1) blog about what you love and 2) don't start it just to make money (but you can make money!) I am ready to tell you a couple seriously simple steps and you are well on your way!
FIRST STEP! – you just need to name your blog! You gotta find a URL and a host that works for you, this is the most important piece and pretty much the least expensive! Make sure your URL is available and scoop it up!  I have a great discount available to those who choose to host through Blue Host and use my link (blue box below).  As I have said before, we personally use Blue Host and have for years.  My husband has always encouraged his clients to use Blue Host as it is a great price and he feels the service is much better than other leading hosts. There are other popular hosting sites but Blue Host is WAY better!  Unlimited Space, FREE set up, FREE domain, and NO hidden fees (the other guys can't say most of those things and it will cost you so much more!).
Side note – Yes, you can start a blog without buying a url – blogspot.com, wix.com, and wordpress.com are completely free.  Free is good!  Some people think they will start with a blogspot and if they keep it up they will buy the URL later…. sounds like a plan except that often times your URL is not available by the time you go to buy it a few months down the road. We are talking a very minimal investment in something you have likely been thinking about for quite some time.
Next find a theme that you like. The theme is the layout of your blog.  I HIGHLY suggest going with a free theme!  You can choose this from Blue Host if you sign up with them, totally FREE! While someday down the road you might have ideas where you will need a custom theme – but most bloggers at least start with a free theme.
OK, now it is time to get social!  Establish a Facebook, Twitter, Pinterest, and Instagram pages for your blog.  Social Media is necessary tool when blogging – make sure you have these channels (and add others as you feel comfortable) set up as soon as possible.  Make sure to follow other bloggers (follow Highlights Along The Way on Facebook, Twitter, Instagram, and Pinterest!) as well as brands and other publications that interest you.  Don't be shy to follow, share, and engage from the very beginning! I personally suggest that as soon as you have purchased your URL you also snag your social channels and start using them immediately – get your feet wet and start some interaction before you even have your blog completely laid out.
So now that you have your URL, your theme, and your social channels up and running – it's time to start writing!
Grab your Blog Name and get started here……
SEO or "Search Engine Optimization" is key.  Having your blog optimized for Google and other search engines is very important. You will be more successful at gaining traffic if you do this strategically. Mangools is a great tool to help you! The first 5 searches are free! After that they do have a very reasonable monthly fee.
Do you have more questions about  how to start a blog?  Please leave your questions in the comment section! I hope to add more blogging tips every week to our blog and on our facebook page! So make sure to get your blog set up – next week I will share how you can make money blogging from home! UPDATE – want to see how I make full time income blogging from home? It is work – but I feel like anyone can do what I do and be successful – check out How to make money blogging – see if there are any ways you can monetize your new blog!
Thanks so much for stopping by – would you be so kind and pin our post on Pinterest?  Help others who might want to start blogging just like you! https://www.pinterest.com/pin/237846424048528652/