Hyperspace Mountain is coming back to Disneyland! FULL VIDEO here!!
Disclosure: I attended media day for Season of the Force at Disneyland California. Opinions are my own.
Star Wars fans can enjoy a galaxy far, far away even before "Star Wars " Galaxy's Edge" opens!  Hyperspace Mountain is back!  Hyperspace Mountain is located in Tomorrowland and can be enjoyed by guests now.  Galaxy's Edge is sure to attract crowds the universe (and the Happiest Place on Earth) have never seen before.  Make sure to enjoy Star Wars fun outside of "Galaxy's Edge" as well. If you are planning on visiting during the summer, reservations for Galaxy's Edge are available NOW but filling up fast.
Hyperspace Mountain is an overlay complete with music and special effects on the existing Space Mountain Roller Coaster.  Space Mountain is a fan favorite for Disneyland guests and is even more thrilling with the Hyperspace theme.  Star Wars fans will feel like they are flying through space on their own adventure. Check out the video below from when Hyperspace Mountain first opened in 2015.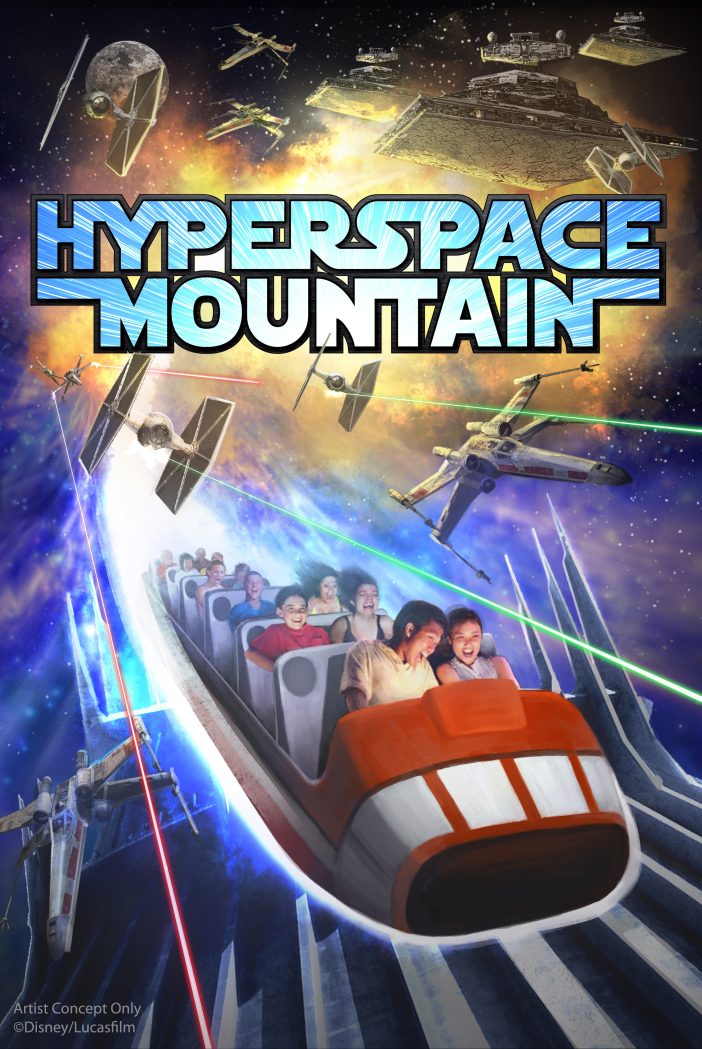 The much anticipated Season of the Force opens officially on November 16, 2015 and Star Wars fans everywhere rejoice! Space Mountain is one of the most popular rides in Tomorrowland at Disneyland anyway and now it has relaunced as Hyperspace Mountain! I am so excited to share with you Hyperspace Mountain at Disneyland – a full video of myself and several new friends riding for the first time. For a limited time, guests at Disneyland will join an X-wing starfighter battle in the redesigned Tomorrowland classic!
The track and timing seems to be exactly the same, but the ride is enhanced with new visuals and sounds that are going to be familiar to anyone who has ever enjoyed a Star Wars film.
I am so excited to share a full video below on youtube of our ride of Hyperspace Mountain……
Season of the Force officially kicks off on Monday November 16th – get all the information on the Disney Parks Blog.  We also have other Star Wars Launch Bay sneak peak and info available here on our site.  Be sure to check out all the star wars post to get info before your next visit to Disneyland. If you are a Star Wars Fan, this is going to be huge – start planning your Disney vacation!  We hope to see you there!
*Photo by Disney and used with permission*