3 reasons why I am not sending you a Christmas card this year.
Disclosure: This site uses affiliate links.
It is the time of year that so many of us are thinking about Christmas cards. You don't have to send holiday cards. It is fine. So many people wonder how they can politely stop sending Christmas cards. The holiday season is fast approaching and Christmas cards are such a nice sentiment. Some people love to send and receive Christmas cards. Some folks dislike the task of sending cards and even resent it. I decided years ago that I am not going to send you a Christmas card.
Why I stopped Sending Christmas Cards…
There are several reasons laid out here for why I have decided it is OK to not send out Christmas cards. Anyone else hate sending out greeting cards? You are my people. Some people get very angry that this sweet holiday tradition is going away for some, but these are my reasons.
If you like to send cards, that is awesome, but I am not sending you one! You can yell and leave mean comments, but you don't pay my bills so I will not be moved.
Related, look at the amazing lawn display we made because we didn't waste time doing something that we found to be a chore. We made the best Grinch Lawn Display EVER if I do say so myself. Do what brings you, your family, and your community joy this season. For us, that is our cute lawn display; for you it may be cards; for some it might be neither of those things.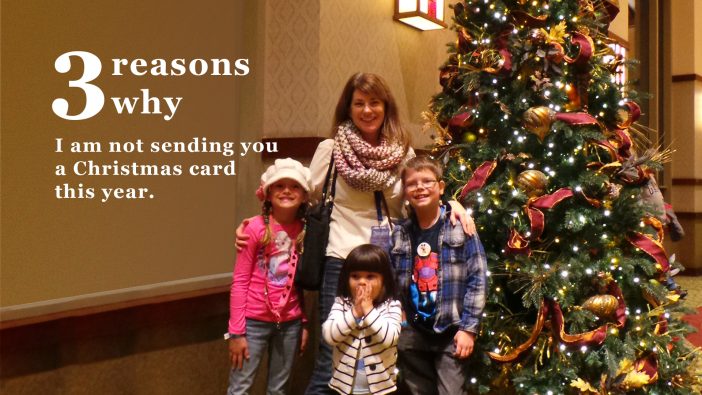 Do I have to send out Christmas Cards?
No, you do not need to send holiday cards. So it is that time of year again; the holidays. I love the holiday season. Christmas is my favorite. Here is the thing though, I am not sending you a Christmas card this year. It's not you, it's me; or rather us.
We just decided not to send out Christmas cards this year if it is all the same to you. Sending out Christmas cards has never really been my favorite if I am being honest. Despite not really enjoying the task, I always sent out Christmas cards every holiday season. I asked for updated addresses, I picked out cute pictures, hunted down the best deal on cards, and got as many as I could stamped and on their way by mid December every year. I typically ordered more cards than our list required. Every year my sub par organizational skills manifested in the form of a Christmas card from a friend that we had accidentally forgotten on our original send out and I would hastily send one out that afternoon. Don't get me wrong, I love my friends and family and I understand mail is fun and I mean, who doesn't want a picture of my cute family with a fancy monogrammed 'H' on it? Rhetorical question, of course everyone wants that. Be that as it may, I am just not someone who relishes the idea of sending out Christmas cards and this year we are taking a break.
Update, this break from Christmas cards is at about seven years right now.
Last year we had the BEST excuse for dropping the ball in that we had just moved in mid November. Not only had we just moved, we didn't move into a 'toothbrush ready' house – we moved into a 'fixer' <– understatement of the universe my friends. Half our stuff was in boxes, we didn't have flooring, we were trying to do fix it stuff with my parents during their off days, and on and on. I didn't send out Christmas cards last year. I posted a cute picture on facebook and I said "Sorry guys, we just moved so this is your Christmas card!" Here's the crazy thing you guys…. the world continued to spin and we saved like $80.
Will my relatives be mad if I do not send Christmas cards?
I mean, your relatives might be mad if you do not send cards. But do they pay your bills? Was this part of the arrangement? Is part of the deal for the money they pay you that you send them a holiday card? If not, then I think this is a boundary issue that perhaps you need to discuss with them. If you don't want to send cards; don't. You are grown. Some people will be mad. You need to decide if someone looking for a reason to be mad is enough of a reason to do something you don't want to do. I decided it wasn't and I very much enjoy that freedom.
Why Doesn't Anyone Send Christmas Cards Anymore?
I get a lot of comments and emails from people who range from curious to sad to mad that they receive less holiday cards as the years go on. I think this is just a sign of the times.
Decades ago women without jobs perhaps sat down while kids were at school one day and wrote out dozens of holiday cards. Now women are expected to work during the time kids are at school. And that is of course assuming a two parent household. People are working harder than ever just to keep their heads above water. Many do not have the time, energy, or extra expense (even if they get free cards there are still stamps to buy) to send out physical cards.
Many people choose to send email cards or even just post on social media. While holiday cards in the mail do feel special; please know that some of your loved ones share a curated Christmas picture and end of year message on Social Media with the same care and love.
Frankly; people are done doing things they don't want to do. I grew up listening to my parents complain about 'going to Christmas' and spending time with family members they despised. They would vent the whole way home. I cannot think of one nice thing my parents ever said about any family members except ONE time when my cousin lost weight. They also talked poorly about those who didn't attend…. I think they were secretly jealous of those who disobeyed the 'obligation'. I remember knowing even before I hit my teens that I wouldn't be going places where I didn't want to be or wasn't wanted.
I hate to say it, but maybe it is you. If you haven't taken the time to reach out to me all year why on Earth do you think I would take the time to hand write what my kids have been up to at the busiest time of the year. The vast majority of my biological family and my husband's biological family do not put in any effort to know my husband, myself, or our kids. Even before we had a major boundary set in place our kids didn't get many birthday cards, much less us – no calls that they were thinking of us. Sorry Aunt so and so but if you don't have the time all year to reach out I don't know why that is one more thing to put on the list.
How do I politely Stop Sending Christmas Cards?
You may politely announce on social media that you are overwhelmed this year and will be taking a break from sending physical cards. You can easily cut your large list down to a smaller list of the closest family or older folks. Sending a digital card to the emails you have is another polite way to stop sending holiday cards.
Want to send a Digital Card? We have an awesome Schitt's Creek Digital Card you can Download!
Fast forward to this year (none of these updates are this year, this post is a couple years old) – Our house is still knee deep in fixer projects, but much more stable. It would be easier this year than it was last year to carve out time to send out holiday cards, but I still am not going to send them out. I kinda feel like I need to plead my case for why I am not sending them out. I do not know why I can't just say "I hate sending Christmas cards and would rather buy cute Disney toys on ShopDisney.", but apparently I am defending myself against the invisible army of Christmas card sending defenders. So here are my top three reasons why I decided to not send out Christmas cards this year. (In 2018 we ignored projects since we are just at the 'noodling' stage and while it goes against everything we were taught, we would rather work on our relationships with one another than create unnecessary projects on our house. I can't even use that as an excuse anymore.)
Christmas Cards are expensive (even if they are free!)
1. Cost – We aren't exactly loaded, we aren't exactly broke either, but I just didn't want to spend $50 on cards and then 33 cents (scratch that 49 cents – what?!) a piece on stamps. When all is said and done we often spend about $100 on Christmas cards. Before anyone loses their bananas with "I get free cards" or "I get 99 cent store cards" – bravo for you, I've done that too. I've done the free 15 cards from 3 different places life, I have rescued free boxed cards from Estate sales, I know I can do free or really cheap cards, but those pesky stamps are never free. Also, it doesn't matter because I am not asking you to pay for them. I even found you Christmas Cards are Too Time Consuming
2. Time is Precious – So we are always complaining about how we need to slow down and enjoy the holiday season right? We keep saying we need to edit our schedules so we can spend time with these kids that just keep getting bigger and this year we really did remove a lot of 'un necessity' so we could focus on what is really important to us during this season – Faith & Family.
We shut down our kid's crazy Christmas lists, we decided one Christmas parade and community tree lighting was enough, we turned down several holiday media events, we turned down a bunch of opportunity for toy and techy product reviews because I just didn't want to be that busy. And here is the thing, I still think we are too busy. Between work, school, three kid's schedules, and house projects we are just still very busy.
I wish I was someone who loved to take an afternoon to sit down with a stack of cards, write personal notes on each, address, stamp, and drop in the mailbox, but I just am not; for me it just seemed like one more thing that I really 'should' do. I always feel good when I get them out, but if I am being honest; completely removing it from my list and sitting on my butt watching Elf with my family was way more fun. #sorrynotsorry
In the digital age it is easy to keep in touch, not everyone does.
3. You already know what we have been doing all year – this is the nail in the coffin friends. Pretty much everyone on our Christmas card list is a friend on Facebook. I mean, other than a couple relatives that un-friended us everyone on our list is getting a bunch of pictures and information in physical form that they already had in digital form. When we have made Christmas cards in the past we use our cutest photos of the year or a recent photo shoot which we obviously already shared on Facebook like weeks or months ago…… so I mean sending a card with those same pictures in a cute collage with a quaint saying on it to our friends and family seems a wee bit redundant. Back in the day you would send Christmas cards to folks you may have had little to no contact with all year. You would send updated photos and likely a short letter with a little update on your family. With technology being as it is, I am pretty sure you know all of those updates and more.
Things I typically included in (or were included in other's) Christmas card letters a few years ago
births, deaths, adoptions, maybe even separations – Nobody born, nobody died, nobody adopted, Harry and I are good

new pets – Still just the one crazy dog, Mabel.

the vacation we went on – We went to a Dude Ranch and Disney – it was awesome (that was years ago, but you get the idea).

the new job/loss of job/decision to stay at home – Harry has a new job and he really likes it. I have cut down on blogging a bit (hence this rerun of a blog post) to focus on revamping my illustration skills in hopes of working as an illustrator eventually.

sicknesses – Healthy as horses, thankfully.

recovery from sickness – Harry was in a bad car accident that was not his fault. He has recovered. We are again thankful, if kids had been in the car it would have been a different story.

kid's hobbies, talents, awards – J is Mrs. Potts in her school play this year, she also played the lead role in a theatre camp this summer, S had a fantastic time in Fall Ball and was just given the role of Mic supervisor for the tech team at school. C is making strides with school and even got an award for all her hard work on trying to learn to read.

new home – so far we are still here, we will keep you posted.
…… but you know all these things about us right? So I mean, we are good.
Now don't get me wrong, I love the sentiment of a Christmas card. I really do. I actually love getting your Christmas card, but I won't be offended if you don't send me one. I'm not saying there won't come a time where I will ask you all for your updated addresses and spend a cozy, quiet afternoon with a latte in one hand and a beautiful stack of cards in another. My kids are 8, 8, and 3 this year. I am living in this season with two kids that are very likely on their last leg with Santa and simultaneously just entering the understanding of Santa with the littlest. We have three kids in our house that fully embrace the magic of Christmas right now and I am not sure if we will have that next year. Christmas is much more for our family than Santa Claus and magical reindeer, but that is a part of it and I know the window of that is fleeting.
Update, kids are now 13, 13, and 8. We only have Santa magic left with the littlest. I'm not squandering a moment of that on anything I don't love. Sorry, not sorry.
So for this year at least, know that the Christmas card we typically would have sent you is not coming. I hope you find solace in the fact that it isn't you, it is us. I hope you love that this year we are taking a break and the money we would have spent on cards is being split between one of our favorite adoption charities and a new favorite breast cancer research charity (both in honor of friends and family). I hope you know we plan on devoting that time to snuggling our 'getting more gigantic every day' babies. I hope you know we love and we wish you all the blessings that Christmas brings, we wish your family health and happiness in the New Year, and just to sum it up – our year has been busy but fun and we feel incredibly blessed.
Have yourself a Merry Little Christmas and a Blessed New Year!
Christmas is almost here again. Check out how to have a debt free Christmas this year.
Update – this has been passed around like crazy thanks to Facebook – so I sure would love for you to follow me on Facebook too! (pretty please?) and if you want to share on Pinterest I would love for you to Pin it —-> https://www.pinterest.com/pin/237846424046387820/
Save
Save
Save
Save