Indiana Jones and the Dial of Destiny – appropriate for kids?
Disclosure: Thank you to Walt Disney studios for inviting us to an early screening. Opinions are our own.
The epic adventure continues this summer with Indiana Jones! The wait is over for Indiana Jones and the Dial of Destiny. The number one question we get about new films is if they are appropriate for kids. Here were will share a no spoiler review of the film, and our thoughts on what ages works for our family. Indiana Jones and the Dial of Destiny is rated PG-13. As a mom, I am happy to share my thoughts, but I always suggest you seek out more reviews on family friendly movies and make the best decision for your family.
My husband and I grew up watching Indiana Jones films. We enjoyed the original films with our kids as they grew up as well. Our family was so excited to hear about the newest film. My son and I were able to attend an early screening on the Disney Studios Lot in Los Angeles a few days ago. We both agree it was worth the wait and a perfect addition to the Indiana Jones franchise! We both felt like this film was 'coming home' and revisiting an old friend. It also felt like the end of the book; which is bittersweet.
What age is appropriate for Indiana Jones and the Dial of Destiny?
Age appropriateness for films is such a loaded question that is different for every family. If you believe the original Indiana Jones films were acceptable for your child at the age they are now; I would say that this newest installment is about the same. If anything, I felt this Indiana Jones was less scary than the series of films I enjoyed in theaters in the 1980s. From the music to costumes to lines; this film felt very similar to the ones that captured our hearts decades ago. My kids all watch their first Indiana Jones movie at about 7 or 8 years old, and I believe that is about the age I would have felt safe taking them to see Dial of Destiny. That said; Indiana Jones and the Dial of Destiny is rated PG-13. I will break down how it earned a PG-13 rating below. As far as Indiana Jones films go, I believe the Dial of Destiny is more appropriate for kids than the previous Indiana Jones films.
Dial of Destiny is rated PG-13
This latest installment earned its PG-13 rating. PG-13 can be such a difficult rating to gauge. The 2023 Indiana Jones sequel is rated PG-13 for 'sequences of violence, language, action, and smoking'. Without spoilers, there are deaths, but there is not gore. Much of the film does feel very intense and dangerous, but it is not gory. As someone who grew up on the original Indiana Jones movies, I felt this film was far less violent and scary. Language was present, but not what I believed warranted a PG-13 rating. With the exception of some very tame kissing, there was nothing of a sexual nature.While every family is different; I felt this was a fairly 'soft' PG-13.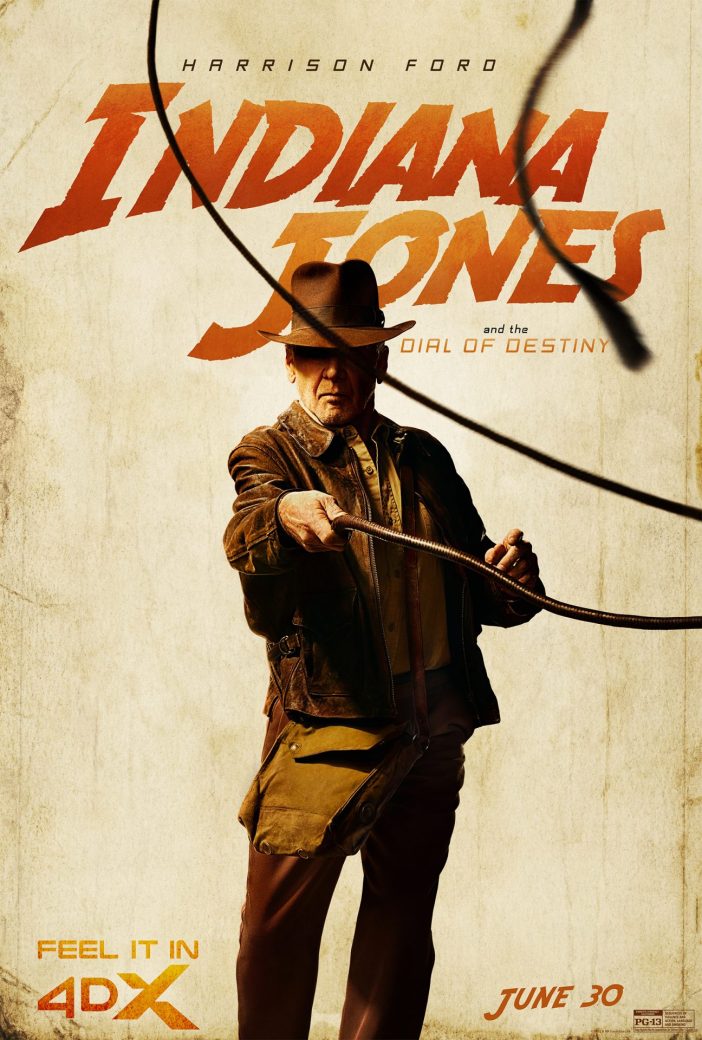 Without giving away plot points, this film is intense from beginning to end. The 2023 Indiana Jones film runs for nearly 2 1/2 hours, and it was non stop action for nearly every minute. It is a perfect summer movie for anyone who holds a special place in their hearts for the original Indiana Jones films. As a general statement; I believe most upper elementary aged children and older would not find Indiana Jones and the Dial of Destiny to be too intense.
Related – Indiana Jones Last Minute Costume Idea Check out our son's costume from a few years back. Our son has been a HUGE Indiana Jones fan since he was a little boy. His costume was a last minute no sew costume that received a ton of compliments. If you are looking for a great tween or teen boy costume, you have to check it out!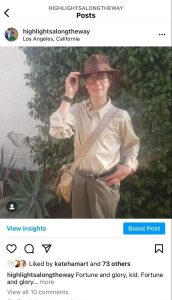 Indiana Jones Activity Sheets – Coming Soon!
Harrison Ford returns to the role of the legendary hero archaeologist for this highly anticipated final installment of the iconic franchise– a big, globe-trotting, rip-roaring cinematic adventure. Starring along with Ford are Phoebe Waller-Bridge ("Fleabag"), Antonio Banderas ("Pain and Glory"), John Rhys-Davies (Raiders of the Lost Ark), Shaunette Renée Wilson ("Black Panther"), Thomas Kretschmann ("Das Boot"), Toby Jones ("Tinker Tailor Soldier Spy"), Boyd Holbrook ("Logan"), Olivier Richters ("Black Widow"), Ethann Isidore ("Mortel") and Mads Mikkelsen ("Another Round"). Directed by James Mangold ("Ford v Ferrari," "Logan") and written by Jez Butterworth & John-Henry Butterworth and David Koepp and James Mangold, based on characters created by George Lucas and Philip Kaufman, the film is produced by Kathleen Kennedy, Frank Marshall and Simon Emanuel, with Steven Spielberg and George Lucas serving as executive producers. John Williams, who has scored each Indy adventure since the original Raiders of the Lost Ark in 1981, has once again composed the score.