Inside Out Review and Easter Eggs
Disney Pixar's Inside Out invites us to meet the voices inside your head. We all have them and maybe it's time we start listening to them.
Riley, a happy 11 year girl from the Midwest has her whole world turned inside out when her family moves to San Francisco. Her emotions; Joy, Sadness, Anger, Fear, and Disgust try to help Riley through this difficult time. Joy tries to keep all things positive and happy all the time (obviously). She begins to struggle because of the stress brought on by the move. This allows Sadness to play a bigger part in Riley's emotional state. The other emotions do not understands Sadness, especially Joy – she thinks all core memories need to be happy, a sad memory would be the worst!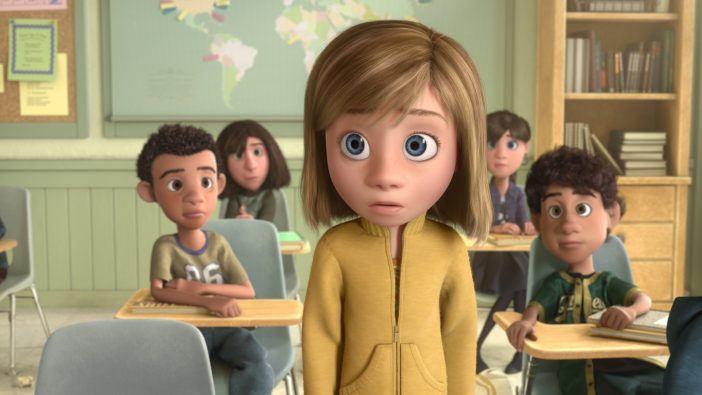 The story is fun and encouraging for the whole family.  The adventures of Joy and Sadness as well as Disgust, Anger, and Fear explain all kinds of fun things we all wonder about.  There is a whimsical explanation for where memories are stored and why they are forgotten. It answers how songs get stuck in your head, what is in your subconscious, and what happens to imaginary friends.
Without any spoilers – this movie reminds us that every single one of our emotions are valid and necessary for us to be healthy.  This is such an important message to kids as well as adults.  This movie is hilarious and whimsical but with a beautiful message that honors our feelings and our children's feelings.

For Disney fans, here are some fun "Easter Eggs" to look for…..
The background memories on shelves inside or outside of Headquarters are shots from the "Married Life" scene in "Up."
As Riley and her parents trek to San Francisco, they come across birds on a telephone wire from production designer Ralph Eggleston's 2000 short film "For the Birds."
The globe in the Riley's classroom has been used in all the "Toy Story" films.
One of Riley's classmates is wearing a camo pattern made up of "Toy Story" characters.
Some of the background city cars of San Francisco have bumper stickers from "Cars."
As a tribute to the Walt Disney Family Museum, the filmmakers set Riley's hockey rink in the exact spot the museum is located in San Francisco.
For those of you that have not seen the trailer yet, here it is below. Check out page 2 of this review for an Inside Out Coloring sheet. Oh yeah, make sure you get there early enough to catch the animated short "Lava" before the movie begins.
Keep reading for a free Inside Out coloring page.