Instant Pot Tikka Masala – Easy and Whole30 compliant!
Disclosure: Highlights Along the Way is a participant in the Amazon Services LLC Associates Program, an affiliate advertising program designed to provide a means for sites to earn advertising fees by advertising and linking to amazon.com.
Instant Pot Tikka Masala is so easy to make.  We were getting so bored of Whole30 compliant food and then I found this easy dairy free and delicious recipe.  The Indian flavors are so delicious and you will not believe that it is Paleo!  This chicken recipe can easily be made with chickpeas if you would like a vegan option, but our kids really love the chicken.  Whole30 and Ketogenic diets can sometimes get dull, but this Keto friendly recipe is the best way to spice up your supper line up! While this is a dairy free version, it is obviously not vegan.  Should you want to make a vegan version of Instant Pot Tikka Masala, it is simple!  We swap the chicken for chickpeas (garbanzo beans) and it is just as flavorful and protein packed! Both versions of this popular Indian food dish are simple and flavorful and easy to make in your Instant Pot.

My Instant Pot is my new best friend. It sat in the box on my counter for two weeks before I finally opened it but I am so glad I did.  We have been cooking with it daily and slowly converting our previous recipes to work in our Instant Pot.  The other night we made delicious and easy Instant Pot Chicken Tikka Masala and it took no time at all! I modified our recipe a bit to even be Whole30 compliant!
First off this, this Whole30 thing is not for the faint of heart. The first two weeks were not easy.  While we eat very healthy, it surprised us how much sugar had a grip on us.  We found not eating out was difficult but also saved a ton of money. We are more than half way through and honestly feel amazing. Our only wish was that we had planned for a few fun recipes from the beginning. We plan on starting the new year with Whole30 every year so this will for sure be on our list!
Whole30 gave us very few choices when eating out but tweaking our favorite recipes has been a fun challenge that has kept us on track. This Whole30 compliant Instant Pot Chicken Tikka Masala is exactly what we needed when we were feeling very restricted. Creamy and full of delicious spices, it tasted like take out from our favorite Indian restaurant without any dairy or junk! Next time we are making a bigger batch because the left overs were even better!
Instant Pot Chicken Tikka Masala
We have made a very similar Chicken Tikka Masala in our Crock Pot, but didn't really love it. The saute feature of the Instant Pot and the fact that the chicken and sauce cooks so quickly is really a selling point in this particular recipe.  I will never part with my Crock Pot, but at least in this case, Instant Pot rules!  Our Instant Pot is 6 quarts, if yours is smaller this should still fit, if yours is larger you can increase the recipe easily.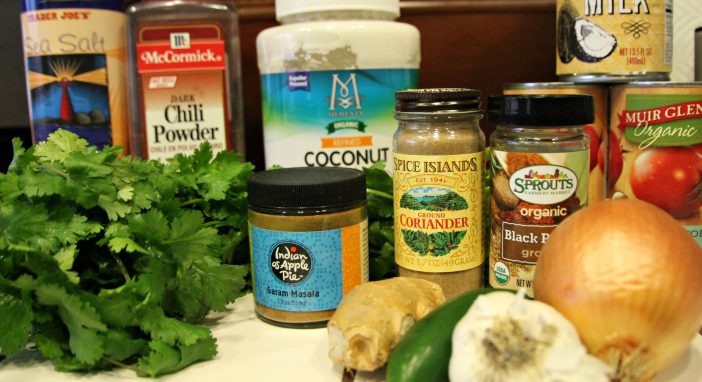 Ingredients
2lbs Boneless Skinless Chicken breast – we like the tenderloin cut
2 14 oz cans diced tomatoes (no salt)
Coconut oil
1 medium sweet onion diced (or more if you would like)
Crushed garlic (or whole clove diced) – your preference (We use about 2 spoonfuls of crushed garlic)
1 small seeded jalapeño diced (keep seeds if you like it spicy!)
1/2 cup – 1 cup whole full fat unsweetened coconut milk (can) – we use 1/2 a cup because it is so high in fat, but a full cup is extra delicious!
1 Tbsp Almond butter (plain – no additives)
1 Tbsp whole ginger peeled and diced (a little goes a LONG way!)
*Optional* We typically toss in a couple other veggies if we have them in the fridge (kale, Swiss chard, or mushrooms often end up being tossed in just for a little bonus nutrients).
*Spices* Garam Masala, Coriander, Chili Powder, Salt, & Pepper
Juice from one lime
Fresh Cilantro (optional garnish)
Spices are flavorful but not 'hot spicy'.  Our kids love this dish, but cannot handle spicy at all. As a general rule, I never measure spices, I just estimate based on our preferences. The spices below are all delicious and complimentary. My general rule is that there is about 2x as much garam masala spice mix in comparison to each other spice. So if you are using about 2 Tbsp of garam masala (which I think is a nice amount), you would use about 1 Tbsp of each other spice.  In general. We are free birds over here when it comes to spices.
Process (this is so easy you guys!)
Set your Instant Pot to "Saute"
Add in Coconut Oil and let melt
Drop in chopped onions and stir for 5 minutes or until softened
Add in all spices and stir in.
Next add in garlic, diced ginger, chopped jalapeño, both cans of tomatoes, any extra optional veggies.
Finally, add in chicken. Spoon sauce mixture over so chicken is covered.
Lock the lid on your Instant Pot making sure the vent is sealed and press the Manual button. Put on timer for 16 minutes. Walk away and do something fun…. or in my case; laundry.
After 16 minutes is up, open the valve. Once steam has escaped, take the lid off.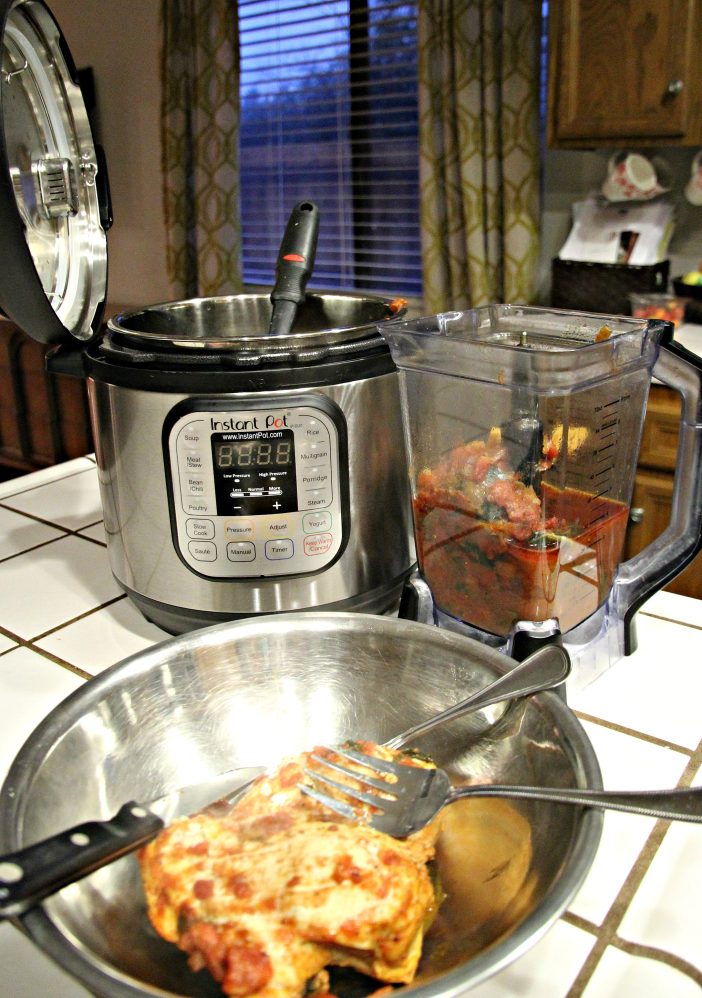 Take chicken out of the Instant Pot and place in a bowl and shred with two forks. Place to the side.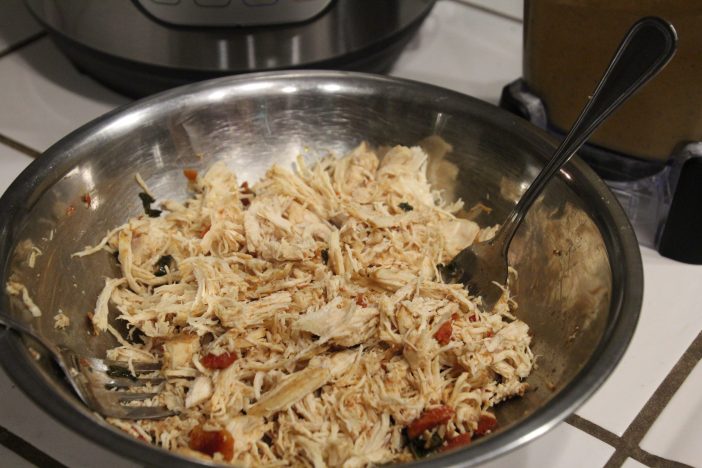 Put mixture in your blender (we use this Nutri Ninja for EVERYTHING!). Add in coconut milk, lime juice, and almond butter. Blend until smooth.  Add to the chicken and stir.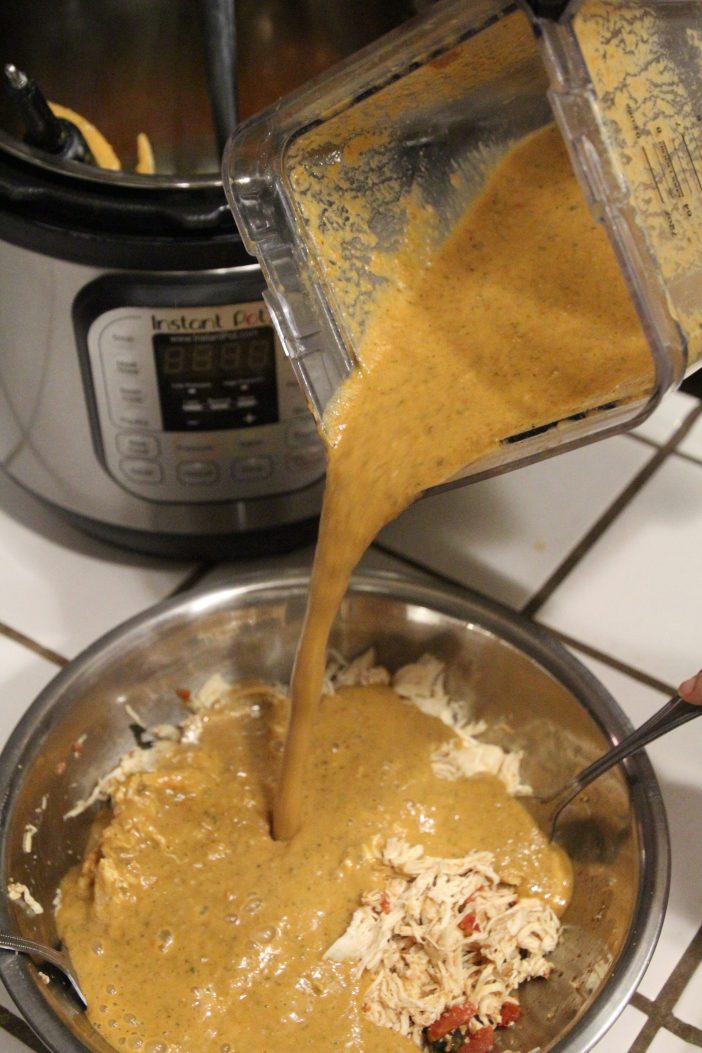 Place on a bed of Cauliflower rice to stay within Whole30 guidelines, or any rice if you are living care free!
Garnish with chopped cilantro (optional).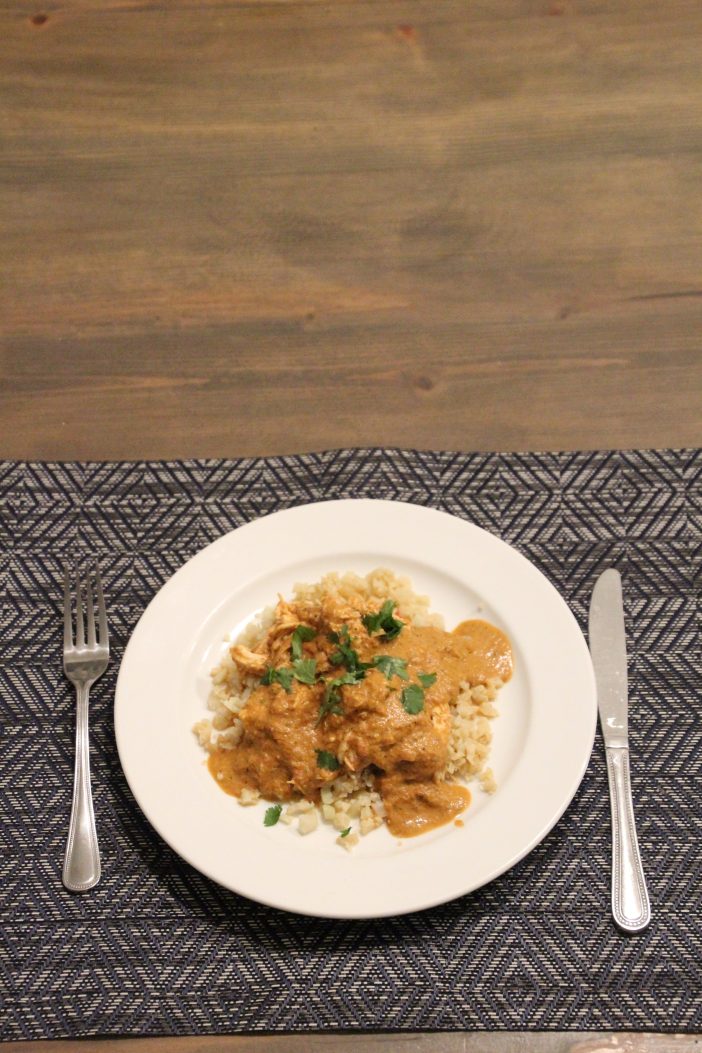 Voila! Dinner is served! Start to finish (including a little chopping) took less than an hour. It would take longer for me to rally my family into the car and go out for dinner.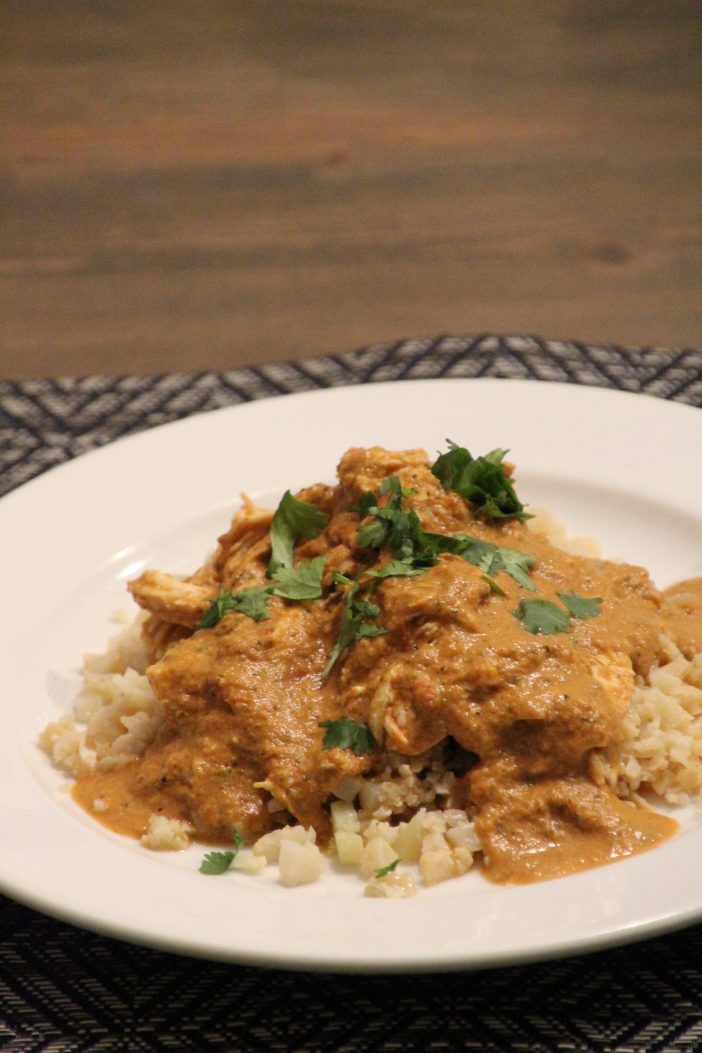 The above Instant Pot Chicken Tikka Masala recipe is made with Whole30 compliant ingredients, it is Paleo, and Dairy FREE! We have made similar Tikka Masala in our Crock Pot (same spices and ingredients mostly) and the longer cook time I think took some of the flavor away.  This Instant Pot is so much faster and flavorful. Oh, and it is so freaking easy you will feel like are cheating when your whole family is all "You are an amazing cook!" Give it a try. I doubt you will miss the additives or cost of take away!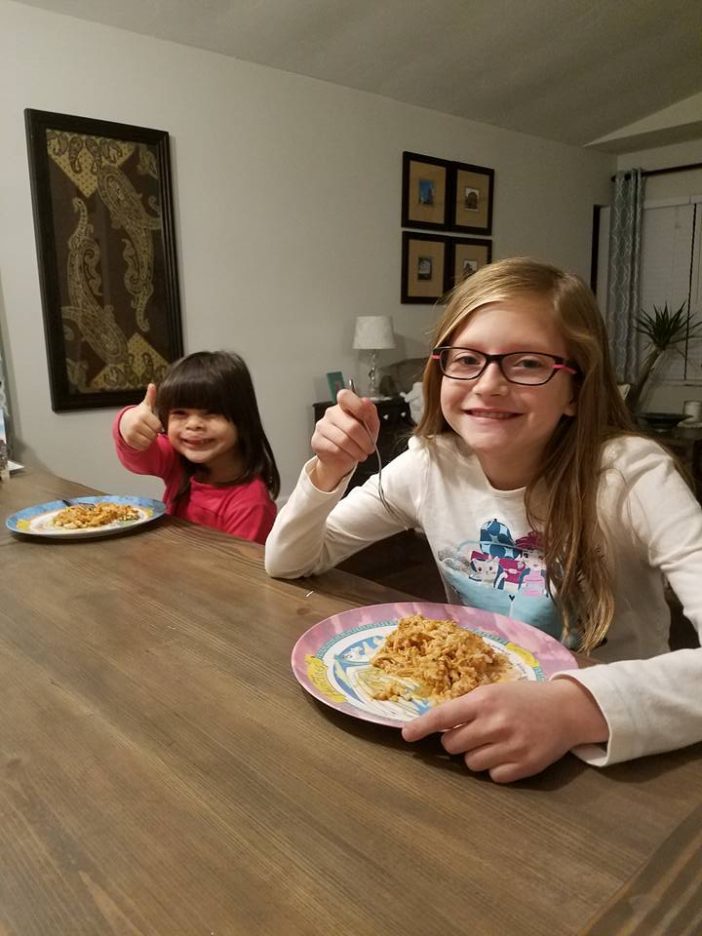 Kid approved Chicken Tikka Masala – made in our Instant Pot! Yum!
If you like – make sure to put a pin on it! https://www.pinterest.com/pin/237846424050767079/