An interview with Mark Rylance and Jemaine Clement from The BFG
Disclosure: I attended a press junket for The BFG hosted by Walt Disney Studios. Posts were expected, but all opinions are my own.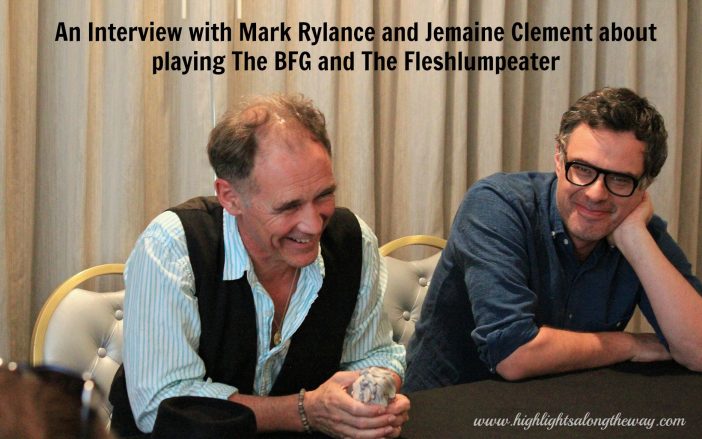 We are just a few days away from The BFG opening in theaters and our whole family cannot wait!  As most of you know, I had the honor of walking the red carpet and attending the Hollywood premiere of The BFG and I am here to let you know it is pure Disney Magic!  More on that soon, but first I want to share with you some of the highlights of an interview with Mark Rylance who plays the BFG as well as Jemaine Clement who stars as The Fleshlumpeater. Our group was excited to hear what goes into the making of these characters that are a combination of live action and motion capture with animation.  The mystery and fantasy of the giants is what makes The BFG such an awesome story, I was thrilled to hear what goes into bring them to life on the big screen!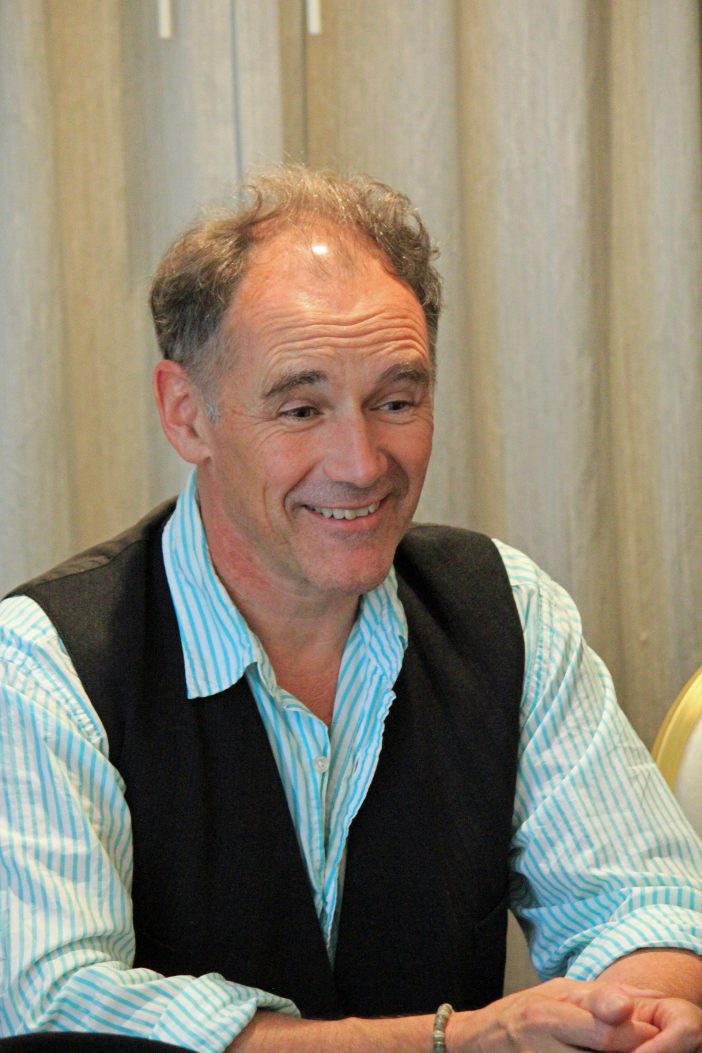 Photo Credit Lovebugs & Postcards
Mark Rylance was first asked what goes into preparing for a role and getting into character for The BFG.  He shared first that an actor setting up for a day of filming for motion capture takes quite some time, and that provides some time to get into character.
"Every morning it took about an hour and a half of them sticking glow in the dark mar– marbles on us and battery packs and having a lot of painted dots painted on, about 45 minutes of having dots painted on your face through like a hockey mask, a tight hockey mask.  So there was a lot of time to think and listen to music or  just get yourself in a certain head space. Apart from that I don't know how you prepare but it's just playful, you know it's the same as ever, you just start to play like a child really."
One blogger asked if it was hard to speak giant.
"Very hard indeed." replied Mark.  Some may know from reading the book that giants have their own unique language in The BFG. He kind of joked saying "I don't think there are any actors in the world that could have done what Jemaine and I have done."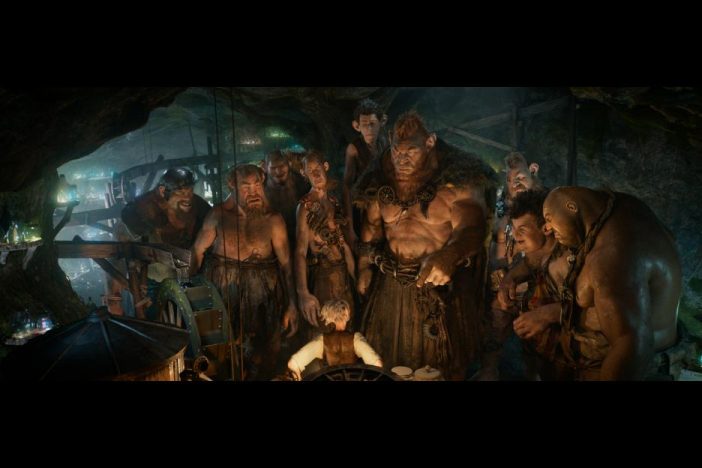 Jemaine Clement quipped in "What is that actually, it's improvising in giant."
Mark shared "Improvising in giant, yeah it's like improving in Shakespeare, it's tricky." and when asked if he was willing to improvise in giant on the spot he declined, but he did share his favorite gianty word : telly-telly bunkum box
We of course could not interview Mark Rylance and Jemaine Clement and not speak about whizzpoppers.  Readers of The BFG know that somehow Ronald Dahl made tooting whimsical.  As one might assume, the conversation went there….
Mark asked the crowd "Are you all happy about your kids having the whizzpopper word?"
Many of the mom bloggers in the room agreed that this was an appropriate word. Mark shared a funny story and his thoughts on the word 'fart'.  'Fart' is one of those 'Kid cuss words' in our house, kids aren't supposed to say it, but it isn't like a 'real' bad word.  Apparently people who feel this way shock Mark Rylance!
"An English mum just told me that her son went in with a story and it included the word fart and the teacher rejected the story and said other parents would be really offended, that fart was a swear word. I don't think fart's a swear word."
Many of the parents agreed with him, but also that 'whizzpopper' was a much better word!
Jemaine Clement added "For people to have known what it is they have to have read a book."
This is the brilliance of Dahl's writing friends, that toots are charming and show you are well read when you use a secret language!  I could not agree more, my kids can say 'whizzpoppers' all day long.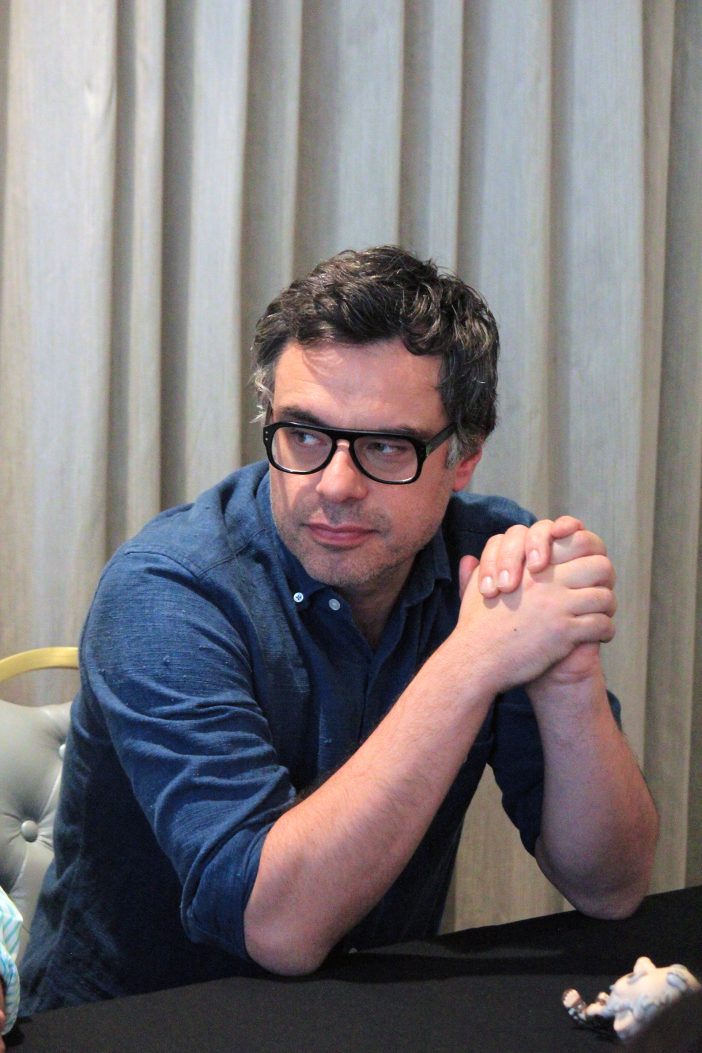 Photo credit Lovebugs & Postcards
Jemaine Clement plays The Fleshlumpeater which sounds quite scary, but anyone who has read The BFG knows the giants are all kind of idiots. Giants are man eaters, but also really ridiculous.
One person asked  "Jemaine, how much fun did you have with this particular giant? He's very scary but at the same time he's hilarious."
Jemaine responded "Yeah he's really fun, he's really fun.  The bad giants would get to rehearse our motion capture and just walking around like big, lumbering lumps of meat, and that was really fun. Smashing things and intimidating people and being stupid is fun."
When asked if their kids were enjoying the movie Mark Rylance said his boys liked it very much.  He said one son in particular was very influential in helping him find The BFG's voice.
When asked if there was a lot of ad libbing by the actors they surprised us all by saying there was some ad libbing, but not a lot.
Jemaine Clement said "….the vocabulary reins you in a lot."
Mary Rylance shared that the actors who played the giants did more improvising than when he and Sophie were together.
"Yeah I think we ad libbed because he's (meaning Jemaine Clement) a genius ad libber and a lot of the giants actually were really such clever improvisers and comedians and stuff so there was a lot of space.  Steven wanted the bad giants to expand, from what Roald Dahl had written and each of them to have characters and things like that. Sophie and I stuck pretty closely to the script that Melissa had written; the adaptation of the book. I don't think we improvised much.  I probably put in lots of little noises and things like that between the lines."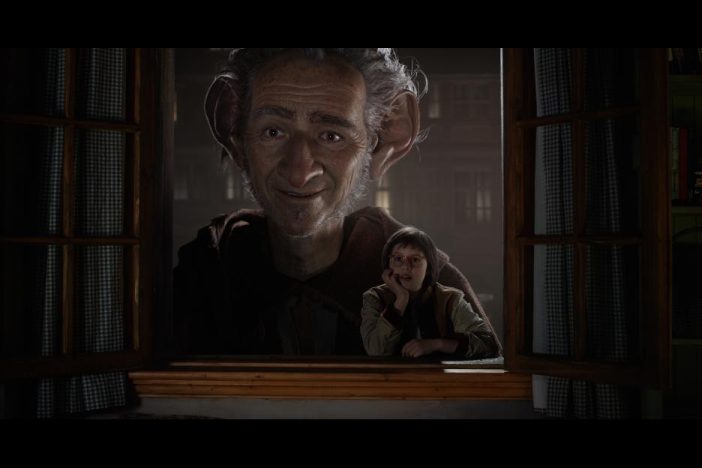 When asked if he had a favorite scene with Sophie, Mark had such a genuine answer.
"Oh, so many of them.  I think the thing that someone asked me on television this morning what was one of the difficult things about being BFG and the most difficult thing is letting a young person go.  Every parent has to do it. My parents are both teachers, high school teachers so every year, I would know that there were favorite kids that really resonated to their work or were witty or just wonderful kids and it was always sad every year that those kids had to go off. They had to go off to college and to marriage and their lives and so that thing of being an adult who really loves a young person, and if you really love them you have to encourage them to leave you and to go away."
He continued with " a scene I love very, very much, it's on the hill at the end and she doesn't even want to go away, she thinks she's gonna stay and live there, but he knows that she's got a wider life to lead."
My favorite question that is always asked about kids movies was up next. "What do you hope kids come away from this feeling. What are you hoping their reaction is?"
Mark's response was lovely as one might expect.
 "Well, I think that, you know the film tells a story of what kids have to offer older people. Older people get tired, they lose faith, they think maybe the world is just a jungle, a dog eat dog kinda thing and nothing will change. So best to just do the best I can, give some money to charity, maybe, you know, be kind to some people, but the big problems?… nothing's gonna change and we get tired.
Young people don't have this.  There's still the bravery and the hope like Sophie does to say "No, I think we don't have to put up with this, we can stop these people eating kids,let's go to the Queen."  There's such a lot of criticism of young people and things seem so hard for them, certainly for my daughters, life looks so difficult and hard but they're so essential and  that they keep their bravery and hope and pressed down by fears and the apathy of older people.
It's not their fault we're just tired, but I think that young people can change things. Things can change you know?  So that's a good thing.  I also think that you can get into phrases as a young person where you feel really alone like Sophie does, and isolated or with no friends, but the thing that happens to her because of that is she develops this great imagination.  And when she does meet a friend, it's her imagination that's able to really solve the situation.
So there are good things even in the worst situation.  You know, so many great adults have grown out of very difficult childhoods where they've been bullied or they're been poor or they've been lonely or isolated and, not to give up hope in those situations I guess I would have said that to myself when I had difficult times when I felt bullied or whatever.  But those are the times that… it's like Bob Dylan says, 'where did his imagination come from?' people ask him, he said, 'well if you sit in a house for seven months of the year looking out at freezing cold snowy weather in Hibbing, Minnesota you develop an imagination.' "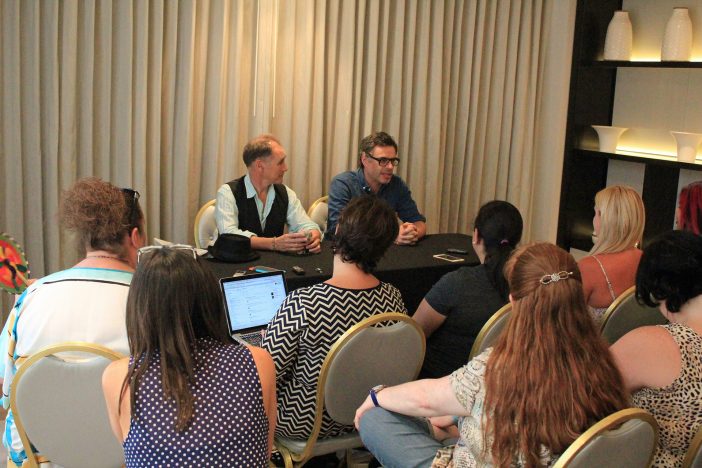 photo credit Lovebugs & Postcards
One blogger asked "Jemaine, you really can't have redemption without having a great villain and Disney stories are known for their heroes and their villains and both of them are seared into our memory so, what kind of went into creating this villain that was gonna scare kids but yet they know that that's part of the redemption story?"
Jemaine had a fantastic answer  "You know….. I think I see the bad giants are kind of a satire of adults and that they're very stuck in their ways and fearful of things. They're so stupid that they're dangerous, you know without realizing it.  And that's, you know, it can be funny but also there's there's no reasoning with these characters because they won't understand and they don't care.  The redemption, there's no redemption from these villains, they're just, um, it's really for the BFG's character, he needs Sophie to help him overcome them."
Without giving any spoilers, I will say that throughout the interview there were hints at hoping for a sequel!  I know my kids will be crossing their fingers for that, but until then, The BFG opens in theaters on Friday July 1st – check out the trailer below….
Thank you to Mark Rylance and Jemaine Clement for taking the time to sit down with us for an interview.  Our readers love hearing about what goes into making a movie and it was incredible to meet you both!