Is Jurassic Quest too scary for little kids? *VIDEO*
Disclosure: Thank you to Jurassic Quest for hosting our family!
Jurassic Quest Drive Thru is a touring Covid cautious event for the whole family. The Dinosaur themed drive through event is currently in Pasadena at the Rose Bowl through the end of the month, but has stops all over the US coming up! Drive through events have become a very popular form of safe entertainment for families thanks to social distancing precautions. Many little kids love Dinosaurs but parents are wondering if Jurassic Quest is too intense and scary for little kids.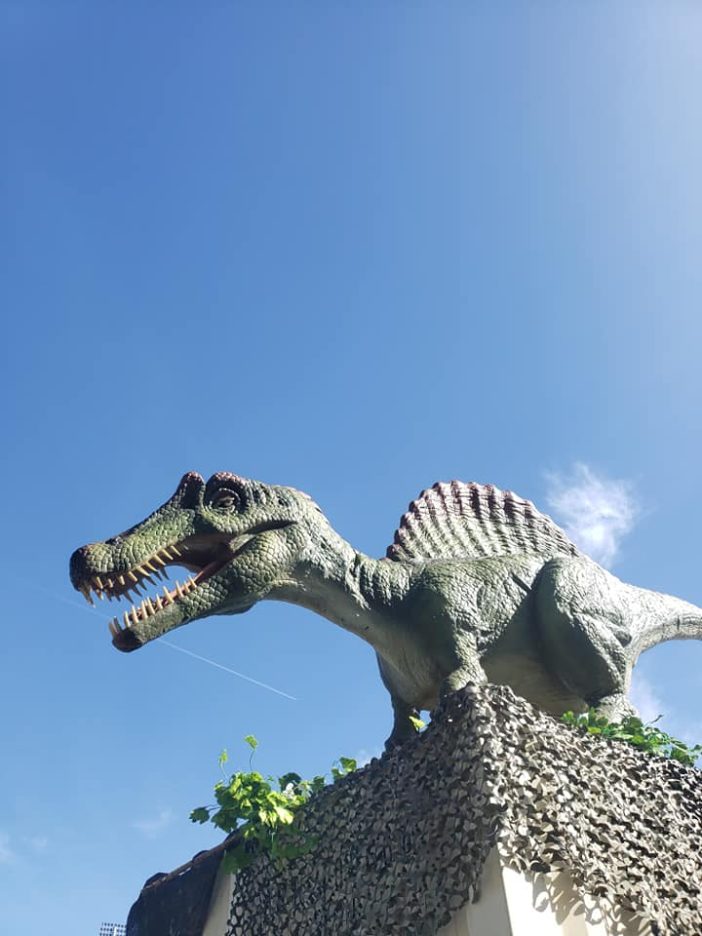 While I believe every family should make a decision for themselves, I do not believe North America's Largest Dinosaur experience is too scary for little ones to drive through. Jurassic Quest used to be a more hands on event, but the drive thru option is a great pivot for this time.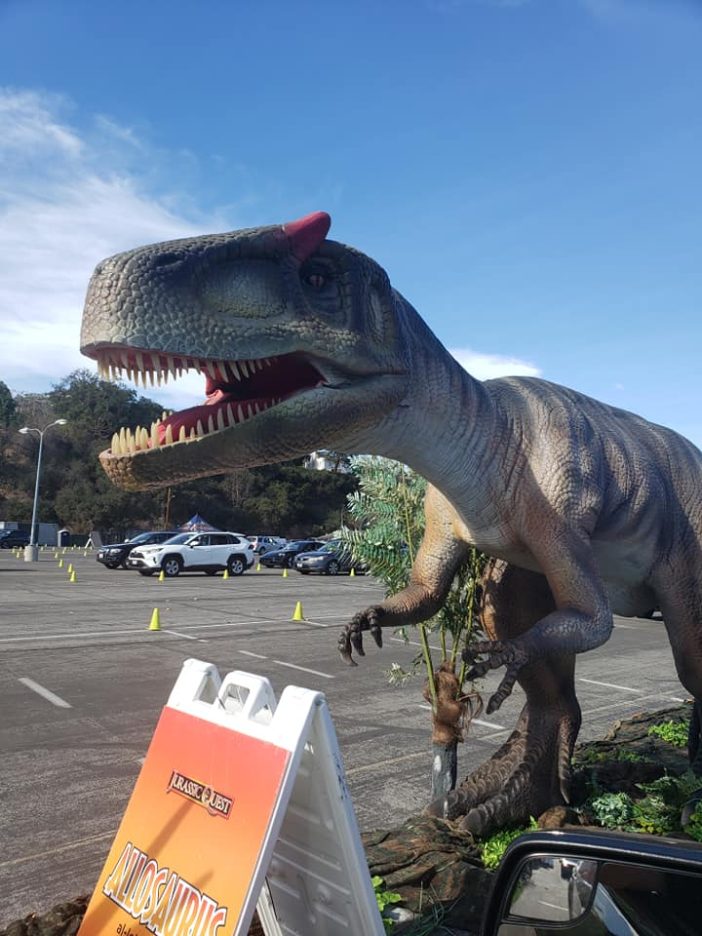 What is Jurassic Quest?
The Jurassic Quest Drive Thru,the nation's largest touring dinosaur exhibit featuring more than 70 photo realistic dinosaurs. The cross country tour begins its Los Angeles. Moving dinosaurs and an informational track you can play from your phone are fun for any dinosaur enthusiast.
The Jurassic Quest Drive Thru transforms the outdoor parking areas of these iconic SoCal venues into an interactive drive-thru experience, featuring more than 70 moving and life-like dinosaurs, as well as a 50 foot-long Megalodon!Jurassic Quest's herd of animatronic dinos are displayed in realistic scenes that allow guests to experience them roaring and moving as they drive through the tour.Although the drive-thru experience means visitors will stay safe inside their vehicle, they'll still need to avoid the roarsome T-Rex!
Jurassic Quest worked in collaboration with leading paleontologists to ensure each dinosaur was painstakingly replicated in every detail, depicting how we understand dinosaurs looked and moved. The Jurassic Quest Drive Thru is the only place to encounter some of the largest dinosaurs to ever roam the Earth, and some of the eeriest marine creatures to ever lurk the ocean's depths, from the safety of your family vehicle.
How Long is the Drive Thru for Jurassic Quest?
We attended opening day at the Rose Bowl. Our drive through was just over 50 minutes. Jurassic Quests advertises a 45 minute drive through experience and I would say that is very accurate. We attended on a sold out day but were still able to drive right up and enjoy without waiting more than 5 minutes. Cars weave back and forth through a parking lot at about 5 miles per hour. A fun track plays in the car with information and cheesy jokes that left our kids entertained from start to finish.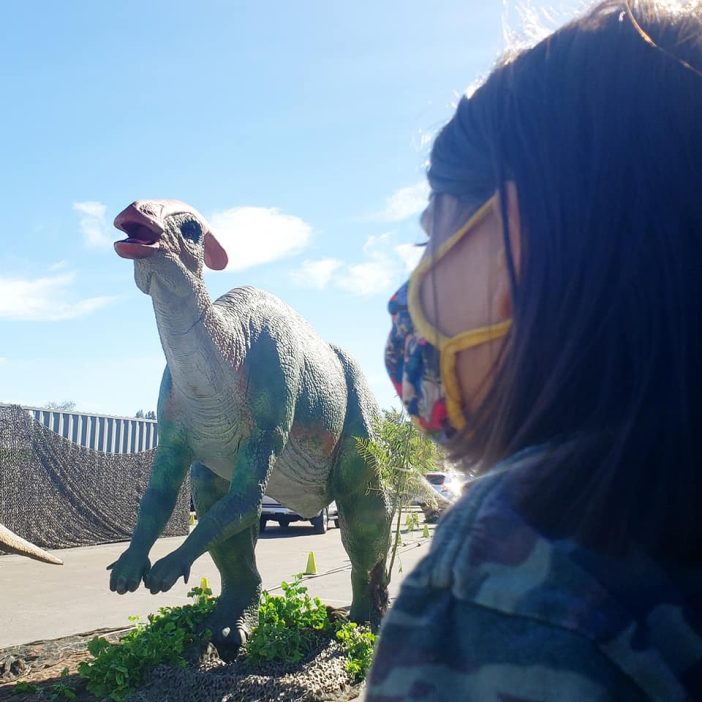 Is Jurassic Quest too scary for little kids?
As a parent of three easy to scare kids, this is always my first question. We sat out many events when our kids were little because I knew they would be too scared. Jurassic Quest was not an event that I think would have scared any of my kids when they were very little. If your kids scare easily I would say that a daytime drive through would be less intense than at night time. While your car gets close to Dinosaurs that move, the movement is minimal and they are on a stationary base. The audio track that you listen to is not at all scary; even when one of the dinosaurs 'escapes' it is not too scary in my opinion. The dinosaurs are very big, but not intense. Designed to be thrilling but not scary for our littlest adventurers, big or small, young or old, guests of Jurassic Quest have a dino-mite time!
Is Jurassic Quest fun for older kids?
Our older kids are almost 15 years old. Every kid is different, but our big kids (boy and girl) both really enjoyed themselves. I personally wondered if they would enjoy it enough to have them come along, but I am so glad they came. They both loved taking pictures of the dinosaurs and affectionately compared the jokes to "The Jungle Cruise" at Disneyland.
What are the tour dates for Jurassic Quest
With many days already sold out during its two-week run at the Rose Bowl, the fun-filled drive thru experience will migrate to two other SoCal destinations:
Rose Bowl Stadium in Pasadena: Jan. 15-31

OC Fair & Event Center in Costa Mesa: Feb. 5-14

Fairplex in Pomona: Feb. 19-28
You can see other tour dates listed for Jurassic Quest here. There is an option to sign up for information for when they may be coming to a city near you!
Discount tickets available for Jurassic Quest
There is a great deal at some Ralphs Locations for $10 off tickets (20% off!) – details here.
Jurassic Quest has been selling out at locations all over. While discount tickets may not be available, I have seen Jurassic Quest listed on Groupon in the past. Prior to buying tickets, I would just search Groupon just in case. That said, Jurassic Quest is a $49 flat rate per car. The $49 fee includes a digital photo of your car enjoying the ride as a souvenir. When compared to other drive through entertainment, this price is one of the best prices I have seen! Even without a discount the Jurassic Quest event is a fairly affordable covid cautious outing. A family of five like ours can enjoy a fun outing for less than $10 per person! Up to 8 guests can enjoy a drive thru for one $49 ticket (info below about larger vehicle options.
COVID-19 PRECAUTIONS
Jurassic Quest takes extra precautionary measures to provide a clean and safe event and operates under COVID-19 safety protocols in accordance with county, state and CDC guidelines. Guests are to remain in vehicles and to wear masks in the event they exit the vehicle in allowed areas. Social distancing rules are requested of all guests and maintained by Jurassic Quest crew. We sanitize equipment, dinosaurs and workstations frequently and thoroughly throughout the entirety of the event. Our employees apply hand sanitizer and wash hands regularly throughout each day, in addition to wearing masks. Guest safety and enjoyment is our top priority.
TICKETS For Jurassic Quest
Jurassic Quest Drive Thru adventurers must buy tickets in advance online at www.jurassicquest.com. Tickets are $49 per vehicle (up to 8 people) and include a 100% ticket guarantee that in the event of a show cancellation or postponement for any reason, ticket purchases will be automatically refunded. Guests must travel through the drive-thru in the comfort of their own vehicle – no rentals or golf carts will be provided, and walkers are not allowed. To ensure participant safety, all guests must ride inside their vehicles (yes, pets inside vehicles are allowed). No riders in truck beds and trailers are not allowed – we're worried they might tempt the hungry dinos too much! Oversized vehicles and vehicles with 9 or more riders are permitted but will need to contact Customer Service, customerservice@jurassicquest.com, for pricing and scheduling. A full list of Frequently Asked Questions can be found online at https://www.jurassicquest.com/drive-thru-faqs.
Cost for entry: $49 per vehicle: includes entry, audio tour and digital photo souvenir
ABOUT JURASSIC QUEST
The largest and most realistic dinosaur exhibition in North America, currently touring as a drive-thru only. With animatronic land and water dwellers, Jurassic Quest is the only dinosaur event that features up to 100 true-to-life-sized dinosaur replicas from the very small, to the gigantic, to those found under the sea. Guests will see their favorite dinosaurs move, roar and roam and have the chance to interact with baby and adolescent dinosaurs, including the T. Rex, Triceratops, Megalodon and many others.
Everything comes bigger in Texas, and Houston-based Jurassic Quest has been mounting epic dinosaur experiences since 2014, treating millions of people around the world to an as-close-as-you-can-get look at the giants that ruled the Earth and sea millions of years ago. Developed in hand with leading paleontologists, Jurassic Quest dinos featuring realistic movement and sound have brought more than 1.5 million fans a safe family adventure option via new drive-thru experiences. For more information and to buy tickets visit www.jurassicquest.com.
Thank you to Jurassic Quest for hosting our family!