Isabella – Phineas and Ferb Costume (DIY NO Sew!)
Disclosure: Highlights Along the Way is a participant in the Amazon Services LLC Associates Program, an affiliate advertising program designed to provide a means for sites to earn advertising fees by advertising and linking to amazon.com.
Phineas and Ferb fans, check it out! Isabella is a super cute and easy costume! We love a great costume based on an animated character, and we are thankful our friend,Cassidy was kind enough to share her costume based on the Disney Channel cartoon! A couple key pieces you can easily find online make this simple pink costume come together.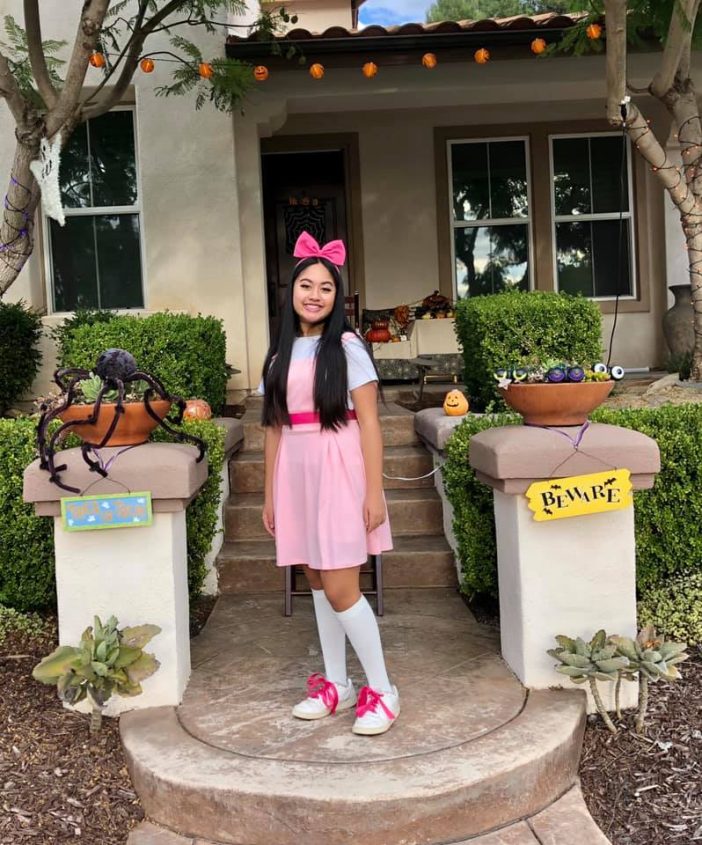 First off, please follow our friend Cassidy Arabe on Instagram. She is creative and compassionate. We have been fortunate enough to watch Cassidy grow up as we were part of the same musical theatre program at school. Cassidy has recently begun sharing live concerts on Instagram where she raises funds for causes dear to her heart.
Who is Isabella on Phineas and Ferb? If you are not familiar with the show (WHAT?!)…. here is a cute clip….
While I have your attention, if your kid (you) enjoys Phineas and Ferb, you probably want this book in your collection. My kids have read it multiple times each. "Shipwreckers" was written by the minds that brought us Phineas and Ferb – so you'll prolly want to get a copy. It is $6 for a kindle copy or $8 for a paperback.
OK, back to the Isabella costume….
Simple items needed for an Isabella Costume!
One Giant Pink Bow
Pink Overalls
White Tshirt – you may have this already!
Tall white socks – you may have these already too!
Isabella's shoes are technically pink, but if that isn't something you will wear again, we suggest doing what our friend did – just add in pink laces to white shoes.
"We bought the pink ribbed ribbon from Joanne's Fabrics. 1.5 inch wide for the belt (tied in the back), 5/8 inch wide for the shoe laces. $6.49 for both" – Cassidy's mom.
Thank you to Cassidy, for sharing your adorable costume! We might just need to do a Phineas and Ferb group costumes next year!