Jane & Michael Banks are all grown up in Mary Poppins Returns!
Disclosure: #MaryPoppinsReturnsEvent was hosted by Disney. This site uses affiliate links.
Mary Poppins Returns opens in just a few days and our family can hardly wait!  In this much anticipated sequel, the adorable Banks children are grown up and trying their best to raise the newest generation of Banks children.  Jane and Michael Banks are some of the most cherished book and movie characters of all time.  Emily Mortimer and Ben Whishaw are the talented actors that play Jane and Michael Banks in Mary Poppins Returns. While in Los Angeles for the press junket and red carpet, I was able to participate in an interview with the pair. I am excited to share what they had to say about becoming Jane and Michael Banks.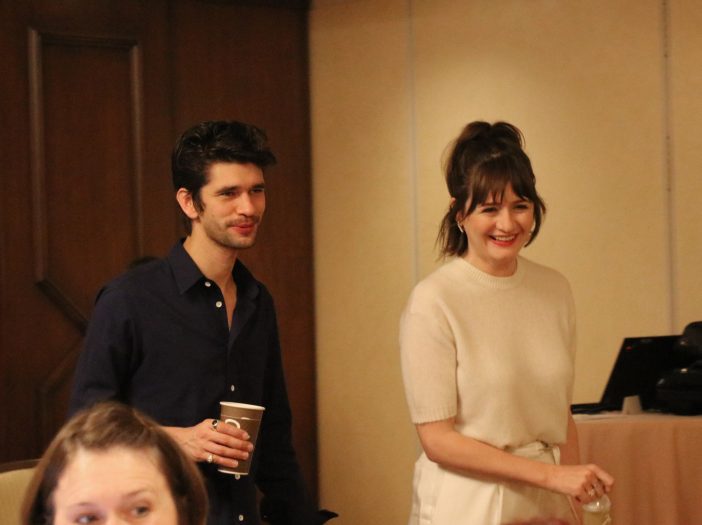 Look at these two, playing the grown Banks children seeing their magical nanny for the first time since childhood…..
When asked if her children had seen the film yet, Emily said they had not yet, but were excited. Both are fans of the first film.
"They're psyched!  They're totally pumped about the whole thing."   She shared a funny story about the unlikely thing that her daughter  May seems most excited about. "And May found my picture in this.  We were in Barnes & Noble the other day and she found the book of Mary Poppins Returns, which I didn't realize they'd even… done the book of Mary Poppins Returns, but there was Emily Blunt was on the front.  And then she found a photo of me.  And she's never been more impressed by me ever.  It was so funny.  She kept telling everyone we met. ' Mom's in a book!'." Apparently she was far more impressed with her mother's picture in a children's book than the being in the movie itself. Go figure!
As with most of the cast, Ben and Emily were director Rob Marshall's first pick for their roles. When asked what that meant to them, they echoed what a lot of people have to say about Rob Marshall.
Ben "Well, when Rob likes you, he really, really, really, really does not hold back. You feel his love.  You feel his excitement about what you might bring To the table.  And some directors don't have that quantity.  I really, really value that.  You know? In a way that's everything…"

Emily agreed and added "My dad always said that if you tell people they're beautiful or wonderful and clever and talented and special and amazing, they are."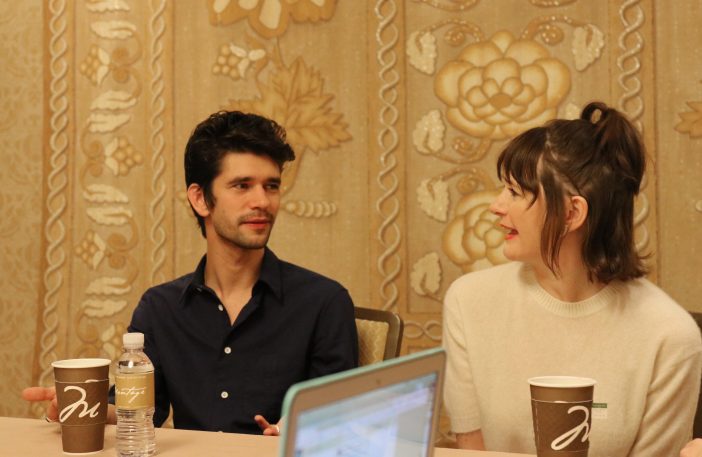 The two spoke at the same time, finishing one another's sentences.  They said this is just Rob Marshall's way. He truly just believes the best of people and he draws out their very best work. They agree that they just believed him when he let them know he thought they were the best actors for the job.
Emily shared about how the actor who played the original Jane Banks, Karen Dotrice plays a small cameo. It is quick, but true Mary Poppin's fans will know her immediately because she ends with a line from the original film.  Karen was on the set for just one day, but she shared a lot about what it was like to be on Cherry Tree Lane again. While Mary Poppins Returns was filmed in London, the original Mary Poppins was filmed on a set in Los Angeles. It was very special to have Karen as well as Dick Van Dyke on the set. "It felt so validating that they were excited about it, and into it."
When asked what scene was the most challenging, Ben quickly shared that a scene at the end with balloons was the hardest for him. "I think that the final scene when we're on the balloons was quite challenging.  I mean, everything was.  But that had to be the climactic moment, you know?  It's weirdly much easier sometimes to play misery, and kind of grief or whatever.  But being open-hearted and happy can be quite hard…"
"We were really lucky.  We just immediately got on, and enjoyed each other's company."  said Ben about their perfect on screen sibling chemistry.
Just for fun : "What do you do for fun?"
Ben : "Yeah.  None of them are healthy.  If I'm honest with you." which got lots of laughs all around.
Emily : She said it is a cliche, but true, that experiencing the life as a movie star through her kid's eyes "When you bring your kids, you see it through their eyes, and, and you appreciate it."
Read our full review on Mary Poppins Returns before buying tickets. Mary Poppins Returns opens in theaters everywhere on December 19th.  Audiences are already excited so it is a good idea to  purchase your tickets through Fandango and skip the lines! As always, thank you to Disney for having me along for #MaryPoppinsReturnsEvent – it was practically perfect in every way!  Check out the Stars on the Red Carpet! And of course, thank you to Ben and Emily for taking the time to chat with us!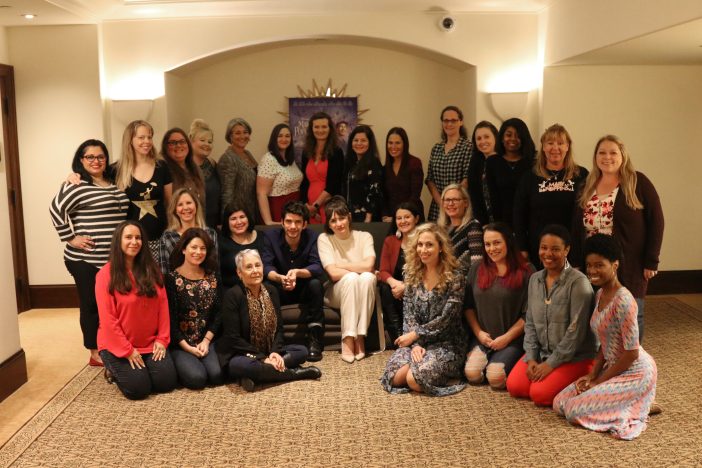 Follow along on social :
Twitter:           https://twitter.com/disneystudios
Instagram:       https://instagram.com/marypoppinsreturns
The official Hashtag: #MaryPoppinsReturns
Photos are by Disney and WhiskynSunshine and used with permission.