Jurassic World – The Ride – Universal Studios Hollywood
Disclosure: Tickets provided by Universal Studios. This site uses affiliate links.
This past week we got the chance to visit Universal Studios Hollywood. Our family loves to visit Universal Studios when we are in Los Angeles. While we were excited to see old favorites, we were especially excited to check out the new Jurassic World ride. We love theme parks, but what we love most about Universal Studios is how it brings some of our favorite movies to life. If you love the Jurassic Park films, you will love experiencing the films up close and personal. Don't miss our other articles about Universal Studios Hollywood. If you are looking for a fun family adventure, Universal Studios Hollywood is a great destination.
13 Pictures of the Wizarding World of Harry Potter!
Celebrate Grinchmas at Universal Studios!
Saving Money at Universal Studios!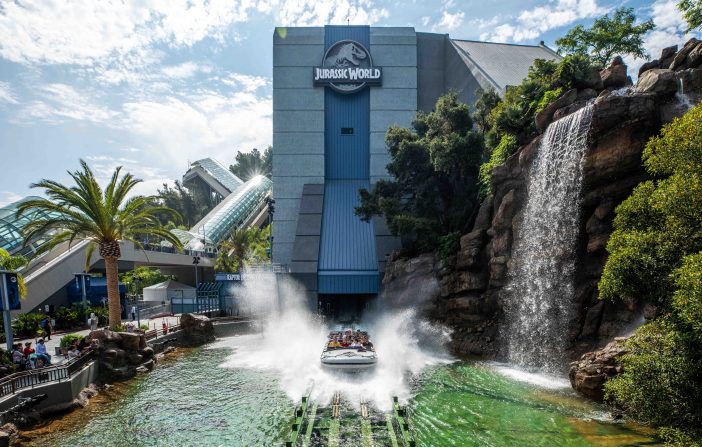 "Jurassic World—The Ride" features an original storyline that takes guests on a breathtaking excursion through the theme park as depicted in Universal Pictures and Amblin Entertainment's film, JURASSIC WORLD. It soars to new heights with the addition of iconic dinosaurs from the movie, including the colossal Indominus rex and the magnificent aquatic Mosasaurus in her natural habitat. The ride also features the stars of the JURASSIC WORLD films – Chris Pratt, Bryce Dallas Howard and BD Wong who reprise their roles as Owen Grady, Claire Dearing and Dr. Henry Wu.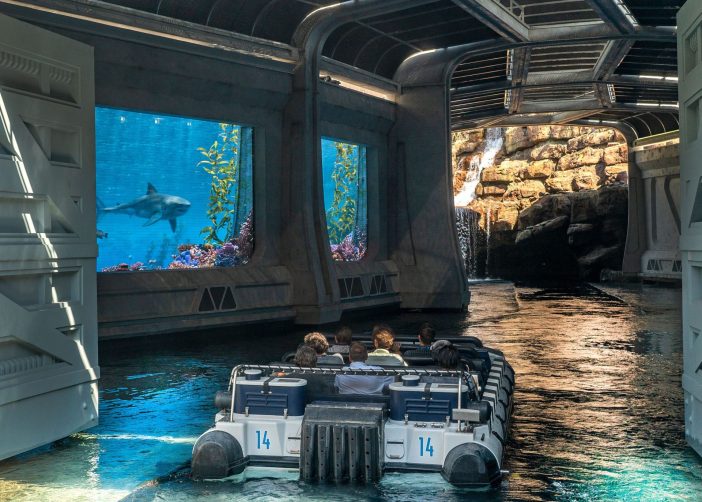 The mega attraction captures the essence of the blockbuster movies and comes to life in collaboration with the award-winning and inspired minds at Universal Creative, the Academy Award®-winning special-effects visionaries at Industrial Light & Magic, a division of Lucasfilm, Ltd., Universal Pictures and acclaimed filmmakers Steven Spielberg, Colin Trevorrow and Frank Marshall.
Things to know about Jurassic World ride at Universal Studios Hollywood
You will absolutely get wet. You won't maybe get wet. You will get wet, probably drenched. I highly suggest riding this ride earlier in the day when it is warmer and the sun will help dry you off. I also suggest bringing a poncho, but it will not keep you entirely dry.
It might be scary for very little riders. There are a lots of dinosaurs and prehistoric animals that move and scare riders.
The ride can be very long, but they do offer a 'single rider' option that will save lots of time!
The store just outside the ride is a ton of fun for dino fans, make sure to spend some time in there, even if you are just window shopping.
The Raptor Encounter is a family favorite. The raptor might trick even the oldest of guests into thinking they might have been brought back to life. A Chris Pratt look a like actor plays a very convincing dinosaur wrangler. Make sure to get a picture with both the trainer and the dinosaur! Located adjacent to "Jurassic World—The Ride" is a new elaborately themed "Raptor Encounter" where Blue, the most beloved Velociraptor from the JURASSIC WORLD franchise engages guests in daring face-to-face encounters. Brought to life by employing the exact computer-generated model and images used to create her for the big screen, Blue tips the scales at a hefty 750 pounds, towering 15 feet in height and 13 feet from tail to snout, and succumbs to highly skilled handlers who adeptly guide her to within feet of guests!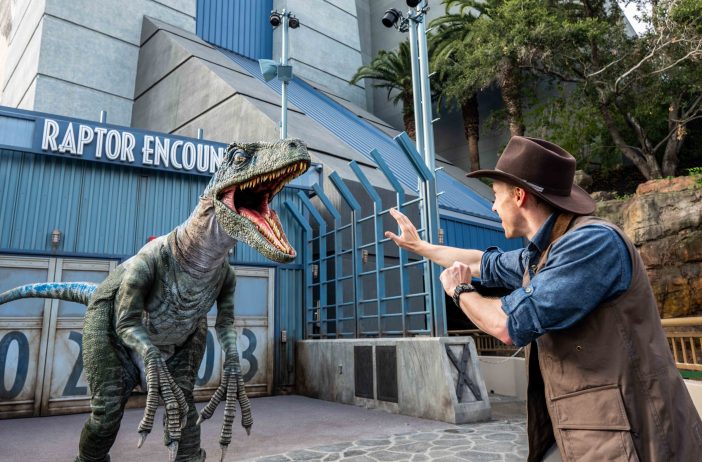 We have enjoyed seeing the Raptor experience in years past, but there was a new dinosaur to meet this trip. Just recently, Juliet the three year old triceratops is available for visits several times a day right across from the Jurassic Park ride. Juliet will walk out with a dinosaur trainer and do a few tricks a few times each day. After she is introduced, guests are invited to pet her! It was so fun to see dozens of kids wait their turn to pet a 'real' dinosaur!
Thank you to Universal Studios for hosting us for the day! It is always fun to get a sneak peek and feel like we are a part of the movies we love. We can't wait to visit again!