Kale and Quinoa & Beyond Meat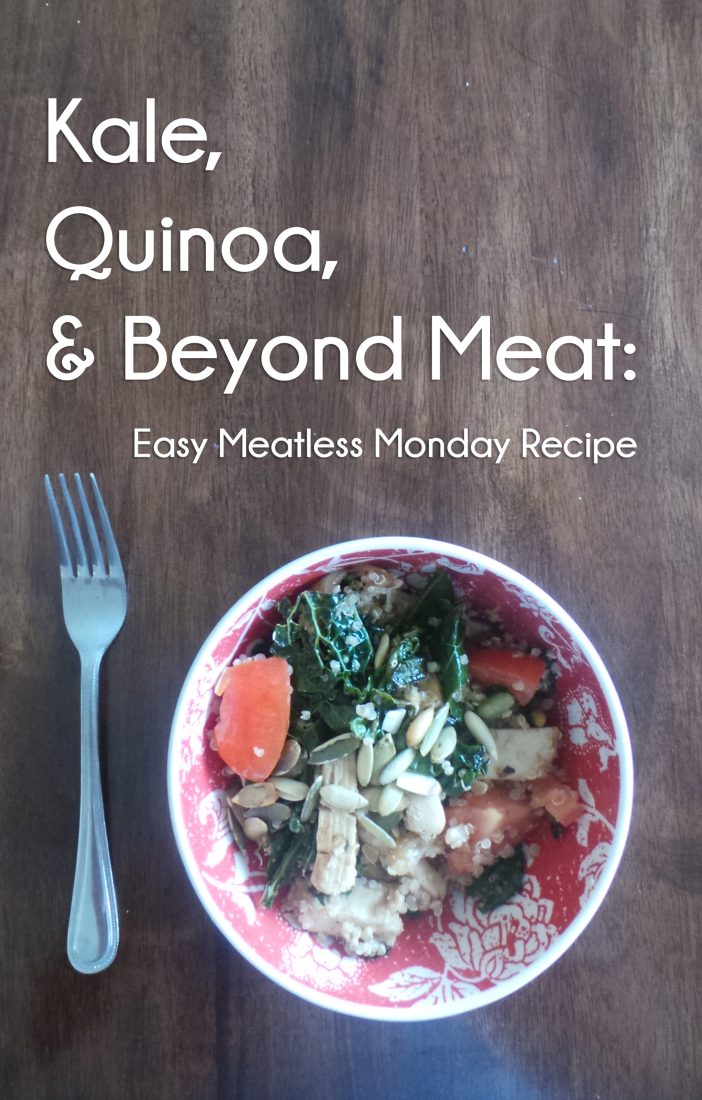 Our family loves to make "Meatless Monday" meals.  We are not vegan or vegetarian, but for many reasons (health, budget, etc) we are trying to reduce the amount of animal products we are consuming.  Kale and Quinoa are some of our favorites!
I ran across a 'free item' coupon for Beyond Meat at a convention I recently attended and I was intrigued.  I thought it might be a nice addition to one of my husband's favorite vegetarian recipes that we make regularly – Kale & Pasta (Fun Fact, this recipe has been pinned over 6,000 times – which is kind of a big deal for my little baby blog).  I switched up the regular recipe even further by swapping pasta for quinoa.  We seriously cannot get enough quinoa in this house.
This is a really easy meal!
Ingredients
One Package Beyond Meat (We used 'grilled')
2 – 3 Cloves of garlic – pressed
One Tomato Diced (or one package cherry tomatoes)
One Bunch Kale – stems removed, sliced into strips
Cooked Quinoa (I make a big batch at the beginning of the week and mix in as needed throughout the week – I prepare using Homemade Vegetable Stock for added flavor)
Olive Oil to drizzle when done
Pumpkin Seeds – optional garnish
Red Pepper Flakes – optional garnish
Process
Prepare Quinoa according to instructions if not already made (seriously, pre make a bunch of it to save time during the week!)
In a pan cook diced onions in coconut oil for about 10 minutes – we like them really cooked down, but if you prefer them with more crunch simply cook for less time.  Stir occasionally.
Add in garlic for a couple minutes and stir.
Add in Kale (I typically put a bit more coconut oil in when I put in the kale)
Cook Beyond Meat according to instructions (basically warm in a pan stirring for a few minutes).  This can be done in the same pan, I personally take the other items out for just a few minutes (put in a bowl right next to the stove), cook the beyond meat and then put the cooked veggies back in.  It can totally just be added in, but I like having a little more room to stir the Beyond Meat.
Once Veggies & "Meat" are cooked – add in tomatoes.  Turn off heat immediately and put a lid on the dish.  This steams, warms, and flavors the tomatoes just a bit.
Add in a little Extra Virgin Olive oil and stir (I don't measure, just once or twice circling around the pan and then toss to coat).
Put in serving bowls and sprinkle with a teensie bit of Red Pepper Flakes and Pumpkin Seeds.
 Prepare yourself for yummy noises from your family!
This recipe can obviously be made with original chicken too for die hard meat eaters, but we like it this way for Meatless Monday! I do not work for Beyond Meat at all, but I really did enjoy being introduced to their products, if you are looking for meat free products I would suggest giving it a try.