Kale Salad kids will eat!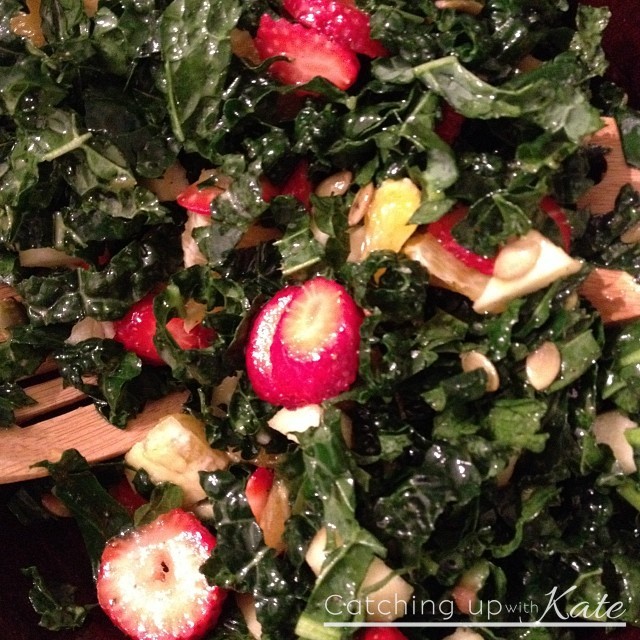 We have finally found a Kale Salad kids will eat enthusiastically!  We came about this quite by accident, but the kids were so into it that I felt it was my civic duty to share it with as many people as I could!
Harry decided to get all fancy and woo me on New Years Eve by making dinner for all of us.  I had just bought kale to use in smoothies.  We didn't have any lettuce for salads so we decided to give a kale and fruit salad a whirl.  This salad was literally kale and the fruit we had on hand, my guess is you can add any fruit you want – but I think fruit is the key.  Kale can be bitter so the fruit really helped balance it.
OK – so are you ready for the easiest salad ever?  This is really so easy I am almost embarrassed to write about it – but folks on facebook, twitter, and instagram all got kind excited about it so I thought I should break it down……….
Ingredients
* one bunch kale – cut into small ribbons
* one red delicious apple cut into bite size pieces
* several strawberries sliced
* two oranges cut into bite size pieces
* homemade vinaigrette dressing  (linked is the recipe I use)
* handful of pumpkin seeds (these are kind of our favorite things in the world)
……. and here is where it gets crazy folks – toss & serve.
My hard core kale haters melted into love, both big kids asked for seconds and the baby ate every single bite of hers too!  It was a New Years miracle! Kale Salad kids will eat – hallelujah!  This salad is vegetarian and vegan but still provides iron and calcium and all kinds of goodness!
*My sincerest apologies for not having a prettier picture, but I was really excited to write about it!  I had no idea how popular it would be so I didn't take pretty step by step pics!*