Kamala Harris Coloring Page – Instant click and print
Kamala Harris is the first female Vice President and an inspiration to little girls everywhere. Our family is so thankful to have a female Vice President in the White House working alongside President Joe Biden. Today we are celebrating with a coloring page featuring Kamala Harris. We hope this printable coloring sheet will be used to celebrate President's Day, Women's History Month, and Black History Month.
We hope this is a compliment to the President Joe Biden Coloring Page we shared earlier. Don't miss our Dr. Jill Biden coloring page either! This collection of coloring pages is easy to click and print instantly.
Joe and Jill Biden also served as the Vice President and Second Lady during both of President Obama's terms as President. If you would like to see coloring sheets featuring the administration prior to Joe Biden, we have a Bigly Awesome Coloring Book where you will surely need an orange crayon. In all seriousness though, it is so wonderful to see someone doing their job instead of tweeting all day. This printable can be colored digitally or printed out and colored however you wish. Make sure to compost your paper one you are done. Feel free to use this printable in your classroom virtually or in person. Click to download and print from home or school.
If you enjoy this free educational printable coloring sheet featuring President Joe Biden, make sure to check out our educational printable section featuring Amanda Gorman, Hamilton, Harriet Tubman, California Missions, and so many more! We also have 'just for fun' coloring sheets featuring Gabby's Dollhouse Coloring Sheets , We Can Be Heroes Coloring Sheets, Sharkboy and Lavagirl Coloring Sheets, American Girl Doll Coloring Sheets , Olaf Coloring Sheets, Coco Coloring Sheets , Trolls Coloring Sheets and so many more on our site!
This Kamala Harris printable coloring page is now free! I have started to provide a few educational printable coloring sheets in our Etsy shop. Most of my printables in our Etsy shop celebrate people in history that overcame adversity. Several of our printables feature people of color and women who are underrepresented in our history lessons. Most of my instant downloads are less than $2 and can be printed over and over again once it is downloaded. Use for your entire class and even save the download to use for years to come. Please feel free to share the file with other teachers. Thank you!. Consider following my Etsy Shop as I am adding new educational coloring pages every week.

Vice President Kamala Harris Printable Coloring Sheet
Get the high resolution instantly downloadable Kamala Harris Coloring Sheet to use again and again in your classroom. This year we are trying to make more of our printables free to those who come directly to our site! While we do have a printable library on Etsy for sale, their fees for sellers and buyers continue to be rise. I am uninterested in charging teachers more so that Etsy corporate can make more money. Keeping these free is a gamble for me as the artist and website owner, I would be so thankful if you were willing to pin and share these with other teachers and educators. This website relies on guests visiting (even without any purchase), so we thank you for visiting! If our traffic grows we will be able to continue to provide more and more free content to use in your classroom and at home!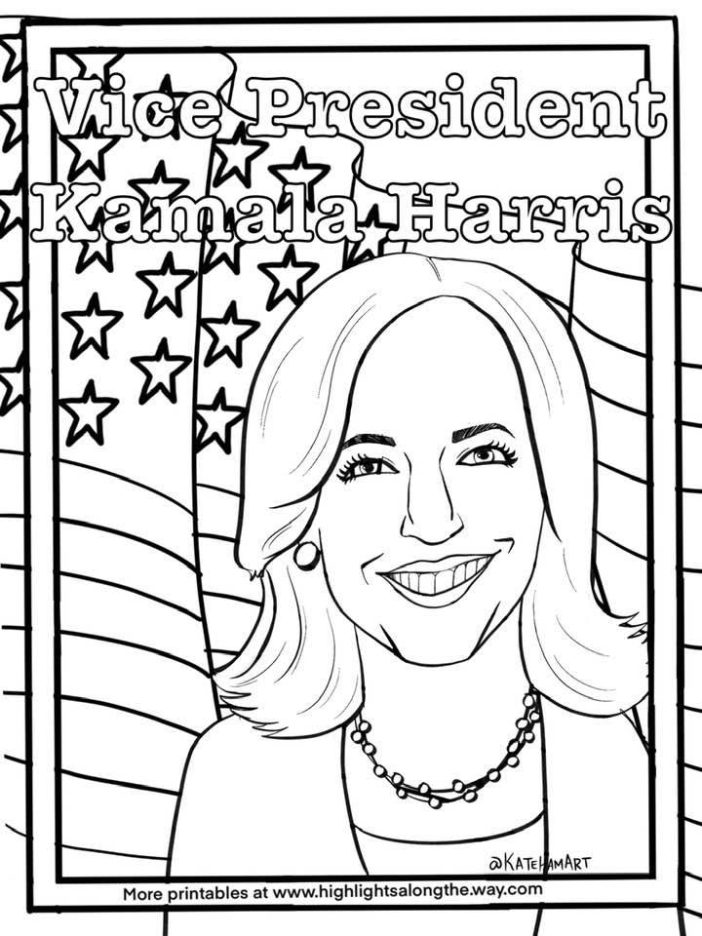 Thank you for stopping by Highlights Along the Way. Please check out our Printables page for literally hundreds more Broadway, Educational, TV, Disney, American Girl, Pop Culture, and other fun printable coloring and activity sheets!
MORE FREE COLORING SHEETS BELOW!
FREE Nature Themed Printables from WWF – click and print for FREE!
FREE Melissa & Doug Printables – print from home to learn and enjoy!
FREE Taco Bell Printables – so fun and may inspire a trip through the drive thru!
Star Wars themed activity sheets are some of our favorite things to share on our blog. These coloring sheets are free to enjoy by clicking and printing. We will add more Patriotic coloring sheets and artwork in the future.
If you are a blogger or writer looking for printable coloring sheets for your blog, magazine, or book, please check out my website Kate Ham Art and follow my growing Instagram account @KateHamArt . Do not hesitate to reach out if you would like me to create printables or book illustrations for your next project. If you or your child colors one of our printables, please share it on social media and tag our page. I will always share printables in our instagram stories and I would love to feature you!