Disney Bathroom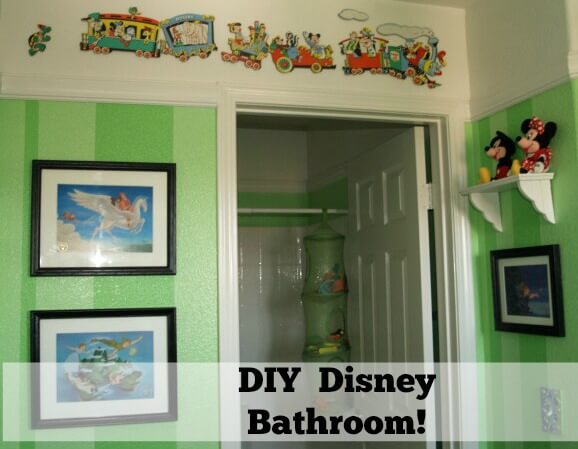 So a while back I blogged about our big kid's room decor.  I thought it might be fun to share their 'Jack & Jill' Disney bathroom. We wanted something that was unisex, fun, and inexpensive.  Well of course, being that I am a bit of a Disney nut, and have been since I could walk…. I have a lot of Disney stuff lying around – which makes for really cute kid's decor. I didn't think to take photos while we were in process, but the finished product is just so cute – I will walk you through how this cute room came to be.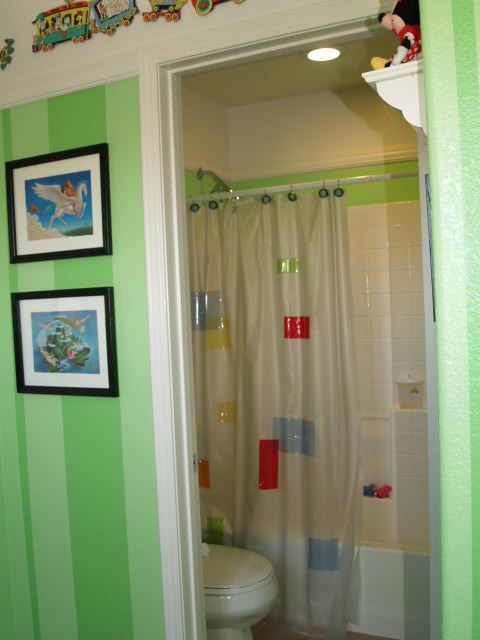 Our house was brand new – so we started with white walls. #MyFavorite =)  I LOVE to decorate with nothing influencing me!
We started with lots of Disney Lithographs and figurines I had collected since childhood. The  Lithographs all came with preordering Disney movies over the years from The Disney Store – let's just say I have A LOT!  Also, from the time I was about 5 years old I added a Disney figurine to my collection every time I went to Disneyland…. each comes with a cherished memory.  My mom also scored one of my prize possessions at an estate sale many years ago – a vintage Disneyland Casey Junior train wall decoration that I wanted to feature.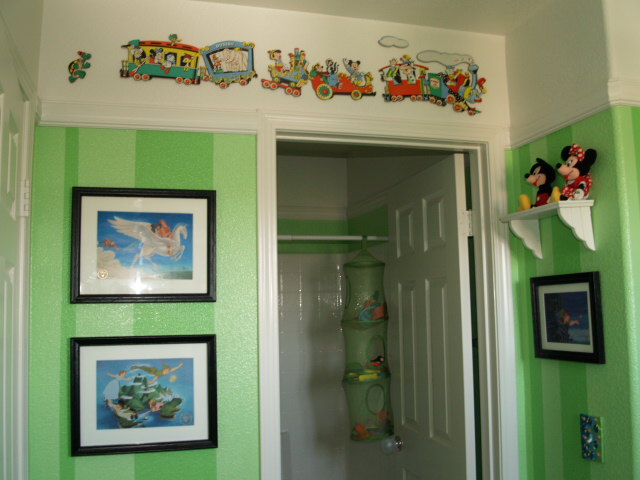 I told Harry we needed to paint the wall with green vertical stripes.  He was pretty sure I was crazy, but I insisted.  My loving husband didn't quite see my vision, but he went along for the ride.  We started with two shades of the same lime green.  We added a chair rail about one foot from the ceiling (you will come to find this is our signature move).  Below the chair rail we painted all over with the light green.
Harry was like "This is super ugly."
I was like "Trust me, It is gonna be so cute."
After it dried we added blue painters tape in vertical stripes in various spots (I think having the stripes NOT uniform added to the cuteness – again, something my husband protested but later came to admit was the best idea ever.)  We painted the dark green over the light in every other spot.  Once it dried, we pulled off the painters tape and only then did he see my vision.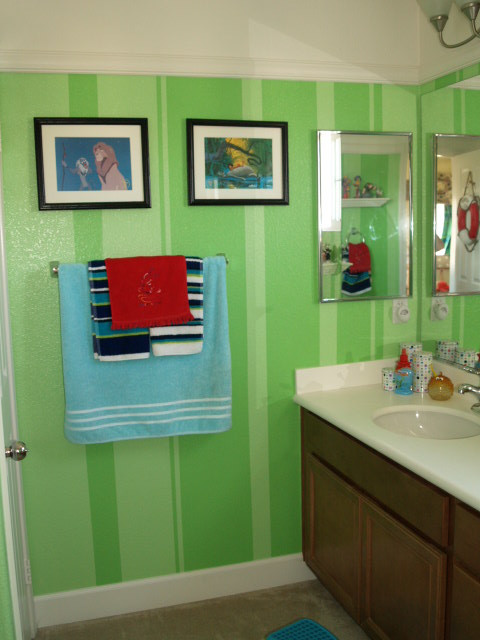 "Whoa, that is cute." Harry
"I told you." Me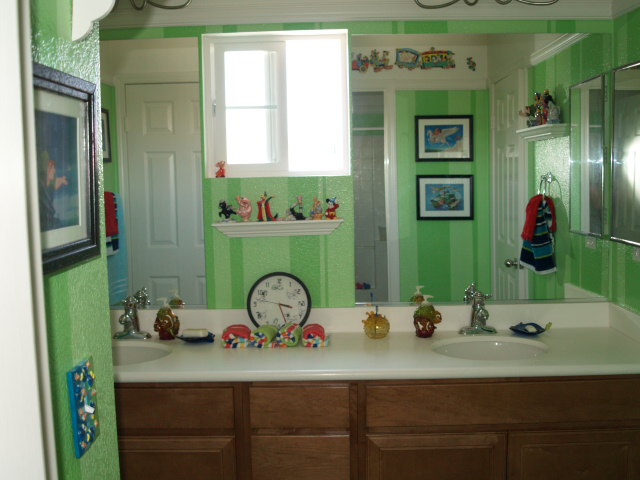 And then it was all about accessories!  We painted garage sale frames black and used simple white matting on all the lithographs and hung them all throughout the little bathroom.  We used shelves all painted the same white as our chair rail to show off our figurines & Mickey & Minnie plush collectibles. Accessories were kind of the easiest thing to do in our Disney bathroom.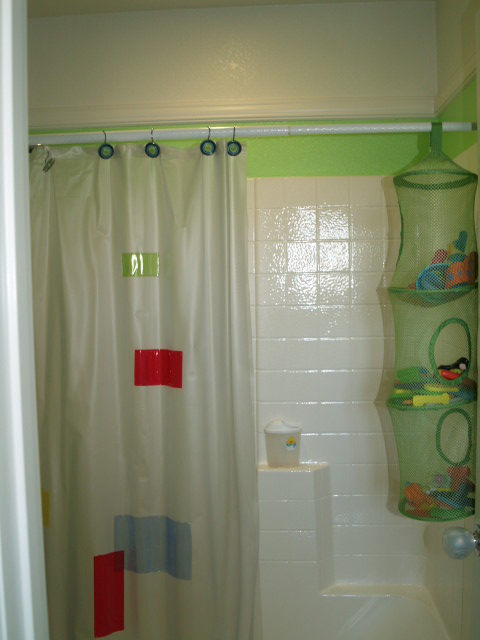 We found that IKEA and Walmart had all we needed when it came to step stools, accent rugs, accessory holders, towels, and shower curtains.  These items were all purchased years ago – but I bet one would find similar items easily – Disney has such a colorful palette – we found it easy to find things to compliment one another for our Disney bathroom.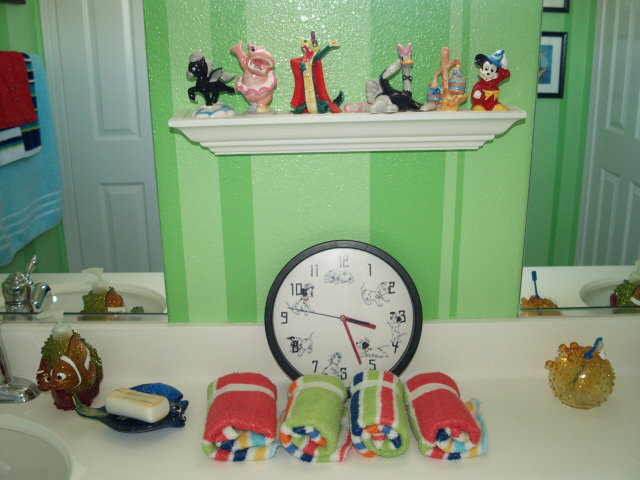 So there you have it – the world's cutest bathroom….. according to Kate!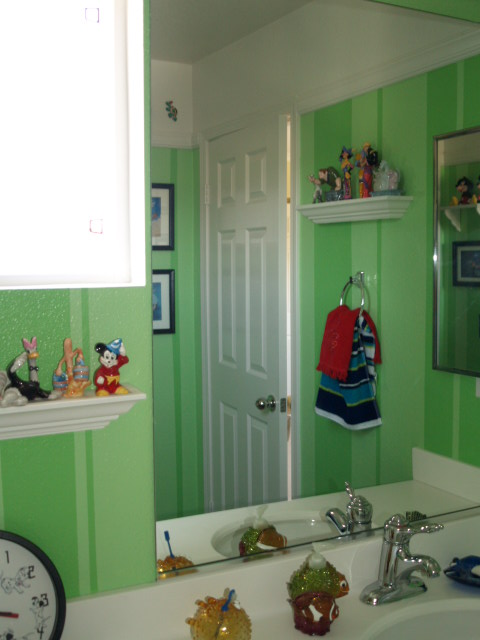 Have you blogged about how you decorated your kiddie's room or bathroom?  Link it up in the comments section!