King Charles III Coronation Coloring Pages
King Charles III was born into Royalty and since his mom died, he gets a huge party called a "Coronation" where people pretend he is ordained by God to rule Great Britain. He does not rule Great Britain. To celebrate this nonsense further, I have created free printable coloring pages of this lucky family. Instantly download a high resolution coloring pages of the British Royal family. Instantly print and color King Charles III Coloring pages, Queen Consort Camilla Coloring Pages, Prince William and Princess Kate Coloring Pages, Princess Diana revenge dress coloring pages, and of course a coloring page featuring Prince Harry and Meghan, the Duchess of Sussex.
The coronation of Charles III and his wife, Camilla, as King and Queen of the United Kingdom and the other Commonwealth realms, is scheduled to take place on Saturday, 6 May 2023. The coronation of King Charles will be held at Westminster Abbey. Charles acceded to the throne immediately on 8 September 2022, upon the death of his mother, Queen Elizabeth II. His 'work' remains the same. He did not earn the 'promotion' or title of "King", he was just first in line because of his birth. A growing percentage of people believe it is time to abolish the monarchy, but anyways, I hope his party is fun.
Here are some coloring pages to celebrate his party. Unlike the party, these coloring pages are free to the people of England.
King Charles III Instant Download Coloring Page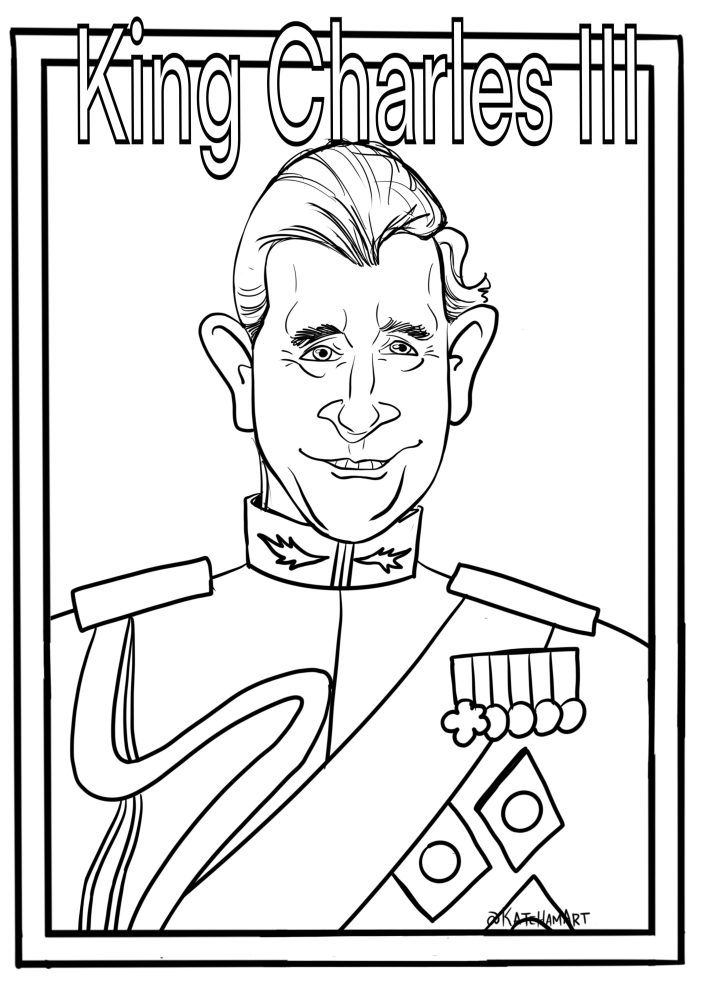 Who is King Charles?
King Charles was born lucky. He is now the King of England and a bunch of countries England stole from for centuries. His mom died so now he is King. He did not earn his title of King, just as he did not earn his title of Prince. He was born to the Queen. Being King means nothing as he does not rule anything. He lives off the people of Great Britain and wears jewelry made from things his ancestors stole. His work is living in multiple castles and smiling in pictures. He was not allowed to marry who he loved so he married someone else. He cheated on her before and during their marriage. He has two handsome sons who are handsome because their mother; Princess Diana was beautiful. The first son falls in line and acts like his dad, the other son is better looking and a better husband. Once his first wife died he married the woman he cheated on her with, who, to be fair; he loved before and asked to marry in the first place. He gets a fancy party paid for by his 'subjects' where they all pretend God chose him for this role.
Queen Elizabeth Coloring Page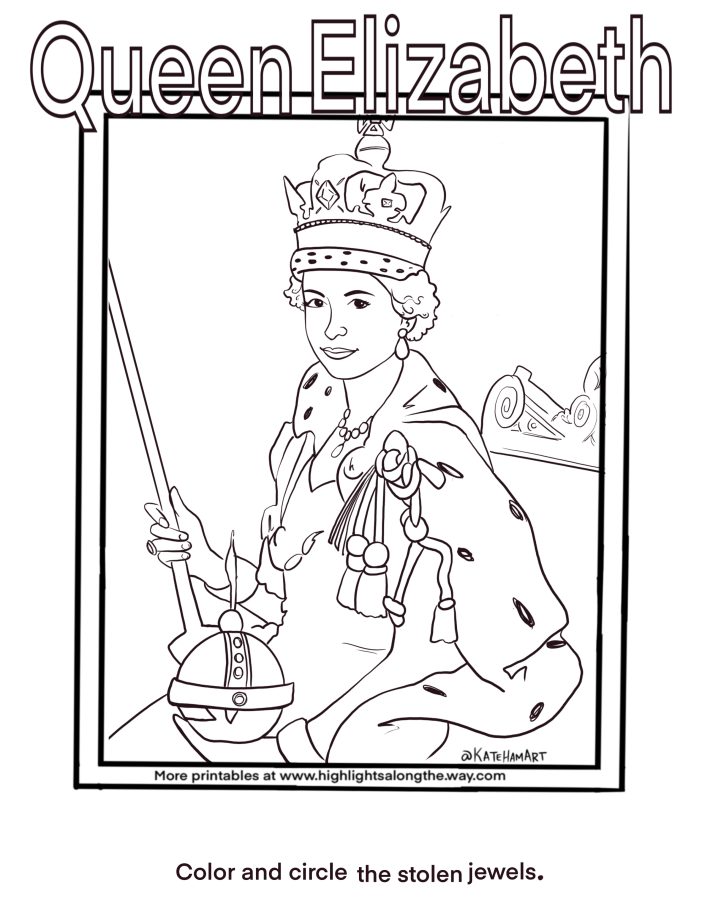 This Queen Elizabeth free activity sheet has a fun prompt at the bottom. Don't just color in the photo of the late queen, see how many stolen items you can circle in this drawing. Maybe the generation coloring this will demand the 'Royal Family' return the things they stole. Who knows, anyways, have fun coloring a picture of a lady who was just born really, really rich.
Queen Elizabeth Activity Sheet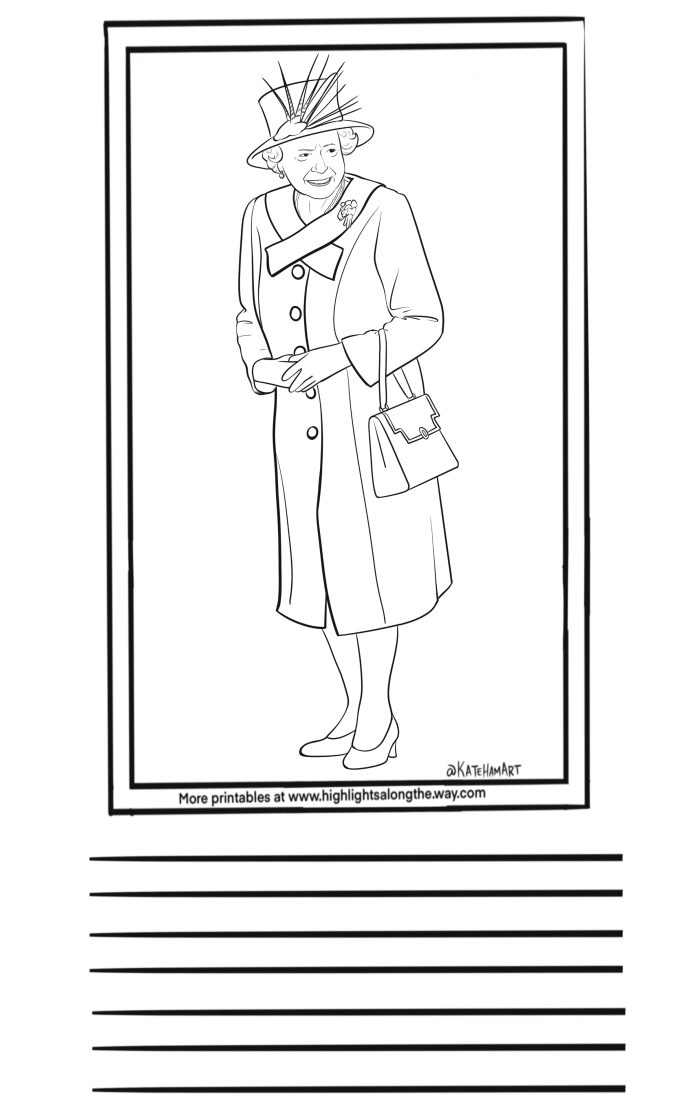 Who was Queen Elizabeth?
Elizabeth was the longest 'reigning' British monarch. I am not exactly sure what she ruled over as she made no laws. Elizabeth became queen when she was in her 20s, I guess God was like "you know what England needs? A 20 year old kid in charge, this is my will." Elizabeth became Queen really young because her dad died young. Apparently, Elizabeth's dad didn't want to be King and he wasn't the Lord's first choice. Her dad was the spare, the 2nd born son. The first born son decided that fake reigning a country wasn't quite as cool as marrying the love of his life so he married who he wanted and left the pomp and circumstance nonsense to his little brother. His little brother had two daughters and Elizabeth was first in line.
Queen Consort Camilla Coloring Page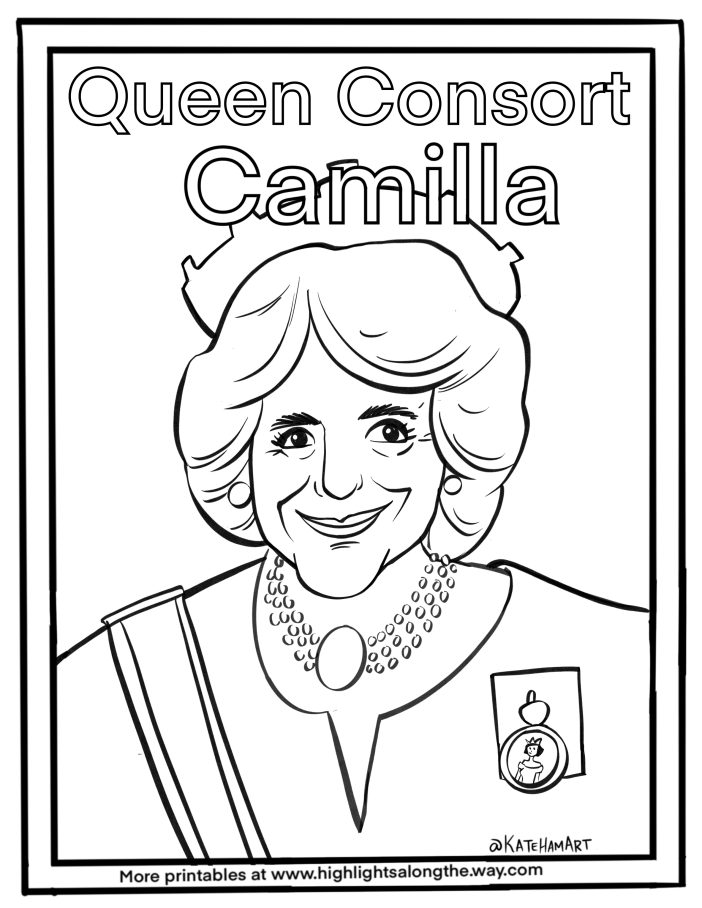 Who is Queen Consort Camilla?
Camilla is the Queen Consort. She is the 2nd wife of King Charles. She had a long standing relationship with Charles before, during, and after his marriage to Princess Diana and her marriage to someone with the last name Bowles. I didn't look it up. Nobody really likes her except Charles. Her stepsons begged their dad to not marry her, but he didn't listen and now she gets to be Queen Consort. Apparently after the coronation, she will be Queen, no longer "Queen Consort". I'm gonna tell my grandkids her name was Jolene.
Charles and Camilla Coloring Page – Wedding portrait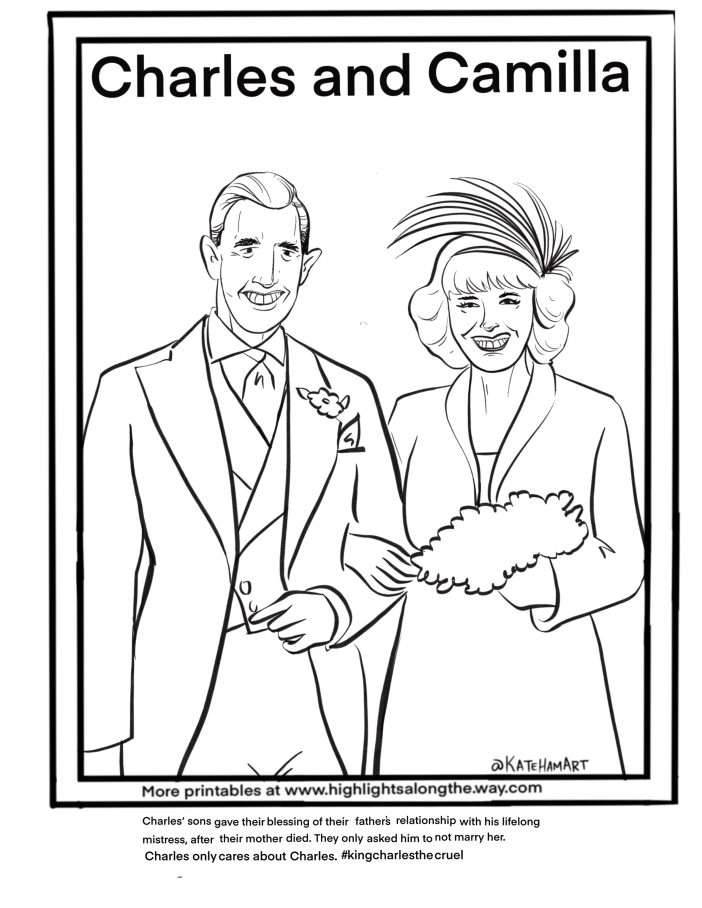 This is the king and queen of England. Charles and his first love, but his second wife, Camilla. They are selfish, but according to their coronation, they are God's chosen, so I guess they can be selfish. Above is a coloring page inspired by their wedding portrait. Charles' sons begged their father to not marry Camilla, but here they are. Fun fact – despite owning more rings than most people on earth, Charles has never worn a wedding ring. The patriarchy is bad, kids.
Prince William and Princess Catherine Coloring Page – the Prince and Princess of Wales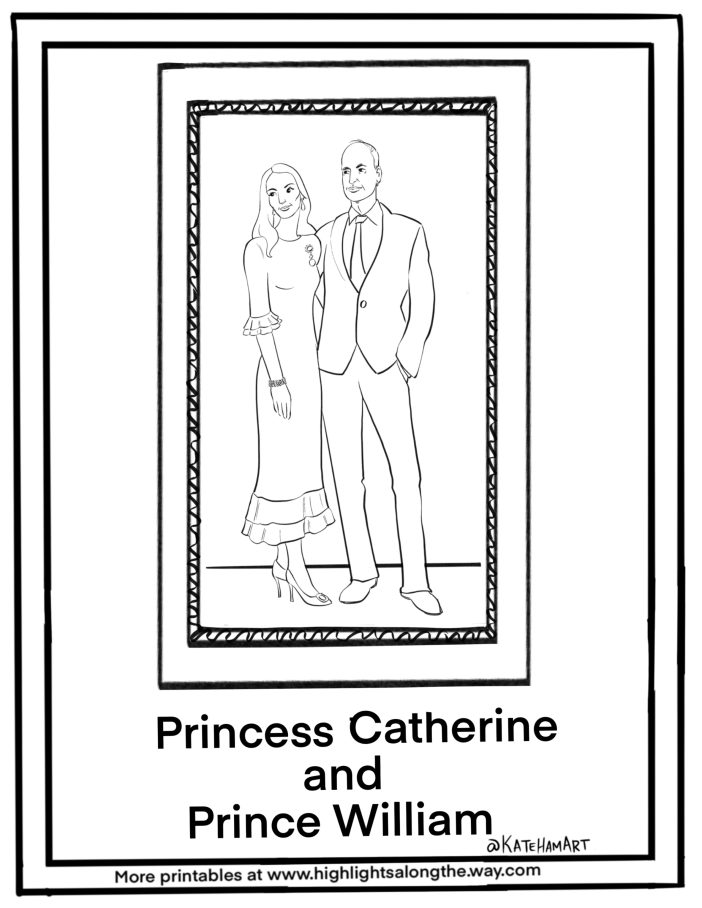 Who are Prince William and Princess Catherine?
Prince William was born lucky, just like his dad. When Charles dies, Prince William will be King, just because he was the first born. Prince William is the first son of King Charles and the late Princess Diana. Prince William used to be handsome as hell, but he isn't so much anymore. His handsomeness fading would not be such a problem if he had also inherited his mother's good heart, but he did not. He is kinda like his dad. Princess Catherine used to be known as Kate Middleton. Kate Middleton changed her University plans once Prince William's University was announced. She is beautiful. Prince William and Kate Middleton dated on and off for several years before marrying. According to some, Camilla suggested Catherine change her name to "Katherine" because there were "already too many C names". Royal families are weird. Kate Middleton married Prince William in an elaborate royal wedding where William was apparently still a little drunk and was also big mad his grandma didn't let him have a beard. He was an adult man who had to ask for permission from his grandma to wear his face as he likes. Again, royal families are weird. The Prince and Princess of Wales have three beautiful children who were also born lucky.
Princess Diana Coloring page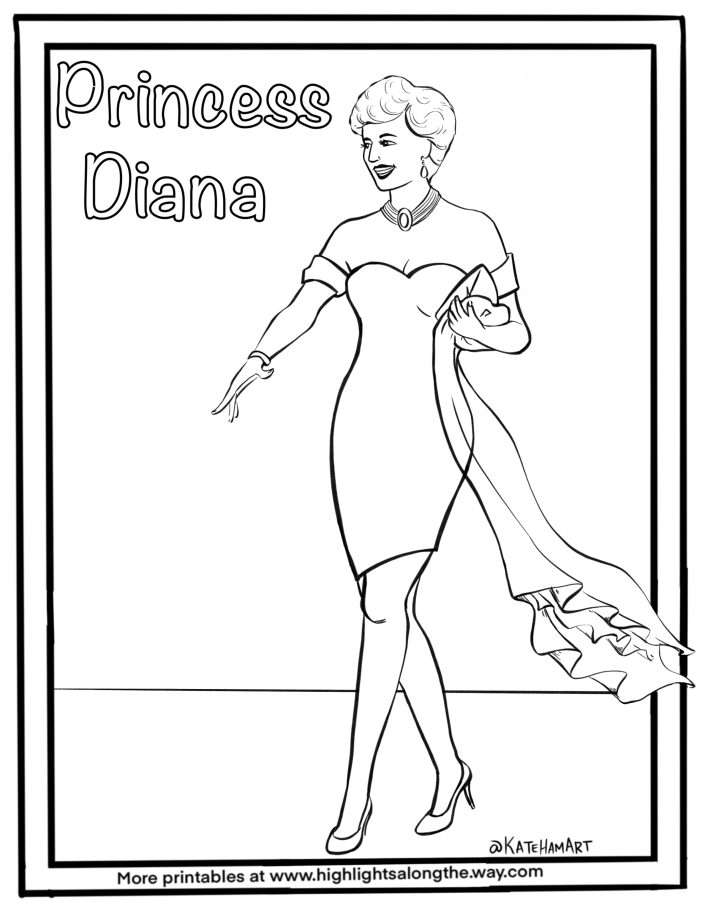 Who was Princess Diana?
Princess Diana was Prince Charles' first wife. She was 19 and he was well into his thirties. They had a very short courtship and he continued his relationship with Camilla the entire time and even wore a gift from Camilla on his honeymoon with Diana. Diana often upstaged the Royal family by being more beautiful and by truly caring about charity work with seems to appeal to people. Princess Diana divorced Princes Charles. Princess Diana did not hide in shame after her divorce, but famously wore this insanely gorgeous dress the day her divorce to the Prince was final. Princess Diana had two sons with Prince Charles during their marriage. It was clear to everyone that her children were her entire life. Her son's beautiful faces are attributed to Diana, as her husband was and continues to be comically unattractive. Princess Diana was killed in a car crash in Paris while being hounded by Paparazzi. The general belief is that Diana would have made a lovely Queen.
Princess Eugenie and Princess Beatrice Coloring Pages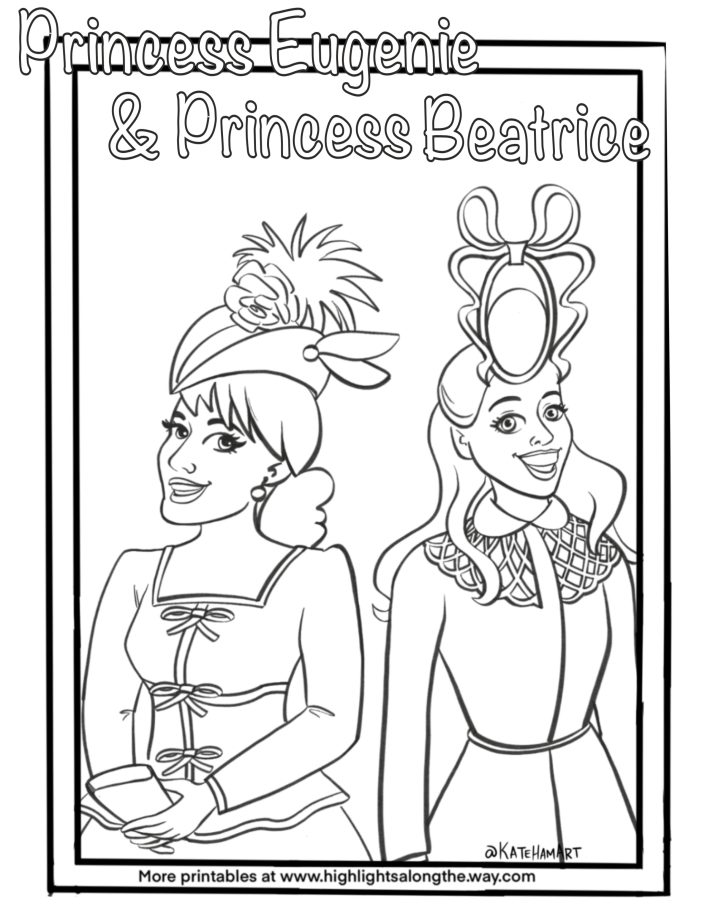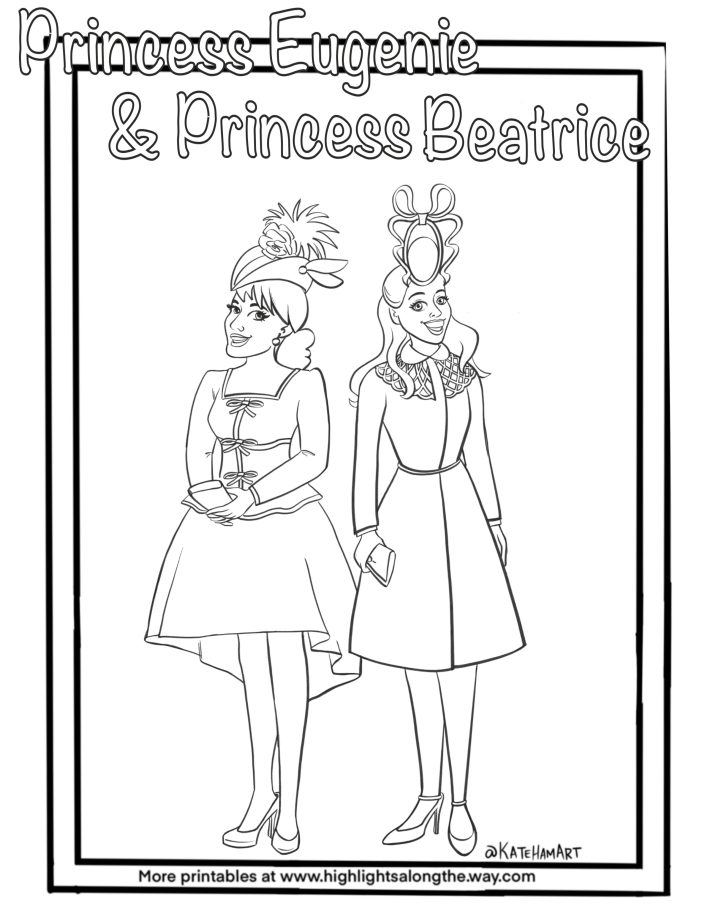 Princess Beatrice and Princess Eugenie are the daughter's of a guy named Andrew. He is the King's Brother. I don't think he is a Prince because of bad behavior – like the worst behavior ever. He still gets to live in a fancy government provided home and has staff. Anyways, his daughters are the cousins of Prince William and Prince Harry. The Princesses grew up with way too much press in their business also. They are known for being adorable and for loud fashion choices. Both princesses are married and have children of their own. They seem to be very close to one another. This drawing is inspired by their outfits at the wedding of William and Kate, I cannot wait to see what they wear to the Coronation. I might make a new coloring page. We shall see.
Prince Harry and Megan, Duchess of Sussex Coloring Page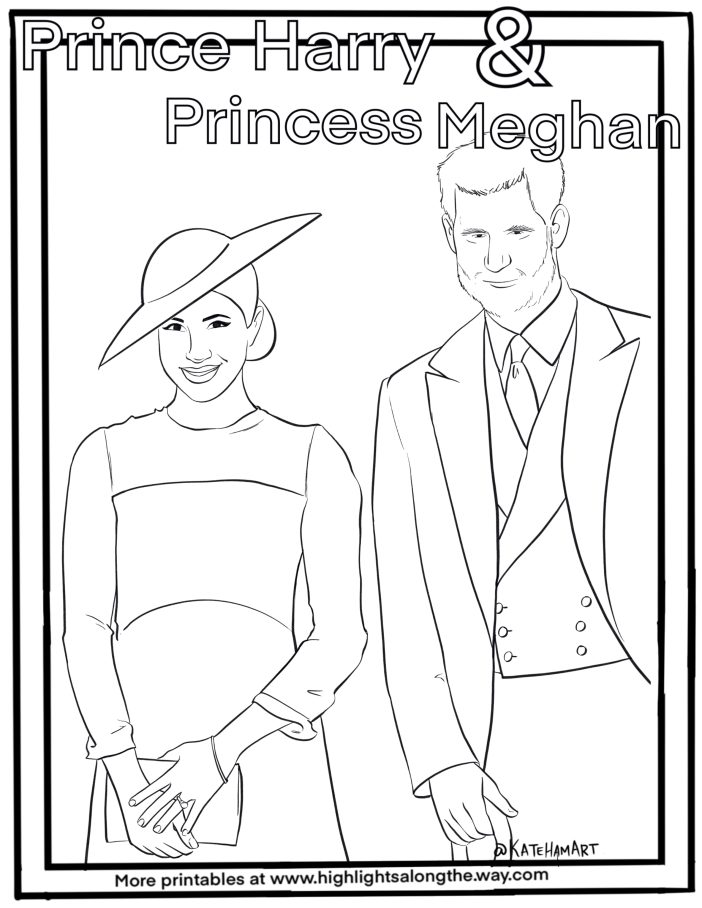 Royal Wedding Coloring Page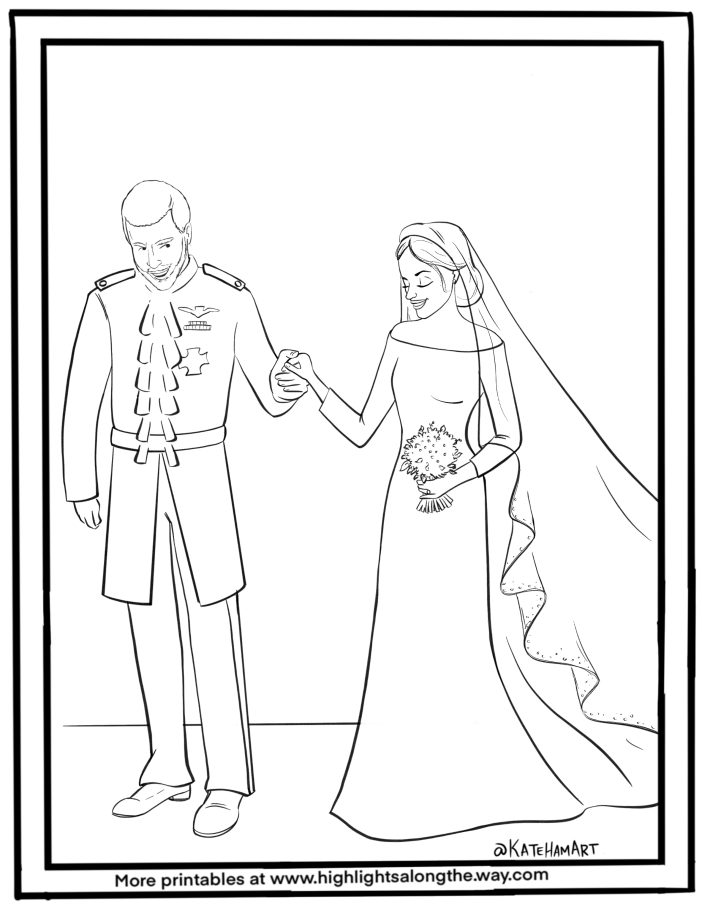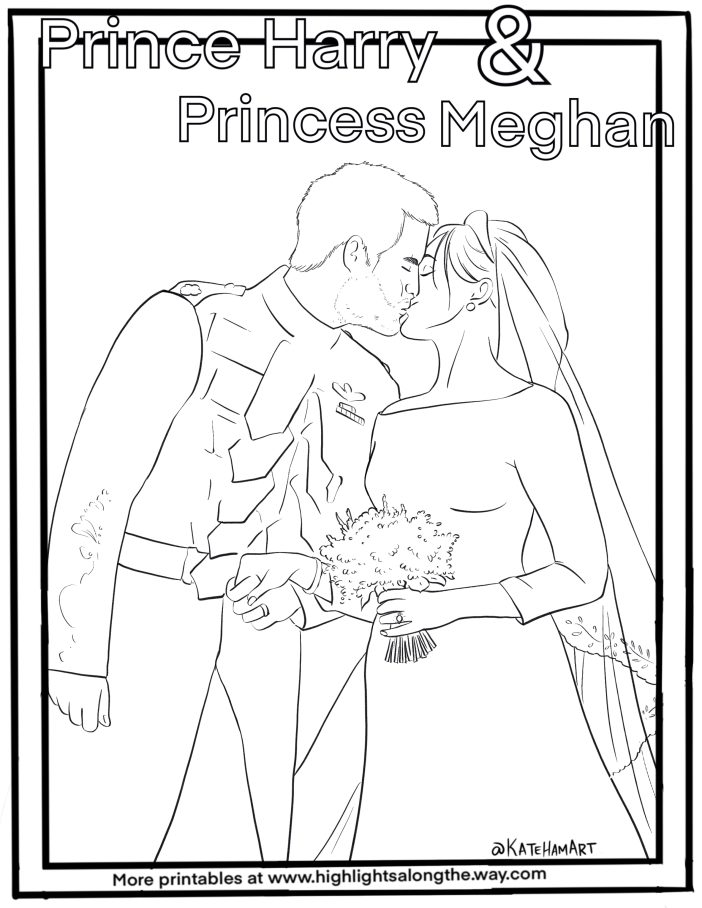 Who are Prince Harry and Meghan, Duchess of Sussex?
Prince Harry is the second son of the late Princess Diana and King Charles III. Prince Harry wrote a book titled "Spare" and everyone listed above is big mad about it. Because Prince Harry was born second, he is considered the "Spare" behind his brother who is Heir to the Throne. Prince Harry went to therapy and realized people who make you walk behind your mother's coffin for the world to watch maybe don't have your best interest at heart. Prince Harry is a brave Veteran. Meghan Markle is an American born woman of mixed race who had been divorced prior to meeting Harry. Meghan was an activist and a well known actor prior to meeting Harry. Harry was allowed to have a beard at his wedding and William is still mad about it. Prince Harry and Meghan tried to balance autonomy and being 'working' Royals but this didn't seem to work for the firm. Ultimately, Harry chose love and by all accounts seems to be living the life his mother would have loved for him. Meghan and Harry have two gorgeous children named Archie and Lilibet. They reside in California. They used to have a small run down cottage on Palace grounds in the UK, but Charles gave it to his good for nothing brother.
The Coronation of King Charles II will cost the people of England millions of pounds. Millions of people in England live in poverty. The King is worth over one billion pounds, but the tax payers are paying for his coronation. I dunno, man, but it seems a little sus to me that someone allegedly chosen by God in heaven to rule not only England, but many other countries would choose such selfishness. It is almost like this might not be what a loving God would want to be done, but what do I know?
We hope the party is fun. We also hope it is the last coronation of all time. Long live the King, or whatever.