Kira Bailey – American Girl Doll Coloring Sheet
Disclosure: American Girl has sponsored this post and provided the prize.
Enjoy a Kira Bailey American Girl Doll of the year 2021 free printable coloring sheet! Simply print and click the printable to enjoy coloring at home or school. Kira is a beautiful doll with a rich story-line full of travel and hopes for a better future. Grab your markers or crayons and enjoy coloring Kira and her Australian friends in the Outback!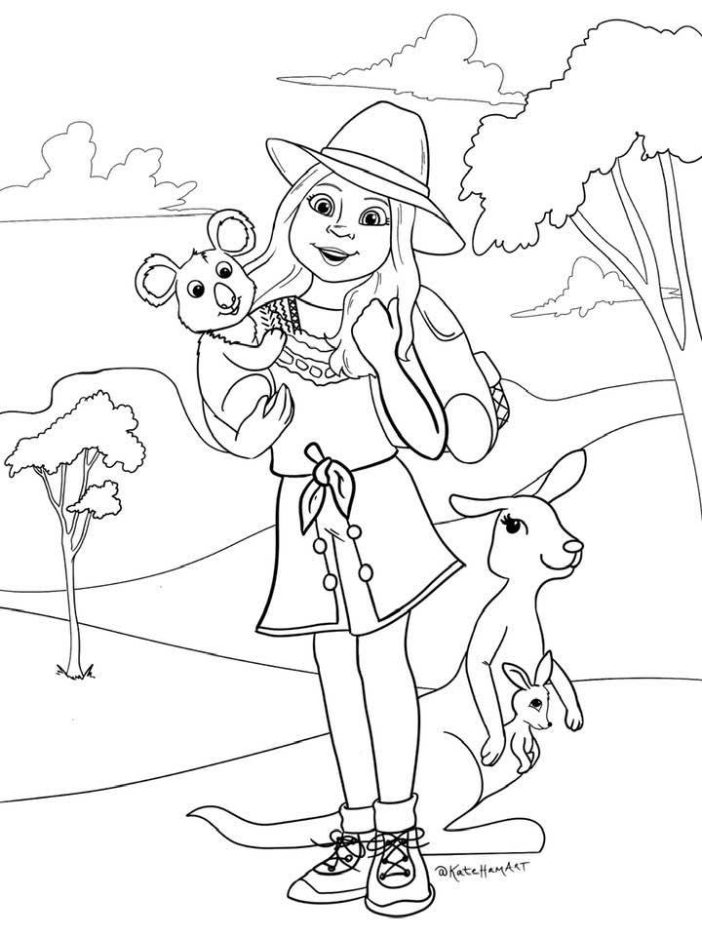 Who is Kira Bailey?
American Girl, recently unveiled its 2021 Girl of the Year, Kira Bailey. Kira™—a nurturing and inquisitive 10-year-old who cares deeply for animals and the environment—joins American Girl's line of contemporary characters that inspires children to make a positive difference in the world. Whether she's caring for an orphaned koala joey or facing a bush fire that's threatening her great-aunts' wildlife sanctuary in Australia, Kira confronts critical ecological issues, such as wildlife protection and the threat of climate change, that are more relevant to our planet than ever.
"As American Girl kicks off its 35th year, Kira joins our lineup of diverse and purposeful characters who star in stories that reflect the realities of the times—whether it's historical or modern-day," says Jamie Cygielman, General Manager of American Girl. "As we all witnessed the bushfires rage in Australia last year and start up again this September, and the devastating wildfires in the western United States, we knew it was important to focus Kira's story on the major conservation and climate challenges facing our planet today—causes that are extremely important to today's youth. Through Kira, we hope our fans will learn that we all have a part to play in taking positive action for our planet."
To further support Kira's message, American Girl is partnering with NSW Wildlife Information, Rescue and Education Service, Inc. (WIRES), Australia's largest wildlife rescue organization dedicated to rescuing and caring for sick, injured, and orphaned animals, including those impacted by bushfires and drought. Today through December 30, 2021, American Girl is supporting the organization's mission to rehabilitate and preserve Australian wildlife by matching customer donations dollar for dollar up to a maximum of $25,000. To learn more about how American Girl is helping WIRES, visit www.americangirl.com/kira.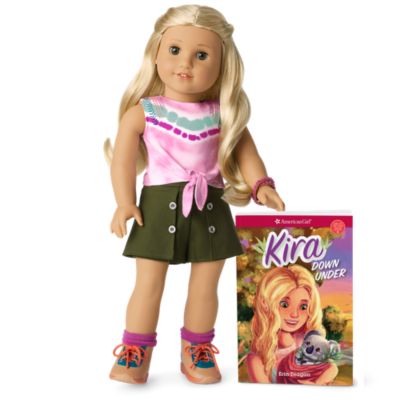 "Last year, Australia's fire season was unlike anything previously experienced in terms of scale and severity, with fires destroying millions of hectares of land—much of which was threatened-species habitat," says Kyla Shelley, Chief Operating Officer for WIRES. "Wild species worldwide are facing enormous challenges—including extinction—mainly due to habitat loss, natural disasters, and climate change. Just like Kira discovers, everyone can get involved in wildlife rescue and protection, and it's not too late to make a difference wherever you live."
To create Kira, American Girl worked hand in hand with author Erin Teagan, who holds a master's degree in science and traveled to Australia to gain a deeper understanding of Kira's experiences. Other consultants specializing in Australian wildlife and culture reviewed all aspects of Kira's world—from manuscripts to products—to help ensure every detail was rooted in real practices and science, with the following two experts playing an integral role:
Alison Bee — Veterinarian, owner and manager of Magnetic Island Animal Hospital, a wildlife rescue and rehabilitation facility for sick, injured, and orphaned koalas in North Queensland, Australia.
Tassin Barnard — Owner and manager of the Australian Walkabout Wildlife Park, a wildlife preserve on the central coast of New South Wales.
​
In the two-book series, Kira is excited to leave her home state of Michigan and spend her summer abroad at her great-aunts' Mamie and Lynette's wildlife sanctuary and vet clinic in Queensland, Australia. There she learns to care for injured or orphaned animals with her new friend Alexis. But when a roving predator and a raging bushfire threaten the sanctuary, Kira must rise to the challenge to protect her family and the animals she loves. In the end, Kira learns you can't let the fear of the worst keep you from living your best.
As a companion to Kira's stories, American Girl is also introducing a nonfiction advice book, Love the Earth, for readers 8 and up. The fully illustrated guide helps readers understand climate change and offers tips and tools for living an earth-friendly life. Available now, the book is a great choice for emerging environmentalists who want to speak up for climate change solutions. More climate-related events and partnerships will launch in April 2021.
Kira Bailey American Girl Printable Coloring Sheet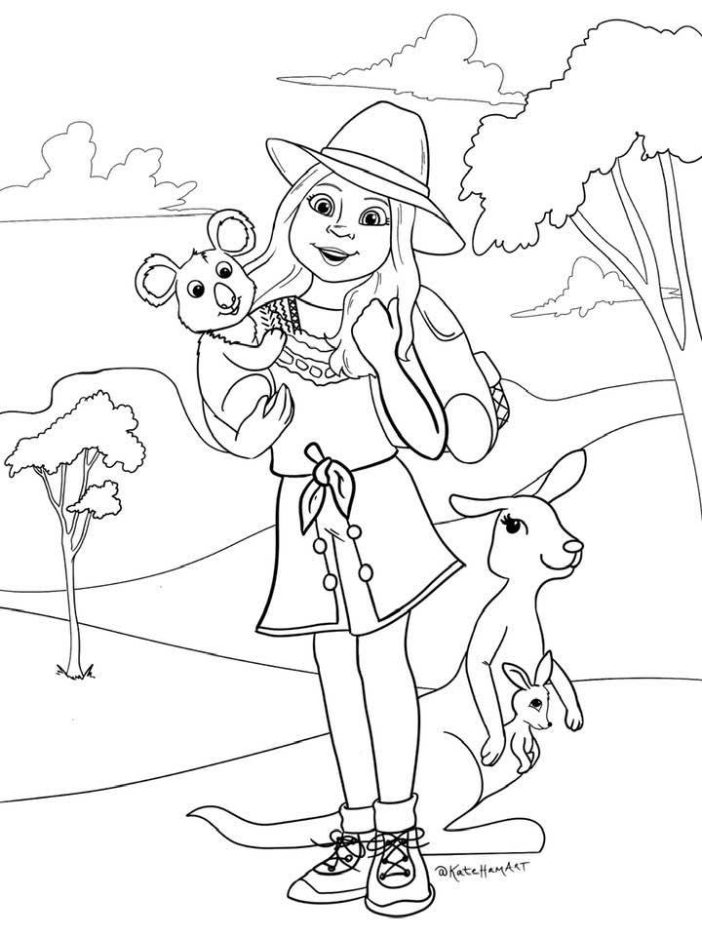 American Girl Doll Free Coloring Sheet
Our printable coloring sheet below is available to download and share. Readers do not need to enter any information or even subscribe to our blog to enjoy this fun freebie. Make sure to check back for more free coloring pages as we love to add regularly. We also shared a free printable Female Astronaut coloring page which was inspired by the American Girl Doll, Luciana. Of course check out our entire collection of licensed and unique printables on our page. We have hundreds of free coloring and activity sheets available for use. Printable coloring sheets are allowed for home and school use. We encourage readers to use printable coloring and activity sheets for American Girl Doll themed birthday parties as a fun budget friendly activity for children. The printable below features Kira Bailey and her adorable kangaroo friends. Feel free to print out the coloring sheet below and enjoy. Please tag @KateHamArt and @HighlightsAlongtheWay to have us share your beautiful creations! If you color, take a picture, and tag us on Instagram before the end of our giveaway it is a bonus entry! See more about our giveaway below.
As a companion to Kira's stories, American Girl is also introducing a nonfiction advice book, Love the Earth, for readers 8 and up. The fully illustrated guide helps readers understand climate change and offers tips and tools for living an earth-friendly life. Available January 1, the book is a great choice for emerging environmentalists who want to speak up for climate change solutions. More climate-related events and partnerships will launch in April 2021.
The Kira collection is now available at americangirl.com and at all American Girl retail locations nationwide and at American Girl specialty boutiques at select Indigo™ and Chapters™ locations in Canada and online at Indigo.ca. The Kira doll and book retails for $110 and the Kira books ($7.99 each) can also be purchased through retail and online booksellers.
Connect with American Girl on:
Facebook: @americangirl
Twitter: @American_Girl
Instagram: @americangirlbrand
Pinterest: agofficial
YouTube: American Girl
ABOUT WIRES
WIRES, Australia's largest wildlife rescue organisation has been rescuing and caring for native animals 365 days a year for almost 35 years. WIRES mission is to actively rehabilitate and preserve Australian wildlife and inspire others to do the same. WIRES operate a dedicated Wildlife Rescue Office assisting the community and wildlife 7 days a week and WIRES have 28 regional branches with over 3,000 volunteers involved in wildlife rescue, rehabilitation, information and education. Annually WIRES provide rescue advice and assistance for tens of thousands of sick, injured, orphaned and displaced animals and run around 100 wildlife training courses for thousands of participants. In the wake of the devastating 2019/2020 emergency events, WIRES began providing significant national support for wildlife, supporting over 240 projects to assist with wildlife rescue and care across every state and territory. WIRES are also working with major partners to support the long-term recovery of wildlife habitat and the long-term preservation of native species in the wild nationally. Connect with WIRES on:
Facebook: @wires.wildlife.rescue
Twitter: @WIRESWildlife
Instagram: @wireswildliferescue
GIVEAWAY is closed.

Who is excited to enter to win a Kira Bailey doll? Entry is simple! I am so excited that Mattel has been kind enough to offer a doll for us to give away. One lucky Highlights Along the Way subscriber will have a brand new Kira mailed straight to their home just in time for the holidays! To enter you just need to leave a comment letting us know who you would gift Kira to (it is OK to say yourself!). That's it! We also have several ways that you can earn more entries by engaging with us on social, but being a subscriber is the only requirement. Void where prohibited. This giveaway is valid only within the United States. The winner's American Girl Doll will be mailed directly from American Girl Doll and cannot be mailed to PO Boxes, only a physical address.
Giveaway has ended. Free printable is still available. Giveaway starts NOW and will end on 2/15/2021. Winner will be chosen and notified by or before 2/17/2020. Winner will be contacted via email. Winner's name will also be visible on our blog post here (First name and last initial). Only the winner will be contacted. Winner MUST respond within 48 hours of winner announcement and provide a mailing address. If the winner does not respond within that time frame, the prize is forfeited and a new winner must be chosen. While we have never had a problem with a giveaway before, Highlights Along The Way cannot be held responsible for lost or damaged prizes.
Extra entries?
*Print out our Kira coloring page and post a pic on Instagram! Instagram picture must be public and tag us to see it. Come back and leave a separate comment with a link to your Instagram share.
*Follow "Highlights Along the Way" on Youtube – comment separately letting us know
*Winner is Carey ***** * Thank you to all who entered.
Best of luck to all! Thanks again to our friends at American Girl who were kind enough to share a doll with us and one with our readers.