The ULTIMATE Labyrinth Group Costume
Disclosure: Highlights Along the Way is a participant in the Amazon Services LLC Associates Program, an affiliate advertising program designed to provide a means for sites to earn advertising fees by advertising and linking to amazon.com. This site uses affiliate links.
Labyrinth fans, this will blow your minds. If you have ever thought that a Labyrinth Group Costume might be the best Halloween group costume of all time; you are correct. Cassie Lee is back with an incredible Labyrinth Group Costume for Halloween Costume Cosplay to inspire you. Cassie is known for her over the top group costumes she works on all year. Much of this costume is 'new sew' and uses found items. We hope this is the inspiration you need to make all your Labyrinth costume dreams come true!
Group costumes can be so much fun. Below you will see costume depicting Jareth, Sarah, Ludo, The Junk Lady, Hoggle, Sir Didymus, and the Worm. The beauty of the Labyrinth is there are so many characters to feature; it is perfect for a large group costume! Get ready to cosplay in all your 80s glory. With no further delay, here is Cassie Lee explaining her amazing vision brought to life! Below is a beautiful Sarah and Jareth Halloween photoshoot as well as a large group Labryinth costume photoshoot. The inspiration for your Labyrinth Group Costume dreams are all here!

Labyrinth Group Costume Ideas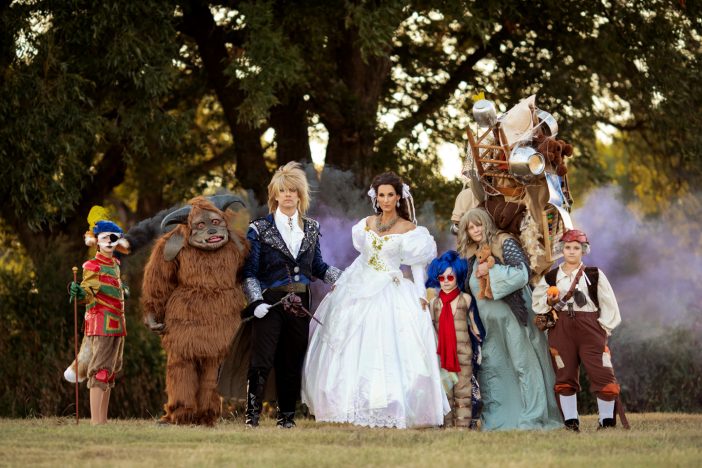 Labyrinth has been my dream family costume idea for so many years; however, I had to wait until the right year to do it. I needed to wait until all my girls had experienced the movie and loved it as much as I did as a kid. I admit… David Bowie's Goblin King did indeed have power over me. I mean who didn't crush on that makeup/hair/costume ensemble. I REALLY wanted to be the Goblin King myself for Halloween… but as evidenced from last year when we tried to make my husband Debbie Gibson… he makes a TERRIBLE woman, and I just couldn't do that to the character of Sarah.
Knowing I would eventually do a family Labyrinth costume, I have been collecting things for years. I found this old 80's wedding dress so long ago, its been tucked away in my closet for ages. This year's costumes took a lot of crafting and altering in order to complete my overall vision. For example the dress had a good base shape, but I actually had to add to cut off the train, add poofy sleeves, add shiny overlay and all the bodice beading. I am not a seamstress so this took a long time and was a huge learning curve. I did everything by hand and am surprised I did not leave blood on the gown when all was said and done. The brooch on the side was a great find at Hobby Lobby by my daughter. In order to get the extra volume in the skirts I added a large hoop petticoat underneath. I spent a long time searching for jewelry to match Sarah's. The earrings I eventually found on Poshmark but the necklace was an entirely different story. I was having a very hard time finding anything similar, so I actually bought the supplies to make the necklace from scratch. I had grand plans to do it, but when it was time to start I realized jewelry making is not my forte. I decided to ditch that plan and found a chunky necklace, also on Poshmark, and then added some colored beads to try and get a Sarah "inspired" look. Sarah's hair in the ballroom scene is pretty epic. My natural hair is… not epic. There is no amount of teasing or curling that would achieve the volume necessary so I knew from the get go I needed a wig. There are some great Sarah wigs on Etsy and this particular one came with the silver wrap and ribbon already attached. The shoes and ring I wore were ones I already had in my closet.
Jareth Costume DIY – Labyrinth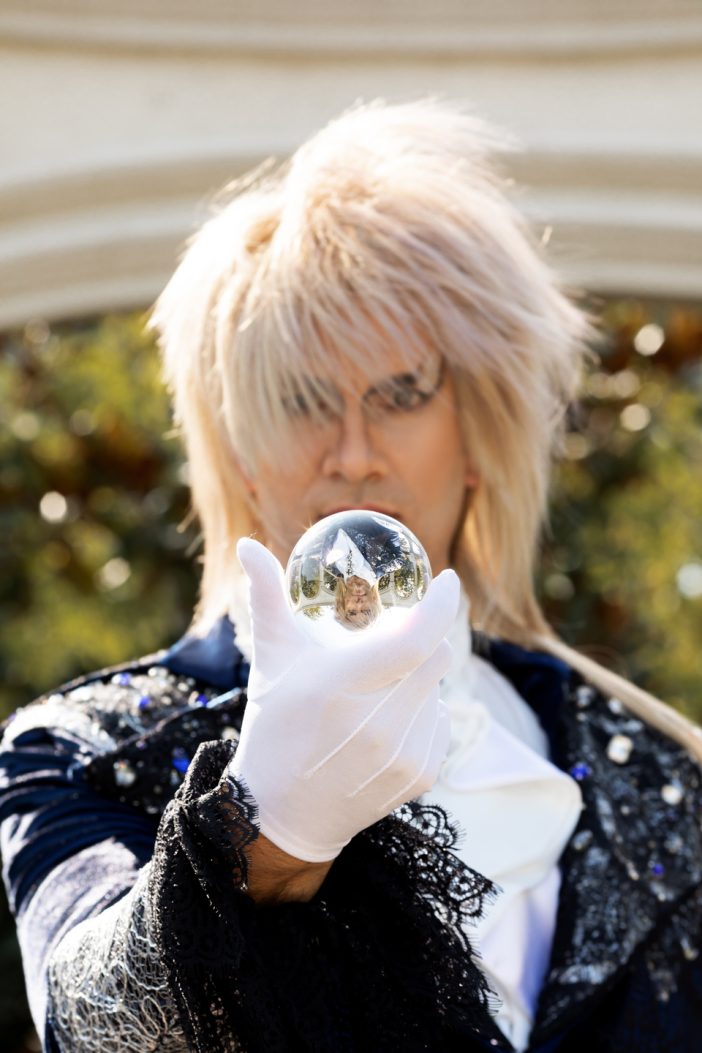 Jareth is such an iconic character to me I knew I to do his costume justice. My next door neighbor is actually a very talented and creative costume designer and headdress creator. I approached her about making a Jareth coat for me. I was so excited when she said she would help me! She did a phenomenal job and I am extremely jealous this coat was made in my husbands size. She also made the jabbot, which I was having a heck of a time getting right on my own. The white shirt and black pants where items we already had as well from our Captain Hook get up a couple years ago. The shiny black boots are Funtasma brand (they make a lot of costume shoes) and I found a great used pair on Ebay. The jabbot brooch I found on Etsy as soon as I realized that jewelry making is just not in the cards for me. Jareth's wig was a tough one. There are a lot of "rocker" style wigs that could do ok, but the style is not quite right. I bought two different ones knowing I was gonna recut the wig. The first one was a total failure and while the second one isn't completely what I had in mind… It worked. I wish there were better Jareth specific wig options because his hair in the film has so many long and short strands intermingled throughout and it is such a hard shape to create. The masquerade mask is an iconic feature in that ballroom scene, I knew I had to get one and also wanted it to display in my Labyrinth movie collection so I didn't mind paying a little more for a fantastic replica on etsy from seller Flora and Fauna Fest.
Jareth Wig online!
Since I knew we would eventually do a Labyrinth group, I kept my eyes open every year for a good Ludo costume. After Halloween there are generally great sales on all costumes, so I ended up finding this one online right after Halloween last year for 75%off! Planning ahead is great, but our friends at Amazon have everything!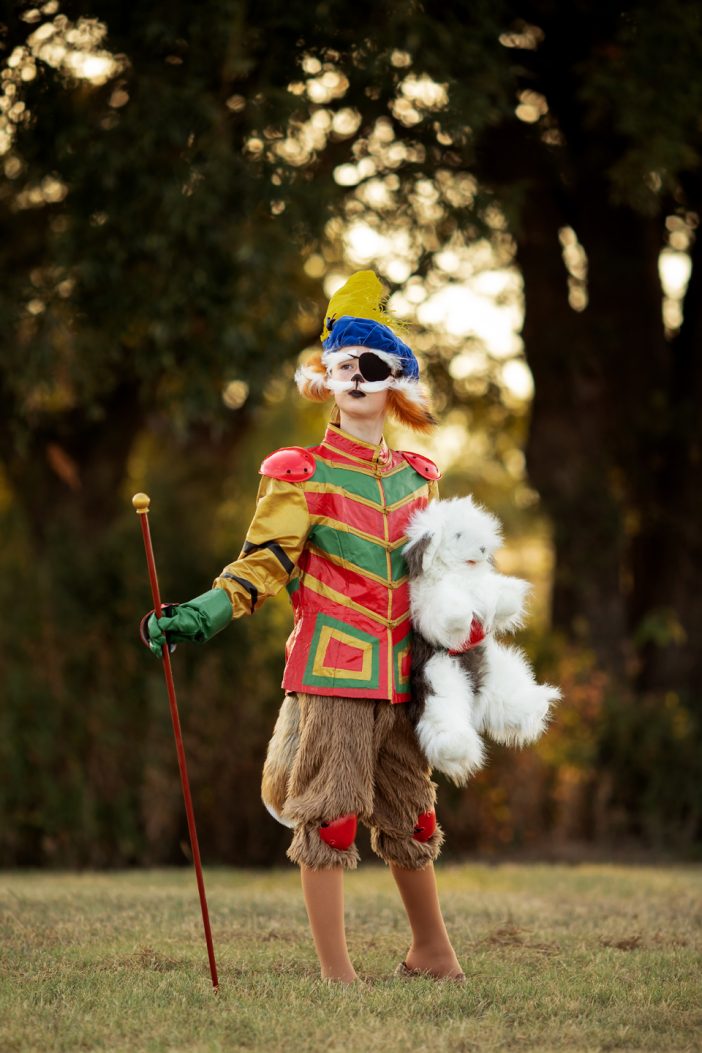 My oldest daughter loves Sir Didymus… mostly because he gets to hit Ludo (her aunt) on the head with his staff. I found a Hamilton costume jacket on Poshmark that had the right shape so I painted it to match the design of Sir Didymus. My daughter is also starting to learn to sew, so she helped make her own fur pants from fabric that we got at Joann's. The knee, shoulder, and knuckle guards were all taken from cheap knee pads. I cut the hard plastic part off and painted them red, then attached elastic or velco to make them wearable. The staff is half of a curtain rod we found at a thrift store that I painted. The hat is another Poshmark find and we just stuck a yellow peacock feather into. The eyebrows and mustache were all cut from a furry white costume beard. The eye patch, tights and shoes were all items we already owned. Of course her costume couldn't be complete without her trusty English Sheepdog sidekick Ambrosius.
My middle daughter decided on the character of Hoggle. I found a brown pair of pants that we were able to sew fake fabric "patches" onto and the puffy shirt was from another previous costume. The vest we made from a thrift store bolero jacket. I removed the sleeves and we sewed on the suede straps at the shoulders. The sash that Hoggle wears with all his trinkets took some research. I had to look closely at images and in the movie to see all that was hanging from it. The jewelry and pouches we all found at thrift stores. For the little tobacco canister I used a part of an LOL doll packaging which I painted. The string candle, pipe, and rocker symbol hand I found all on Amazon. Both the hand and the pipe needed to be painted in order to be the right colors. I was able to attach everything to a large belt by using suede string through the belt holes. The Hoggle hat was also made by my neighbor from lots of painted leather scraps which she then glued in a bit of wig hair.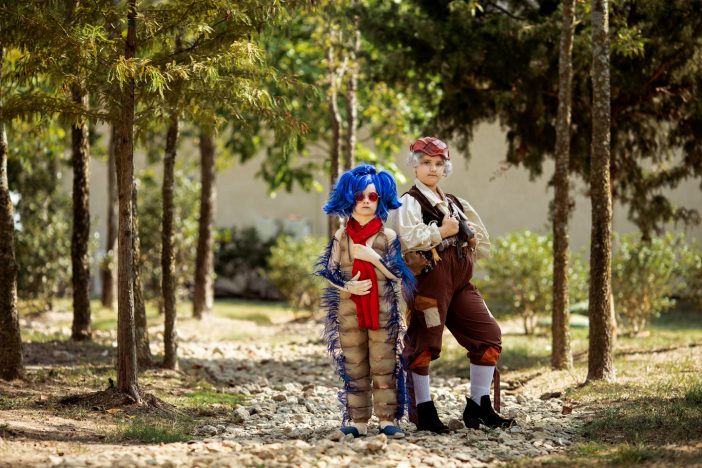 My youngest daughter was the Worm. It took me a while to figure out how to achieve a worm look and not make it look absolutely bizarre. I found a puffy white snow bib that I spray painted to be tan in the front and blue in the back. In order to get the whisps of hair that come out of the worms body we sewed on lines of peacock feathers which are super light in weight and catch and flow in the wind perfectly. To get the look of the hair, I found a short blue wig and three separate blue clip on ponytails on Amazon. The ponytails were rather long so I cut them to be short. She wore a tan morph type suit underneath, and finished her look off with a simple red scarf and red sunglasses.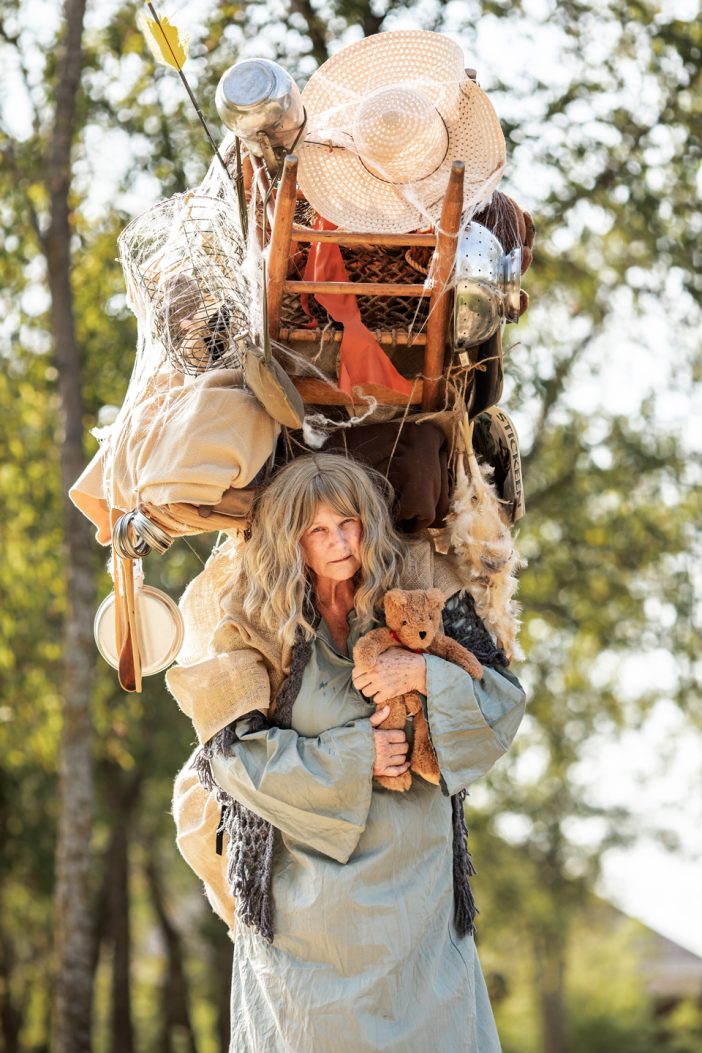 Grandma was the lucky one to get stuck with "The Junk Lady". This was a very involved costume. The shawl and dress we found while thrifting. The dress was actually an old church choir dress and it was too bright of a blue. In order to make it appear dirty I dyed the dress in coffee for a day. (she smelled like coffee the instant she started sweating). Her wig was also one I already had, we just tried to shake it up a bit to appear more tangled. I did a lot of research trying to figure out what was on her collection pack that she carries around. A bulk of the items we found at either thrift stores or on Facebook marketplace. We had to make sure that whatever we used was very light because she would have to carry this on her back. Any of the pots, pans, pitchers, utinsels were all aluminum camping type items that hardly had any weight to them. Some of the items I had to make myself, like the drum; which I was able to create by painting an old empty hat box. She has a dead chicken hanging on her pack and of course fake dead chickens are very cartoony, so I had to paint one and collect feathers from our own chickens over the course of a couple weeks to spray adhere them. Once I had enough items collected my husband helped me to create a stable support with pvc pipe inside a backpack. We were able to hide the backpack and supports with burlap. The rest of the items we tied on using jute cord. The thing in its entirely is not that heavy but it is definitely awkward. Props to Grandma for enduring the wearing of that pack!
All we needed next were the finishing touches, like my lens ball as Jareths crystal ball and a peach for Hoggle. My talented friend Laurie came and did the makeup for Jareth and myself. Alex Eischeid, an amazing photographer based in Oklahoma drove down to capture these beautiful images. A huge Thank you to all who helped us create this family costume. And thank you to my family for going along with my crazy. This one has been a dream of mine for so long and it has finally come to life.
Photographer: @alexeischeid www.alexeischeid.com
Makeup: @laurie_parker
Jareth Coat/Jabbot and Hoggle Hat: @catdillondesign
Masquerade Mask: @floraandfaunafest
Cassie Lee Photography is not only an incredible photographer, but could clearly be a professional costumer. If you are looking for the most over the top Labyrinth Costume ideas, you have to check out her Labryinth pictures below. It is a bucket list for me to someday have Halloween group costumes worthy of booking a photoshoot with her. She is out of this world. All photos are by Cassie Lee Photography and shared with permission.
Halloween is the best time of year for Cosplayers. Cosplayers know that Halloween dress up does not need to stop when you grow up. Group Halloween pictures is such a fun memory for family and friends. May this Labyrinth Halloween Costume photo shoot encourage you to use your imagination this Halloween season!
Jareth and Sarah Labyrinth Cosplay Photoshoot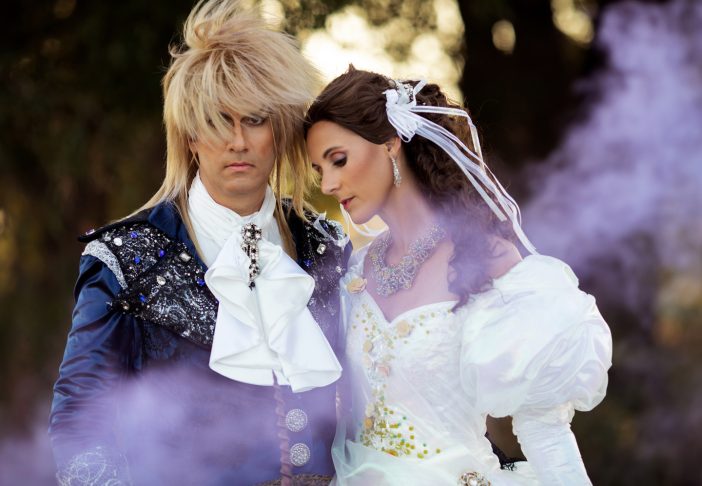 Pp
Perfect Sarah Labyrinth Dress just a click away!
Cassie Lee also provided us with these other over the top Halloween Group Photoshoot ideas
Music Icon Family Group Costume (click to see the gallery!)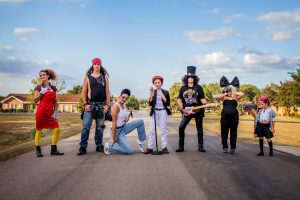 Peter Pan Family Group Costume (click to see the gallery!)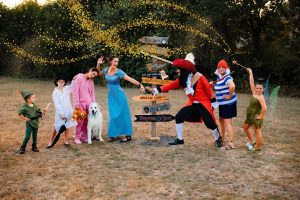 and my personal favorite…. The Greatest Showman Group Family Costumes (Click to see the gallery!)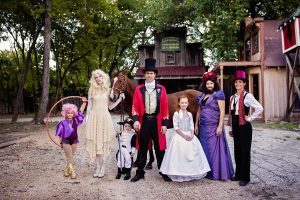 Jareth DIY Halloween Costume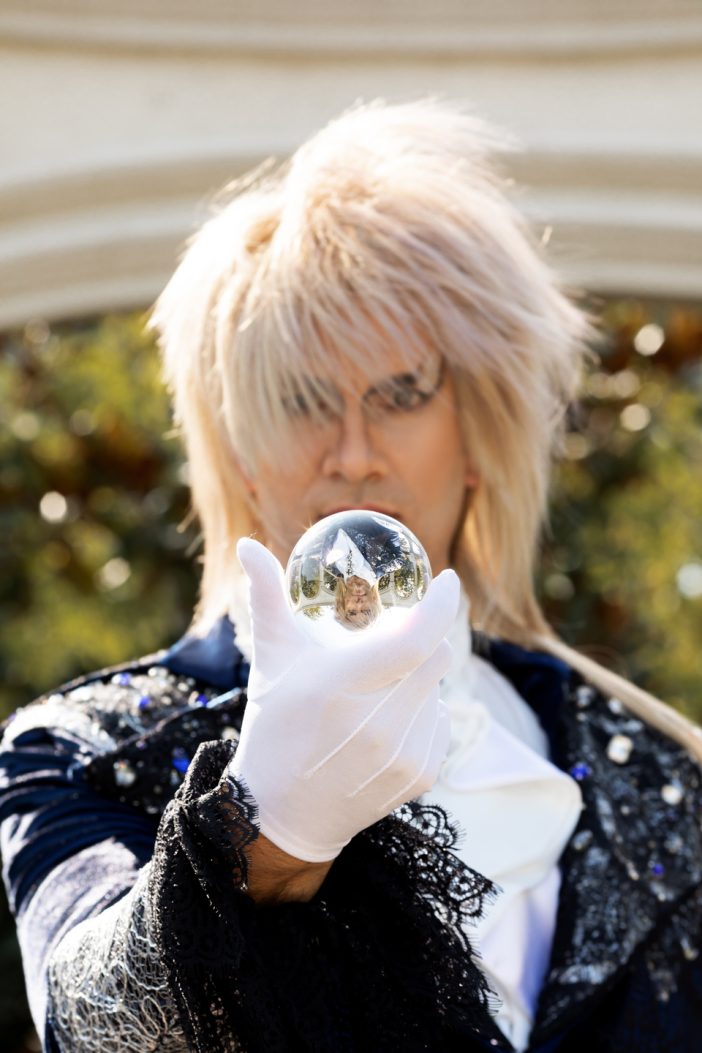 The Junk Lady Labyrinth Halloween Costume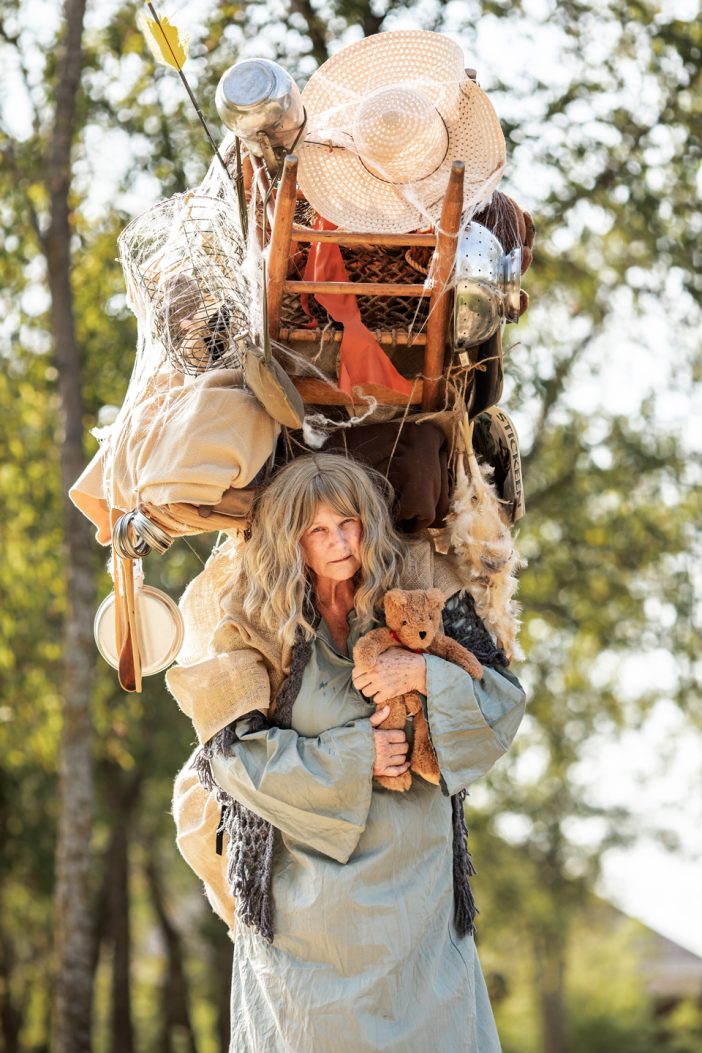 Worm and Hoggle Halloween Costumes – Labryinth Costume Ideas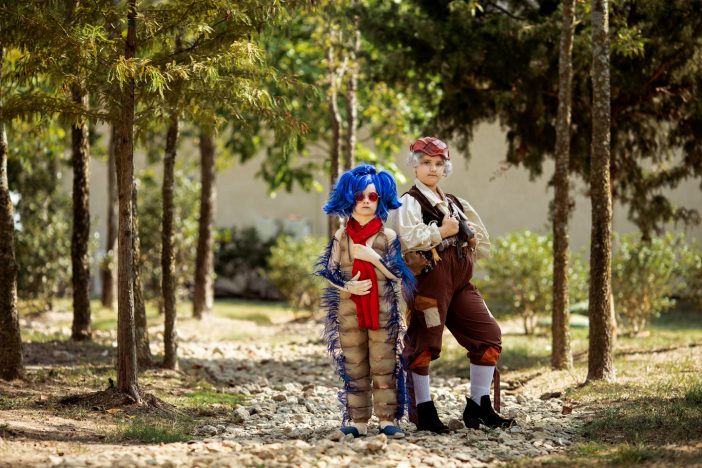 The Worm – Labyrinth Costume Ideas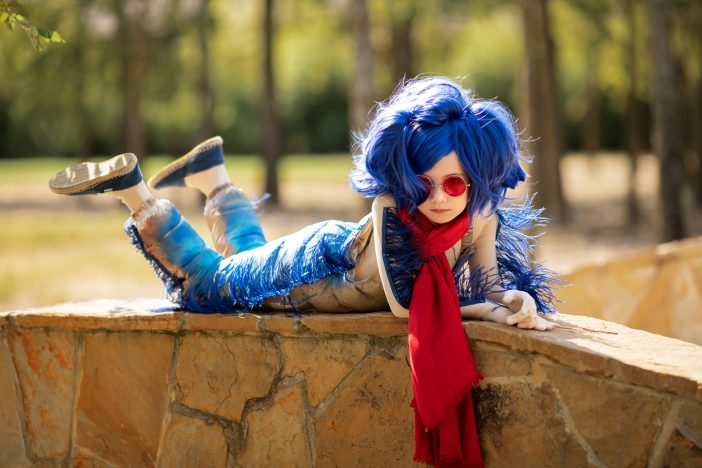 Ludo Halloween Costume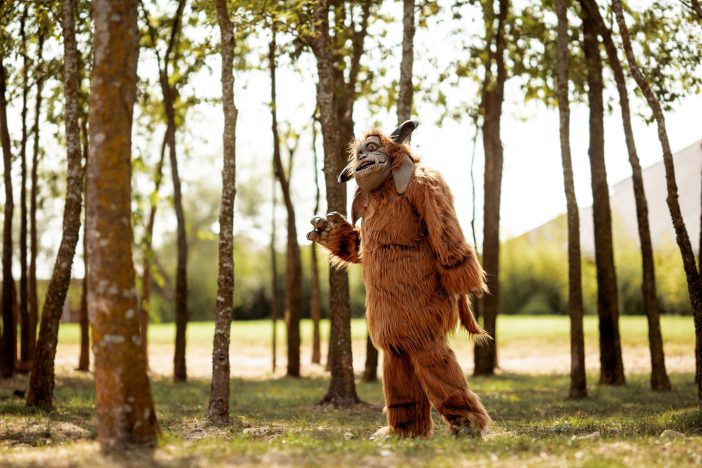 Sir Didymus Halloween Costume (Labyrinth)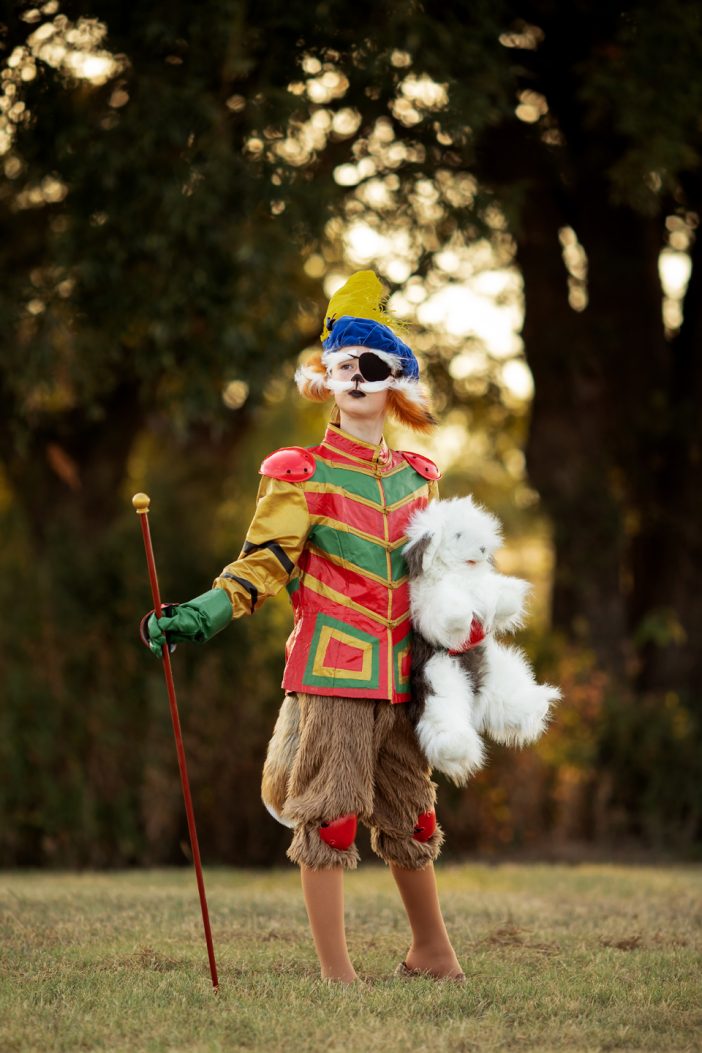 Jareth and Sarah Williams forever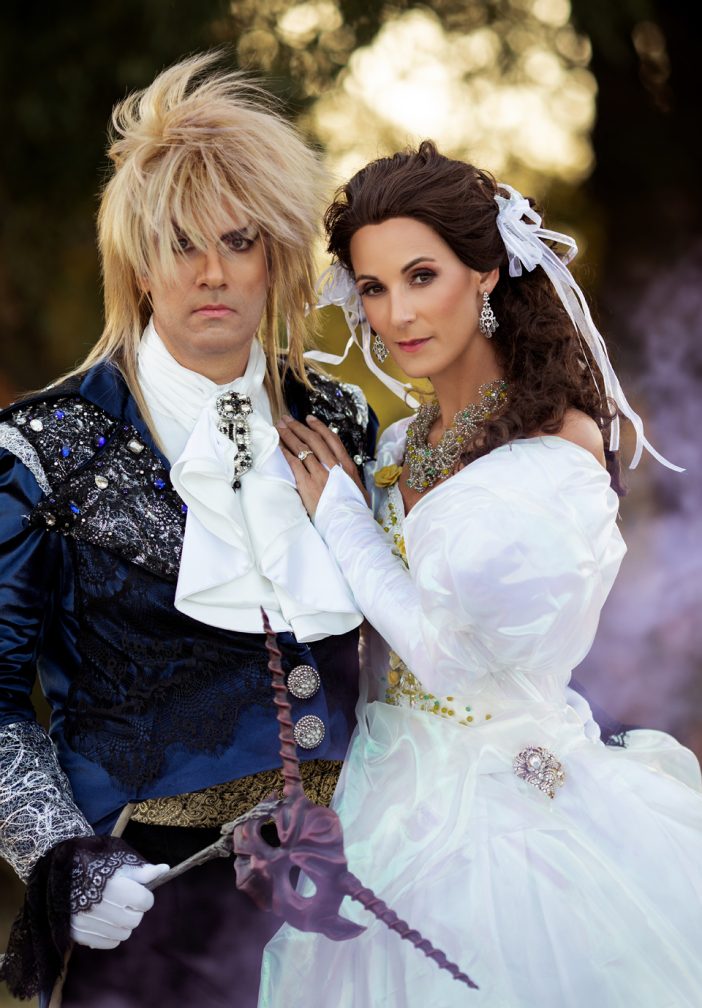 As always, a big thank you to Cassie Lee for sharing her brilliance with us today. We may never live to take such amazing group Halloween photos, but she gives us all something to aspire to.
What is the Labyrinth?
From the whimsical mind of Jim Henson, this musical fantasy film follows teen Sarah on an epic quest to save her baby brother from a kingdom of goblins. Jennifer Connelly and music icon David Bowie star in this fantasy adventure from Muppets creator Jim Henson ("The Dark Crystal").
Labyrinth is a 1986 musical fantasy film directed by Jim Henson, with George Lucas as executive producer, based upon conceptual designs by Brian Froud. It revolves around 16-year-old Sarah's (Jennifer Connelly) quest to reach the center of an enormous otherworldly maze to rescue her infant half-brother Toby, whom Sarah accidentally wished away to Jareth, the Goblin King (David Bowie). Most of the film's main characters, apart from Bowie and Connelly, are played by puppets produced by Jim Henson's Creature Shop.
The film started as a collaboration between Henson and Froud following their previous collaboration The Dark Crystal (1982). Terry Jones of Monty Python wrote the first draft of the film's script early in 1984, drawing on Froud's sketches for inspiration. Various other scriptwriters rewrote it and added to it, including Laura Phillips, Lucas, Dennis Lee, and Elaine May—although Jones received the film's sole screenwriting credit. It was shot from April to September 1985 on location in Upper Nyack, Piermont, and Haverstraw, New York, and at Elstree Studios and West Wycombe Park in the United Kingdom.
The New York Times reported that Labyrinth had a budget of $25 million. The film was a box office disappointment, grossing $12.9 million during its U.S. theatrical run. It was the last feature film Henson directed, and the poor reception contributed to a difficult period of Henson's career, according to his son Brian Henson. It was first met with a mixed critical response upon its release but over the years, it has been re-evaluated by critics and gained a large cult following. Tokyopop published the four-volume comic sequel Return to Labyrinth between 2006 and 2010. In January 2016, it was announced that a sequel was in development,[4] which screenwriter Nicole Perlman described as more of a "spin-off" in the same fictional universe.[5]